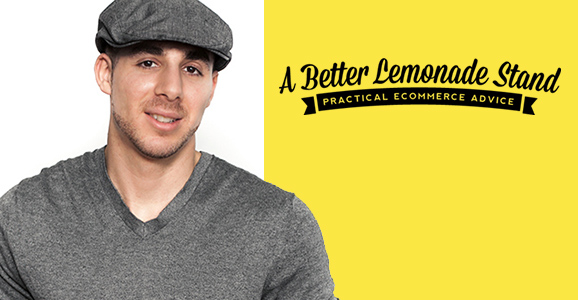 Richard Lazazzera is the owner of abetterlemonadestand.com – a practical eCommerce advice blog. Beside his blog he is working at shopify as a content strategist.
1. Hi Richard, you seem to be a prolific entrepreneur and blogger. What excites you more, create a business or writing about creating a business?
Definitely creating businesses and building brands. However, some of my greatest joy comes from the emails I get from people that were inspired by one of my posts to start something of their own. Those are the best emails and they the reason I write about my experiences.
2. At FinchGoods.com you really nailed the nostalgic general store feel. You have a real knack for creating a strong brand. How difficult is it for you to design a new brand?
Creating a brand isn't terribly difficult. I was fortunate to have been able to work closely with a top tier branding professional several years ago. I was able to take away an incredible amount of information on the process of building a brand. I have actually begun working on a branding book, where I have taken all my branding knowledge and distilled it into a very simple step-by-step guide. It's not quite done but you can sign up to learn more here.
3. For entrepreneurs out there, is it more important to focus on store experience or traffic acquisition at the very beginning?
That's a bit of a 50/50. I believe you need to have some minimum level of store experience, it definitely can't be awful, however, the only way you can really improve your store experience is by driving traffic to begin understanding what your visitors like and don't like. Once you start driving traffic, you can start getting into fun stuff like heat maps and A/B testing.
4. What are the best ways to market a brand new store and start driving online traffic?
The million dollar question. There's no blanket answer that will work for every store. It depends on your products, your customers and where they hang out. One of the biggest mistakes most people make, especially new online entrepreneurs, is not putting enough planning, energy and money behind each channel they do choose to use. Writing a few 300 word blog posts for SEO wont work. Spending $25 on Facebook Ads or Google Adwords wont work.
With that said, here's a few things I would recommend in general:
Start with one marketing channel at a time. Whether that's Facebook Ads, Google Adwords, Sponsored Reviews or Sponsored Instagram Posts.
Track. Make sure you track all your paid links so you know what is driving sales. Learn more about UTM tracking.
Put enough time and money behind each channel. I'd say at least $500-$1,000.
Make sure you're making the most of all traffic that is coming to your site by implementing a popup email capture (Join Our Newsletter), Upselling (At checkout or on product pages, suggest other products that compliment what they are looking at), and Abandon Car Emails.
Finally, I believe one of the best ways to launch your brand, that almost anyone can use, is by writing the absolute most comprehensive blog post/guide on a particular topic that relates to your niche. For example, if you sell women's dresses, maybe you can write a comprehensive piece on matching dress colors with shoe colors. The key though is to make sure that it is without a doubt the most comprehensive piece available on that topic and that it is well researched and structured.
This is how I launched A Better Lemonade Stand, but writing a piece on What To Sell Online – Reverse Engineering The Perfect Ecommerce Product. To this day it remains the most in depth article on choosing products to sell online. It's been shared hundreds of times and it really was the piece that established my early on.
5. Shopify is a platform that you rely on to make high quality online stores, but how does it help the little guys compete against the retail giants?
Shopify is a great platform that has helped level they playing field for smaller online retailers. It use to cost thousands of dollars and months to get up and running. With Shopify you can be running in as little as 24 hours. In fact, one night I was bored and challenged myself to create a business in 24 hours. I did just that and even made $347 in that 24 hour period.
The best part is that being able to get up and running that fast and for as little as $14 per month, means you can easily test your ideas without a massive financial investment.
Furthermore, the apps in the app store give small retailers the tools that was once reserved to large brands that would spend thousands or event tens of thousands of dollars for custom functionality.
6. One last question, at Finchgoods.com you have a whole section devoted just to shoe laces. We have to know, what is the most popular shoe lace color?
I personally don't understand it, but it's the camouflage laces.
Comments