Replenish your stock and optimize your listings, the wait is finally over. Amazon has announced that its annual Prime Day sale will be held on July 12 – 13. Now in its eighth year, we are publishing our annual Prime Day predictions for the two-day event.
We're swapping our crystal ball for Similarweb's Shopper Intelligence platform to make actionable Amazon Prime Day predictions for 2022. By analyzing last year's data and following general shopping trends, we're sharing our top five predictions – and we're feeling confident about them.
Recap: Prime Day 2021
Before diving into what we expect this year, let's take a brief overview of last year's sales – afterall, they made Prime Day history again.
Amazon's record-breaking sales reached $6.8 billion over the two-day event.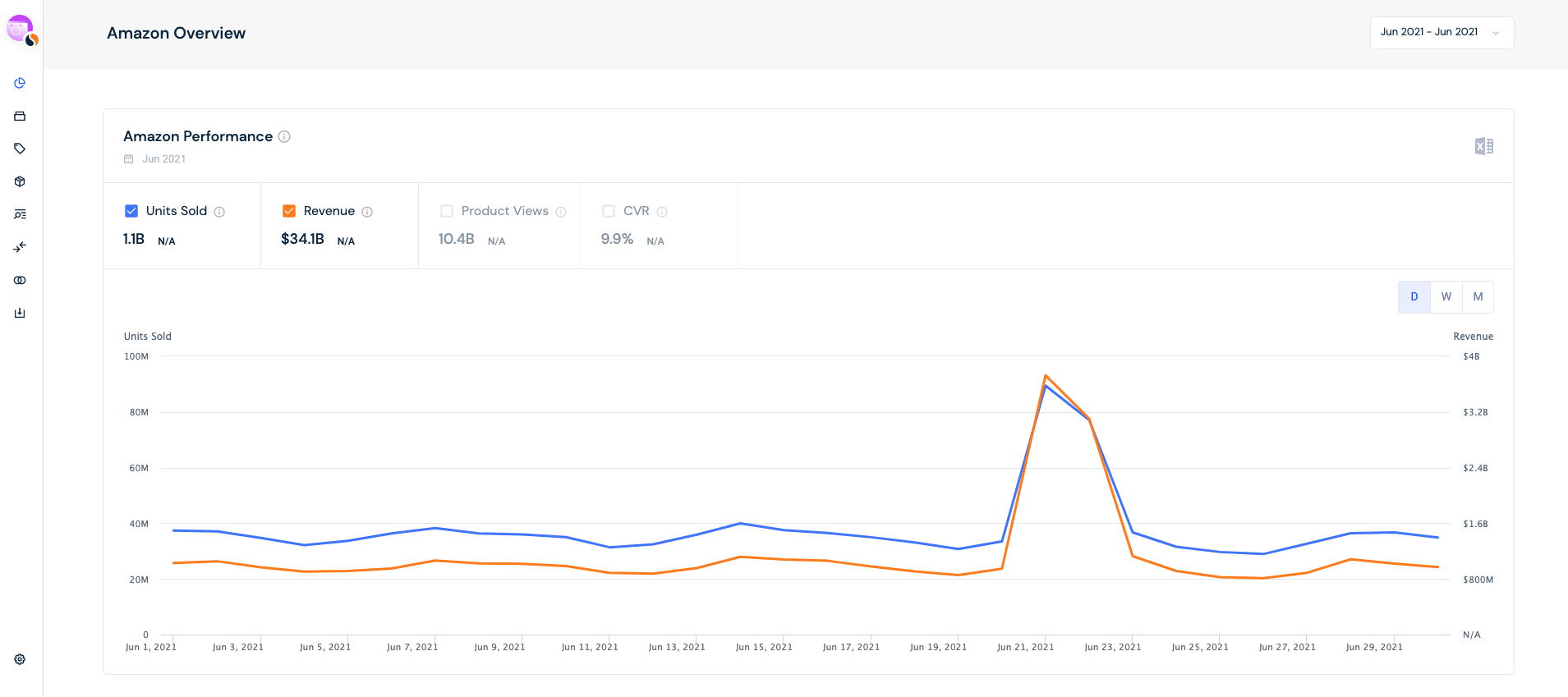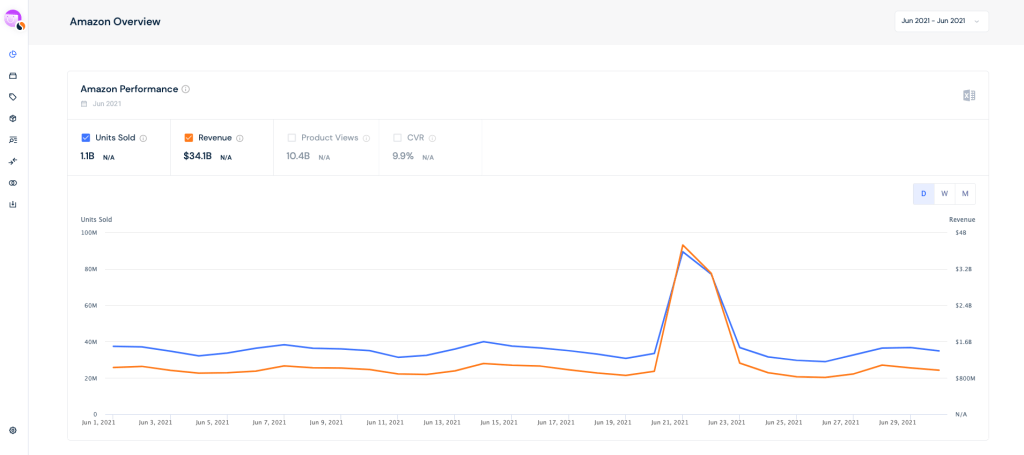 Amazon Prime Day data from June 2021
On June 21, Amazon sold 89.4 million units, bringing in $3.7 billion in revenue.
Day two saw slightly lower numbers in terms of units sold and revenue, but this is to be expected. However, the numbers remained significantly high in comparison to the days leading up to Prime Day and following prime day.
On June 22, Amazon sold 77.1 million units, totalling to $3.1 billion in revenue.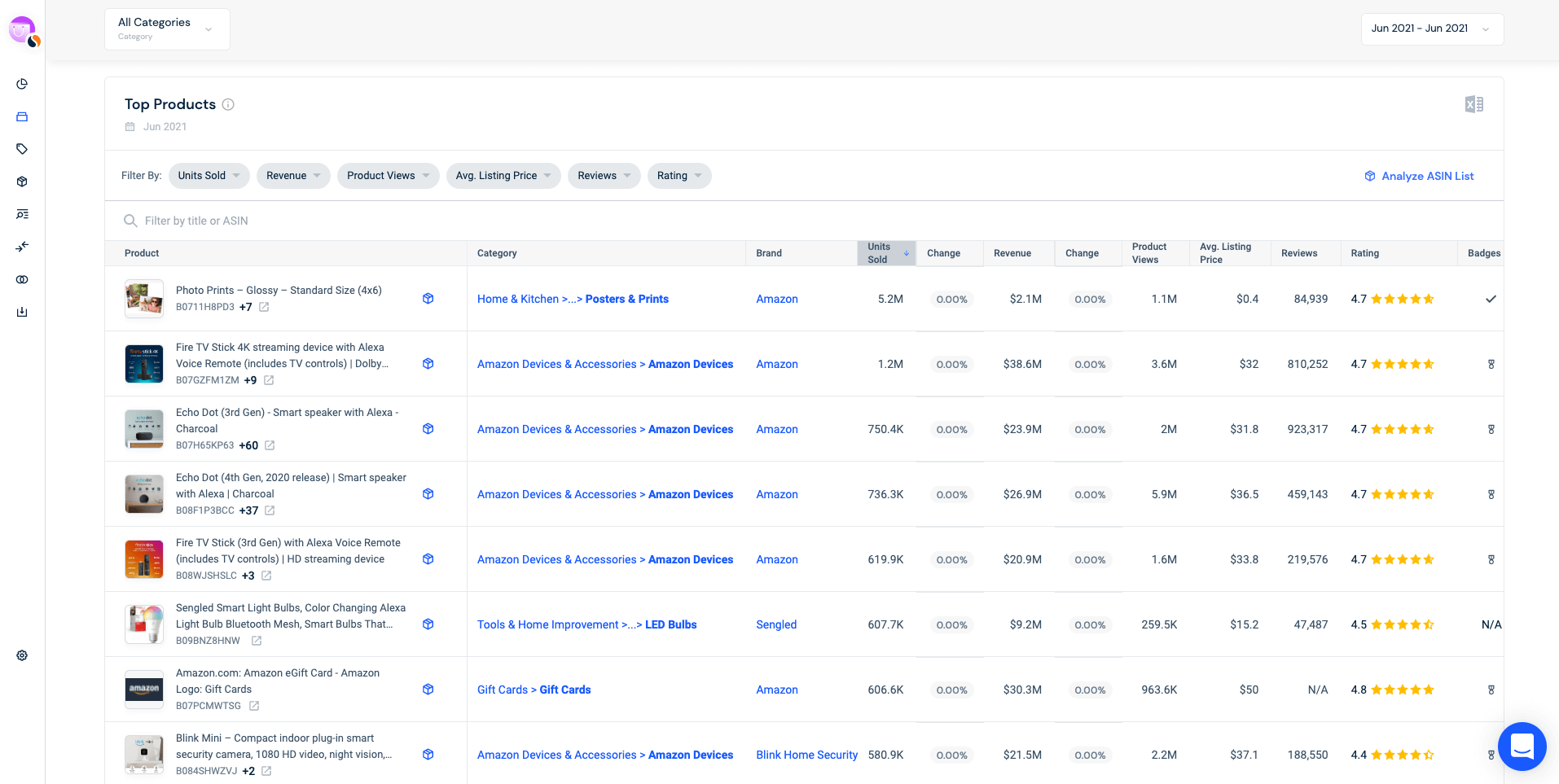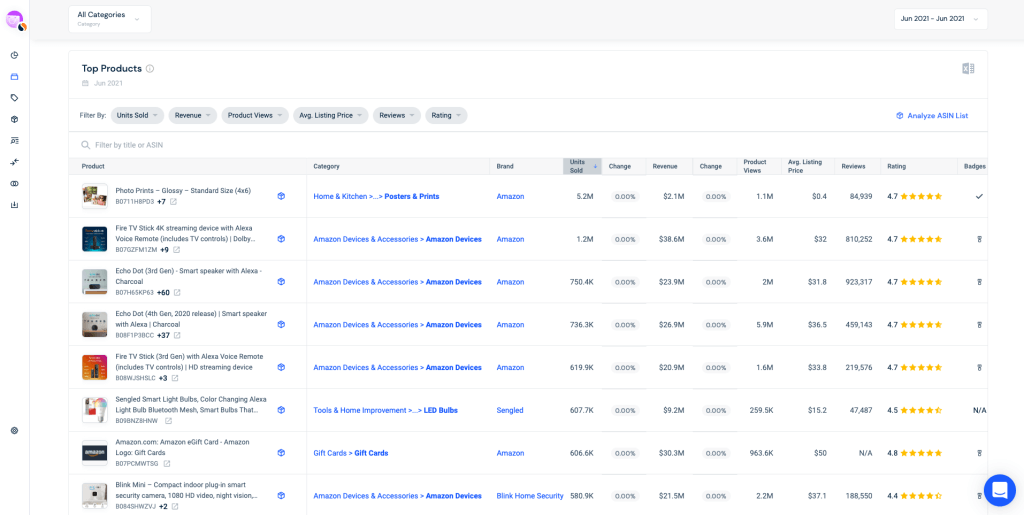 Top selling products on Amazon in June 2021
Top Amazon Prime Day predictions for 2022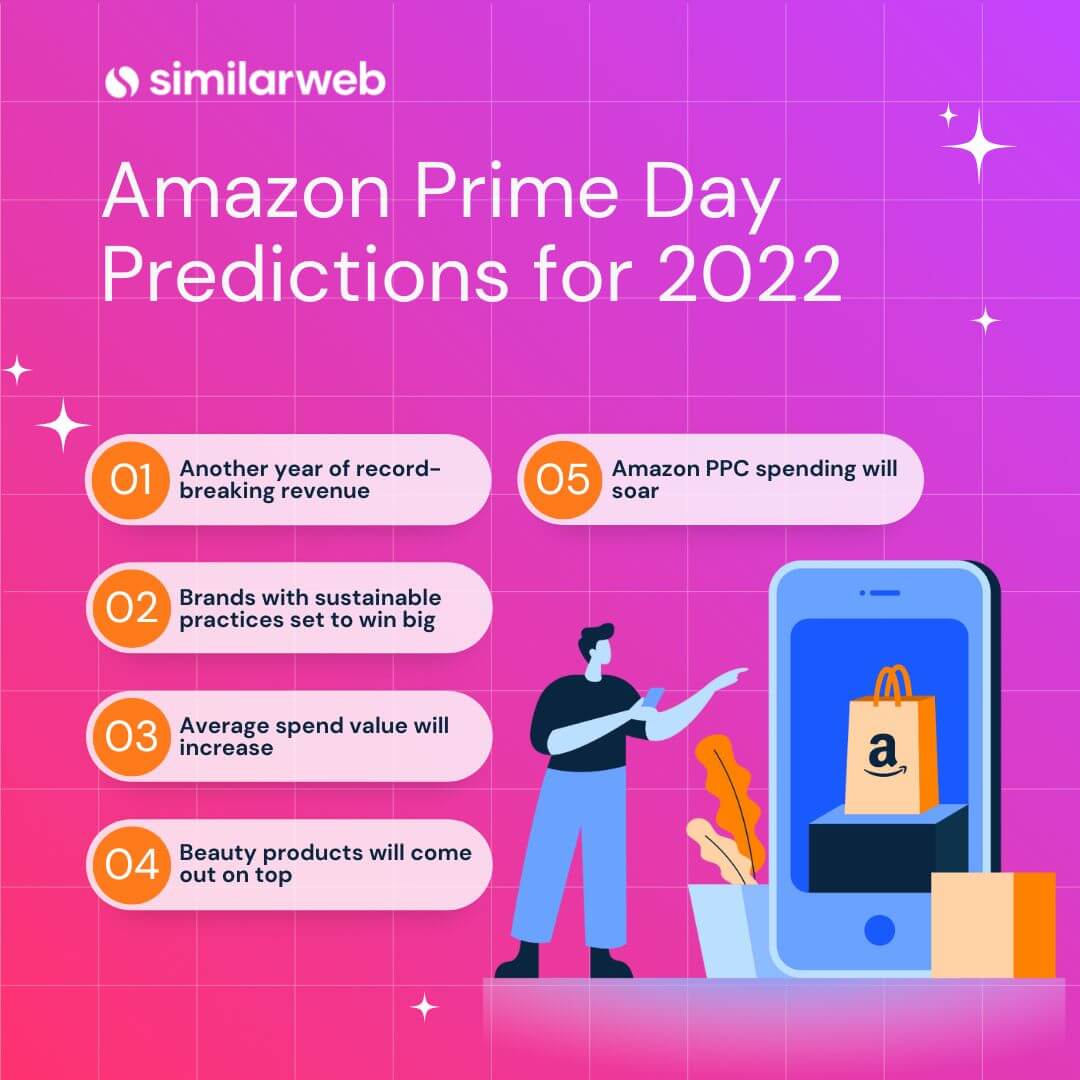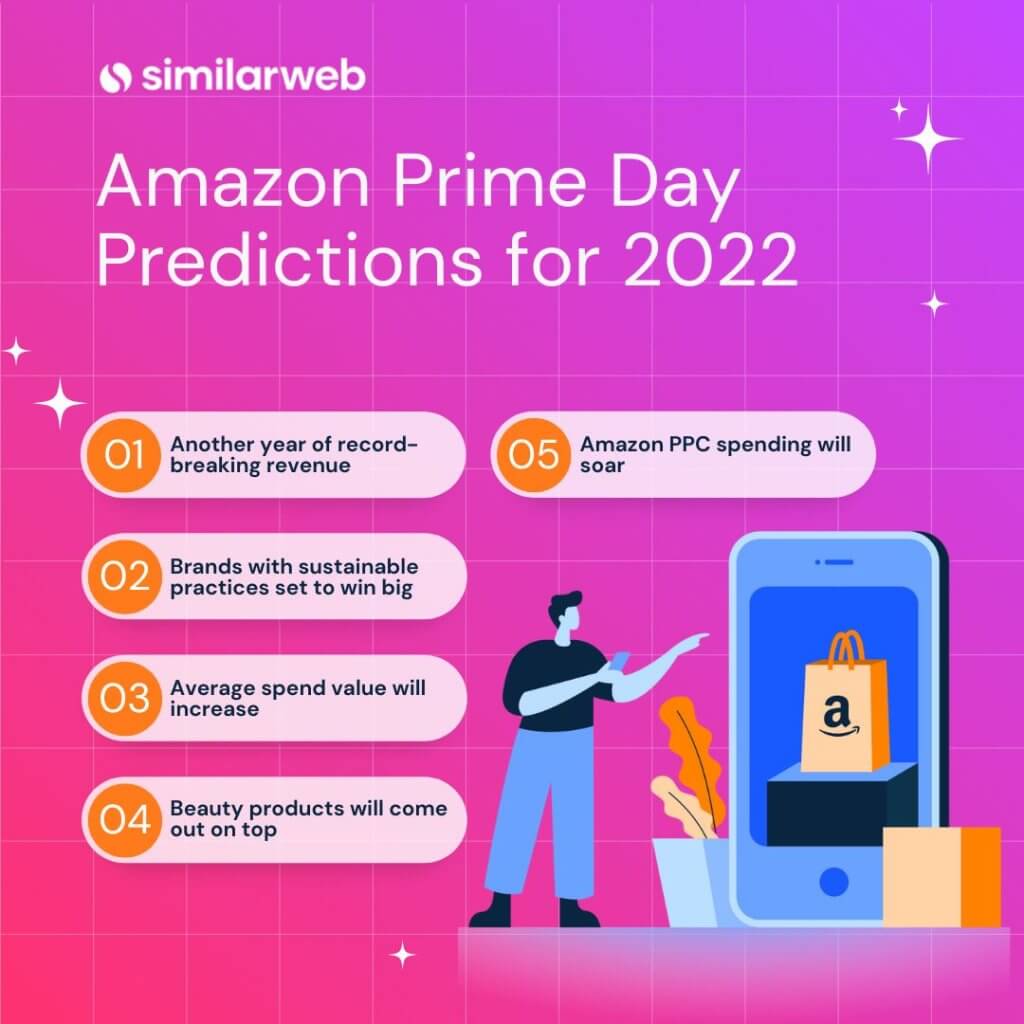 1. Prime Day revenue might not increase dramatically
Although we expect another record-breaking Prime Day result, when comparing it to previous years, we aren't expecting a dramatic increase in sales.
To give context to our prediction, here's Amazon's Prime Day performance from the previous three years:
As the data shows, each year Amazon has been beating its Prime Day personal best:
Unsurprisingly sales in 2020 dramatically increased in comparison to 2019 due to the growing preference for online shopping, and the need for deals and price cuts during the pandemic.
In 2020 the number of units sold increased by 46% and revenue increased by 26% compared to 2019
2021 showed slower growth in comparison to the previous year, with a much lower 8% increase in units sold and 11% increase in revenue.
This year we're entering Prime Day in a different world; prices are up and people need more deals than ever. So, whilst we predict there will be more sales and eagerly waiting bargain hunters, we're expecting a similar growth pattern to last year.
2. Consumer preference for environmentally aware brands
With climate change at the forefront of people's minds, sustainability is a growing factor in the buying decision process.
Using Similarweb's keyword research tool, we found that there was a monthly average of over 5 million searches for climate change worldwide in the past year.
Worldwide, we have made a conscious effort to improve our environment. One of the most popular and common ways to do so has been swapping our single-use plastic for reusable products.
But it's not just sustainable products consumers are after: 86% of consumers are willing to spend more for sustainable packaging, and 68% of consumers have bought a product based on its sustainability credentials.
We're predicting that when shoppers are debating between Prime Day deals this year, consumers will lean towards brands that are environmentally aware. Sellers on Amazon should pay attention to this consumer preference. For example, clearly state your environmental credentials, such as recyclable packaging, on your product listings.
3. Average spend value will rise
This year we're anticipating a shift away from traditional retailers when it comes to big-ticket items.
Due to Prime Day deals and sales, we're predicting that Amazon will increase its sales of high-priced items and therefore the average spend of consumers will rise.
Using Shopper Intelligence, we found that searches for these items on Amazon are already high:
Search trends so far in 2022 (January to May) on Amazon:
There are 297.9K searches for "washing machine"
There are 389.4K searches for "dishwasher"
There are 423.4K searches for "bed", and 1.7 million searches for "mattress"
There are 955.8K searches for "vacuum"
There are 1 million searches for "sofa", and 1.1 million searches for "couch"
There are 2.6 million searches for "tv"
If we take a deeper look at the latter two searches, we can see that sales and revenue for these items peak during sales.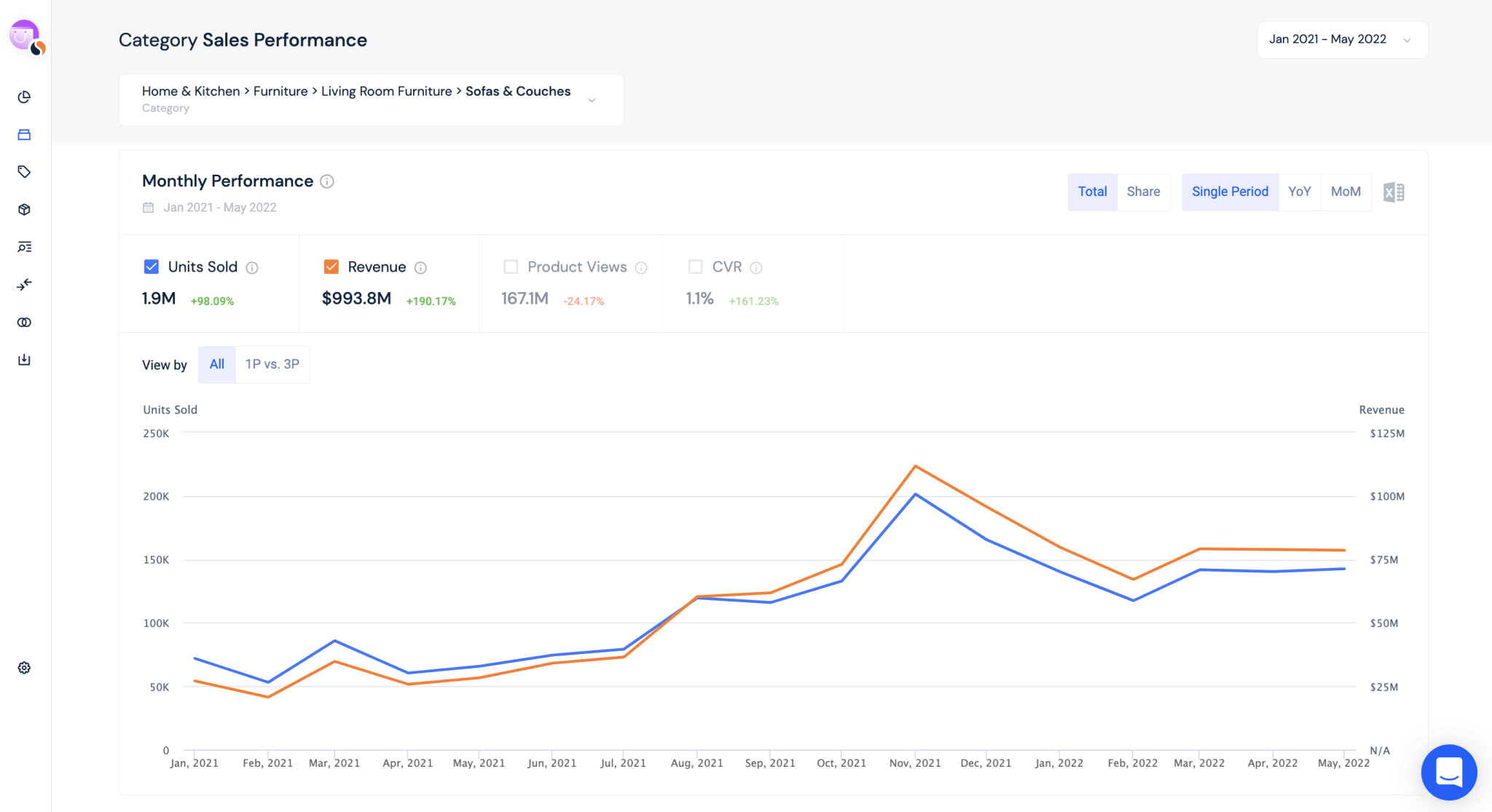 Last Prime Day, sofa and couch sales remained low and peaked during November sales. Although units sold and revenue have dropped since November as expected, sales remain higher than the period before.
In the period between Prime Day 2020 and 2021 there were 70.9 million product views for this category (November 2020 – May 2021). However, since last Prime Day product views reached 106.7 million, a 40.3% increase (July 2021 – May 2022).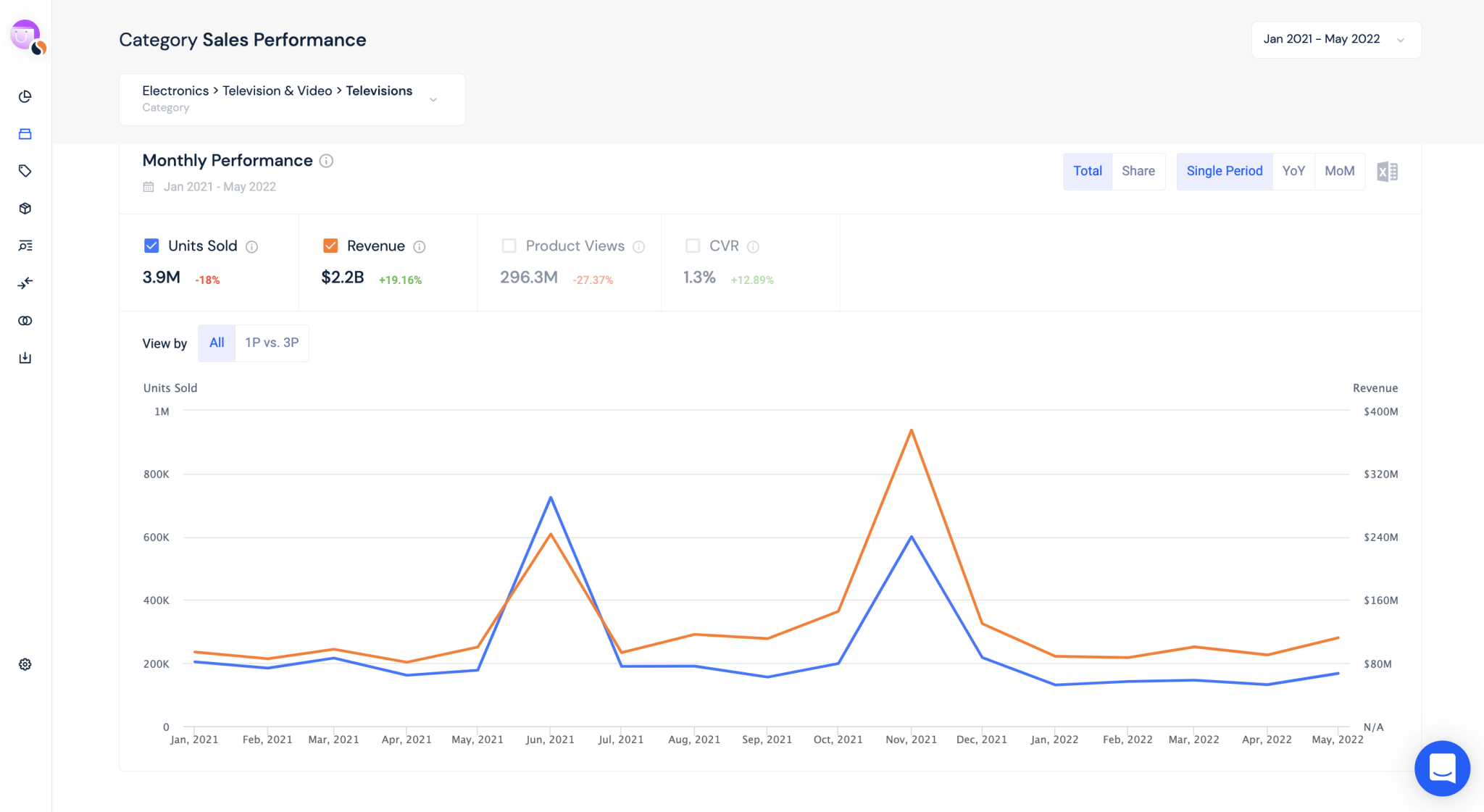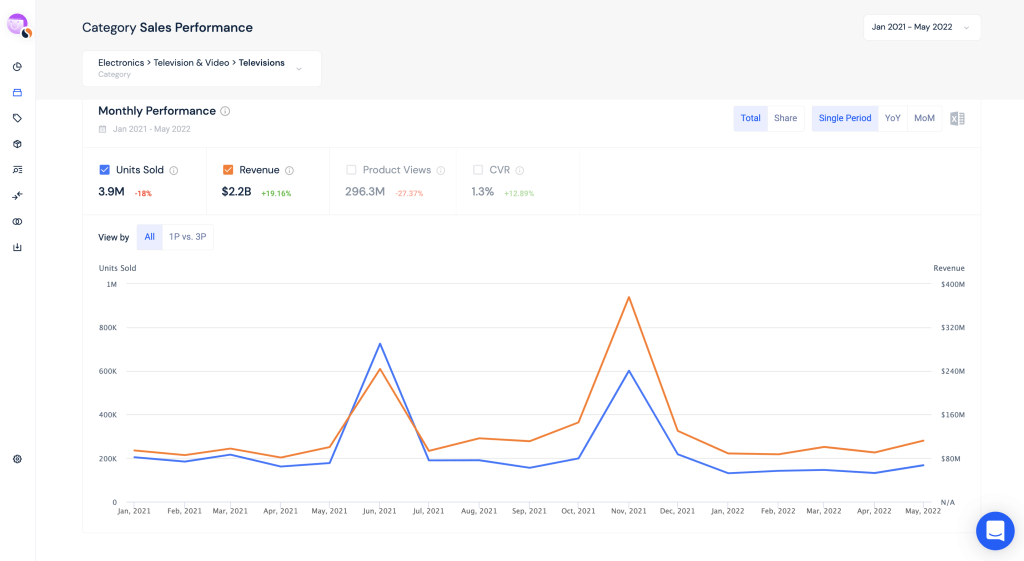 Sales for televisions peaked both during last Prime Day and during the November sales, and dropped back to its normal sales pace after.
In the period between Prime Day 2020 and 2021, there were 155.6 million product views for this category. However, since last Prime Day product views reached 191.6 million, a 20.7% increase.
The data suggests that Amazon's sale seasons are the hottest times to buy big-ticket items, and given the shift from buying at traditional stores, we predict that this will cause the average spend per customer on Amazon to increase.
4. On the top: beauty products
We're predicting Beauty and Personal Care will be a top-performing category in terms of sales this Prime Day – and we're placing our bets on skincare products and beauty tools to be stand-out performers within this category.
If Amazon wasn't already a convenient place to stock up on beauty products, we're expecting Prime Day to encourage consumers to take advantage of the price cuts and stock up on their backlog of products.
We're anticipating the irresistible deals offered will encourage consumers to finally purchase the more luxurious beauty and hair tools they have their eyes on.
Let's look at hair styling tools and appliances as an example: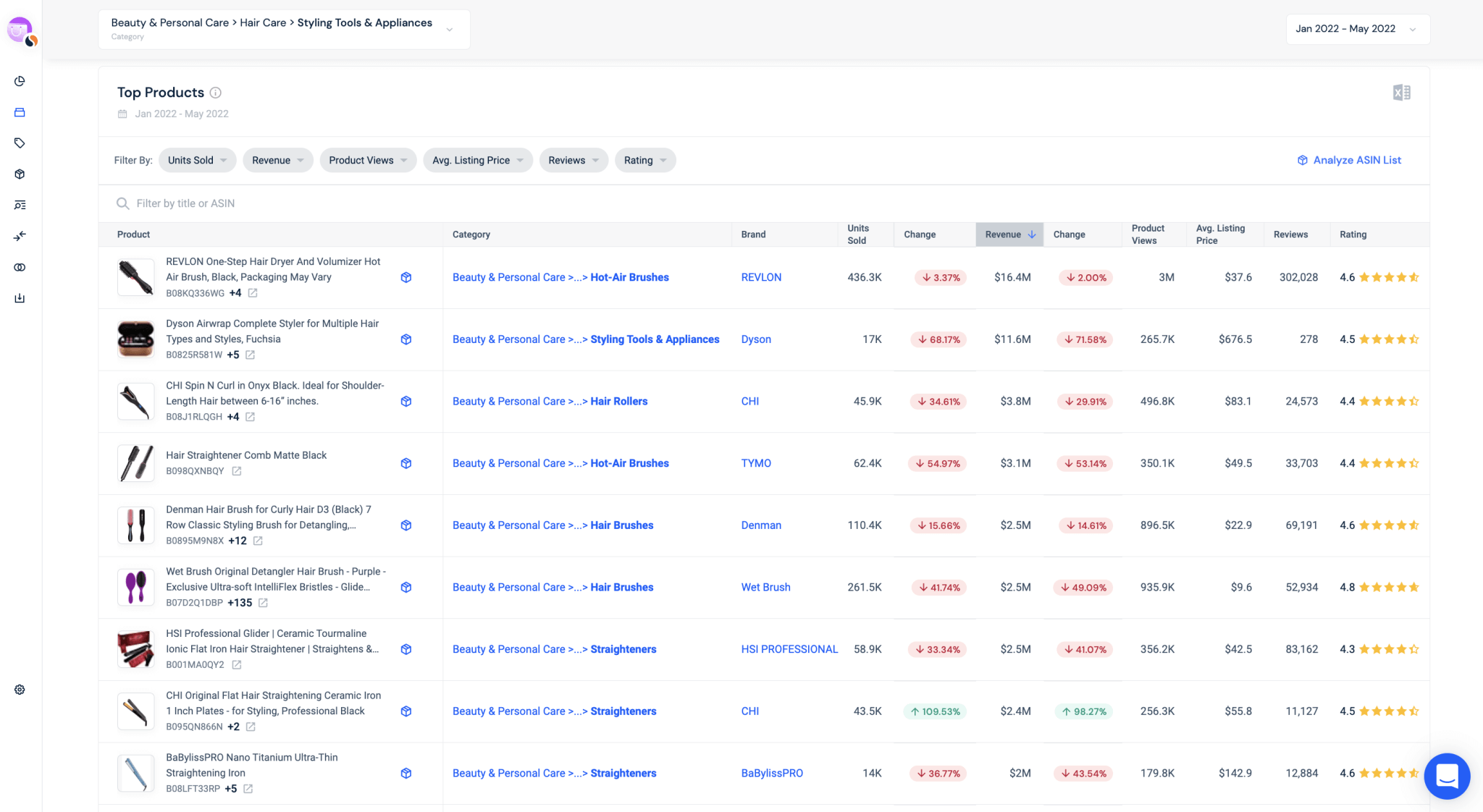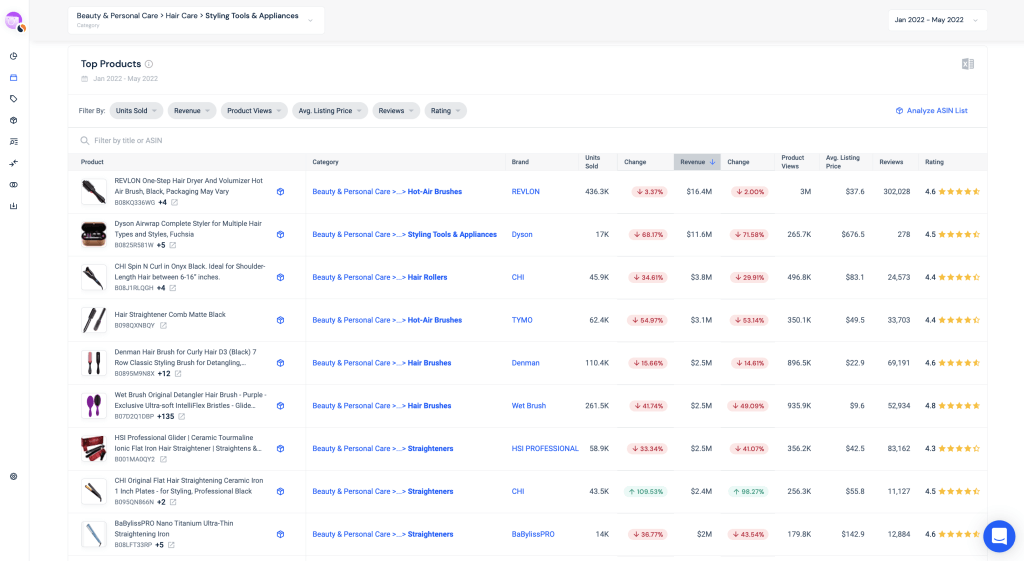 As the data shows, product views for styling tools so far this year are high. For example, the Revlon One-Step Hair Dryer and Brush has raked in 3 million views. However, the amount of units sold so far this year are much lower, the Revlon dryer and brush stands at 436.3K.
5. Amazon PPC spending will dramatically increase
Competition will be as fierce as ever this Prime Day.
Merchants will race to sell as many items as possible with their own Prime Day strategies to boost sales. This will play strongly to consumers' benefit – shoppers will have plenty of discounts to pick and choose between. Though this makes Amazon a shopping haven for customers, how does this affect brands?
There are currently 9.7 million sellers worldwide on amazon, of which 1.9 million are actively selling on the platform. Already noticing how crowded the Amazon marketplace is? On average, nearly 3000 sellers join Amazon every day.
To stand out from the crowds, these brands will need to polish up their Amazon Prime Day marketing strategy. And to do so, we're predicting that Amazon PPC spending will increase dramatically this Prime Day.
If you want to prepare yourself for the competition, check out our top tips for Amazon Prime Day 2022.
Ready. Set. Go (sell)
Our forecast for Prime Day performance is based on this year's general shopping trends, historical data, and a lot of insider-knowledge.
To learn more about using Similarweb to learn about Amazon insights, schedule a demo of Shopper Intelligence today.
This post is subject to Similarweb legal notices and
disclaimers
.
Wondering what Similarweb can do for you?
Here are two ways you can get started with Similarweb today!