Inflation is up. There are labor shortages. The supply chain has shortages. COVID-19 is still here. But in-person learning seems to be back on the rise. Basically, things are weird. 
So, how are parents and students handling back-to-school shopping during this slow-burn apocalypse? 
As a marketer (and a curious mom of two), I decided to find out. Here's what I discovered.
*Spoiler alert*  Three key insights I found are:
The brand Mead has sold the highest selling product.

The top selling products are overarchingly gender-neutral essentials.

Many big name, trusted brands still win in terms of total unit sales.
Inflation impacts back-to-school shopping too
Despite many families tightening their belt buckles, back-to-school shopping spending is up. And, inflation is primarily to blame. NRF found that categorically prices for school necessities have risen year over year.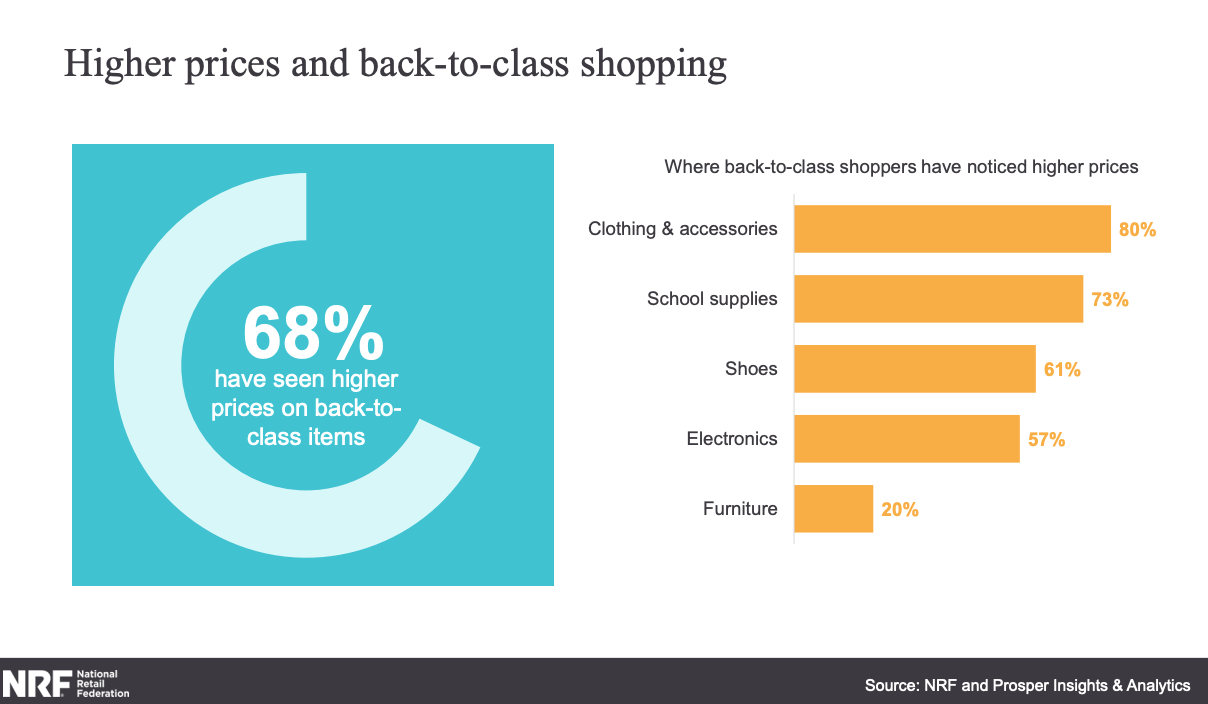 It makes sense that families are spending more money on school shopping given the rise in prices, because what's the alternative? 
Kids' school necessities are have to haves, so while people might be able to cut back on other areas, like dining out, and travel they cannot do that for back to school. 
The list keeps growing
The first possible reason: the list is just bigger this year as at-home learning has been prevalent since 2020. What that means is, basics that kids use year to year (think: lunch box, backpacks, pencil cases, workbooks) haven't been used as much over the past two years so as in-person learning resumes, parents need to buy them. 
Another contributing factor is the emergence of new learning technology and teaching methods. Coupled with how much other new stuff kids need for school, like seasonal clothes and shoes, most families are finding their list seems to have grown. 
Here's an example of a general supply list for one high school student. Take a look and consider what it doesn't include such as clothing items and teacher-specific lists, and then possibly multiply that by several kids…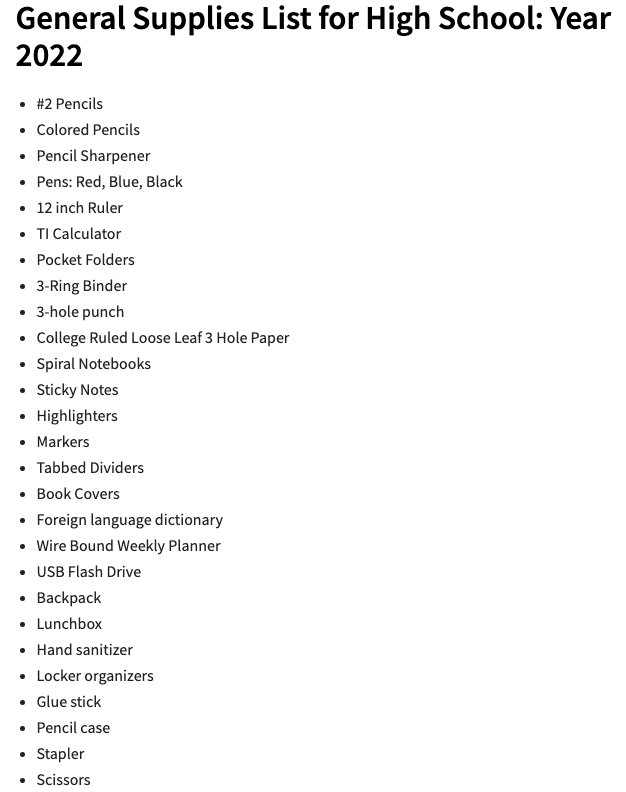 Price beats brand loyalty 
It's no secret people are looking to save money, especially since the global economy is down. Intuitively, this means shoppers are less likely to be loyal to a given brand, and more likely to buy whatever's least expensive. 
The bad news? That means marketers can't rely as heavily on repeat website traffic and returning customers. 
The good news? It's a great time to offer a flashy deal and win some new shoppers.
Buying in bulk is big
I'll admit it. This trend initially came from my 'momstinct', but turns out I was right. When people are saving money they tend to buy products in bulk. Yes, for back to school shopping too. 
When I checked the keyword "bulk" on Similarweb Shopper Intelligence's keyword analysis tool, school related products that are sold in bulk have experienced a whopping growth. Moda West padded backpacks saw a jaw-dropping 8,600% MoM increase from June to July 2022. One reason this 24-pack of backpacks is flying off the shelf is possibly because groups of parents are buying for multiple kids together – such as cousins and close friends.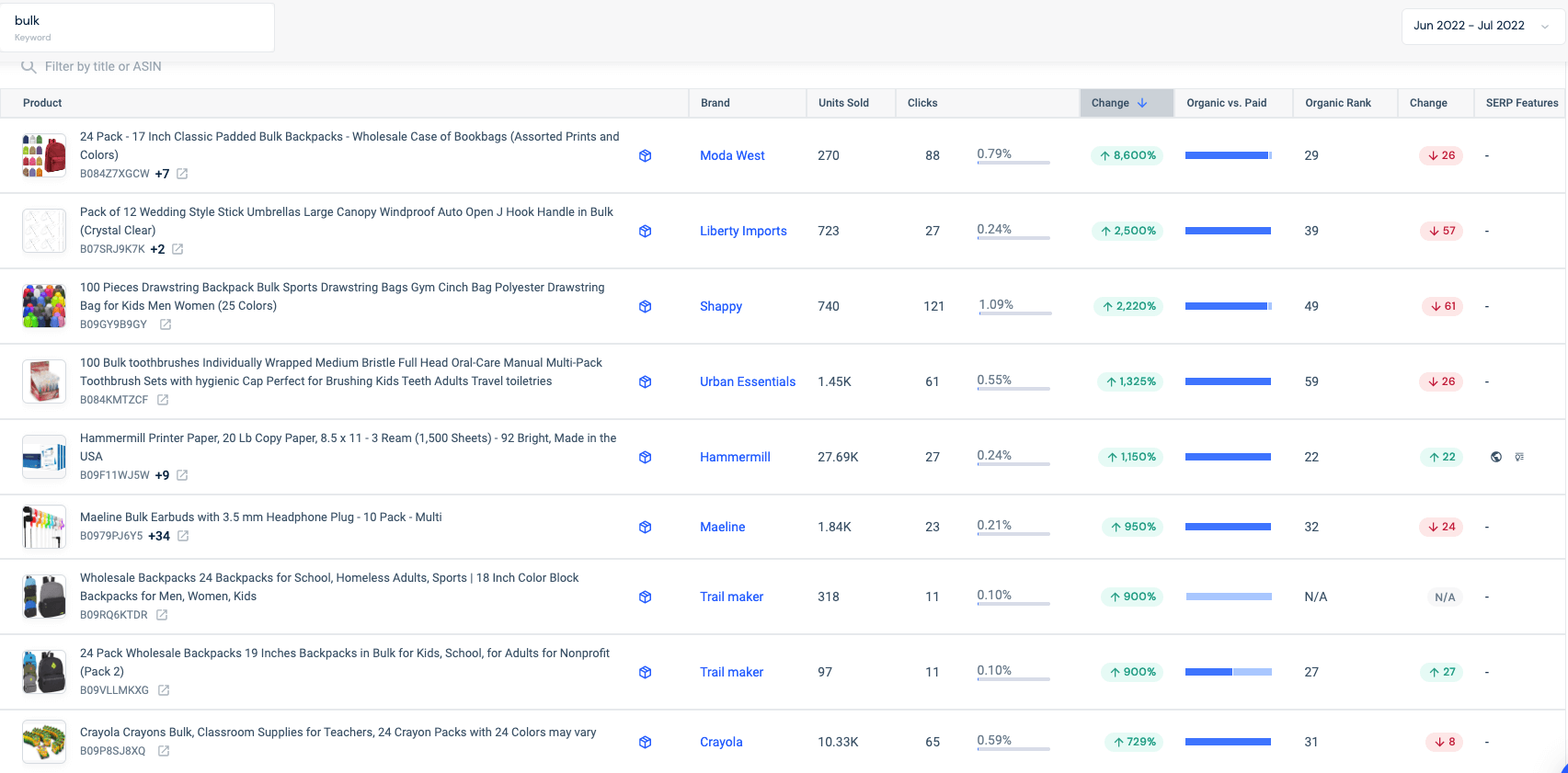 In-store shopping is popular (again)
A Deloitte survey found that 49% of parents plan to do the majority of their shopping in-store. I don't know about you, but I did not expect that.
For the past few years the trend has leaned heavily towards online shopping, so the move back to in-store is surprising. However, it could be related to the labor shortages that have led to increased shipping times for most items. It's also easier for many shoppers to find similar products if the item they need is out of stock when they visit a store in person. 
But, what are people
actually
buying?
The NFR predicts the average family will spend about $15 more on back to school shopping this year than last. That means this industry is expected to make about $37 billion this season. This is where all that money is going. 
Top categories 
Looking at month-over-month revenue growth, devices, software and electronics claim the top three spots with increases of 519%, 466%, and 45%, respectively.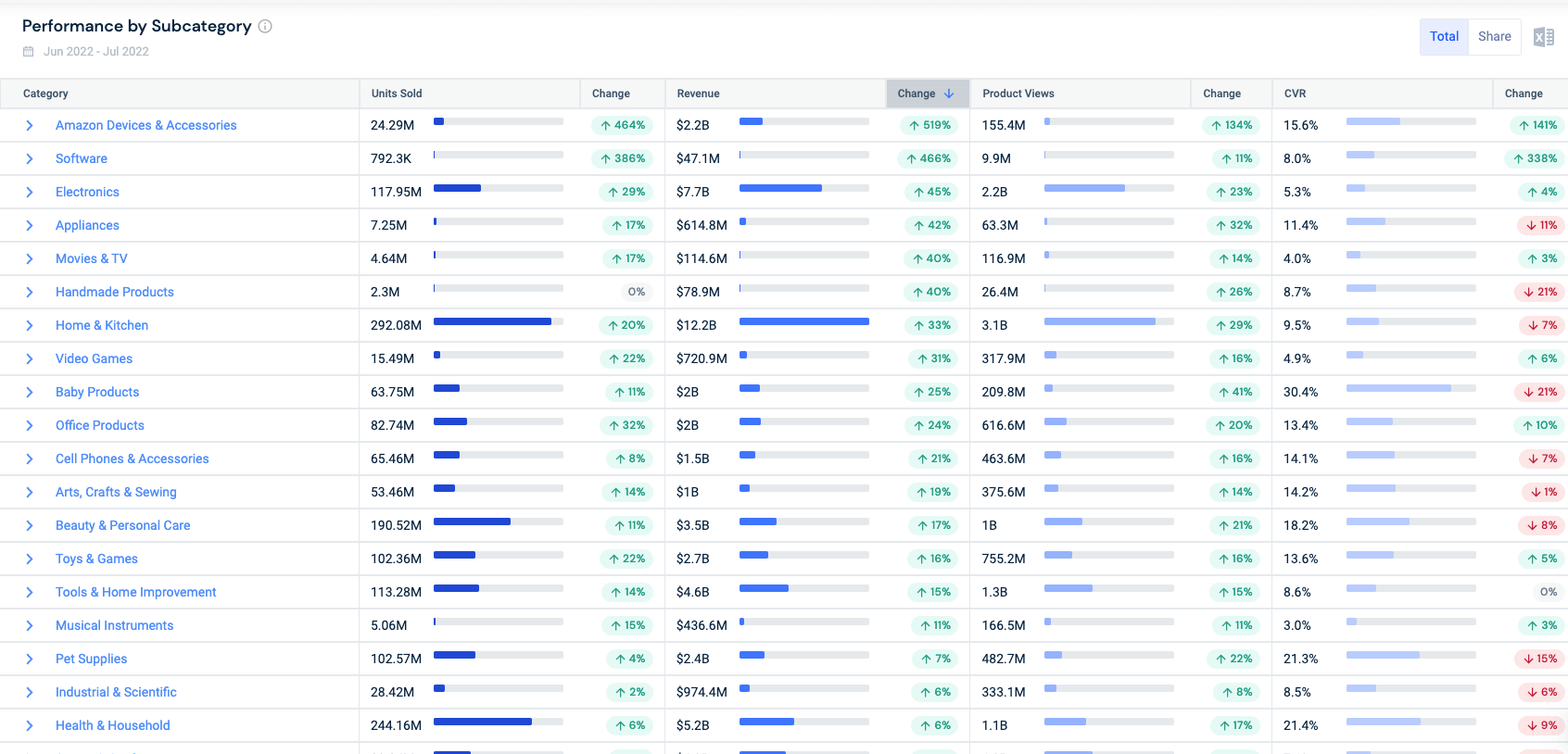 However, if we look at the change of total product views, clothing skyrockets to the top with upwards of 3.6 billion. This interestingly shows that shoppers are looking more at clothes, but spending more on devices. 
Is that in-line with back-to-school shopping trends? I dare say so. If you have a big list you check out all the items you need, and then prioritize which to buy.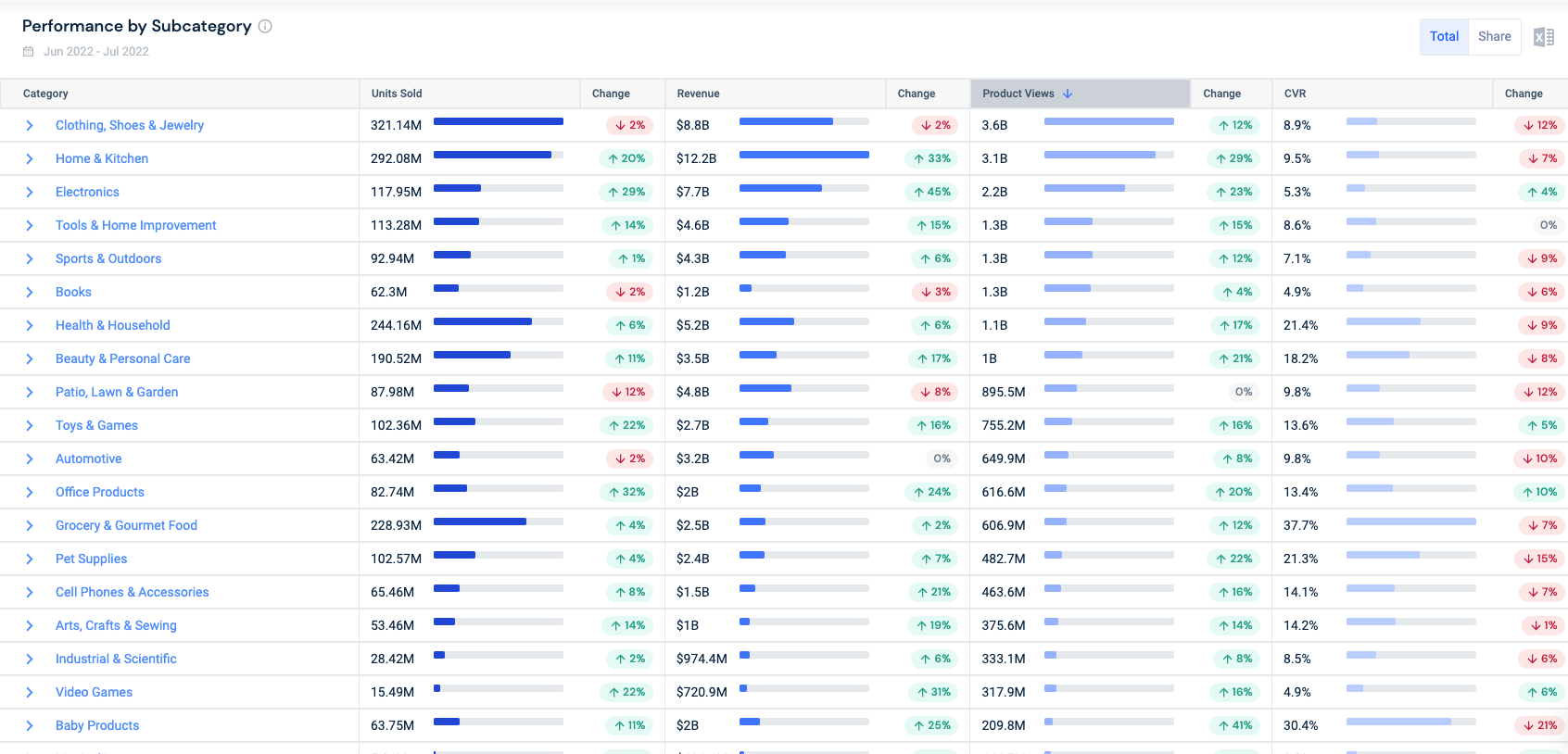 Amazon "back-to-school" keywords 
As a busy parent, who wants to get everything I need fast, I search categorically in Amazon. So, that's what I decided to investigate. 
A quick look at the keyword "back to school" in our Amazon Keyword Analysis tool shows massive month over month growth. It's clear that related searches such as "back to school supplies" and "back to school shirt" are also on the rise. 
Agreed, nothing too surprising there. Let's dig deeper. 
Top brands
The top ten brands winning for the keyword "back to school" on Amazon are (drumroll, please): 
| | |
| --- | --- |
| Brand | Share |
| adidas | 5.33% |
| Paper Mate | 3.69% |
| KatchOn | 3.58% |
| School Supply Boxes | 3.46% |
| VEEBOOST | 2.35% |
| Jelife | 2.30% |
| SHARPIE | 1.52% |
| Generic | 1.44% |
| QQUK | 1.34% |
| Amazon Basics | 1.05% |
Top products
Expectedly, many of those brands are found in the top purchased products for the trending keyword. 
Here are the top ten products based on percent increase month on month. Notice how many of these products are sold in bulk?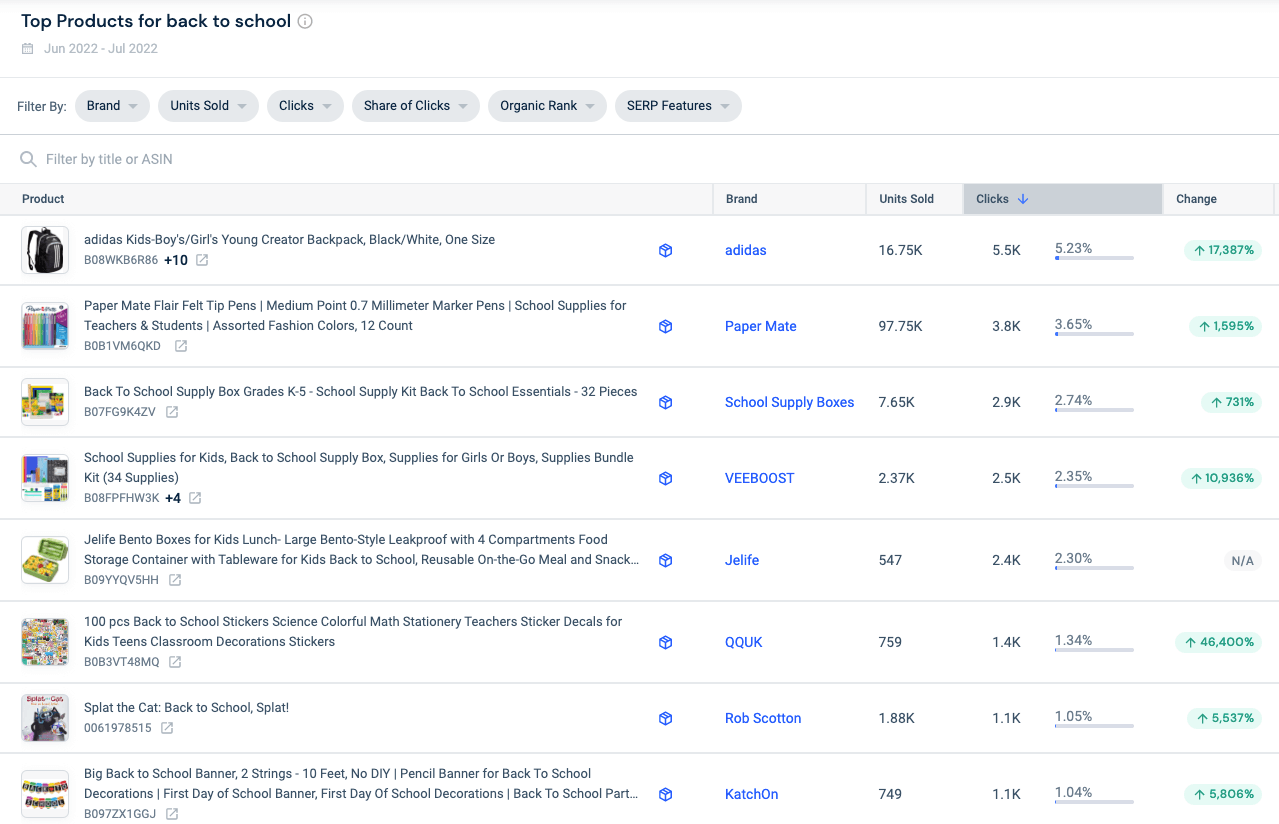 And here's what we see if we filter by total units sold.
Let me quickly call your attention to a few takeaways. 
The brand Mead has sold the highest selling product.

The top selling products are overarchingly gender-neutral essentials.

Many big name, trusted brands still win in terms of total unit sales.
It's not over yet 
With school starting September 1st for many students there is still a little time left on the clock for last minute purchases and "how did we forget that?!" items. 
Marketers, that means there's still time to for a last minute strategy change to steal some back to school shopping traffic share. Parents, you're almost there.
Anyway, to see where the chips fall when the clock strikes autumn, have a play around on Similarweb Shopper Intelligence for yourself. 
This post is subject to Similarweb legal notices and
disclaimers
.
Wondering what Similarweb can do for you?
Here are two ways you can get started with Similarweb today!