Most shoppers aren't even aware that the Amazon Buy Box influences their purchases. However, for Amazon sellers, it's a coveted spot that directs 82% of sales on the popular eCommerce platform. What happens when more than one seller gears up to win the buy box? How does Amazon pick who gets featured? In this article, we'll show you how to win the Amazon Buy Box, and, include special insights from Shopper Intelligence, our eCommerce solution.
What is the Amazon Buy Box?
Buyers looking for an item usually start with a search on Amazon and then click on the most interesting product. After that, they go directly to the product detail page. While on the product page, they'll see the product photo, a description, and a white box on the far right of the page.
We know this box as the Amazon Buy Box, and it's considered prime real estate. It's where your customer can see the price and know whether Amazon or one of many Amazon resellers has the item. Customers can usually specify the number of items to order and add the item to their cart directly from the buy box. The Buy Box also offers other options for some products, such as trade-ins, accessory add-ons, and Subscribe & Save (SnS).
What happens when multiple third-party (3P) sellers offer the same product for sale? Each identical product will share the same ASIN. Since only one of them gets the product featured in the Buy Box, there is some competition. Amazon uses its own buy box algorithm to determine the winner. 
Benefits of the Buy Box
Consumers have two easy buying options from the Buy Box: They can press "add to cart" or can skip adding it to their cart and use Buy It Now to check out immediately. If you have your item in the Buy Box, there are fewer steps for a customer to pick you. If you're the only seller of a particular product, this opportunity isn't as important, since you have a unique product with no e-tailers trying to compete.   
How to become Buy Box eligible
Not all product listings are even eligible for the buy box. Only professional sellers qualify. If you have an Amazon professional seller account, check the status of your inventory for the Buy Box by doing the following:
Go to your

Seller Central

account.

Choose the

Manage Inventory

page.

Click on Preferences.

Select

Buy Box Eligible

. 

Click Save Changes at the bottom of the page.
This prompts a list of all your ASINs, along with each product's buy box eligibility. 
How to win the Amazon Buy Box
The Buy Box, also called the "Featured Offer," depends on many factors, some of which are only known to Amazon. Seller metrics matter, so consider these pointers:
Those accounts with strong

seller performance

generally win out over

new sellers

. Suppose you qualify through excellent shipping, especially to

Amazon Prime

members. In that case, your reputation should get you access to the Buy Box at least as often as other third-party Prime sellers. 

Cultivate this reputation through consistently high seller ratings and reviews.
Pro tip: Through Shopper Intelligence you can determine reviews and ratings of top products in your category to see where you stand.
Strive to meet Amazon buy

algorithms

, which use Amazon's own

performance metrics

to determine which sellers are considered high performers before offering the Buy Box.

What are these

Amazon Buy Box algorithm

metrics

? While not publicly revealed, sellers who rank high consistently do these things:
1. Offer new items
Since new products have proved more popular, Amazon rarely grants the Buy Box to used products. If your products aren't used or second-hand, make sure they are in the original packaging.   
2. Set a
competitive price
While you can use software to track pricing and undercut the competition, the lowest price doesn't always guarantee a win. Instead, opt for a better pricing strategy that factors in your cost of product, fulfillment, and shipping (also known as a landed price.) From there, adjust your product price by using repricing software or your own industry knowledge. Not only can researching products through software help automate your pricing strategy, but it also alerts you when a lower price is much too low. 
3. Pick the right
fulfillment method
If you're an Amazon FBA seller, you already know that Amazon provides a reliable shipping time. Amazon's vast network and infrastructure offer faster shipping vs. FBM (fulfillment by merchant) options. Still, it's possible to win the Buy Box with seller fulfilled prime shipping. This option offsets Amazon's responsibility to the seller and may grant you a greater chance to be a Buy Box winner. 
4. Aim for a high
feedback score
As you sell more and get more seller reviews, you will see some negative feedback. This is simply part of doing business. To ensure these poor reviews are rare, work on your overall customer experience. Be attentive to your buyer's needs, answer questions, and give timely assistance. Check out more tips to optimize your Amazon product reviews.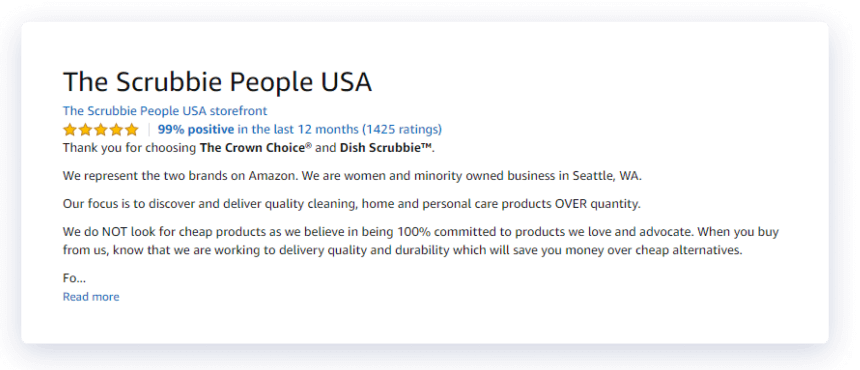 Aim to have high feedback scores, like The Scrubbie People USA
5. Keep inventory stocked
Watch your stores to ensure you don't run out of items, especially during popular shopping periods, like Amazon Prime Day. Amazon won't give the Buy Box to sellers with nothing to sell for a particular Amazon Standard Identification Number (ASIN). 
6. Keep your
Order Defect Rate
(
ODR
) low
Amazon considers the ODR to be a significant factor in seller account status. Anything higher than 1% can get your seller account deactivated. Amazon adds up your negative feedback rate, credit card chargeback rate, and A-to-z guarantees claim rate – as well as your refund rate and cancellation rate – to create your ODR.
7. Bundle with care 
Creating your own product bundles with a unique ASIN can get you into the Buy Box when there's too much competition for a single product. Amazon sets some strict rules for what qualifies as a bundle. Multipacks, for example, do not qualify.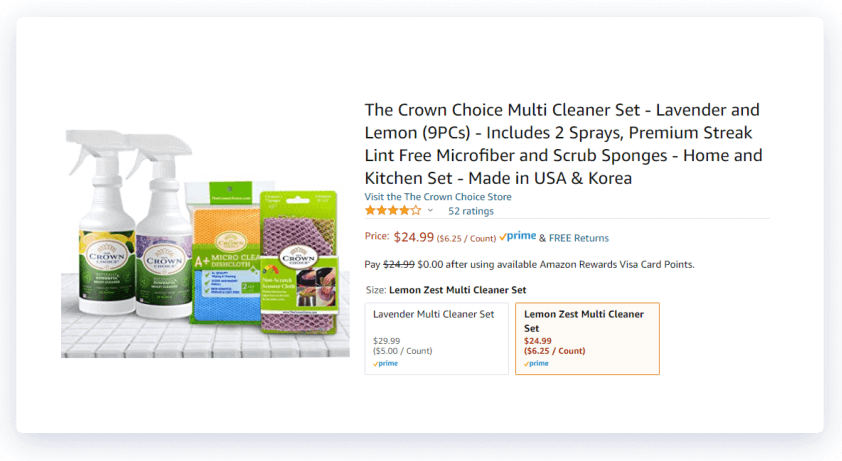 Product bundle example: Crown Choice Multi Cleaner SetIf done well, you can not only secure the buy box easily, but you can upsell accessories and provide your customers with the best overall buying experience. 
Pro Tip: To help create the perfect product bundle, use Similarweb Shopper Intelligence to identify the cross-shopping behavior of customers.
Bottom line to win the Amazon Buy Box
Even if you're new to being an Amazon Prime seller, the Buy Box is well within your reach. By following the simple rules, understanding the market, and pricing your items well, you'll ensure your chances of winning the buy box at least as much as the competition.
For more Amazon tips, sign up for our Prime Day 2021 Insights Webinar June 28.
Also, with eCommerce tools like Similarweb Shopper Intelligence at your disposal, rising above your competition is possible, too. 

This post is subject to Similarweb legal notices and disclaimers.
This post is subject to Similarweb legal notices and
disclaimers
.
Wondering what Similarweb can do for you?
Here are two ways you can get started with Similarweb today!