 eCommerce Intelligence
Amazon Product Listing Optimization Done Right [9 Expert Tips]
by Molly Winik
, Senior Digital Research & eCommerce Specialist
8
Min.
September 28, 2022
| Updated September 29, 2022
If you're ready to jump on the fast-moving train of Amazon, we're here to get you up to speed. Amazon marketplace is the place to be for small-to-medium-sized businesses (SMBs) and retail brands that want to sell more products online. But there are over 500 million products already listed on Amazon. How will you get noticed?
In this post, we'll provide you with nine must-know tactics for Amazon listing optimization. Learn how to be visible, anticipate consumer demand, achieve high conversion rates, and generate revenue. 
What is Amazon listing optimization?
Amazon product listing optimization goes hand-in-hand with marketplace SEO, the process of boosting organic clicks and producing higher ecommerce conversions. Marketplaces use algorithms to decide what products to showcase in search results based on shopper behavior and spending habits. By optimizing your Amazon listing according to marketplace SEO best practices, you'll ultimately rank higher and get more eyes on your product.  
Read more about how to nail marketplace SEO in 9 simple steps.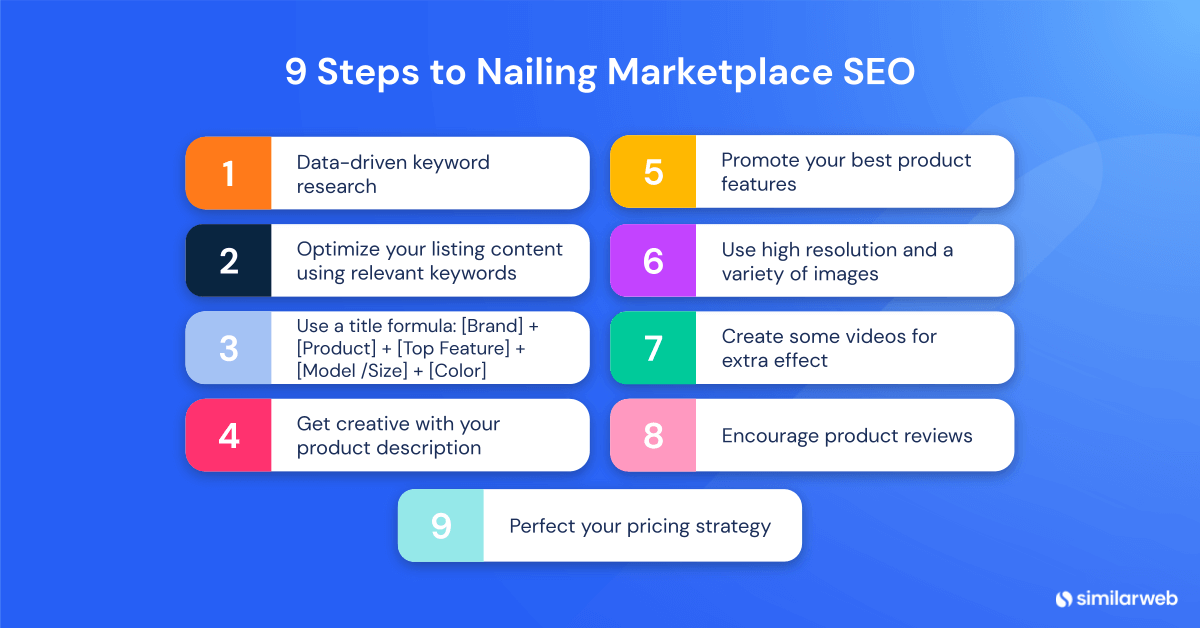 You have two main goals with Amazon listing optimization. First to tell customers everything they need to know about your product, including description, reviews, features, spec, and more. Then you have to optimize all of that content by adding keywords to Amazon listings that your customers are searching with, following best practices such as character count limit, including high-resolution images, and more. 
Your ticket to success is to present your product as accurately and realistically as possible while incorporating maximum relevant keywords in the right way.
Tweet this
Why is Amazon product listing optimization important?
At the end of the day it's simple: if you're not optimizing your product listings, you're not going to generate any sales. 
Product listing optimization is vital to boosting your Amazon SEO. 
Without it, it's almost impossible to stand out from the hundreds of millions of products circulating for sale across the dozens of product categories and subcategories on Amazon. 
All you have to work with is one product page. It's not like a website where you can add a catalog, pages, blogs and backlinks. Because the listing page includes different elements with strict guidelines, your challenge is to make the most of each while adhering to the rules and staying within the limitations.
Tha A9 algorithm 
Keep in mind though that Amazon's ranking system, known as the A9 algorithm, works differently that other SEO ranking processes you may be familiar with. On Amazon, the objectives are clear. You're not trying to generate maximum traffic or be relevant for maximum search volume – SEO aims to increase sales and influence the buyer decision process. 
The A9 algorithm ranks product listings according to relevance and performance. Relevance is how closely the keywords in your listing match search intent, while performance looks at previous sales for the given product. With these metrics, the algorithm determines the likelihood that someone will purchase that specific product. 
Learn more about the a9 algorithm and Amazon SEO best practices
7 elements of an Amazon seller product listing
Product title

– Use a maximum of 200 characters, capitalize all first letters

Images

– High quality images required, size 500 x 500 or 1,000 x 1,000 pixels

Variations

– Showcase additional colors, sizes, or models of the same product

Bullet points

– Add up to 5 bullet points to highlight Amazon product information, features, and benefits. Each bullet point can include up to 500 characters. A vendor can add 5 more, and the character limit varies per category

Description

– Use a maximum of 2000 characters to describe your product

Reviews and Rating

– User-generated content.

Customers rate the product and can write a review

FAQs

– Optional.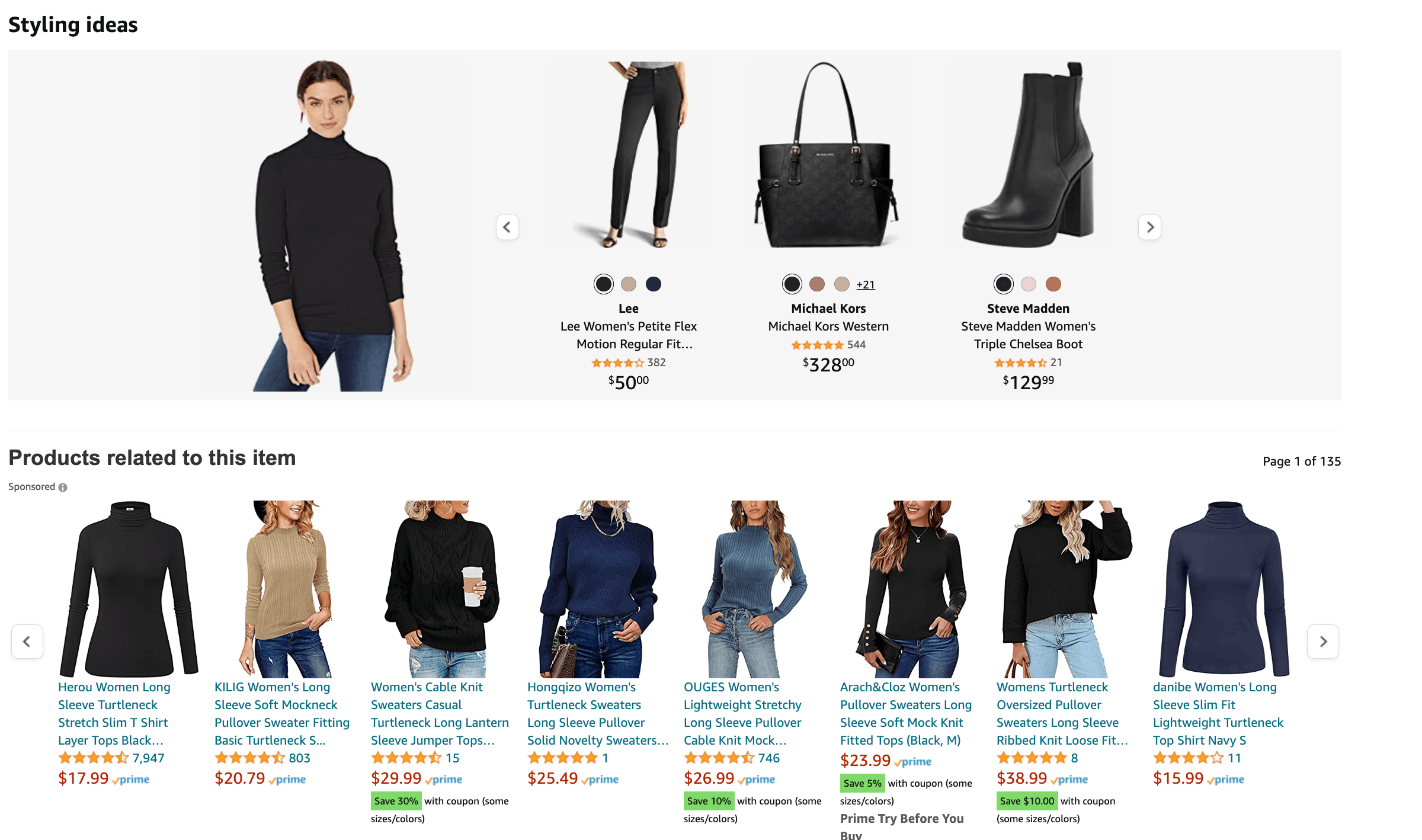 There's also content over which you have no control because it's generated by Amazon. This includes a featured offer box, suggestions for related items, and comparable product listings. Keep an eye on what's displayed there.
Amazon product listing optimization applies to all elements. We'll walk you through what's important for each one in terms of ranking, and how Similarweb data can help you. Let's get started.
9 Amazon listing optimization tips 
Ready to take your Amazon listing to the next level? Follow these 9 tips and best practices to make sure you're converting clicks to sales: 

Tip #1: Include the brand name in your title
Mentioning the brand name in the title makes your listing appear respectable and significant. If you sell a product from a popular brand, adding it increases the probability of getting found, especially if customers are searching on Amazon according to the brand name. But even if your brand is not well known, adding it to all your products raises brand awareness.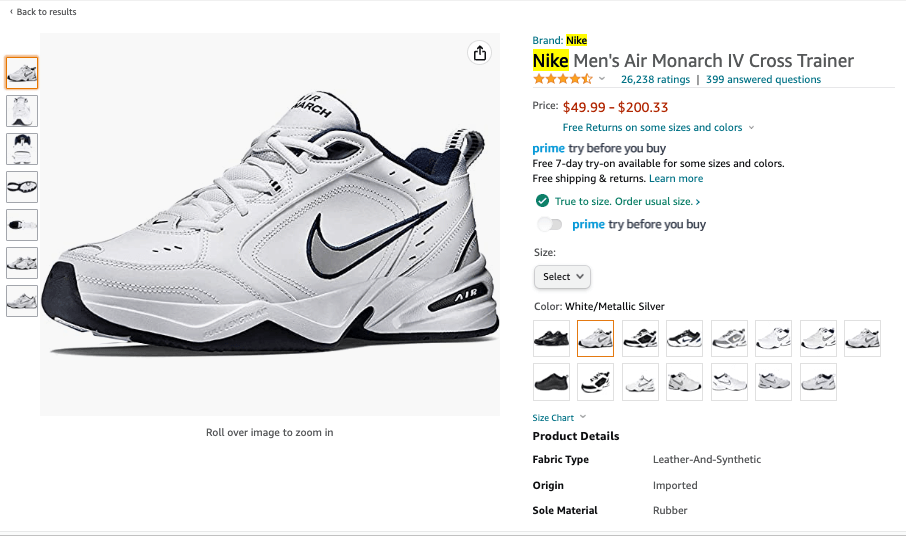 Tip #2: Use separators in long titles
200 characters are a chunk of text and may be difficult to read, so when it makes sense, add in separators like : "|" "-" ",". Structure the title so your readers can identify related or unrelated items. Separate the various elements in your title by using these separators:
Vertical line – separate items that aren't connected or related

Dash – separate items that have some connection but aren't directly related

Comma – separate related list items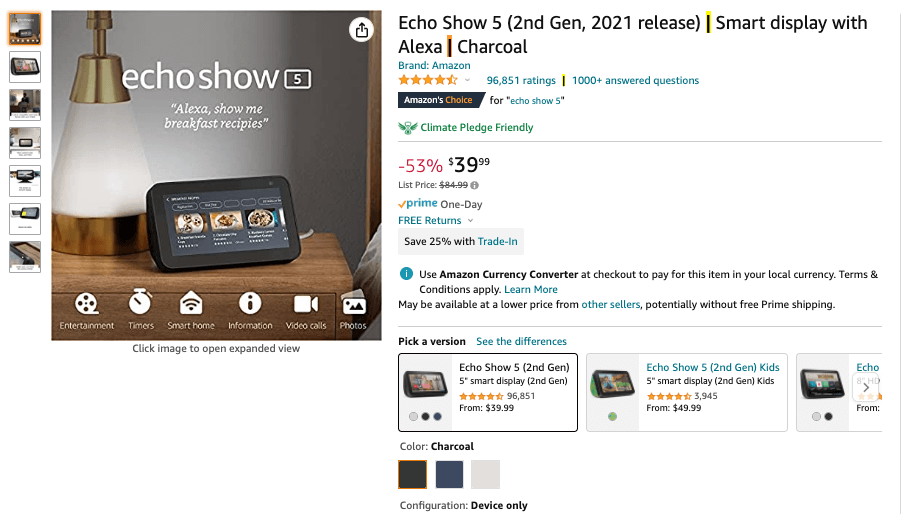 Tip #3: Optimize title length for mobile
Keep in mind how the title looks on mobile. If your title looks bulky on desktop, it'll be worse on your customers' phones.
On top of that, mobile devices usually display only 80 characters. Make sure the first 80 characters present the info the searcher needs to determine that this is the right product for them. 
Tip #4: Make your bullet points stand out 
Concise is the magic word for bullet points. Try to provide maximum valuable information with minimum text. Consider working with a microcopy professional to get the job done and bring your message across. 
Each bullet point should address one topic which you present at the beginning. You can put this in brackets for emphasis or use all capital letters if it's just one or two words. This allows the reader to skim your bullet points for the info they are interested in. 
Tip #5: Experiment with backend keywords 
Amazon lets you target keywords that don't show on your listing page. This means you can optimize listing keywords on Amazon that are relevant for your product description but less interesting for the searcher. Use the maximum page content for user-oriented descriptive search terms and still add more—for example, synonyms, abbreviations, and common misspelling. 
Be aware that there's limited space for backend keywords. Amazon gives you 250 bytes for your additional keywords. 250 bytes are not the same as 250 characters. Regular letters and numbers use one byte, but other characters can use two or three bytes. It's critical not to exceed the rule because Amazon will disregard your keywords if you do. 
Other fields in the backend let you determine demographic parameters. Fill them in accurately because Amazon filters search results accordingly. Do's and don'ts: 
✔ Do use all the space you have 
✔ Do include common synonyms, abbreviations and misspellings 
✔ Do fill in the fields accurately 
❌ Don't mention competitors or their ASINs (Amazon Standard Identification/Item No.) 
❌ Don't repeat keywords
❌ Don't use more than 250 bytes
Similarweb's On-Site Search Optimization tool can deal with Amazon listing keyword optimization, especially high-performing keywords with potential for strong organic and paid strategies.
Tip #6: Use infographics, not illustrations 
Contrary to the main image, on others you are allowed to use text. For example, you can use infographics to present data in a visually compelling way. For some products, comparisons such as before and after images can be relevant, as long as you don't compare to or mention competing products.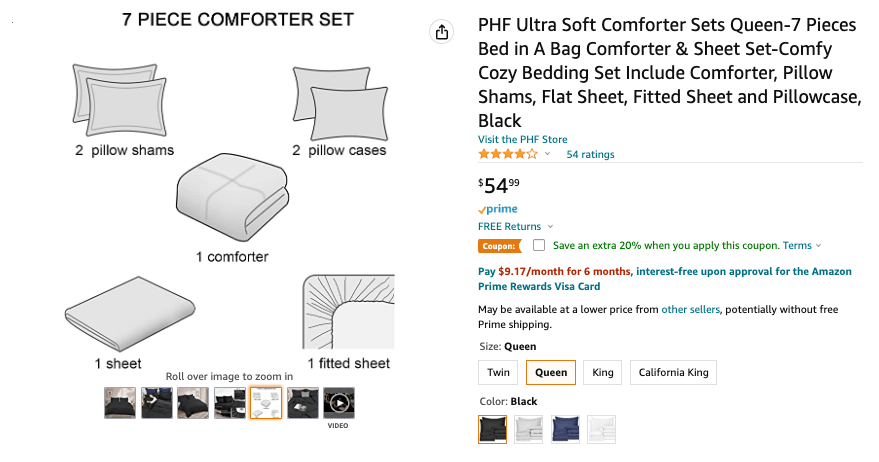 Tip #7: Turn product reviews to your advantage 
Read through all comments and answer each one. Say thank you for positive reviews but invest thoroughly in responding to negative feedback. Acknowledge them and try to understand where the customer's disappointment comes from. Never make it personal. Treat them respectfully and present your side or explain.
Read More: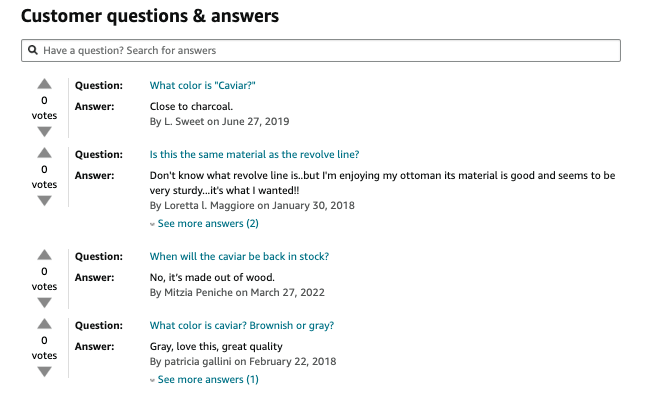 Tip #8: Monitor what your competitors are doing
Take a look at competing brands to get more ideas of how you can optimize your product listing.
Similarweb's Cross-Shopping tool helps you identify top competition in different categories and better understand the landscape by showing the percentage of users who viewed your brand compared to others. For example, if you're analyzing Under Armour and the brand share of competition for Nike is 20%, it means that 20% of consumers who viewed Under Armour's products also viewed Nike's.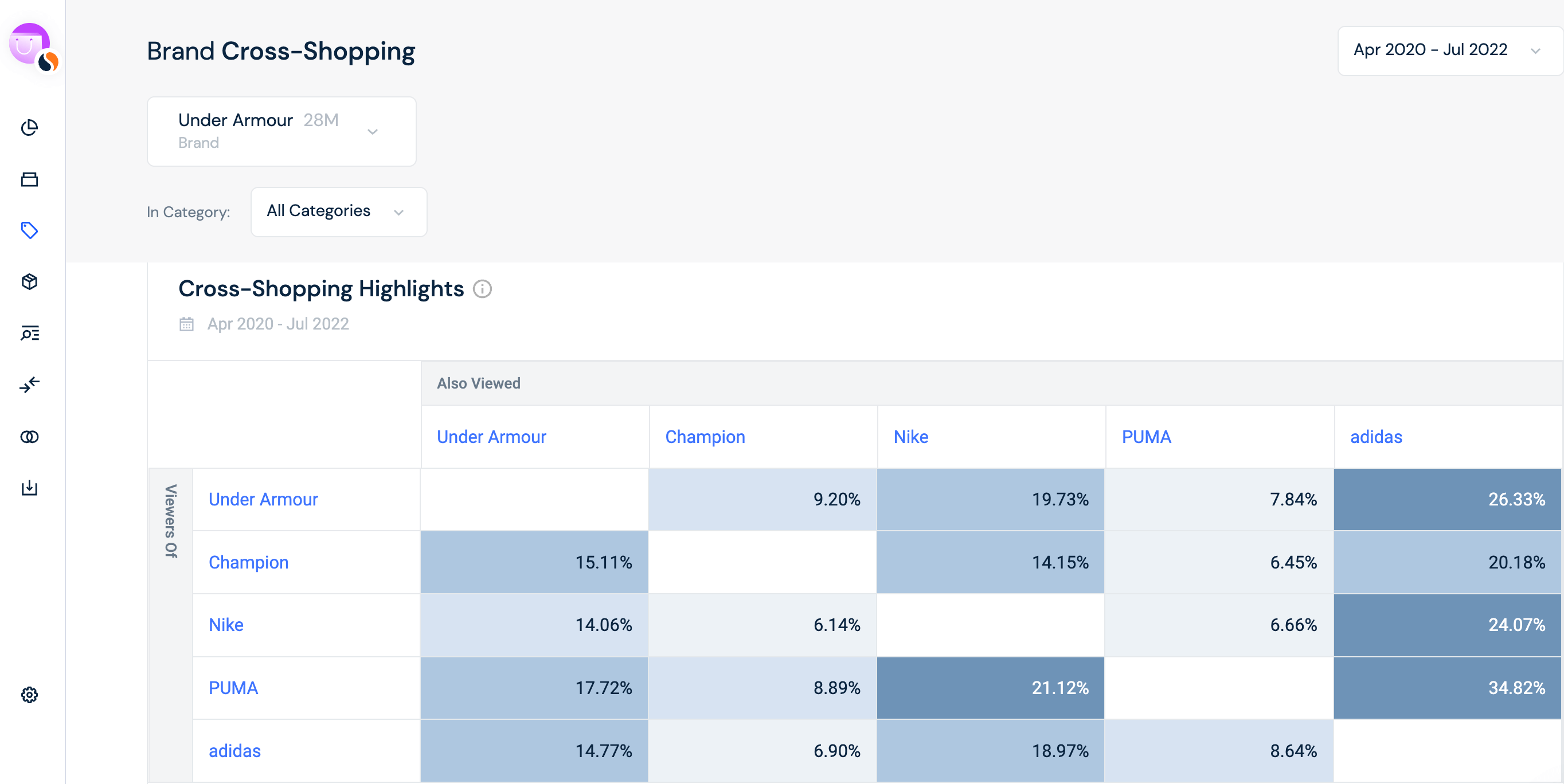 If you see that a large percentage of your users frequent a specific competitors' product pages, you should do some research and see what they're doing that's working, and how you can mimic this in your own listing. 
Tip #9: Benchmark against your competitors
After you've determined your top competitors, it's time to benchmark your performance in order to improve conversion. 
You want to make sure you're doing as well if not better than your competitors. If your products aren't converting as well, you'll need to rethink your listing optimization strategy. 
With ecommerce tools you can gauge the average product views and transactions for your product category compared to your main competitors. You can also track whether your page views are above or below average, benchmark your conversion rates against the category average, and compare directly with specific companies.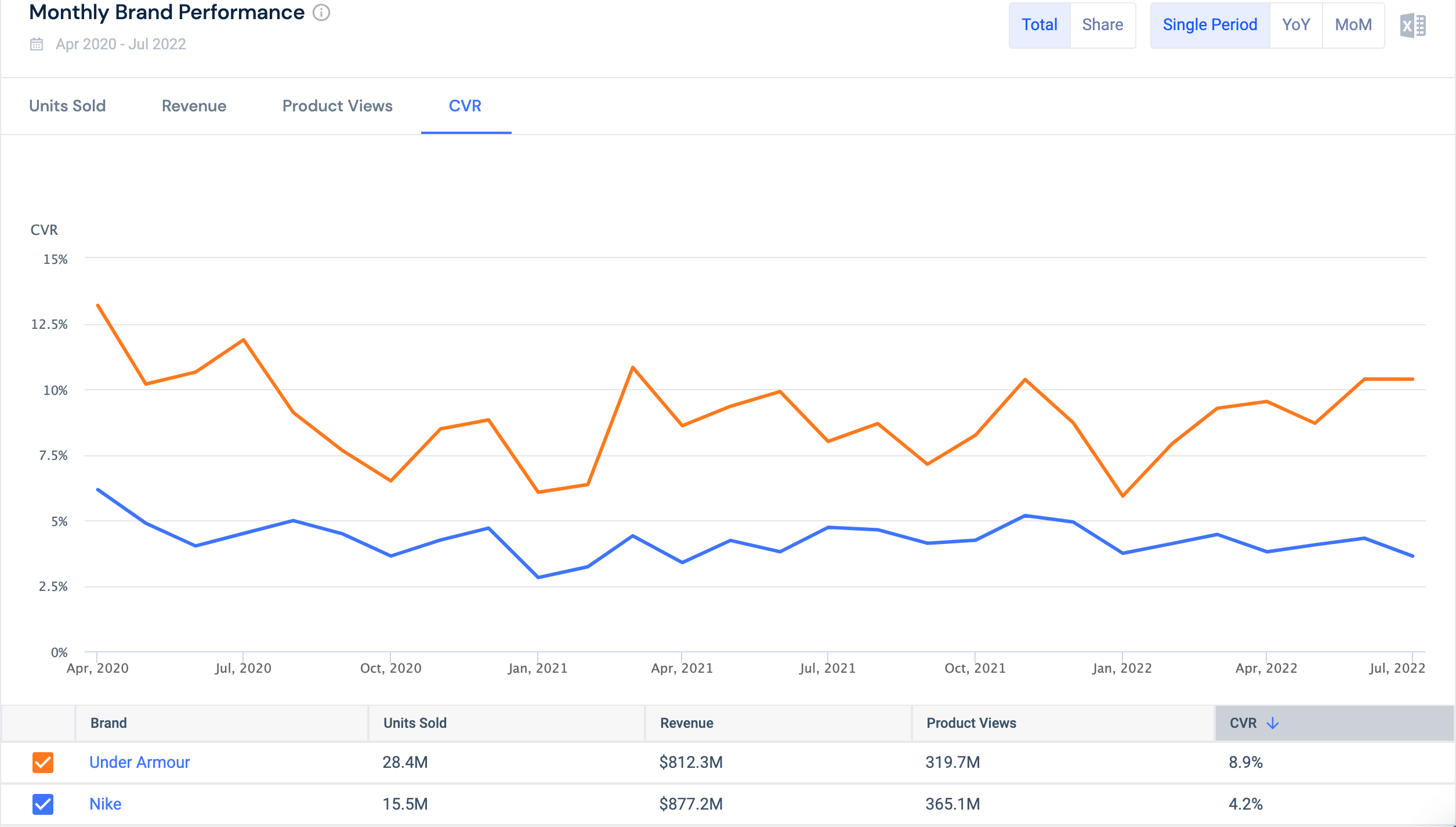 Optimize your Amazon product listings and competitive research
Boost your digital performance on the world's leading ecommerce platform by uncovering consumer browsing behaviors, purchase patterns, and retention rates. 
Similarweb Shopper Intelligence provides insight into:
Point of Sale – Understand consumer demand by analyzing monthly and daily product views, transactions, and revenues at the category, brand, and product-level
Consumer Journey – Gain insight into browsing behaviors such as cross-shopping, and analyze brand loyalty, retention, 'Subscribe & Save' rates, and more
Search Optimization – Optimize your Amazon search strategy by identifying the best-performing keywords, PPC vs. organic split, branded vs. non-branded searches, clicks by position, and top brands per keyword
Contact us today to learn more!
FAQ
Why is it important to continuously optimize Amazon product listings?
At the end of the day it's simple: if you're not optimizing your product listings, you're not going to generate any sales. Product listing optimization is vital to boosting your Amazon SEO. Without it, it's almost impossible to stand out from the hundreds of millions of products circulating for sale across the dozens of product categories and subcategories on Amazon. 
What is A+ content on Amazon?
Amazon A+ content is a way of transforming your Amazon product listing to significantly optimize sales conversions. Rather than simply listing your product's features, A+ content allows you to tell the story of your brand and show potential customers how the product will enhance their lives.
What are some best practices for Amazon product listing optimization? 
When optimizing your Amazon product listings, you should always include your product name in the title, experiment adding keywords to Amazon listings, include infographics when possible, use good reviews to your advantage, and monitor what your competitors are doing.
This post is subject to Similarweb legal notices and
disclaimers
.
Wondering what Similarweb can do for you?
Here are two ways you can get started with Similarweb today!