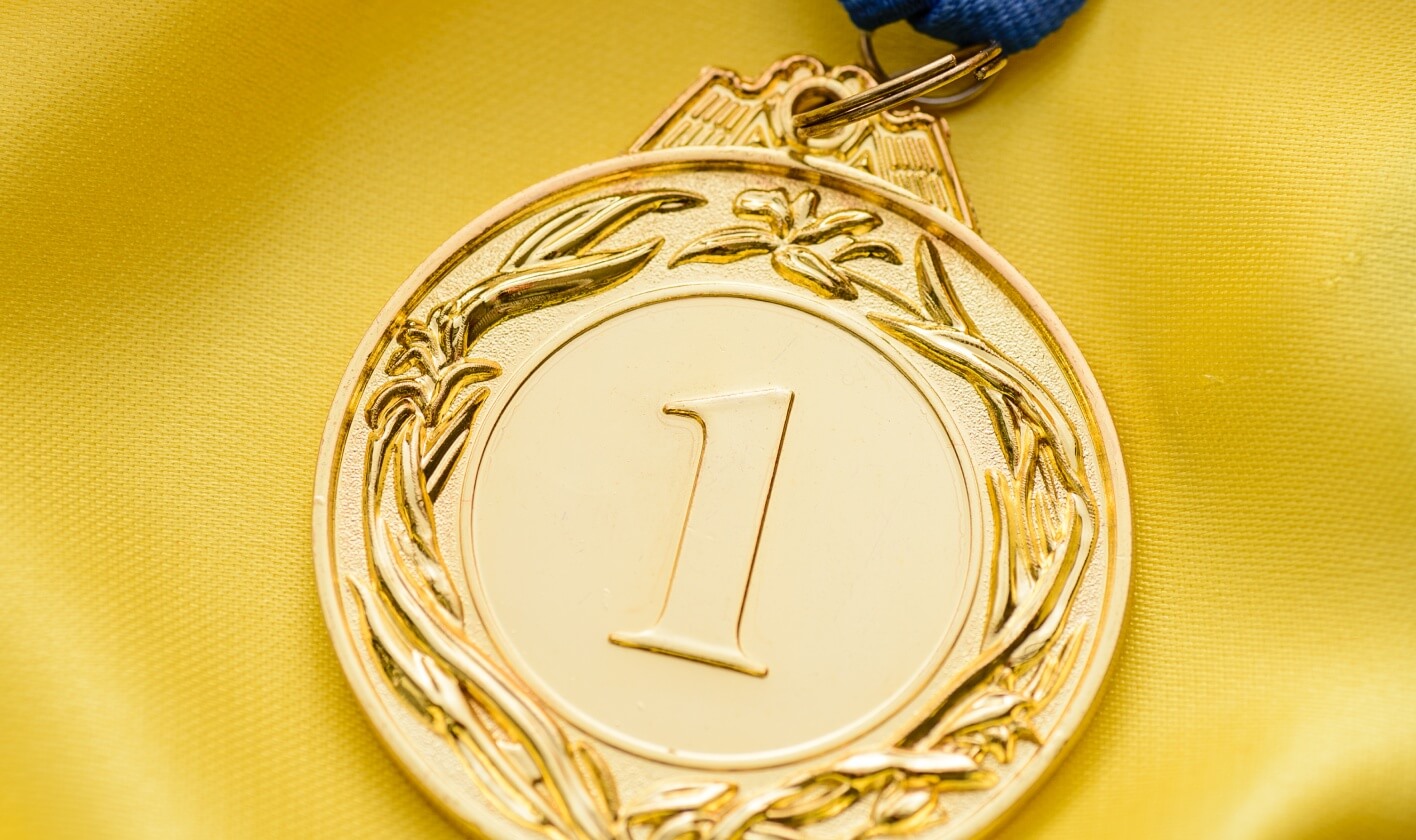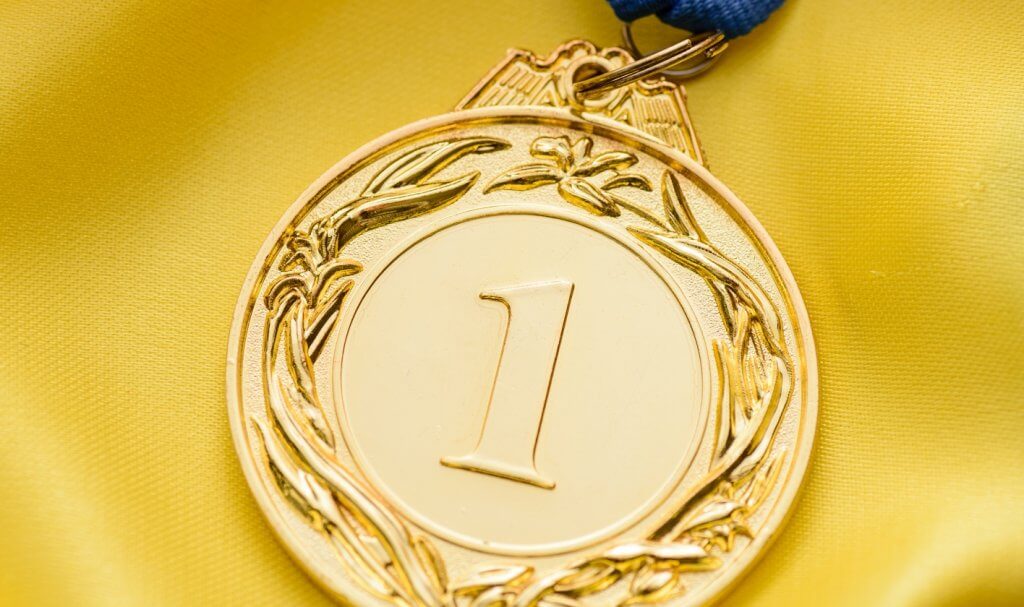 eCommerce Intelligence
Top Amazon Categories and Brands Winning the eCommerce Gold
August 3, 2021
| Updated July 3, 2022
With the games sprinting ahead in Tokyo, it's all about scoreboards these days. In the spirit of healthy competition, we used Shopper Intelligence to break down top brands and onsite-search terms for select Amazon categories. Check out who ranked first, second, and third based on units sold in June 2021, plus, get powerful insights so your brand can win a medal next month.
Amazon categories: leading brands
1. Health & Household 
Health & Household is Amazon's second-largest category based on unit sales (218.9 million) and the third-largest based on revenue ($3.1 billion). 
Winning brands
🥇 Amazon Basics
🥈 Nature's Bounty
🥉 NOW Foods
⭐️ Runners-up: Solimo, Amazon Basic Care
Health & Household insights
Amazon first-party brands (1P), Amazon Basics, Solimo, and Amazon Basic Care, take three out of five top spots, reflecting the strong performance of 1P brands in the Health & Household category. Here, 1P brands account for nearly 50% of unit sales, which is 13 percentage points (ppts) higher than the average across Amazon (35.4%).
Nature's Bounty and NOW Foods, vitamins, and supplements brands, score silver and bronze medals, reflecting consumers' increased interest in health and wellness, a trend that also powered the recent growth of many of the fastest-growing D2C brands.
Subcategory breakdown
A large proportion (67.3%) of sales for Household Supplies, Health & Household's largest subcategory, go to 1P brands, bringing up the overall category average.
While Household Supplies accounts for 29% of category unit sales, Vitamins & Supplements and Healthcare are the next largest subcategories, with 24.1% and 23.6% of category unit sales respectively. Together, these three account for more than 75% of category units sold.
2. Home & Kitchen
Home & Kitchen ranks third largest category by units sold, 141.1 million, and second-largest by revenue, $6.3 billion.
Winning brands
🥇 Amazon Basics 
🥈 Amazon
🥉 OXO
⭐️ Runners-up: mDesign, Cuisinart
Home & Kitchen insights
Despite Amazon Basics and Amazon taking the top two spots, the percentage of overall unit sales through 1P brands is only 22.4%, 13 ppts lower than Amazon's average. When ranked by revenue, neither is a top brand. Instead, iRobot (robot vacuums) and Zinus (mattresses) take first and second place.
3. Clothing, Shoes, & Jewelry
Clothing, Shoes, & Jewelry generated 118 million in units sales and $3.0 billion in revenue in June. These numbers nearly doubled from one year ago, 65.6 million and $1.7 billion respectively, showing that consumers are eager to buy new clothes!
Winning brands
🥇 Hanes
🥈 Amazon Essentials
🥉 Fruit of the Loom
⭐️ Runners-up: Adidas, Levi's
Clothing, shoes, and jewelry insights
Top-selling brands, Hanes, Amazon Essentials, and Fruit of the Loom, carry essentials like socks and underwear, which consumers need on a regular basis, feeding into high purchase volume.
Adidas which ranked fourth for unit sales, generated the most category revenue. This success in Amazon's marketplace is in line with its strong direct-to-consumer (D2C) performance. In fact, "Yeezy," its collaboration with rapper Kanye West, was the top trending keyword for the fashion and apparel industry May – June 2021 bringing users to adidas.com
4. Tools & Home Improvement
With 85.8 million in unit sales, Tools & Home Improvement generated $2.9 billion in revenue. This is up by 21.3 million and $0.8 billion from last year, showing consumers' increased focus on home improvement in 2021.
Winning brands
🥇 Dewalt 
🥈 Amazon Basics
🥉 Sengled 
⭐️ Runners-up: GE, Kasa Smart
Tools & Home Improvement insights
Dawalt, the top-selling brand, also brought in the most category revenue, showing that consumers are in fix-up mode. Dewalt's power tools are needed by homeowners, particularly new home buyers, to fix up new properties, many of which were purchased due to the overheating of the U.S. housing market.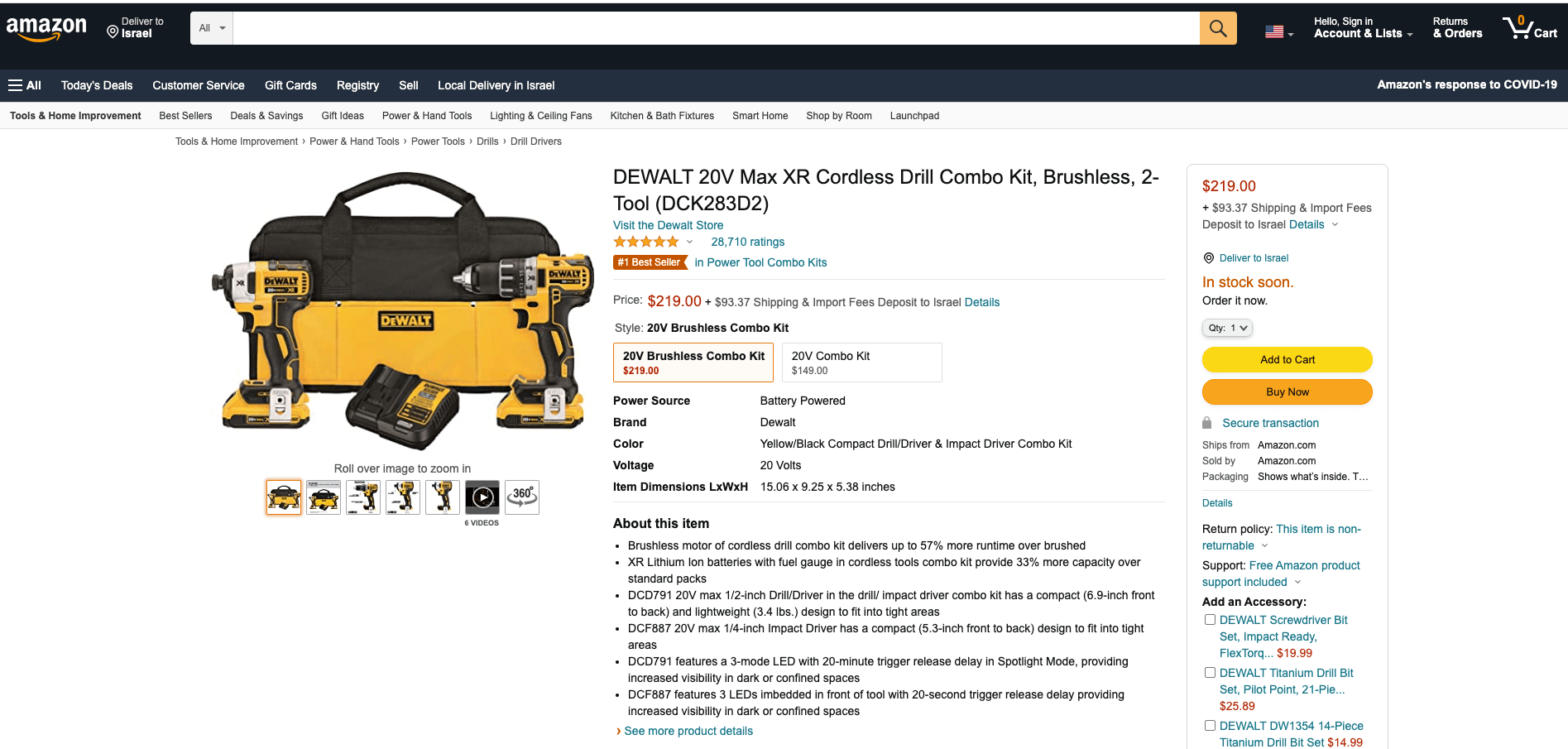 Sengled, third place, and Kasa Smart, fifth place, show shoppers' interest in smart home products. Sengled makes smart lighting products, and Kasa Smart makes smart plugs.
Top Amazon categories: Most clicked keywords
In order for brands to win category rankings, it's key to understand on-site search trends. To help, we've ranked the most clicked keywords for the top Amazon categories in June. If you carry products in these categories, you might want to consider integrating these keywords into your product descriptions so consumers find your listings. Learn more – Amazon Product Listing Optimization Done Right [7 Expert Tips]
1. Health & Household: 'Protein powder' flexes its muscles   
Health & Household keyword insights
Optimum Nutrition, which wins silver for revenue, gains the most brand share for nearly half of the top trending category search terms. While its brand share for these, 17% – 51%, is high relative to other categories, it is similar to other brands which win the most clicks on search terms within Health & Household. 
These trends indicate strong brand loyalty and little room for new Health & Household brands to compete. High Subscribe & Save rates for Vitamins & Supplements, a subcategory of Health & Household (and that of Optimum Nutrition) also reflects strong loyalty and shoppers continually purchasing products from the same brand.
2. Home & kitchen: 'Desks' holds strong
Home & Kitchen keyword insights
Top keywords, "desk," and "office chair" reflect continued interest to create the perfect workspace. Amazon Basics, the category's gold medalist, appears to profit off of this interest, capturing the most brand share for "office chair."
Terms related to portable air conditioners, drive interest in related products from Black+Decker, which ranks fourth for overall category revenue. Black + Decker has the most brand share for "portable air conditioner" and "portable AC," showing that it is leveraging search trends and consumers' desire to cool off. 
3. Tools & Home Improvement: 'Floor lamp' lights it up  
Tools & Home Improvement keyword insights
Amazon Basics is the only top brand in the category to win the most clicks for a top keyword. This suggests that consumers find its products through on-site search and are attracted to low prices, likely lacking loyalty to other brands.
4. Clothing, Shoes & Jewelry
Clothing, Shoes & Jewelry keyword insights
Surprisingly, none of our winning brands win the most brand share for the top 10 keywords. With the exception of Crocs, top brands generate no more than 20% of clicks for top search terms, suggesting that Clothing, Shoes, & Jewelry is a highly competitive category with multiple players vying for clicks 
While Adidas ranked number one based on revenue, it does not win the most brand share for any of the top terms. However, it still has a strong presence as it is the most highly cross-shopped athletic apparel brand on Amazon. Therefore we suspect that shoppers browsing New Balance products will help drive its performance. In June, nearly 27% of New Balance customers cross-shopped Adidas.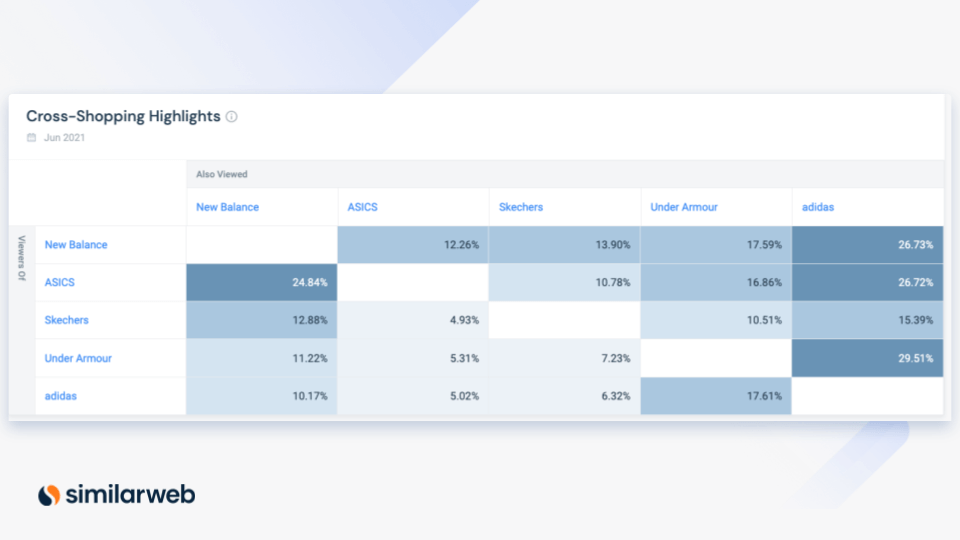 Nearly 27% of New Balance shoppers also view Adidas products (via Shopper Intelligence)
Get the right selling strategy: Subscribe & Save
More and more brands are electing to participate in Amazon's Subscribe & Save program to boost sales. In exchange for higher customer loyalty through subscriptions, brands offer discounts to consumers out of their own pockets.
Grocery & Gourmet generates the most category revenue through Subscribe & Save – 29%. Groceries are essential items, with limited shelf lives, needing regular replacement, so this win should not be surprising.
Similarly, best-selling products for Health & Household, like vitamins and supplements, need regular replacement, propelling the category to third, right behind pet supplies. 
Top revenue-generating categories like Electronics, Home & Kitchen, and Tools & Home Improvement, tend to have lower Subscribe & Save rates since purchases tend to be more expensive, infrequent, or one-time.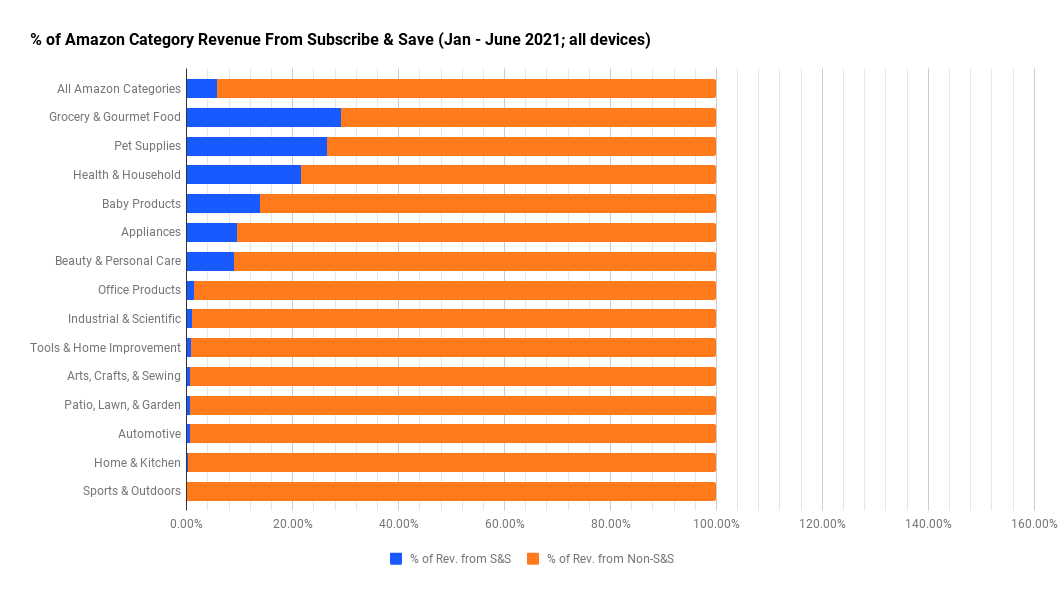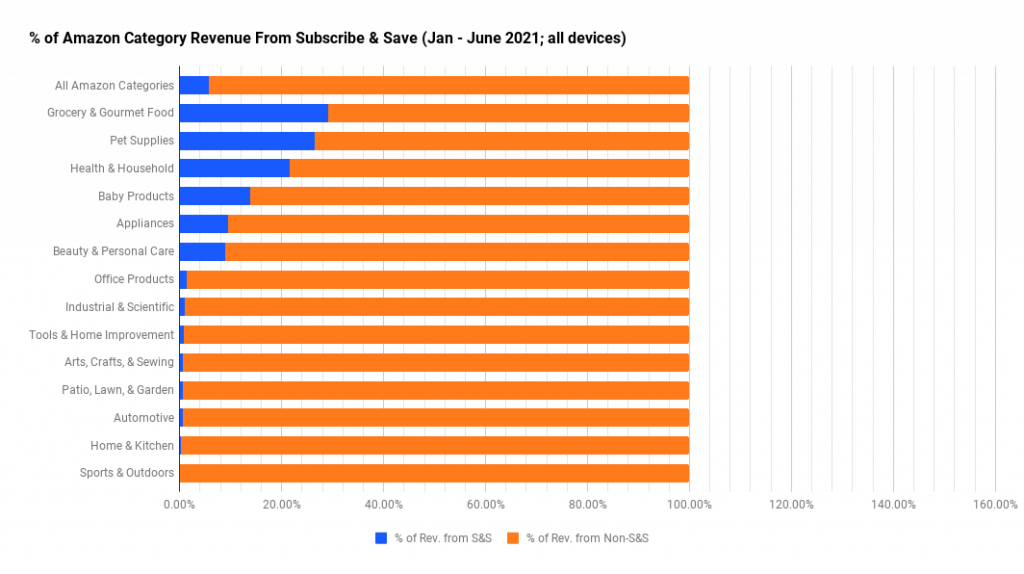 Percent revenue through Subscribe & Save, top Amazon categories
Access your own insights
We used Shopper Intelligence, which provides consumer and purchase behavior insights for Amazon and online marketplaces to pull these rankings. 
Features used include:
Sales performance including 1P vs. 3P sales and percent category share

Loyalty and retention, particularly Subscribe & Save insights

On-site search (category level)
Most of the data pulled in this post were on a category level. However, the same information is also available by looking at top brands. 
Contact us to schedule a demo and we'll walk you through some insights.

This post is subject to Similarweb legal notices and
disclaimers
.
Wondering what Similarweb can do for you?
Here are two ways you can get started with Similarweb today!