 eCommerce Intelligence
Conversion Analysis: How (and Why) It's Crucial for Your Business Growth
December 3, 2020
| Updated August 1, 2022
You're generating traffic to your eCommerce website with a strong SEO strategy and marketing plan. Website visitors are viewing product listings, adding items to their carts, and starting to work their way down your conversion funnel. But, something goes wrong along the way. Your customers abandon their carts and don't convert. Sound familiar? 
Today, conversion analysis is a critical aspect of any marketing strategy. Without converting customers, your website and business can't succeed. Traditionally, companies look internally in regards to conversion analytics. We believe in doing things differently. Similarweb gives you the opportunity to do conversion funnel analysis on your competitors, allowing you to understand exactly where you stand in the field. Let's take a look at why this is so important.
Why is website conversion analysis important for your business?
To put it simply, conversion rate analysis is critical for understanding which parts of your competitors' conversion funnel are working, as well as which keywords and marketing channels are successful for them, and spotting trends in online stores. At the end of the day, your goal is to convert your customers, and conversion analysis gives you the tools to make this dream a reality.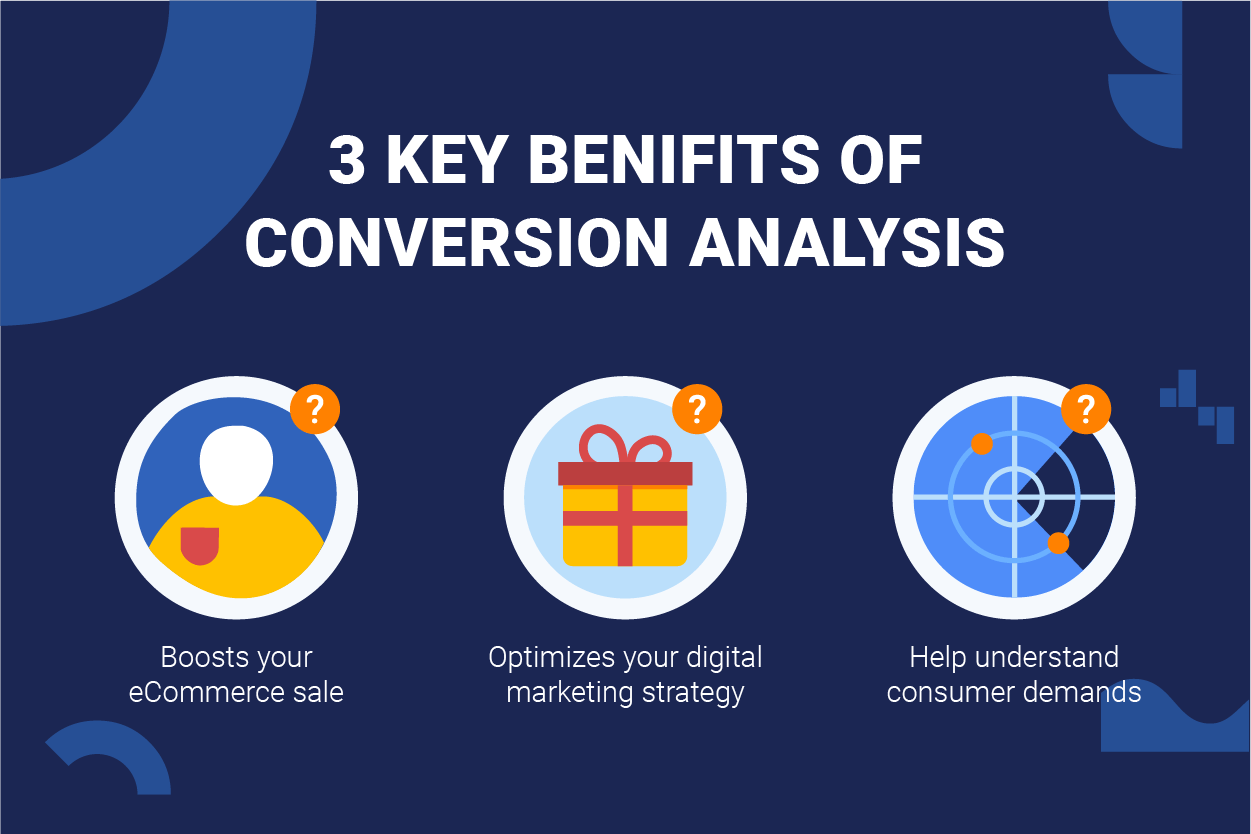 The three key benefits of conversion analysis
Optimizing your online conversion rate boosts your eCommerce sales and increases your market share

Fine-tuning your

digital marketing strategy

and budget to focus on the most efficient channels in your industry

Improving product assortment by better understanding changes in product demands
How Similarweb allows you to perform an effective conversion analysis
Similarweb's industry-leading Conversion Analysis tools provide you with unique features, allowing website conversion analysis of your competitors' digital strategies, marketing mix, and conversion performance – giving you an important perspective into your industry statistics. Take a look at our eight unique tools.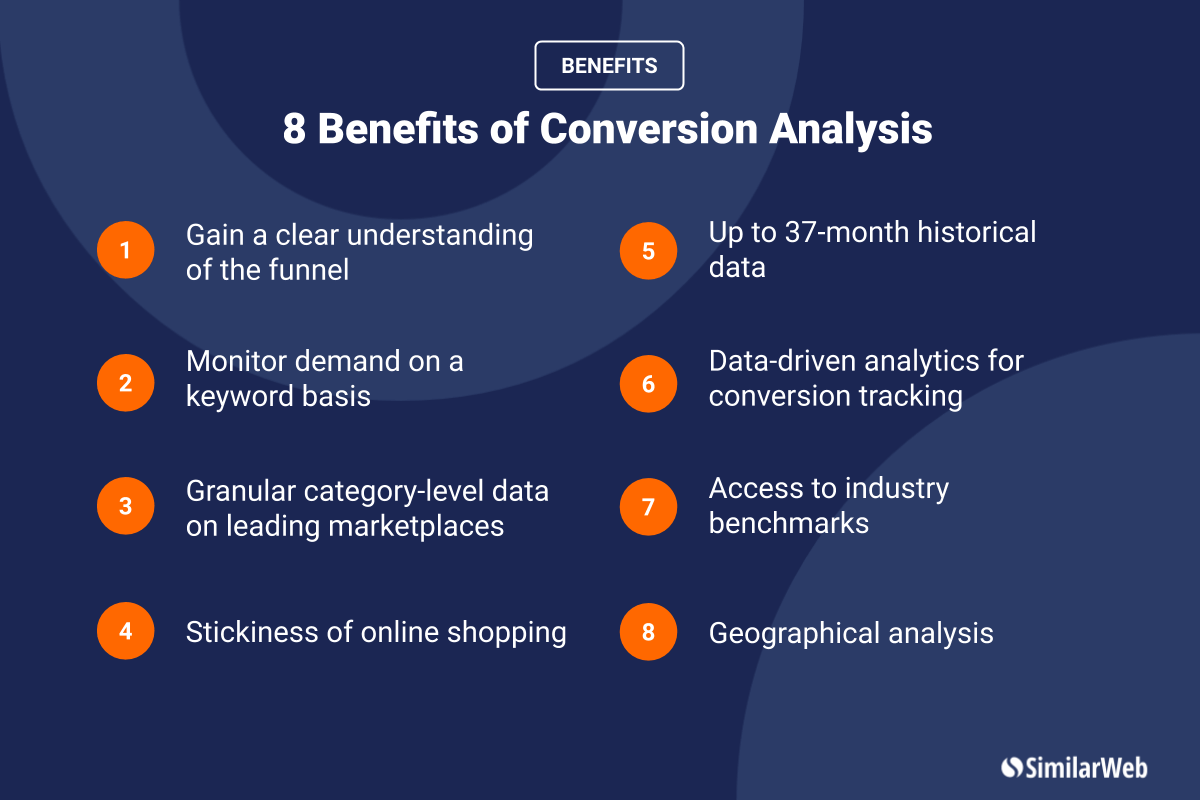 8 things you can do with conversion analysis 
1) Gain a clear understanding of the funnel
Every eCommerce site needs a funnel. The funnel is what turns visitors into buyers. How do you know that your funnel is doing its job? With effective website funnel analysis.
There are various sites, including Google Analytics, that let you do this for your own website. Similarweb lets you peek behind the scenes at your competitors' performance. This information will help you identify successfull and highly converting funnels, giving you the chance to tweak your own. 
2) Monitor demand on a keyword basis
Understand exactly what visitors are searching for within different websites in your field, to understand which keywords are most effective and ultimately convert the most visitors. Use this information to pinpoint specific brands, products, and interests. Internal keywords give a different perspective to search engine keywords, as you'll be able to understand visitors' desires when there's already high intent, allowing you to improve your funnel and UX.
3) Granular category-level data on leading marketplaces
Gather category-level data on the leading marketplaces such as Amazon, Walmart, and eBay. This will allow digital retailers, direct-to-consumer (D2C) brands, like Getawair, Prime, and Ruggable, Amazon sellers, and other small and medium-sized businesses (SMBs) to understand and gauge their performance against the big players in the market. Keeping an eye on the category level data on the marketplaces will give you insight into changing consumer demand and how to adjust your funnel accordingly.
4) Stickiness of online shopping
Stickiness is a measure of loyalty, for example, of how many times per month consumers purchase a product on your website. Understanding when that happens during the month will allow you to create successful periodic campaigns. By detecting funnel problems such as a sudden decrease in stickiness, you may be able to recognize a problem with your customers' loyalty. Your customer habits on your and your customer's site will give you a massive insight into their behavior and what causes them to convert.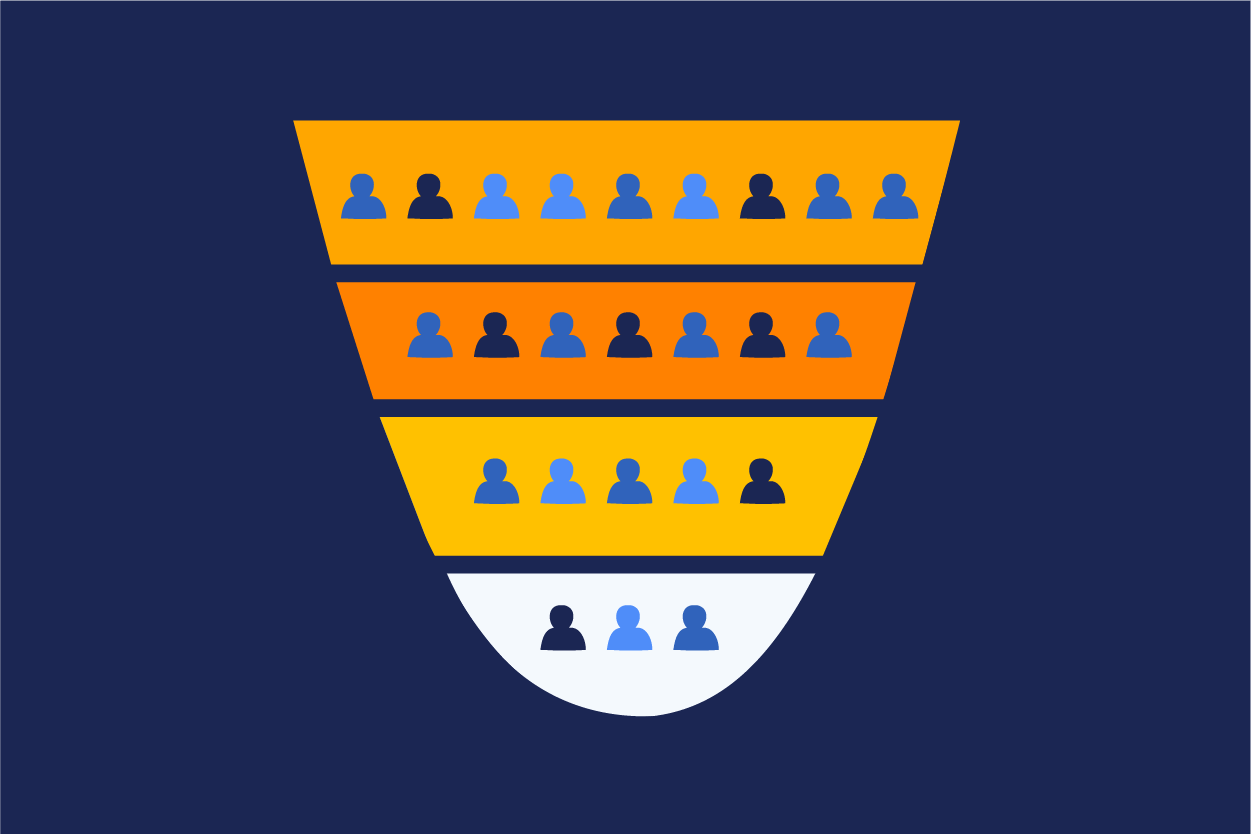 The level of your website's stickiness can also be valuable to understanding how the COVID-19 pandemic has impacted demand for your product as well as shifts in consumer behavior.
5) Up to 37-month historical data
It's no surprise that there are ups and downs throughout the year when it comes to eCommerce. Having multiple period-over-period (PoP) data points, ranging from 1 month to 37-months allows you to pinpoint seasonal trends and macro trends, all while implementing changes in your existing strategy. If you can identify certain trends in the holiday season vs. a year-long period, you'll be able to focus your SEO and PPC keyword research and conversion funnel on those words during the right times of the year. 
6) Easy, flexible data-driven analytics for conversion tracking
Analytics are great, but you have to be able to use and share them easily to be effective. Similarweb gives you the opportunity to create customized analysis groups and export the data you want easily and quickly. This makes sharing internally with your team a breeze, giving you time to focus on the important things — like how to up your conversion rates.
7) Access to industry benchmarks
At the end of the day, you want to come out in front of your competitors. The problem is, you may not understand where you stand in comparison to others. 
Similarweb gives you access to your relevant industry and sector averages. For example, benchmarks for eCommerce and financial services websites with key user engagement metrics such as pages per visit, average visit duration, conversion rates, and more. You'll be able to see how your website or business stacks up against the top competition, allowing you to focus on the right strategies and marketing tactics.
8) Comprehensive geographical analysis
Track your performance across multiple geos, side by side the competition. The geographies and regions you can look into include over 40 countries, including the U.S., the U.K., Germany, Japan, and Australia, as well as other dominant markets. Geographical data allows you to focus on the right markets and adjust your digital strategy accordingly to trends in each region.

You know what to do next. Get started! 
Conversion analysis is a must in order to ramp up your funnel and stay competitive in your field. Let Similarweb take your conversion analysis to the next level. Download our one-pager and book a free demo today. Thirty minutes with one of our industry experts, and you'll learn how you can boost your online sales while keeping tabs on the competition. 
Here's a quick how-to video teaching you how to leverage Similarweb's Conversion Analysis tool to uncover bottom-of-the-funnel insights on your competitors and create the most effective digital strategy for your business growth.
This blog was written in collaboration with Allie Kashkash.
FAQ
How do you analyze conversions?
Divide the number of goals achieved in a given time frame by the total number of visitors to your website, then multiply that number by 100.
What is an example of a conversion strategy?
One example of a conversion strategy is signing up for emails.
This post is subject to Similarweb legal notices and
disclaimers
.
Wondering what Similarweb can do for you?
Here are two ways you can get started with Similarweb today!