Last year consumers spent $861.1 billion online stores in the U.S. – up 44.0% year-over-year (YoY). eCommerce hasn't soared this dramatically for at least two decades. With shoppers increasingly making purchases from mobile devices, web browsers, and tablets, it's essential that you know the right lingo. In this fast-changing space, the latest vocabulary gives you a view into what's trending now, so you stay competitive. These top 52 eCommerce terms will help your online business succeed whether you're selling through your own eCommerce site or marketplaces (e.g. Amazon, Etsy). 
Check out what you must know with our eCommerce glossary: 
eCommerce Terms: A-C
1. Amazon Bestseller Ranking (BSR)
Nearly every product in Amazon's multi-million product catalog is awarded a BSR once the item has had at least one sale. BSR is a good indicator of how well a product is currently selling on Amazon.
2. Amazon Pay-Per-Click (PPC)
Amazon PPC allows sellers to buy visibility for their products at the top of Amazon's search results page. In this marketing strategy, sellers bid on keyword search terms to show their product first to online shoppers. The seller with the highest bid and who also has a quality ad usually wins the auction and gets their ad displayed at the top of search.
3. Amazon Search Engine Optimization (Amazon SEO)
Optimizing keywords, text, and image content to increase web traffic to your product web page and rank higher in Amazon search engine results.
4. Amazon Standard Identification Number (ASIN)
ASIN is a combination of letters and numbers that are used to identify products on Amazon's store.
5. Average Order Value (AOV)
AOV tracks the average amount every customer spends each time they place an order on an eCommerce website. This helps you easily identify your biggest spenders.
It can be calculated by: (Sales Revenue])/ (Number of Orders Taken) = Average Order Value
6. Average Transaction Value (ATV)
This is calculated by dividing the total value of transactions by the number of transactions.
7. Brand Loyalty
The tendency of consumers to purchase from the same brand over competitors due to a strong perception of the brand. Unlike customer loyalty, factors like logo, design, and reputation influence brand loyalty. For more, read: What is Brand Loyalty and How Do You Measure It?
Pro Tip: Use Shopper Intelligence to track brand loyalty and retention metrics.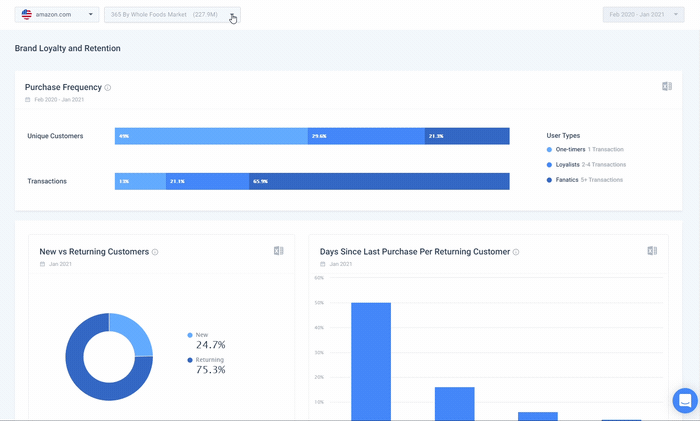 8. Bundling
Selling several products or services in one product listing to increase average order value. See how to create profitable Amazon bundles for more.
9. Buy Box
The white box on an Amazon product detail page. Consumers can use this feature to add products to their carts. For brand manufacturers selling on Amazon, "Winning the Buy Box" determines how much of the demand for one of your products is captured directly by Amazon (1P) versus how much is captured by third-party (3P) merchants.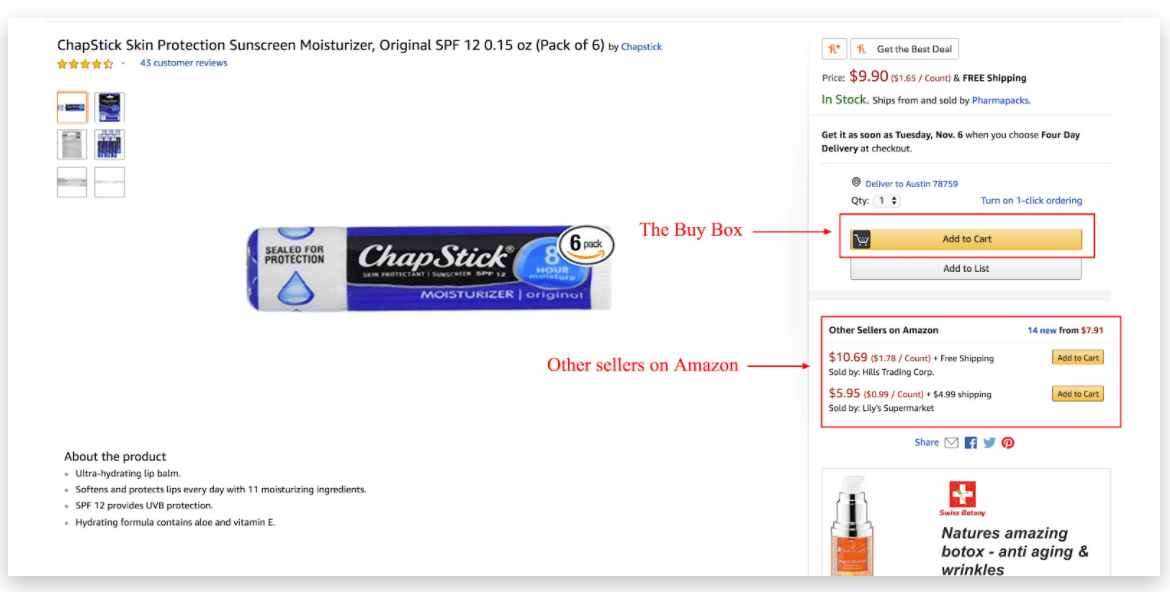 10. Buy Now, Pay Later (BNPL)
A way to purchase goods on credit and pay for them usually after a set interest-free period, or in installments. This feature is more commonly used by catalogs and online retailers. Want to learn more? Read our buy now, pay later report.
11. Buy Online, Pick up In-Store (BOPIS)
BOPIS is a business model that allows consumers to shop online and pick their purchases from a store. It allows customers to enjoy the convenience of purchasing their order from an eCommerce store, while still picking it up in person from a brick-and-mortar business.
12. Buyer Persona
A buyer persona is an imaginary person whose profile fits your ideal customer. The persona represents the demographics, characteristics, and behavior of an individual who would benefit from your product or service the most.
13. Cart Abandonment or Cart Abandonment Rate
Cart abandonment is the rate when a potential customer initiates a purchase by adding a product to their shopping cart and leaves the website without completing the transactions. These statistics can help online shop owners to keep a track of abandoned carts and figure out whether it is a profitable eCommerce business or unsuccessful.
14. Chatbot
This is a computer program that simulates human-like conversations directly from a web browser. In eCommerce, chatbots use Artificial Intelligence (AI) to improve user experience and create a valuable and individualized customer journey.
15. Consumer Behavior
Activities associated with the consumer's purchase, use, and disposal of goods and services, and how the consumer's emotions, attitude, and preferences impact buying behaviors. Metrics include: purchase frequency, cross-shopping, basket mix, branded searches, loyalty, and more.Use Shopper Intelligence to determine consumer behavior like brand basket mix Tweet this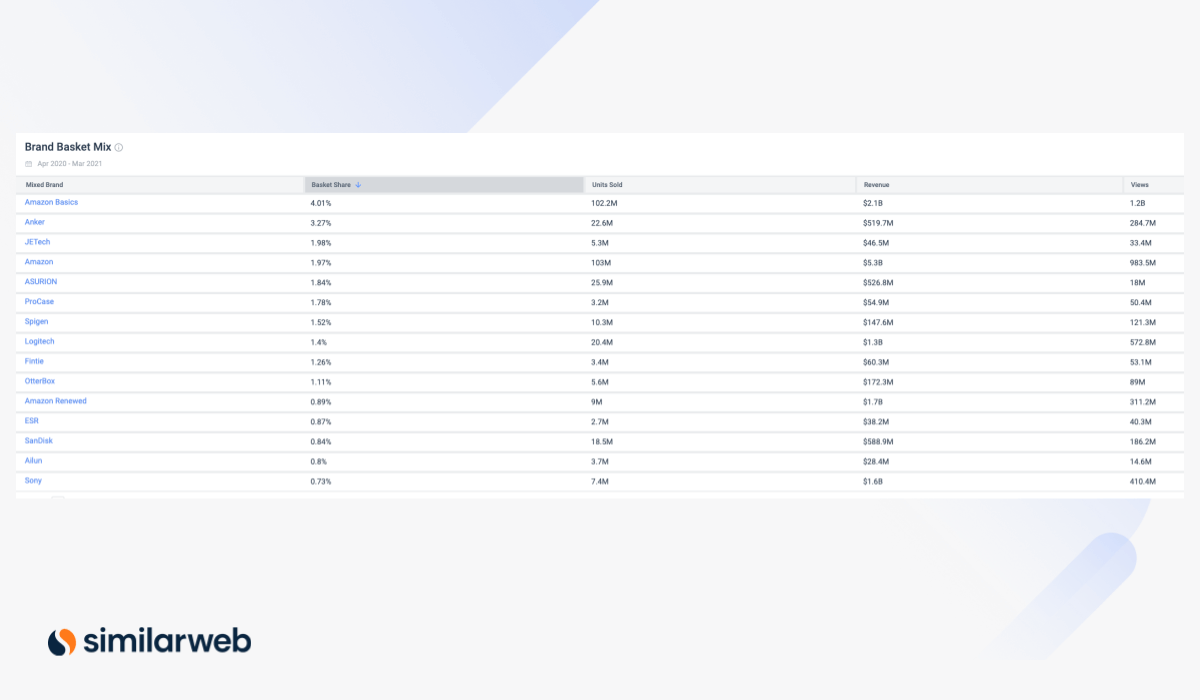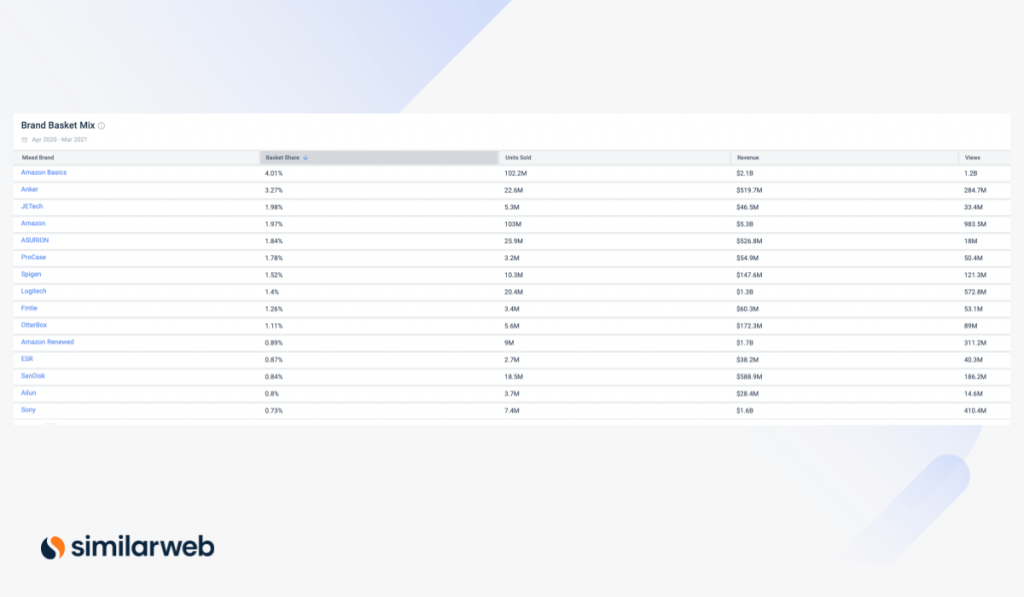 Similarweb Shopper Intelligence Dashboard: Brand Basket Mix, Apple Computers
16. Consumer (or customer) Journey Tracking
Prospects pass a number of touch-points with your company or website before they become a customer. Consumer journey tracking measures and monitors the data associated with these touch-points. The consumer journey or customer journey can be described as a series of incidents or actions on the way down the funnel.
To track, you first map the customer journey (try to include calls-to-action (CTA)) then divide it into steps and define representative data that lets you measure progress. This is an essential element in your conversion funnel optimization.
17. Conversion Funnel
The various stages in a site visitor's consumer journey leading up to the purchase or other desired action. While these stages may vary per conversion funnel model, most traditional eCommerce models divide the path into five steps. This is also the flow we use at Similarweb:
●     Awareness
●     Consideration
●     Evaluation
●     Purchase
●     Loyalty
For conversion rate optimization (CRO), understanding the conversion funnel is crucial.  For tactics like landing pages see our guide to conversion Funnel Optimization and 8 conversion analysis hacks you need to succeed.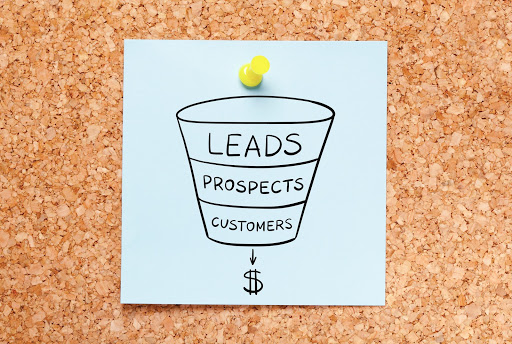 18. Cross-Selling
This is the art of selling a different product to provide the customer with added benefit. Often the additional products complement, enhance, or relate to the product being sold.
19. Cross-Shopping
When a consumer considers multiple retailers or different brands to get the best deal.
Use Shopper Intelligence to determine which brands your consumers are cross-shopping
Tweet this
20. Customer Acquisition Cost (CAC)
CAC is an approximation of the total cost of acquiring a new customer.
21. Customer Lifetime Value (CLV)
Customer lifetime value represents the total amount a customer is expected to spend on your business or products over a lifetime. This can be useful for marketers allocating marketing budget to decide how much to spend getting new customers or retaining old ones.
22. Customer Loyalty
Customer Loyalty is when a consumer transacts with a retailer on an ongoing basis. Unlike brand loyalty, which relates to perception, customer loyalty relates to consumer spending power and relies on transactional metrics like customer retention rate, customer lifetime value, and churn rate. Increasing customer engagement using email newsletters and social media can boost customer loyalty.
23. Cyber Monday
The second-biggest shopping day of the year is Cyber Monday. This is the Monday following Thanksgiving. 

eCommerce Terms: D-L
24. Direct-to-Consumer (D2C/DTC)
This is a business-to-consumer business strategy where a business markets, builds, sells, and ships products directly to its consumers.
25. Dropshipping
This is when a retailer fulfills orders from a third-party vendor and has them ship directly to the consumer. The seller accepts customer orders but does not keep goods sold in stock.
Read More: Amazon Dropshipping: A No-Nonsense Guide [2022]
26. eCommerce
eCommerce is a business model that allows consumers to buy and sell products and services online.
27. Frequent Buyer Programs
Also known as "loyalty programs," frequent buyer programs are special programs for consumers to build up points awarded over multiple purchases. The programs can help retailers and brands build customer loyalty.
28. Fulfillment
Fulfillment is packaging and dispatching orders to consumers.
29. Fulfillment by Amazon (FBA)
FBA is a service provided by Amazon that provides packaging, storage, and shipping services to sellers.
30. Fulfillment by Merchant (FBM)
When a seller is in control of the selling and handling process.
31. Lightning Deals
Lightning deals are essentially time-sensitive deals. A limited number of discounts are offered on an item or a number of items for a short period of time. For instance, on Amazon Prime Day, deals are available, one per customer, for a limited time frame until the deal ends or until all deals are claimed.
eCommerce Terms: M-R
32. m-Commerce or mCommerce  (Mobile Commerce)
Using handheld devices, like cell phones and tablets, to go online shopping is referred to as mCommerce.
33. Marketplaces (online)
Online marketplaces are eCommerce websites where services and products are listed by multiple third-party sellers. Popular marketplaces include Shopify, Walmart, eBay, and Amazon.
34. Multichannel eCommerce
The practice of selling products in more than one place at the same time is multichannel eCommerce. For instance, if you own a clothing store and also list your items on eBay or other eCommerce platforms, you're running a multichannel retail business. Or, if you're an illustrator selling artwork on Etsy, a store on your website, and at conventions, you're doing multichannel eCommerce.
35. Omnichannel
Retail that integrates several different methods of shopping available to consumers such as online, mobile, voice, phone, physical store.
36. Onsite Search Optimization
The practice of optimizing the contents of a website to earn more website traffic and rank higher in search engines.
37. Payment Gateway
Payment processing software allows merchants to accept digital payment methods.  Popular payment gateways include PayPal, Braintree, Stripe, and Square which transfer and capture payment data from the customer to the seller. These allow merchants to accept credit card payments and other electronic payments while protecting sensitive information through data encryption.
38. Point-of-Sale (POS) and Point of Purchase (POP)
The point where customers make a payment to a merchant in exchange for goods or after the provision of a service is called POS or POP.
A POS terminal is a computerized replacement for a cash register that has the ability to record and track customer orders, serve as a payment processor, connect to other systems in a network, and manage inventory.
39. Prime Day
The annual shopping day is hosted by Amazon for prime members only. For more, see Amazon Prime Day report.
40. Private Label
A private label references products manufactured by a third party but sold under another company or retailer's brand. For Amazon.com, examples include Solimo and AmazonBasics.
41. Product Listing Optimization
The process of upgrading product pages to improve conversion rate, search visibility, and click-through rate to improve sales is known as product listing optimization.
42. Return on Ad Spend (ROA)
This marketing metric measures the amount of revenue a business earns for each dollar it spends on advertising.
eCommerce Terms: S-Z
43. Seller Central
Seller central is an interface used by merchants to sell products directly to consumers within the Amazon marketplace.
44. Share of Voice (SOV)
Share of voice measures the market owned by a particular brand, compared to competitors. SOV acts as a gauge for brand visibility and how much you dominate the conversation in your industry.
45. Sponsored Brands
These are cost-per-click ads that have a custom headline, brand logo, and multiple products. The goal is to increase the number of visitors to a product page.
46. Stock Keeping Unit (SKU)
SKU is the scannable barcode printed on products.
47. Subscribe & Save
With Amazon Subscribe & Save customers can enjoy free standard shipping on auto-deliveries (non-Prime customers may incur shipping costs for the first delivery), and the option to schedule deliveries on your Subscribe & Save delivery day. Other online retailers offer similar programs, like Chewy.com's "Autoship & Save."
48. Third-Party (3P)
Merchants that use online marketplaces to sell their products directly to consumers.
49. Universal Product Code (UPC)
A barcode symbology that is widely used in the United States, Canada, Europe, Australia, New Zealand, and other countries for tracking trade items in store. UPC consists of 12 numeric digits that are uniquely assigned to each trade item.
50. Upselling
A sales technique to lure consumers to spend more money by purchasing a premium or upgraded version of what is being purchased.
51. Vendor Central
The web interface used by manufacturers and distributors. Those that sell via vendor central, are called first-party (1P) sellers. The platform is invite-only for businesses that want to sell their products to Amazon itself. When you sell to Amazon in this capacity, you are their supplier. The core process is very simple: Amazon sends you a purchase order listing what they want to buy. You send Amazon the inventory they have ordered.
52. Virtual Product Bundling (VPB)
Brand owners create virtual bundles of two or more ASINs to be purchased together from a single detailed page.
Takeaways
These terms are just some to help optimize your online selling, whether through your own online store or eCommerce platforms – or, both! Stay tuned for future editions, covering the most up-to-date trends. If you're not in the eCommerce space, be sure to check out our other solution glossaries including sales terms, investor terms, digital marketing terms, and digital research terms.
To boost eCommerce strategy, brands can use Shopper Intelligence to understand consumer and purchase behaviors on Amazon including purchase frequency, cross-shopping, on-site search, and more. They can also check out Similarweb Pro for digital intelligence for the retail landscape including traffic, bounce rates, leading keywords, top-converting pages, search strategy, and more.

This post is subject to Similarweb legal notices and
disclaimers
.
Wondering what Similarweb can do for you?
Here are two ways you can get started with Similarweb today!