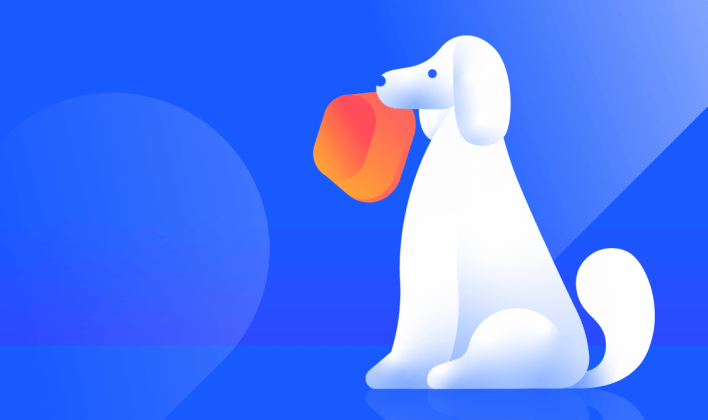 eCommerce Intelligence
Top Dog Food Marketplaces for Better Sales Paw-tential
by Molly Winik
, Senior Digital Research & eCommerce Specialist
6
Min.
January 17, 2022
| Updated July 3, 2022
Thanks to the COVID-19 pet-boom, there are more furry-friends in our lives than ever before. In fact, the number of households in the U.S. that have at least one pet is at its all-time high – 70% according to the American Pet Products Association (APPA). 
It should come as no surprise then that total visits to the top 100 pet food websites jumped nearly 40% year-over-year (YoY) worldwide. Whether it's because of ease, COVID-19 precautions, or personal preference, website traffic trends show a clear shift in consumer preference towards shopping for common goods online, pet supply brands included.  
In such a competitive environment, how can you decide which marketplace is the best to sell dog food online?  
Keep reading to see how Amazon, Chewy, Walmart, and Target marketplaces compare for dog food brands in terms of conversion rate, audience demographics, trending keywords, and most importantly, revenue and units sold. We dug up the latest insights on all four marketplaces using the Similarweb eCommerce digital suite Shopper Intelligence and Digital Research Intelligence – to uncover this critical data.
A walk through the macro park  
Amazon, Walmart, Target, and Chewy have made names for themselves as the top eCommerce marketplaces for pet food.  
Combined, our four focus marketplaces experienced 32.6 billion total visits between January 2021 – December 2021 in the U.S. Keep in mind though, that the majority of the traffic coming to these websites are customers searching outside of the dog food industry. While amazon.com is the clear leader for total visits over time, when we hone in on the pet category, the story gets more interesting.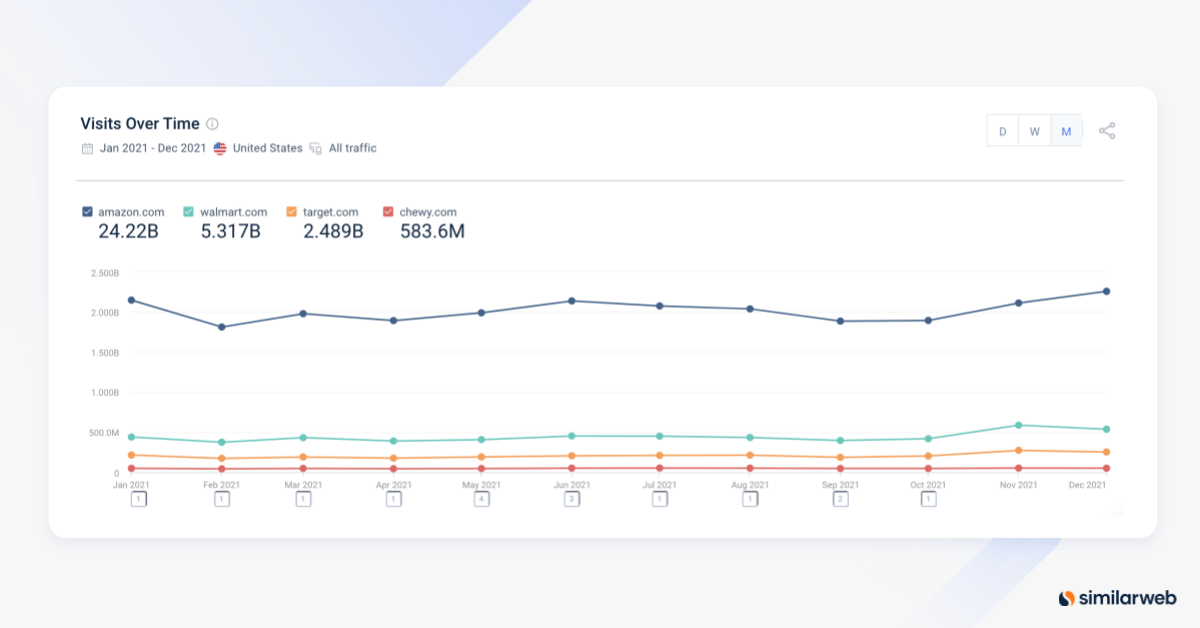 Top converting marketplaces  
We examined the eCommerce website's conversion rate by pet category for each marketplace, looking at the percentage of visitors that completed your desired action – or in this case – the visitors that reached the "thank you" page after purchasing dog food.  
In November 2021, chewy.com had a conversion rate of 15%. Amazon.com's pet supplies category had the highest conversion rate for the month at 26.6%, followed closely by walmart.com (26.5%) and target.com (23.6%).
The graph below shows conversion trends for the year for the pet category of each marketplace:
For most of the year, walmart.com was head-to-head with amazon.com in the lead. With more and more businesses selling dog food online, you'll want to monitor closely which marketplaces have high conversion rates.  
Demographic differences  
Although the website demographics of these marketplaces are similar, there are subtle differences to weigh, depending on your target audience. 
Take a look at the average gender distribution across amazon.com, walmart.com, target.com, and chewy.com. 
Once we take a deeper look into the audience demographics, specifically of dog food buyers on Amazon, the data tells a different story. Those who identify as female are twice as likely to browse through dog food products on Amazon compared to those who identify as males. A reversal from Amazon's average gender distribution across the site. 
In addition, the age distribution is split fairly evenly, with the largest group being 65 years and over, followed closely by 25-34-year-olds. 
Make sure you deep dive into the demographics of your own audience to make sure it aligns with the marketplace you're currently grooming for your sales.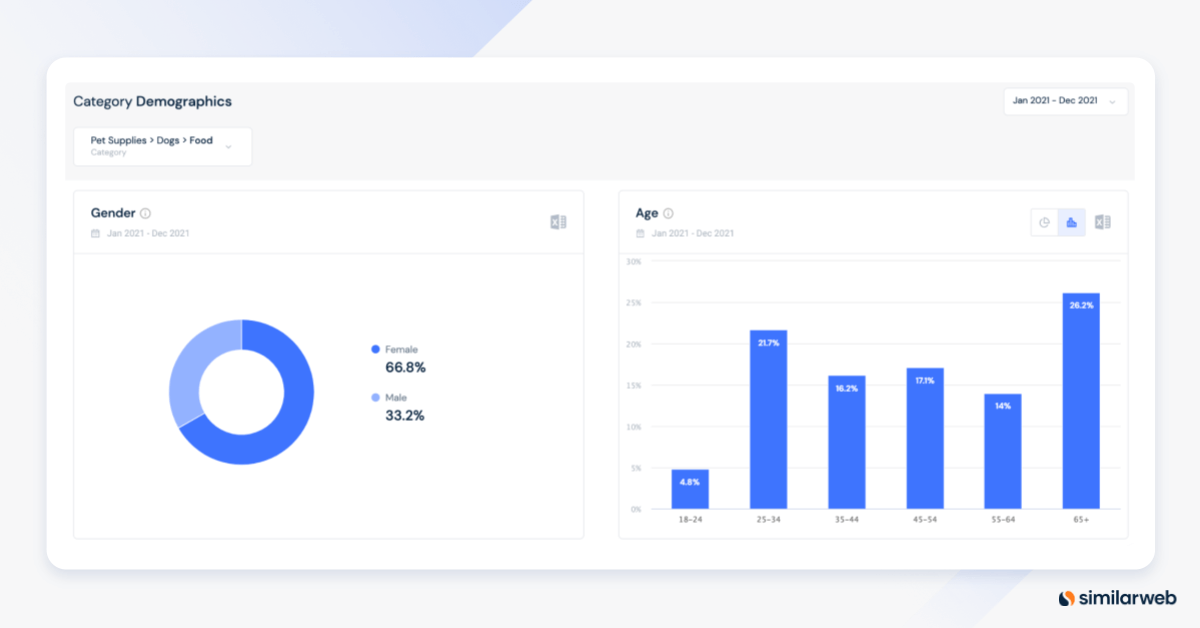 Sales strength – units sold and revenue 
One of the most important factors to consider when choosing the best marketplace to fluff up your online dog food sales is the performance data for that category.  You can monitor Units Sold and Revenue metrics overtime to get the big picture of consumer demand. Let's break it down by marketplace by total revenue: 
Chewy
Chewy.com is the alpha dog for canine food sales January 2020 – November 2021. The impressive numbers suggest that consumers prefer to buy their animal products from a pet supplies-specific marketplace, rather than a general eCommerce website. 
In the U.S., chewy.com reported 161.1 million units sold in their dog food category, 69% higher than its closest competitor amazon.com 
Revenue was also 79% higher than other marketplaces, coming to a grand total of $5.8 billion at the end of November 2021.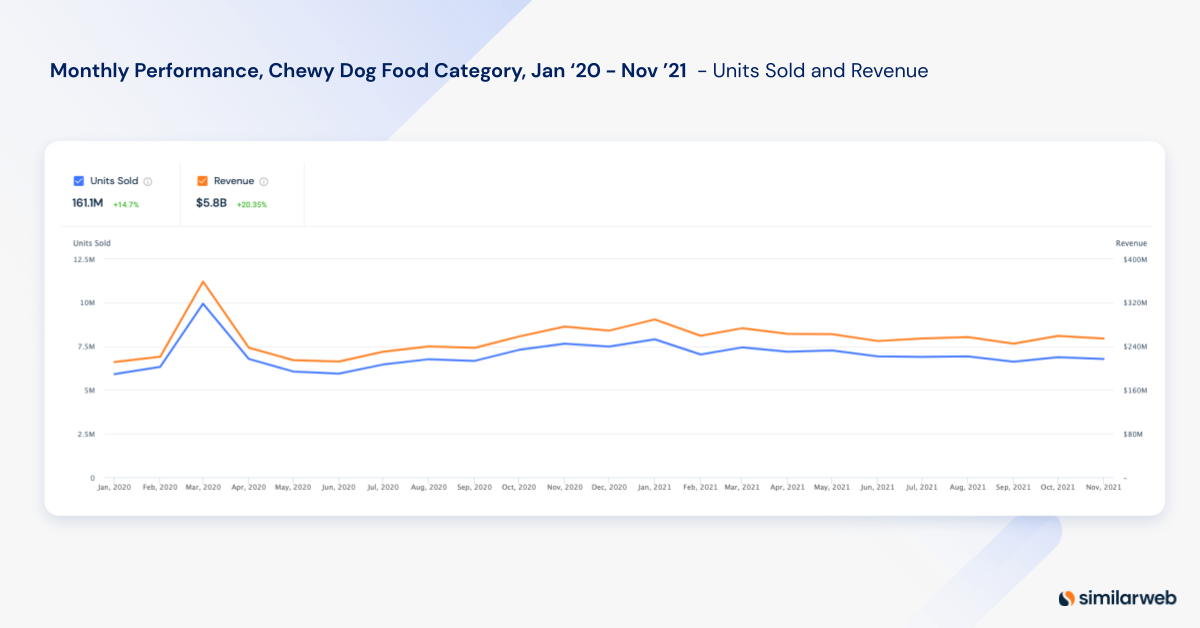 Amazon
Amazon's dog food category experienced a huge spike in March 2020 at the start of the pandemic when pet owners needed to stock up on enough food for their furry loved ones while in lockdown. Since then, units sold and revenue has remained consistent.
Between January 2020 and November 2021, amazon.com reported 95.2 million units sold in their dog food category, and a total revenue clocking in at $2.9 billion.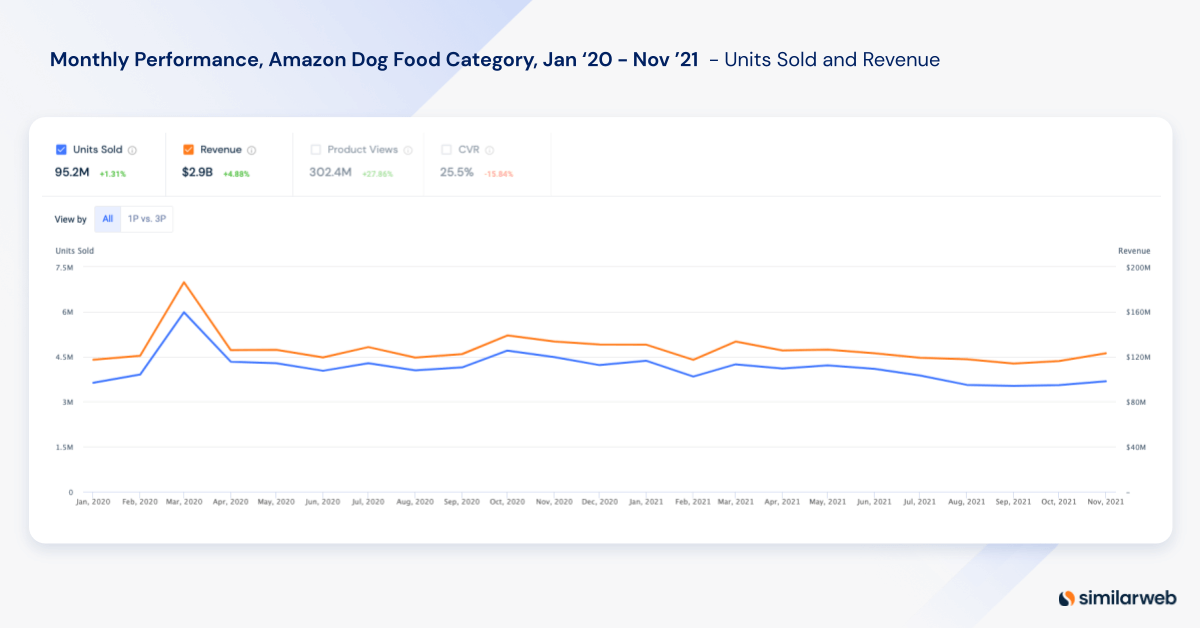 Target
Dog food performance on target.com has also experienced consistent growth since the start of COVID-19. In April 2021, units sold jumped 90% to 379,400; revenue grew 82.6% to $4.2 million. 
Overall between January 2020 – November 2021 target.com saw the biggest increase in sales performance for the dog food category. Units sold grew 196% and revenue soared over 222% for the period.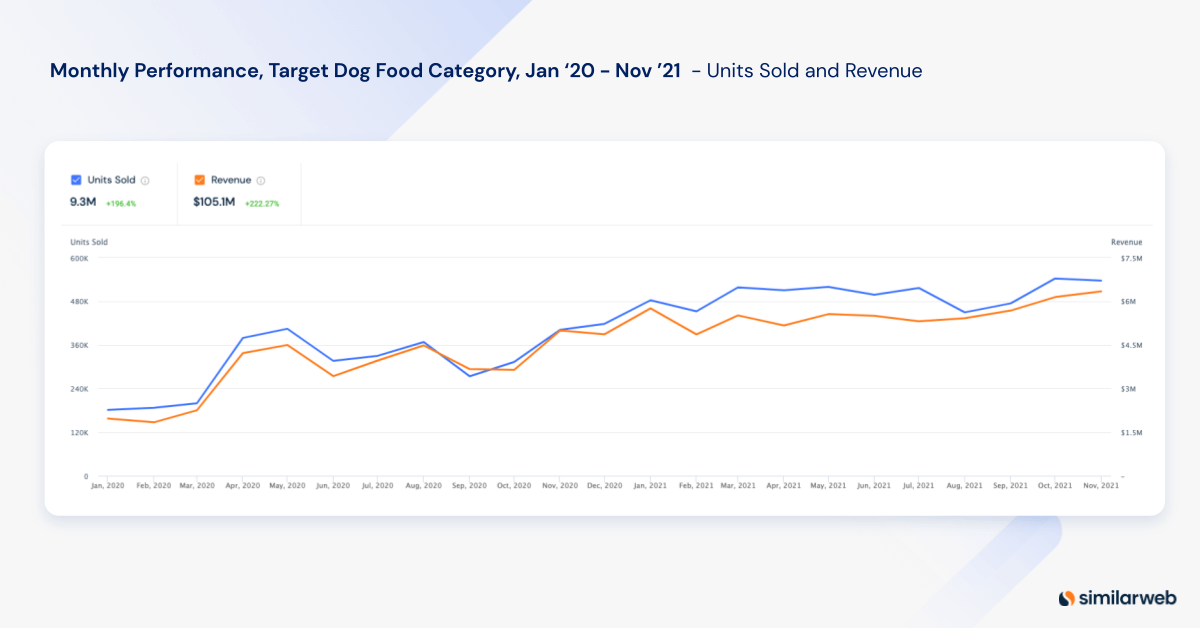 Walmart
Although walmart.com has on average few units sold and lower revenue compared to amazon.com, the marketplace shows impressive upward growth YoY, which started in July 2020 and hasn't slowed since. 
Between July 2020 and November 2021, Walmart's dog food category experienced 223.8% growth for units sold and a 200.7% increase in revenue.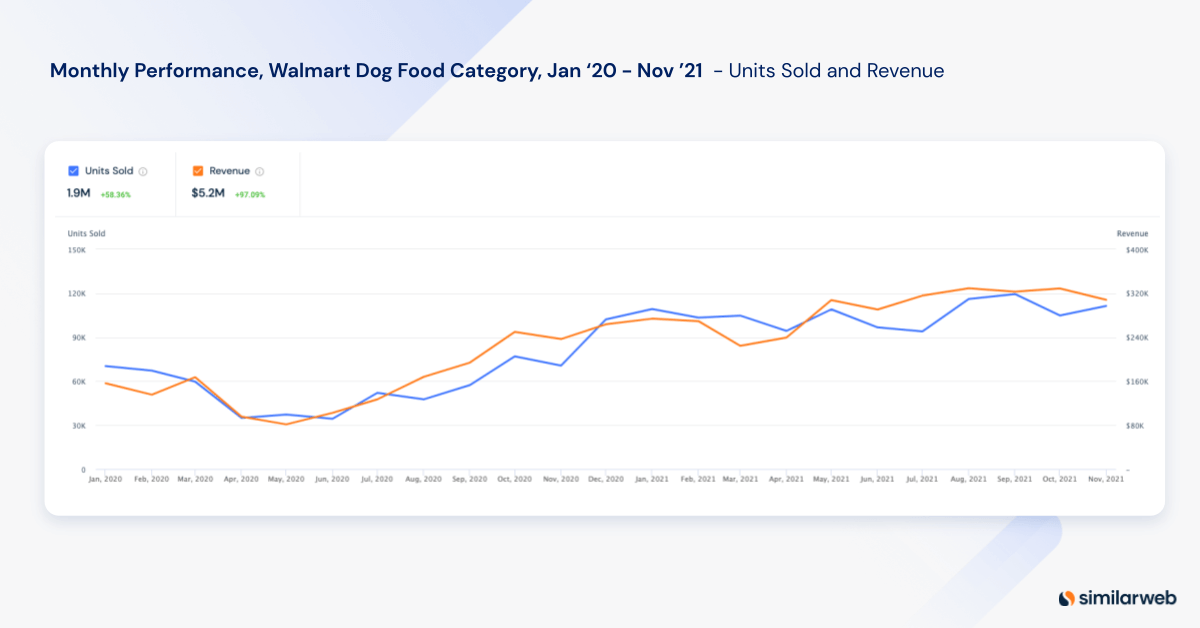 What are pet lovers searching for?
A quick scan of the search trends in the pet food industry reveals what consumers are most likely to turn to Google for when buying their dog's next meal.  You can see the most up-to-date traffic leader for each keyword.  
For example, the chart below shows that chewy.com is currently the traffic leader for three of the top keywords containing the search term dog food. That bodes well for Chewy's organic reach.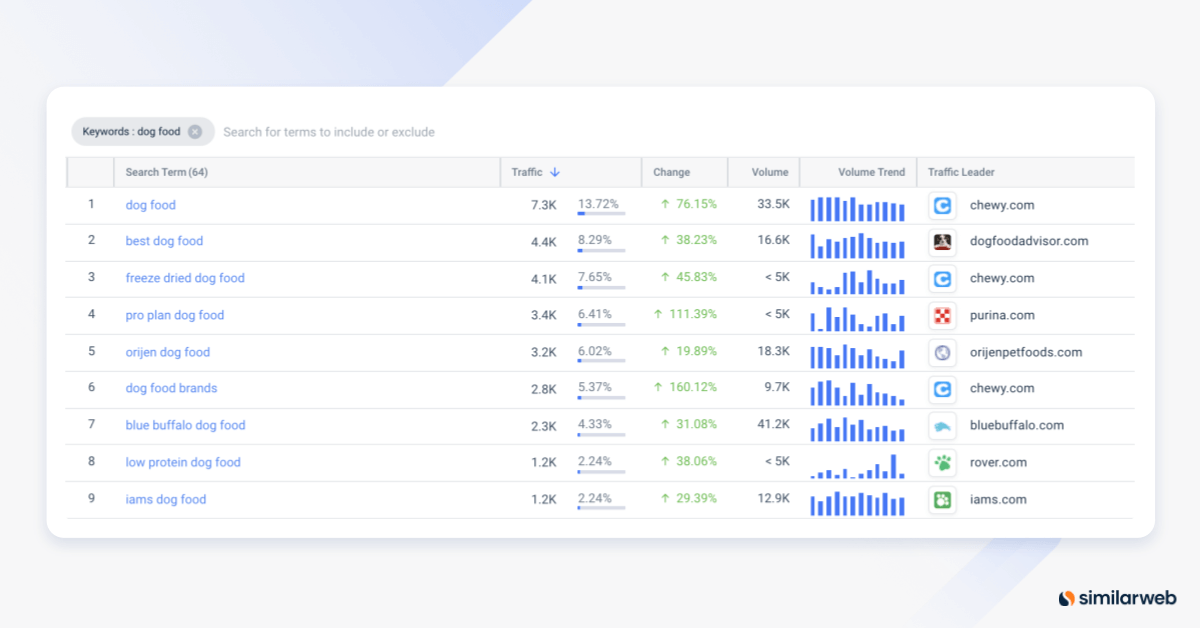 You can also use keyword research to determine if as a dog food brand, it's worth going after any non-branded keywords. We can see that in 2021 clicks for dry dog food and grain-free dog food clicks grew 25.4% and 9.7% YoY respectively, while other non-branded keywords in the category have decreased in popularity. If you're looking to up your keyword strategy in 2022, these would be the non-branded keywords to go after. 
Once you've identified the top trending keywords in your industry, you can use Similarweb Keyword Research to uncover which marketplace captures the most traffic share for each. Watch our step-by-step guide and learn how to do competitive keyword research yourself:
Final thoughts 
There are many factors to consider when choosing the best marketplace to sell your dog food and showcase your brand on. Here's a quick summary of some of the metrics you should look at we covered to help guide your decision:
Conversion rates

– Understand marketplaces' conversion efficiency and ability to scale over time. Reveal the category performance for top retailers like Amazon, Walmart, Target, and Chewy and benchmark against the industry average.

Sales performance  –

Track category, brand, and product performance. Measure units sold, revenue, product views, and CVR to stay on top of what consumers are buying.

Keyword rankings by marketplace

–  Gain visibility into traffic leaders for top keywords in your industry. See which marketplaces rank the highest for the keywords you're targeting
Whether you're interested in a macro view of the competitive pet retail landscape online or you want to analyze consumer behavior across Amazon and online marketplaces, Similarweb will guide you every step of the way. To get started and improve your performance, schedule a demo of Shopper Intelligence today.

This post is subject to Similarweb legal notices and
disclaimers
.
Wondering what Similarweb can do for you?
Here are two ways you can get started with Similarweb today!