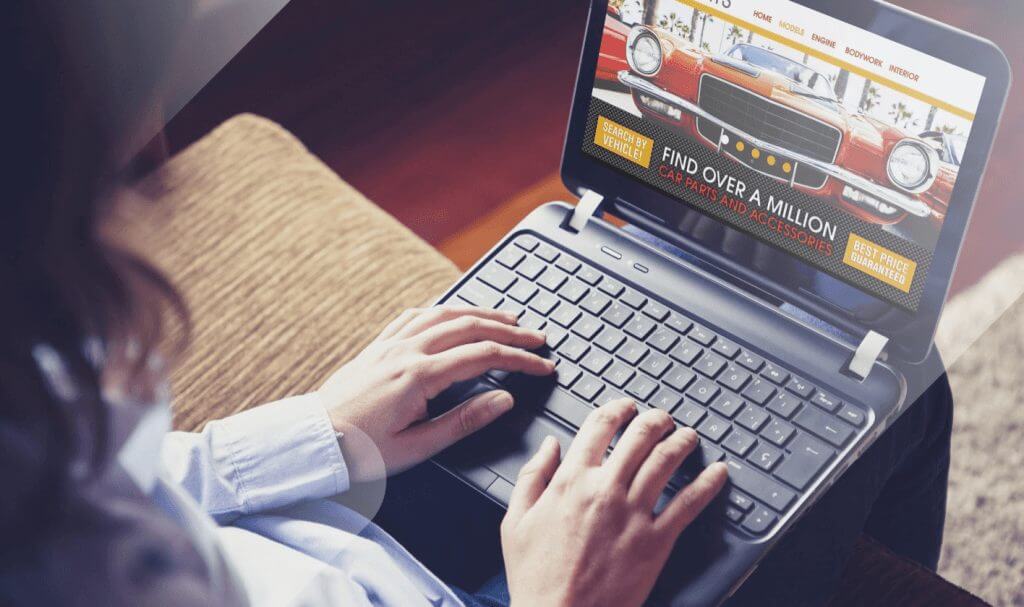 eCommerce Intelligence
CarParts.com: 2020's Fastest-Growing Auto Parts Site
January 6, 2021
| Updated July 4, 2022
The auto parts industry is changing at a rapid pace. As technology becomes a more intricate part of the driving experience, car part manufacturers and suppliers are changing to keep up with current needs. The industry is fiercely competitive, with approximately 4,000 companies in the U.S. alone competing for share in a $405-billion-market, which is expected to grow to $448B in 2022.
New players in the game must adapt to emerging trends in the market to have a chance to keep up with the competition.
Auto Parts Industry: Understanding the competitive landscape
The major companies in the U.S. market today include brick-and-mortar providers such as Advance Auto Parts, AutoZone, and O'Reilly Auto Parts, and eCommerce automotive aftermarket pure-play retailers, such as CarParts.com and RockAuto that offer easy-to-install replacement parts for used cars and trucks. These sites market, ship, and sell a wide range of auto parts, including transmission and power train components, engines, braking systems, electronics, and more. 
Eventually, the auto parts industry will reflect the worldwide, massive expansion of vehicle manufacturing. Together with changes in the post-COVID world and steadily increasing demand and competition, companies must maintain a competitive advantage. Techniques include influencer brand partnerships, paid search optimization, and more.
CarParts.com named fastest-growing website in the auto parts industry
CarParts.com (Nasdaq: PRTS), a California-based eCommerce company, is the fastest-growing auto parts website. Its year-over-year (YoY) traffic growth exceeds its competitors. CarParts.com had an average of 7.5M monthly visits in 2020 (up 194% from 2019) – overtaking four of its close competitors in absolute traffic numbers, including NAPA Auto Parts and AutoAnything. However, AutoZone and Advance Auto Parts remain the largest players in terms of absolute traffic numbers, with 25.6M and 16.9M monthly visits, respectively.
Here's a complete rundown of the top 11 websites in the U.S.: 
Focus on organic search is paying off
Let's now take a deep dive into CarParts.com's digital strategy to understand better how it achieved its 194% YoY growth. Using Similarweb Pro, we see that CarParts.com has implemented a unique marketing strategy over the past two years to position itself ahead of the competition.
CarParts.com's marketing mix highlights its unique strategy. Looking at incoming traffic to the site, we see that the largest increase in traffic comes from organic search (+252% YoY). From top keywords driving clicks to the site, we see that CarParts.com has grown its brand awareness and further SEO optimized its pages. The site now captures traffic on terms ranging from '2004 honda crv passenger mirror' to 'chevy parts.'
While organic search experience the largest increase, two other channels largely contributed to CarParts.com's 2020 jump in traffic:
Direct Traffic:

Fueled by increased brand awareness and a growing repeat customer base.

Paid Search:

CarParts.com has increased its paid efforts, and while the channel now drives a smaller share of traffic to the site compared to direct and organic search, there has been a 41% traffic increase YoY.
What does the car buying experience look like after COVID-19?

A shift from offline to online shopping
Consumers' shopping habits have gone through severe changes due to the pandemic. For example, search rates bottomed out in April but rose steadily in June and July. When tracking visitor statistics, we've noticed that while specific sites had the highest numbers of visitors, others were able to hold high rates of pages per visit and visit duration together with low bounce rates. When looking to convert, these stats are critical.
As people start feeling more comfortable returning to normal life "normal' life, competition is high. This is clear by comparing visitors to three different competitors. Searchers often visit multiple competing sites on the same day. This may be the reason that companies are having success with paid advertising techniques in order to guarantee that traffic is diverted to their sites.
Demand for used cars is taking off
For 2020, pre-owned vehicle sales in the U.S. are expected to remain at the 40-million-per-year level for the third consecutive year, while new car sales are expected to be down at least 15%. While some may point to the economy as the catalyst for the robust used car sales, there are two other major factors to consider. First is that the average new car price is nearing $40,000 and, secondarily, autos are lasting longer than ever, as evidenced by the 11.9-year average vehicle age. These elements are catalysts that have been growing not just used car sales but demand for parts to repair this aging fleet of vehicles.
Shift away from public transportation
Throughout the pandemic, public transportation use has plummeted as people have preferred to use private vehicles, primarily to avoid crowds. This trend is expected to continue in the post-COVID age, as people are nervous to go back to "the way things were." Crowded busses and trains may become a thing of the past, with more and more people turning to private cars when possible. This trend also helps explain the increased demand for used cars and car parts.
Seven key automotive industry trends for 2021 and beyond
2020 has transformed just about every industry, and the automobile industry is no expectation. Looking towards 2021, let's take a peek at some of the key trends.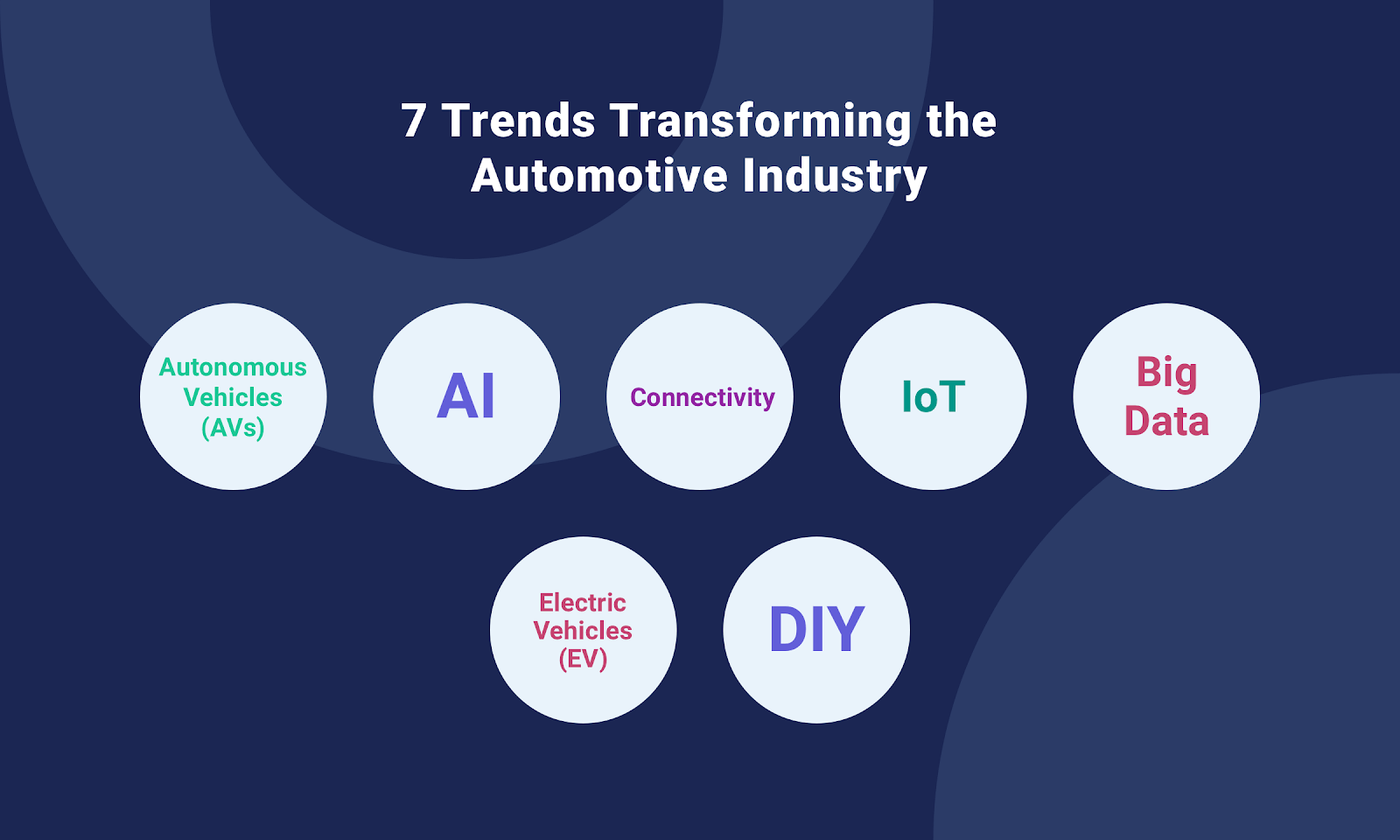 1) Autonomous Vehicles (AVs)
In the past, autonomous vehicles seemed like a distant, sci-fi dream. Not anymore. With the ability to minimize human drivers and the potential to increase safety on the road, this technological advancement is now closer than ever. This is significant not only for individuals but also for food and delivery services companies, public transportation, and more. 
2) AI
The industrial industry has seen a massive leap forward in AI in general, and in 2021, we'll see more automotive giants jumping on the bandwagon as well. Machine and deep learning, together with computer vision, will find their place in robotic automation within the automotive parts industry. AI will improve manufacturing processes in the industry and help push new technologies such as AVs and help manage fleets and improve driver experience.
3) Connectivity
Cars today come with their own unique digital identity, allowing for easy data tracking. Vehicle data and connectivity are essential not only for insurance purposes or driver safety but also to change the entire automotive mobile ecosystem. 
4) IoT
IoT is another hot trend in the industrial world, allowing manufacturers to gather data and information to improve every aspect of the automotive world. These include road safety, pollution and road congestion, payments, tolls, etc. 
5) Big Data
Big data can influence a wide range of decisions, including predictive maintenance (who doesn't want to fix problems before they occur?), alerts in case of accidents, fleet management, and more. 
6) Electric Vehicles (EV)
Electric vehicles have been on the rise in recent years, and the trend has continued throughout COVID-19, despite major setbacks to the car industry as a whole. Moving into 2021, this trend is expected to continue and even increase. More and more brands are diving into the EV scene (see VW, Tesla's focus on cheaper vehicles, etc.), making this a market that is becoming a reality for more and more consumers. 
7) DIY
With people more time at home, DIY car projects have become a new hobby and trend. This is certainly good news for the auto parts industry, as more and more people are looking to spruce up their ride, buying paint, body repair parts, accessories, and more. 
What's next for the industry?
Based on what we saw during the Black Friday & Cyber Monday weekend, the industry as a whole is experiencing massive triple-digit growth. It is heading towards new, interesting business opportunities in 2021.
Understanding the industry, trends, and the digital atmosphere is essential to boosting business and taking advantage of new opportunities in 2021. CarParts.com excelled at this in 2020, using organic search to its advantage and combining brand awareness and paid search campaigns for incredible YoY growth. 
Similarweb makes it possible to analyze this data, allowing auto parts industry companies to stay competitive and maximize their digital presence in 2021.
Get the full analysis now – it's free!
Gear up your digital performance in 2021
Similarweb is the leading competitive intelligence tool for the auto parts space. Allowing for competitive analysis, you'll be able to get detailed reports and data into how the top companies in the industry are gaining traffic and how they convert leads successfully. 
You can use Similarweb to track and measure your market share and marketing effectiveness compared to your competitors. To learn more about our Research Solution, schedule a free one-on-one walkthrough today.
This blog was written in collaboration with Allie Kashkash.
This post is subject to Similarweb legal notices and
disclaimers
.
Wondering what Similarweb can do for you?
Here are two ways you can get started with Similarweb today!