In 2020 consumer spending made a huge shift online (conversions across top retailers grew 42%), and, according to our eCommerce industry experts, this digital shift is here to stay. To help analyze this year's eCommerce activity, our industry experts just released the "Top 25 U.S. D2C Brands of Q1 2021," which highlights the top 25 fastest-growing direct-to-consumer (D2C) brands for the first quarter (Q1), and the consumer activity driving their growth.
Check out a sneak peek of the top 25 D2C list and a synopsis of consumer trends driving growth below: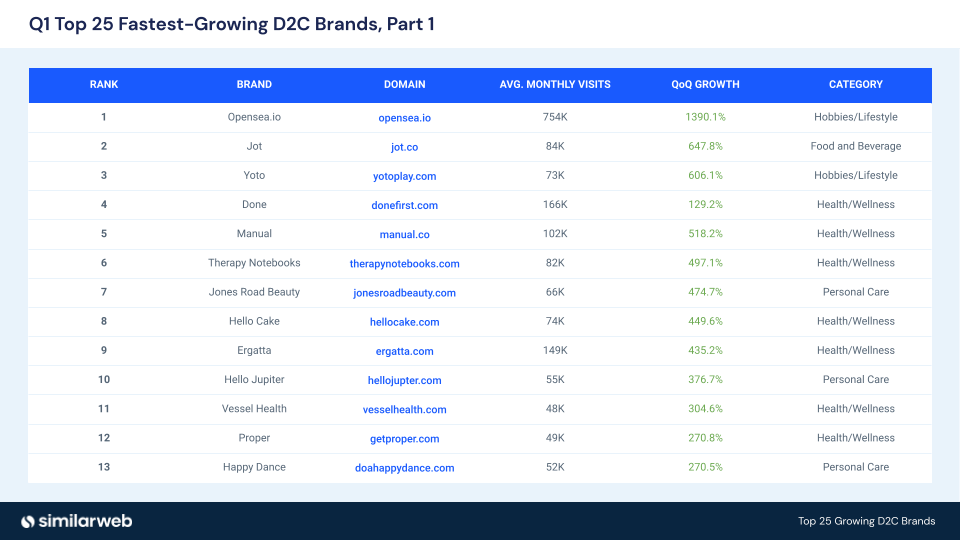 Trend 1: Non-fungible token marketplace shows the art world's shift to digital
First place for the fastest-growing D2C brand in Q1 went to OpenSea – a marketplace that allows consumers to buy and sell "crypto-collectibles." The website traffic soared a whopping 1,390% this quarter alone.  
As the "largest 'NFT marketplace," consumers can "buy, sell, and discover rare digital items" on the website. It uses non-fungible tokens (NFTs), to represent these assets.  
OpenSea's astounding digital growth reflects the boom of NFTs and the mainstream adoption of digital currency. Most significantly, it represents a new chapter of art history. 
In early March, Beeple, an artist whose real name is Mike Winkelmann, sold his piece "EVERYDAYS: THE FIRST 5000 DAYS," at Christie's for $69 million. It was the first digital art sale for the prestigious auction house and it generated, the most money ever recorded for digital art. 
The groundbreaking transaction captured the attention of mainstream media for days, generating traffic to opensea.io. 
The sale also signifies the future of the art market and a dramatic cultural shift that melds art with technology. Noah Davis, a specialist in post-war and contemporary art at Christie's, calls the transaction "monumental" and "indicative of what NFTs can do." according to The Verge.  Beeple, now one of the most valuable artists alive, calls the sale "the next chapter of art history" as consumers can now collect digital art.
Trend 2: Health and wellness sites strengthen
Although the COVID-19 pandemic wreaked havoc on many of our bodies in 2020, consumers are eager to be on the mend as we kick off 2021. In fact, more than 10 of the top 25 fastest-growing D2C brands are health and wellness or personal-care focused. Though companies revolve around a number of themes, the two most prominent are:
Support and enjoyment

: This includes

Therapy Notebooks

and

Cake

(DIY therapeutic journaling and sex wellness). Both brands bring a creative, fun, and unique spin to encourage a new habit. 

Health monitoring and optimization:

This includes brands such as

Done

(ADHD treatment),

Vessel

(urine testing), and

Levels

(glucose tracking) which aim to measure and enhance your body.    
Why does this matter? 
Trending self-care sites show that consumers are taking steps to take care of their bodies and health is top of mind. That means health is in and companies are gaining from this trend. 
Trend 3: Parents want children to get creative
You've all seen it, particularly with work from home due to the pandemic. Kids glued to their devices. Hunched over. Unresponsive. This is the exact reason, Yoto, which landed third place for the fastest-growing website this quarter, drew the attention of (nearly desperate) parents.
 "Inspiring the next generation of independent creative minds," according to its website, Yoto's top product, the Yoto Player, provides an audio-based experience without using a screen. This configuration pushes children away from being hunched over tablets and computers. 
If parents and children find the tool engaging, we anticipate success with repeat purchases. Though the player starts at $99, cards range from $6-$12, an affordable price point for parents to spend more on adventures if they are happy with the product.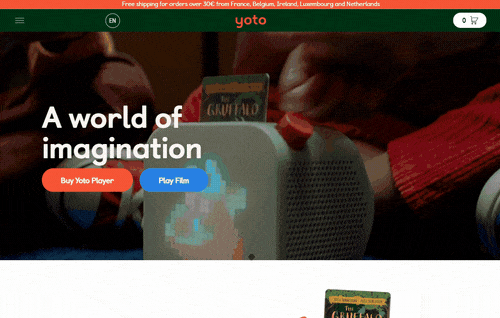 Selection process: Top D2C brands Q1 2021
We used Similarweb PRO, the industry's leading website analysis and market intelligence platform, to measure the quarter-over-quarter performance of over 2,000 digital brands to see which have the highest growth across categories. To ensure brands have gained traction with consumers, we limited our report to sites with at least 10,000 monthly visits. This analysis reveals the main trends in the market growing in popularity and can help you stay on the pulse of the market.  
To get your own insights during any time of the year try Similarweb PRO now.

This post is subject to Similarweb legal notices and
disclaimers
.
Wondering what Similarweb can do for you?
Here are two ways you can get started with Similarweb today!