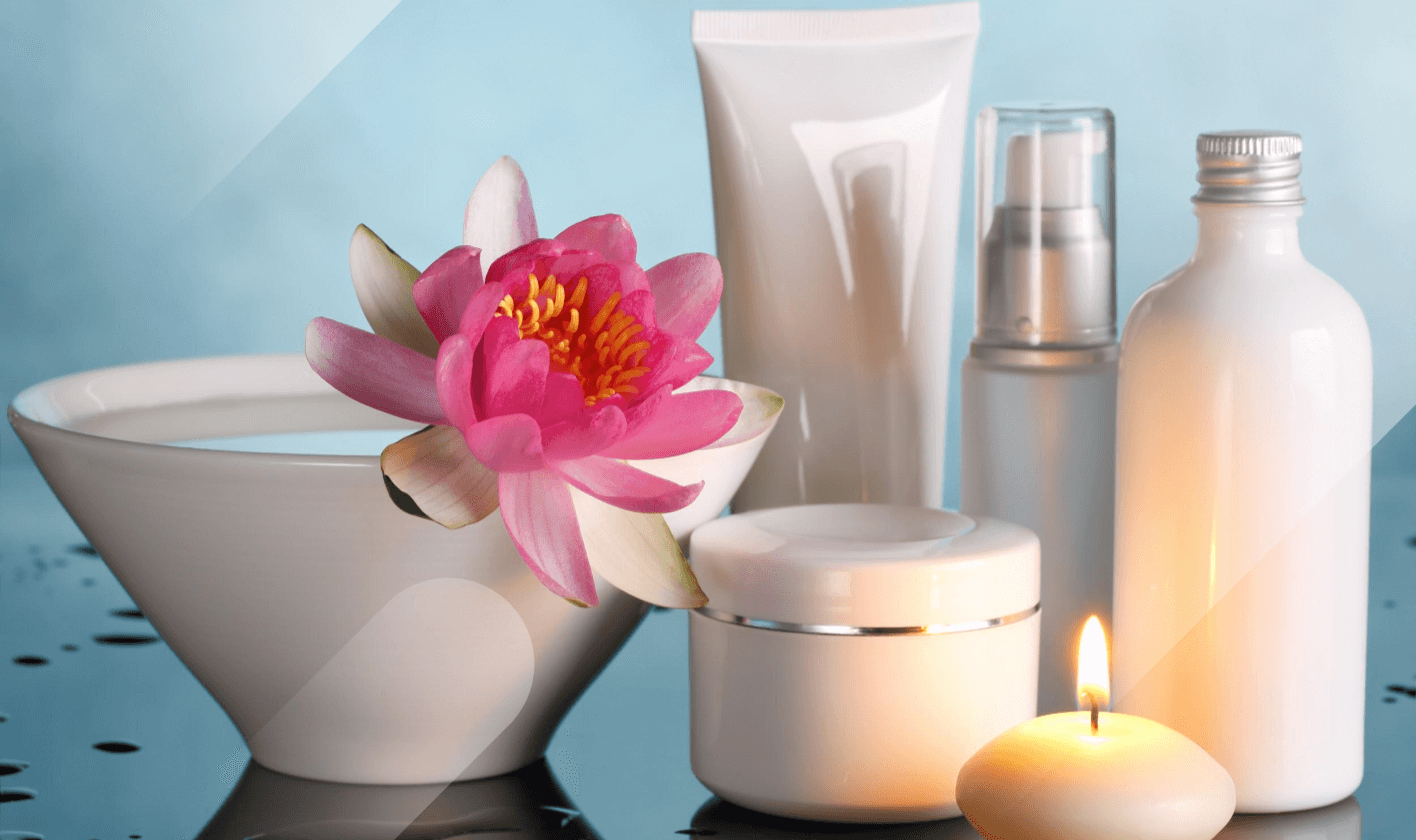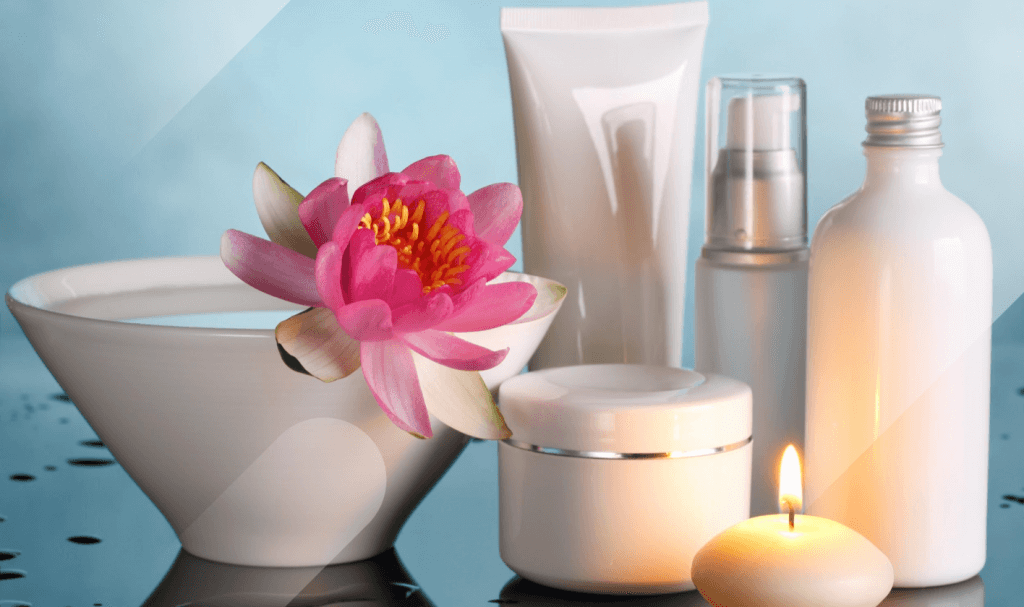 eCommerce Intelligence
How Consumer Behavior Impacts Amazon Best-Selling Beauty Products
February 25, 2021
| Updated July 4, 2022
Sweatpants replaced designer jeans since the pandemic made work-from-home the new normal. Despite little incentive to go out or dress up, Amazon's Beauty and Personal Care category soared 159% (YoY). In this article, we'll examine how Amazon best-selling beauty products leveraged consumer behavior trends to win market share. We'll also give recommendations on how you can use similar strategies to boost your Amazon sales. 
1. Amazon private labels dominate top-selling personal care products 
It comes as no surprise that Amazon private labels control the market for personal care essentials. In an environment where function and practicality are crucial, Solimo, Amazon's private label, wins, hands-down. Solimo scored 23% of the traffic for "hand soap," the most clicked keyword for the Foot, Hand & Nail Care subcategory. Additionally, the brand received 28% of traffic for the category's fourth most-clicked keyword –  "hand soap refills."   
But most buyers aren't searching for Solimo by name. Unbranded searches account for 90% of traffic for "hand soap" and "hand soap refills," on average. And in January 2021, only 44% of Solimo buyers were returning customers — ironic given the popularity of soap products in 2020.
How the Solimo brand became an Amazon best-seller
Solimo consumers opt for low pricing and convenience over brand names. In fact, six of the top seven brands within Solimo purchasers' virtual baskets are Amazon private labels. Consumers buy additional Solimo products, their number one choice, followed by Happy Belly, and AmazonBasics.
Amazon top-seller Solimo mild & gentle liquid hand soap, priced competitively ($0.11/Fl Oz), arrives in buyers' hands in one day following their one-click purchase with fast, free Amazon Prime shipping.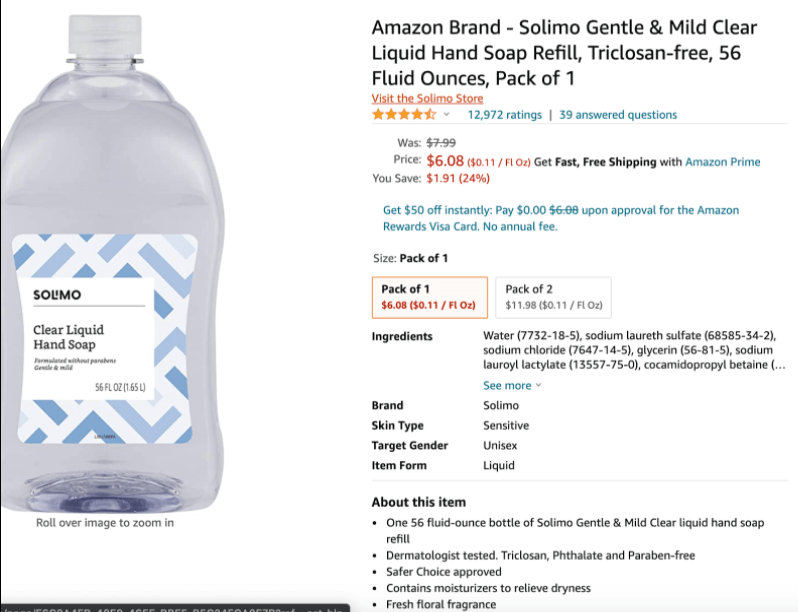 Finding Solimo is also convenient – its products are featured among the first results for  "hand soap," keyword searches. Beyond the competitive price point, products have a high volume of reviews, which builds trust. Another advantage: Shoppers can see the product at the top of search results and don't need to scroll through thousands of options.  
Key takeaways
Since Amazon private labels dominate personal care essentials and the customer base lacks brand appreciation, it's best for non-Amazon brands to focus on other areas of beauty and personal care on Amazon marketplace. 
2. DIY hair and nail care products fill consumer voids 
Hair and nail care are categories where consumers show dedication to brands. With closures last year, shoppers wanted to recreate the salon experience at home. This boosted the popularity of DIY-oriented products.
Without the need to apply blush, foundation, and mascara to go out, customers freed up time and money to spend on hair and nail care. While makeup-related product views plummeted in March 2020, hair and nail care product views climbed.
Amazon beauty best-sellers: hair-care brands 
Hair care is among Amazon Beauty & Personal care's largest revenue drivers. With skin care, it accounts for nearly 50% of all Amazon Beauty & Personal care traffic.
Even during the height of the pandemic, hair products outperformed practical, in-demand items like "hand soap," "hand sanitizer," and "facemask." "Hair clippers" ranked the number one keyword in Beauty & Personal care March-May. Wahl, a non-Amazon private label, in existence since 1919, garnered the most (22%) brand share. That makes it an Amazon best-selling beauty product.
Hair care was the largest contributor to digital growth within the beauty industry. Of the top-10 fastest-growing beauty websites in 2020, four spots went to those focused on hair care – eSalon (+464%), Nadula (+445%), Lange Hair (+257%), and Luv Me Hair (+257). 
Download: 100 Fastest-Growing Beauty Brands 
Amazon beauty best sellers: Nail care nails it
Similar to hair care, established brand names like Sally Hansen, receive the largest share of top keywords in the nail care category. Nail care websites are just behind hair care websites for the most digital growth within the beauty industry. Nail care sites including Dashing Diva (+524%), Static Nails (+462%), and Color Street (+215%) made up three of the top ten fastest-growing beauty & personal care sites in 2020.
Beauty kits: the key to riding the DIY wave
Leading hair and nail brands promise easy-to-apply products with salon-quality results, which resonates with consumers missing their beauty technicians. Even with select salons re-opened, some beauty enthusiasts have changed their habits and now do their hair and nails at home. 
In response to this consumer behavior, eSalon, the fastest-growing hair site in 2020 (+464% YoY), positioned its best-selling hair coloring kit as perfectly suited for those who want to do their hair at home. Similarly, kit-related keywords, including "polygel nail kit" and "acrylic nail kit" ranked among the top keywords within Amazon Beauty and Personal Care at the Pandemic's height. These beat out "hand soap antibacterial" (but were behind Wahl hair clippers).

Key Takeaways
Using words like "kit" signals to customers that your product is something they can do themselves, at home.  Incorporating "kit" into product listings and titles is a successful messaging strategy that will help boost your positioning. 
➤ Read about more ways to optimize your product listings here
3. Seasonal consumer behavior
A great hair day may mean the world to your customers. Most Americans use such products or services nearly daily. If your products hinge on seasonality, you should be prepared for seasonal demand jumps.
This particularly applies to fragrances, which attract the highest profit margins (nearly 90%) among all CPG products. Brands and personalities like Versace and Ariana Grande, among Amazon's top sellers, license their names to products for powerful profits.
Since fragrances are usually bought as gifts, it's best for similar brands to ramp up advertising and digital marketing efforts in Q4 –  a key holiday shopping period that also includes Amazon Prime Day. For instance, we see a regular uptick in traffic for Versace's fragrances, in Q4 (this is the haute couturier's number one product across all Amazon categories).
Download the Prime Day Insight Report
Similarly, if you produce face makeup, advertising efforts should align with the timing of increased social activity, including holidays (we see regular growth in November –  December) and the reopening of social establishments. Since policies vary per state, use localization techniques for further targeting. 
Key takeaways
Plan your marketing strategies around the seasons your products see higher demand. 
Ready to grow your beauty and personal care product sales on Amazon?
Set up a live demo of our Shopper Intelligence and discover how you can pull your own insights. 
This post is subject to Similarweb legal notices and
disclaimers
.
Wondering what Similarweb can do for you?
Here are two ways you can get started with Similarweb today!