Between eased COVID restrictions and July 4th celebrations, Americans are eager to look their best again and make up for time lost in sweats last summer. This presents a challenge to retailers and brands trying to tailor their eCommerce strategies to consumer demand. To help, we'll use Research Intelligence and analyze the top 25 trending keywords for the U.S. fashion and apparel industry (May-June 2021) that are driving summer 2021 fashion trends, the consumer behavior behind them, and retailers' winning rankings. 
Here's what's appealing to Americans for apparel:
1. Yeezy does it: Boosts Adidas' traffic share
Adidas scores the most traffic share for three of the top 10 trending fashion and apparel terms, more than any other brand in our rankings
Kanye West's collaboration with the brand helped boost performance. In 2016, the hip hop titan released his "Yeezy" line (feat. Adidas)," and it's been a hit."Yeezy" is the number one trending search term for the entire U.S. fashion and apparel industry, with "Yeezy slides" ranking fourth (May-June).
Top Yeezy webpages on adidas.com show that products are sold out, providing a sense of  "velvet rope" to potential customers. To build hype, Adidas publishes release dates for each model and collects email addresses to notify customers when shoes become available.
Up and running: Ultraboost
Can't get Yeezy sneaks?
"Ultraboost," which references another Adidas sneaker, ranks tenth.
Adidas smartly uses product messaging that speaks to consumers' lifestyles, including:
"Running shoe first and foremost": to capitalize on the increase in runners (particularly the 28% of newbies that started jogging during the pandemic).
"Adopted by the fashion world and can be worn for every day": reflecting consumer demand for function and fashion. As consumers return to pre-pandemic activities and head back to work, lots of shoppers are still craving comfort after working from home for so long.
2. Sneaking up the rankings
In general, consumers, crave podiatric comfort, which means finding the right shoe! Overall, 10 out of our top 25 trending keywords relate to footwear (both online and in-store shopping).  In addition to "Yeezy" and "Ultraboost,"  terms include: 
"Sneakers" (ranked eighth)

"Shoe store near me" (ranked 13)

"Basketball shoes" (ranked 14)

"Air Jordan"  (ranked 18)
These search trends indicate that consumers crave comfort and want to get active this summer, a pattern consistent with trends overseas. In Spring, shoe-related keywords dominated our trending keyword list in the U.K. Brand preferences, though, were different. No Yeezy-related terms appeared in the top 25, reflecting Kanye's icon status in the U.S. Instead, "Air force 1" by Nike ranked second. Converse and Vans products also made the top 25. 
 3. Less is more to make the list (with Lane Bryant)
Consumers crave clothing with minimal fabric to kick off an American summer. While 10 dress-related keywords made our U.K. top 25 list for spring, only three appear in the U.S. list for summer. Keywords related to lingerie and swimwear are pushing dresses down the rankings.
Although "summer dress"  does rank second, "lingerie" is right behind (third). One year ago (May-June 2020) "lingerie" didn't make the top 25 spot at all.  "Gilly hicks" (a lingerie line from Abercrombie) ranks 16th among trending search terms this year.
The spike in lingerie searches may be driven by the warm weather, increased desire to go "out and about" with lockdowns lifted, and singles returning to the dating scene (especially as the U.S. government partners with dating apps to encourage singles to get vaccines). 
Consumer curvaceousness surges
Trending search terms for both lingerie and swimwear suggest curves are in this year. Swimwear-related keywords made up six of the top 25 search terms. "Plus size swimwear" and "plus size swimsuits," ranked fifth and twentieth. Lane Bryant, which only carries clothing for women size 10-40 dominates traffic share for both terms.
Although Lane Bryant is characterized as a "plus-size" clothing store, the sizes carried reflect that of the average American woman (size 14). 
Size up all the summer fashion trends by downloading the full list of top 25 trending search terms kicking off summer.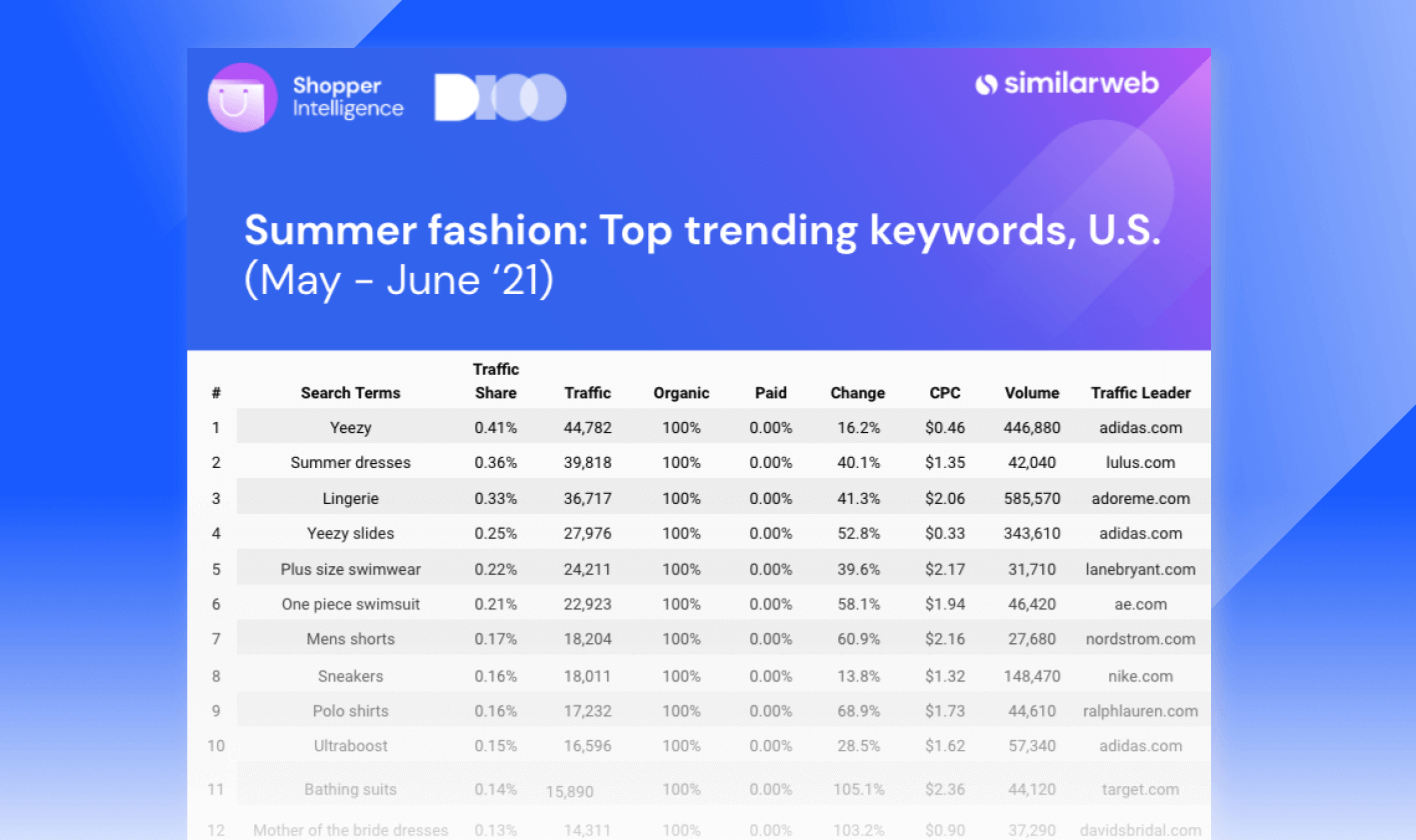 Stay in fashion year-round with insights
Replicate our method
To understand what's propelling summer 2021 fashion trends, we used Research Intelligence, one of our eCommerce solutions. With it, we downloaded, top, non-branded organic search terms for the Fashion and Apparel industry in the U.S., May – June 2021 on desktop and mobile devices. Then, we filtered the terms by "trending" and "newly discovered" so that they are stronger indicators of recent, summer fashion trends. 
Want to check on your competitors or analyze any website, app, or industry?
Sign up for a demo of Research Intelligence to start getting your own eCommerce insights.

This post is subject to Similarweb legal notices and
disclaimers
.
Wondering what Similarweb can do for you?
Here are two ways you can get started with Similarweb today!