Did you know that 51% of US consumers prefer buying from online marketplaces? 75% of US consumers want more of their favorite brands and retailers on the leading ecommerce marketplace websites.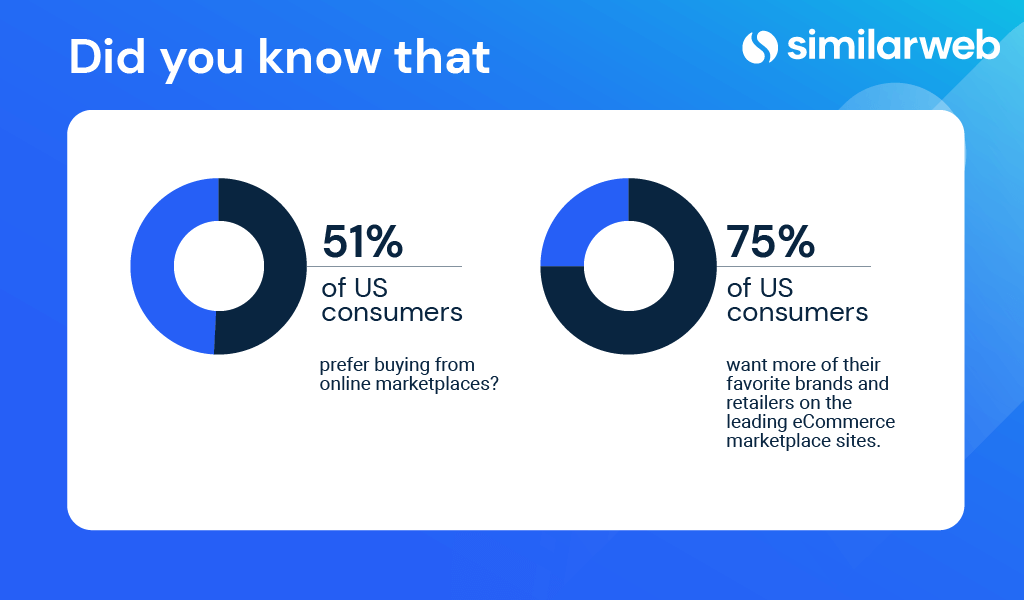 If you're using different marketplaces to grow your ecommerce sales, you're already closer to your target audience than many of your competitors.
But that's not enough.
You need a consistent and long-term digital marketplace strategy to take full advantage of the growing ecommerce market size that's expected to expand by $1 trillion by 2025.
Need help? Don't worry.
In this article, we'll share proven marketplace strategies to increase your brand exposure, stand out among your competitors, and attract more customers.
Why you need a marketplace strategy
A research study by Mirakl found that shoppers go to Amazon, eBay, Taobao, Walmart, and other ecommerce marketplaces because they:
Offer more choices

Are fully stocked with products

Offer more competitive prices

Are more reliable with authentic reviews

Accept multiple payment methods

Generally offer faster and cheaper shipping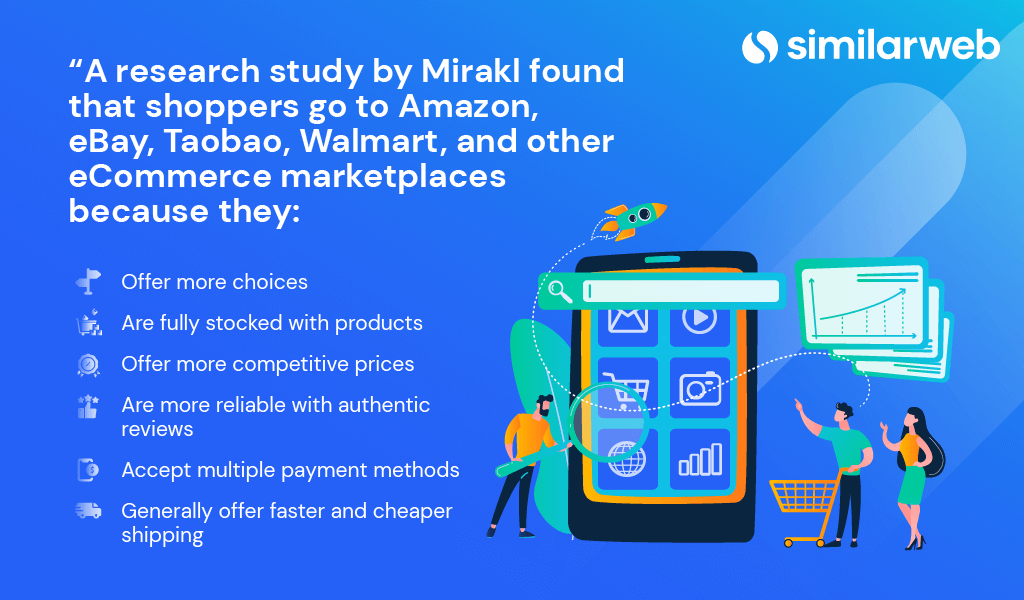 So, to get more shoppers, marketplaces ensure they promote sellers that 
Offer the most relevant, high-quality, and wide-ranging products

Help buyers make informed decisions by offering in-depth product details 

Are reliable brands with satisfied customers

Have generally positive reviews

Can ship to the buyer's region
To succeed as an ecommerce marketplace seller, you need to ensure that your brand has all the qualities a marketplace wants. The closer you are to their ideal seller, the more preference you'll get in their platform's search and product recommendation engine.
Here are five strategies you should use to increase your sales on marketplaces: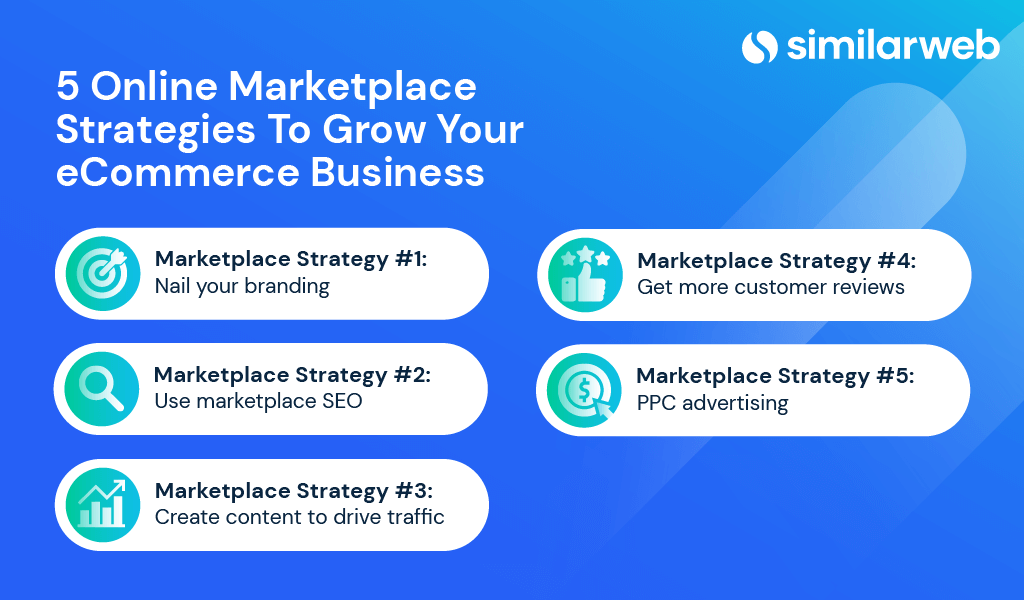 Marketplace strategy #1: nail your branding
What is the strategy?
Amazon, Walmart, and other leading digital marketplaces have millions of sellers all claiming to be the best. So how do you convince an average ecommerce buyer that you're different, more reliable, and worth trying? By offering a unique brand experience, sharing your brand values, and attracting relevant customers.
Why does it work?
A recent study commissioned by Google Cloud found that 82% of consumers prefer buying from brands aligned with their core values. In addition, 39% of consumers said they would boycott their favorite brands if there was a clash in values. This is why ecommerce marketplaces provide sellers the space to create their own unique brand experience.
How can I replicate it?
Use your marketplace storefront or company page to create a unique brand experience for your visitors. This Amazon storefront of Adidas is an excellent example.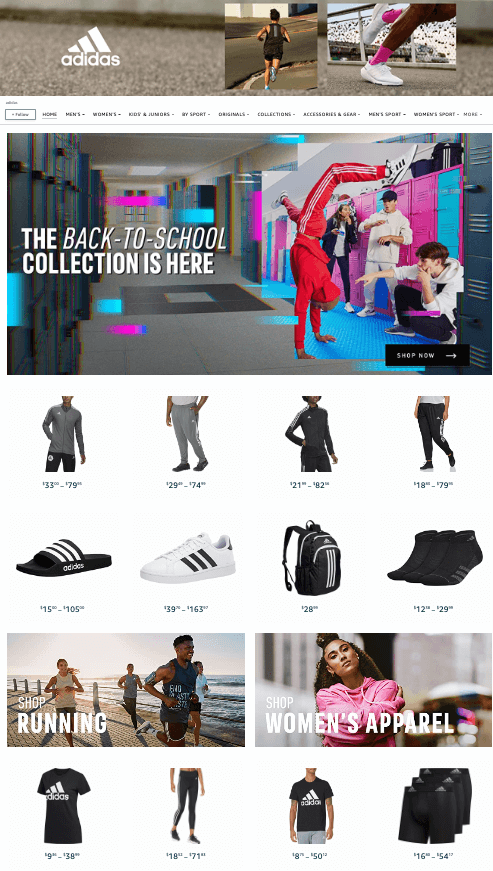 The Adidas store uses attractive images, short copy, and a brand video in its Amazon storefront to tell its brand story and stand out from its competitors.
Marketplace strategy #2: use marketplace SEO
What is the strategy?
The search feature is the primary way shoppers find products on different marketplaces so marketplace SEO is among the most critical marketplace growth strategies for any brand.
Why does it work?
According to research, the top three products on Amazon get 64% of the clicks, and 70% of shoppers never go beyond the first page in an Amazon product search. This behavior is identical across marketplace platforms. So, if you want your products to show up in marketplace search listings, you need to optimize them for the right keywords. 
How can I replicate it?
Here's what you need to do.
Uncover high-traffic search marketplace search keywords using Similarweb

On-Site Search Optimization tools

. Also, use it to study your competitor's top-ranking keywords and incorporate some of those into your copy.
Write descriptive product titles using the keywords your audience is searching for.

Invest time in writing engaging product descriptions that describe your product's unique selling points, main benefits, and features as well as share multiple use cases.

Break down the description into bulleted points for easier scanning.
Apart from keywords, most marketplaces also consider the following factors when ranking products.
Sales velocity (how quickly your products are selling)

Price 

Conversion rates (the higher, the better)

Fulfillment method (marketplace fulfillment like FBA is preferred)

Product images and videos (high-quality images from multiple angles + videos rank higher)
Marketplace SEO optimization is an ongoing process. So, you'll need to keep an eye on your product rankings and conversion rates to ensure your product keeps ranking at the top of the search results.
Read More: Amazon SEO: Your Guide to Getting it Right in 2022
Marketplace strategy #3: create content to drive traffic
What is the strategy?
Ultimately, a marketplace is rented land, and you don't own its listings. So, to ensure minimum fluctuation in your ecommerce sales, your marketplace strategy needs to focus on growing your own content that you can use whenever you want to drive traffic to your products.
Why does it work?
Most ecommerce marketplace sellers rely on the platform's search algorithms and paid advertising to drive sales. This works fine as long as your products rank for the right keywords and attract traffic organically. But the moment your rankings go down, you have nothing to fall back on.
How can I replicate it?
Content marketing is the practice of sharing useful, actionable, and high-quality content that's not only relevant to your target buyers but is also optimized for search engines.
You'll host this content on your website's blog, not the marketplace where your products are listed.
What's the benefit? Research by Conductor found that:
Consumers are 131% more likely to buy from a brand immediately after reading an educational piece of content on its blog.

People feel 74% more optimistic about a brand after reading its educational content.
And that's not all. 
Content marketing helps you drive organic search traffic, which not only builds brand awareness but also helps you route traffic to your product pages on different marketplaces to increase sales.
A home decor brand called Made has an excellent blog that regularly features product buying guides and inspirational content for its target audience.

These guides not only provide value but also drive thousands of visitors because they're fully optimized for relevant and high-traffic search keywords.
Marketplace strategy #4: get more customer reviews
What is the strategy?
Positive reviews are a strong ranking factor on most marketplaces and can quickly bring your products to the first page of the search results. If you want to increase your marketplace sales, encourage your customers to leave detailed positive reviews that include pictures or videos of themselves using your products.
Why does it work?
Reviews can make or break your ecommerce sales. Studies show that 49% of consumers trust online reviews as much as recommendations from their friends and social media connections and 77% of consumers regularly read reviews when browsing for products. When faced with two similar products, consumers are more likely to purchase the one with more positive reviews.
How can I replicate it?
Manually request every buyer to leave a review. Most marketplaces allow you to request reviews with a dedicated review button (like Amazon) or by sending a direct message to the buyer.

Send emails to your subscribers asking them to leave reviews if they've purchased your products.

Ship a handwritten review request with every product.
Most marketplaces don't allow you to incentivize reviews. But you can still encourage your buyers to share their experiences, especially if you send them a thank you note and provide a stellar customer experience.
Read More:
Marketplace strategy #5: PPC advertising 
What is the strategy?
Promoting your products using pay-per-click (PPC) advertising on different ecommerce marketplaces, social media platforms, and search engines.
Why does it work?
The online marketplace strategies we've discussed so far rely on organic sources for growth. They're sustainable methods that take time to produce results. But if you want to grow fast, add pay-per-click (PPC) advertising to the mix. 
PPC allows you to push your products in front of the most relevant users. It also positively affects a product's organic search rankings by bringing more sales to that product.
How can I replicate it?
Most marketplaces offer paid listings, sponsored posts, and conventional banner ads on their platforms. Use them to drive traffic to your listings, increase sales, and build early momentum for each of your products.
You can also use Facebook, Google, and TikTok ads to fuel your ecommerce growth. TikTok ads, in particular, are cheaper than other platforms and produce a higher ROI because of their growing popularity and highly engaged audiences.
Read More: Amazon PPC: What You Need to Know to be a Top Seller
Using Similarweb Shopper Intelligence to boost your marketplace strategy
If you're looking to outsmart your competitors and create a winning online marketplace strategy, you'll need deeper and more valuable insights than most research tools offer these days. This is where Similarweb Shopper Intelligence comes in.
It's an advanced ecommerce marketplace intelligence tool that allows you to identify:
The best-selling products, units sold, revenue, and conversion rates for different product categories.

Your competitors' best-performing products and key

ecommerce benchmarks

.

The most high-traffic and profitable marketplace keywords that drive sales for your competitors.

Search engine ranking insights.

Consumer behavior

, shopping trends. 

And a lot more.
Shopper Intelligence helps you analyze the strategies your most successful competitors are using to dominate product categories on Amazon, Walmart, eBay, and other leading ecommerce marketplaces.
With these insights, you'll be able to make informed decisions, invest your resources in winning products and optimize your product listings for keywords guaranteed to attract traffic.
What's your marketplace growth strategy?
With millions of sellers across the globe, ecommerce marketplaces are quickly becoming the most competitive places for new brands. But with the right marketing strategies and competitor insights, you can still identify opportunities and untapped areas that can produce results.
The strategies we've discussed in this article are most effective when used in tandem. If you stick to them long enough and keep improving along the way, you'll start seeing measurable results in just a few months.
This post is subject to Similarweb legal notices and
disclaimers
.
Wondering what Similarweb can do for you?
Here are two ways you can get started with Similarweb today!