At-home workouts, health, and wellness apps have become very valuable tools for consumers trying to tackle the "quarantine 15" as they come out from hiding. According to Jamie Drayton, Similarweb Senior Industry Manager, the fastest-growing fitness brands in 2021 have "capitalized on consumers' New Year's resolutions and shown us that at-home fitness is here to stay" even with the reopening of gyms! So, which fitness brands have grown the most in this environment, and what's driving their success?
To help answer this, we'll rank the top fastest-growing fitness brands using Period-over-Period (PoP) traffic data from Similarweb Research Intelligence. 
At-home fitness trends at a glance
Together, the top 10 fitness sites saw a 25% increase in total traffic in 2021 (January – April) vs. the prior four-month period (September – December 2020).  

Traffic peaked in January 2021, which could be attributed to people setting fitness New Year's resolutions.

Winning sites are a mix of fitness equipment and online fitness programs.
Peloton places first despite PR pitfalls
Peloton's traffic increased by 6.3 million visits (PoP), making it the fastest-growing brand for 2021. With a total of 29.2 million visits this year (January – April), Peloton continues to grow its customer base for its stationary bikes and treadmills, despite a large volume relative to other sites in the industry. 
Peloton's growth also shows the "teflon" nature of its brand. The death of a child on one of its treadmills in March (since recalled) and declines in its stock price following the incident, seem to have little impact on its digital performance, which may only strengthen as it recovers from the tragedy and PR disaster.
In fact, its 7.9 percentage point (ppt) increase in direct traffic, which generated an additional 2.8 million desktop visits (PoP), shows that Peloton remains relevant with consistent growth, capitalizing on its strong brand name.
Moreover, its top keywords for organic search – the second-highest driver of traffic (32.5% traffic share) – are heavily branded (i.e. peloton, peloton bike, peleton, and peloton app). While this channel decreased in share PoP, it was offset by the increase in direct traffic, which means that more people are familiar with the site-specific URL.
Other winners working up our list
Other brands which topped our list include:
"Smart" home gym Tonal

(+967.2K visits), ranked second place.

Streaming at-home workout service, Alo Moves

(+565.2K visits), ranked third.
To check out more of the fastest-growing workout brands which cater to different consumer preferences for fitness download our full top 10 list.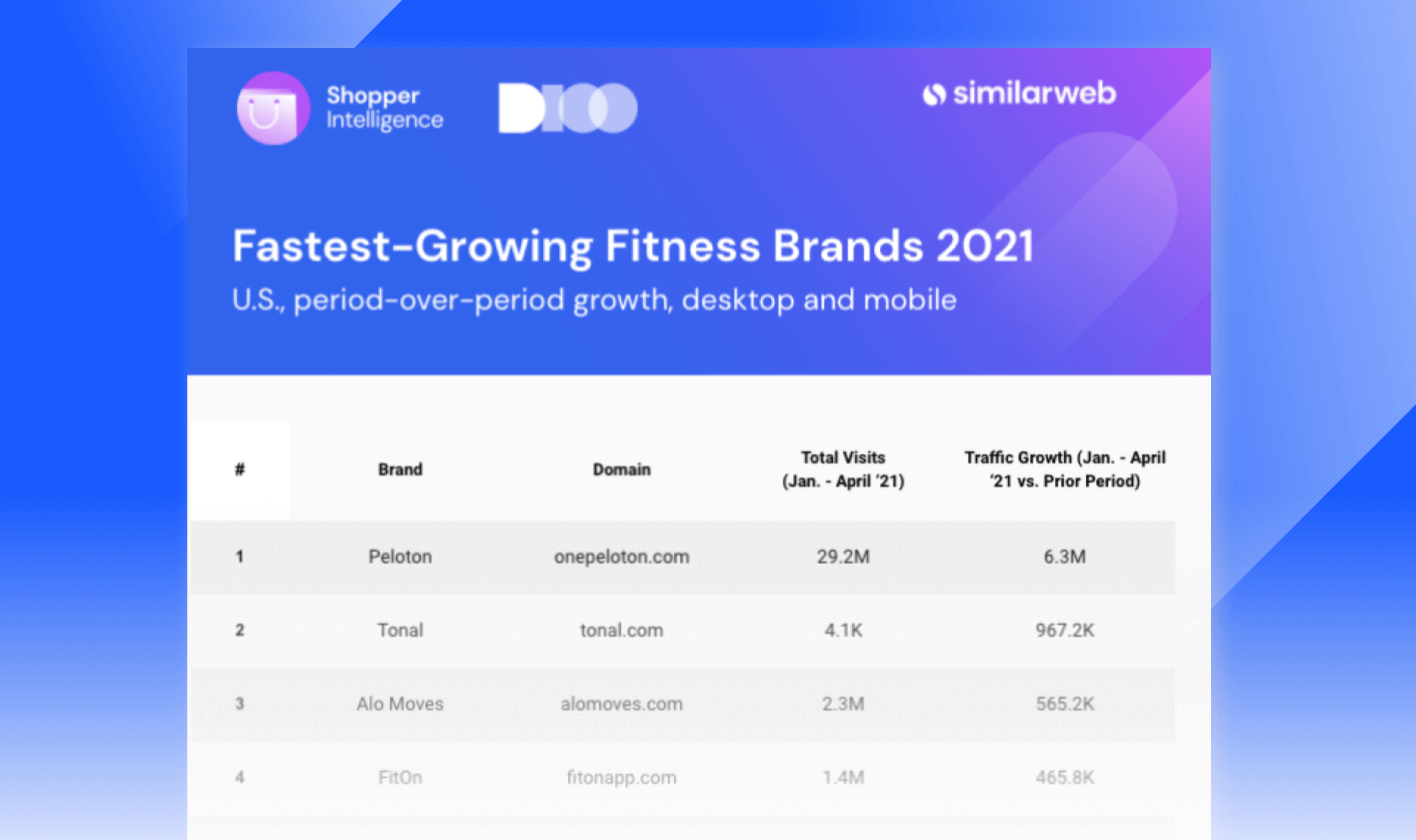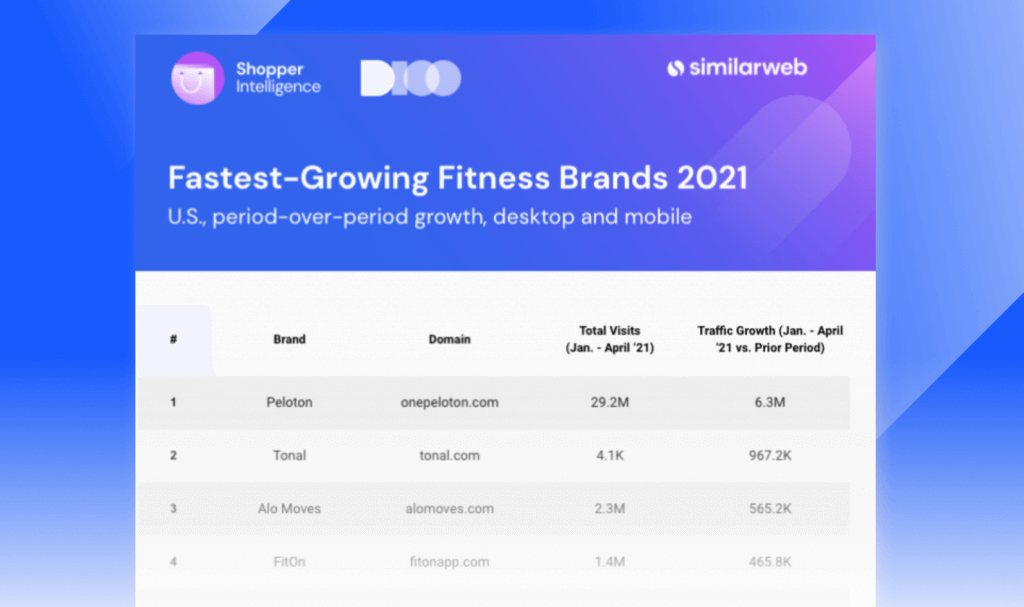 Methodology
We used Research Intelligence to pull data for fitness sites that averaged at least 10K monthly visits. To calculate PoP traffic growth, we compared visits for January – April 2021 with September – December 2020 on both desktop and mobile devices. To check out more fastest-growing D2C brands, check out the top 25 in a recent post.

This post is subject to Similarweb legal notices and
disclaimers
.
Wondering what Similarweb can do for you?
Here are two ways you can get started with Similarweb today!