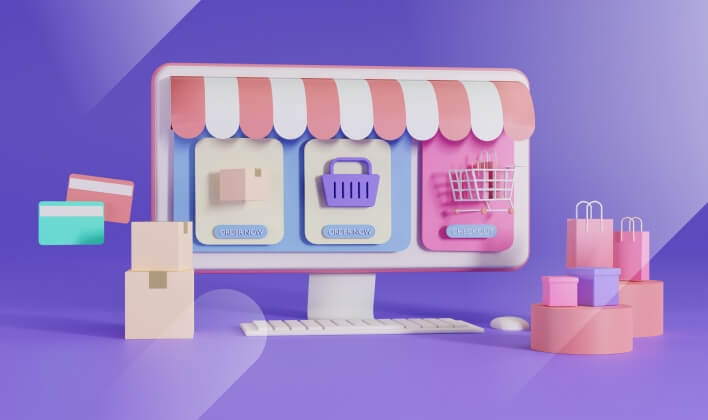 eCommerce Intelligence
A look at the Online Marketplace Industry in Australia
November 25, 2019
| Updated July 4, 2022
Mobile Web visits account for 53% of the traffic sent to Online Marketplaces in Australia.
Despite remaining the leading website in Australia, ebay.com.au has lost 22% market share to competitors such as amazon.com, catch.com.au, myer.com.au and theiconic.com.au. 
Emerging market players such as catch.com.au, myer.com.au and kogan.com have all invested highly in Paid Advertising to increase their brand equity, compared to international brands that already have high brand awareness. 
Catch.com.au's most popular folder on Desktop is Fashion, however, its Beauty, Sports & Outdoor, and Electronics segments are at least two times more visited on Mobile Web. 
A market-driven by Mobile Web Visits
Today, total traffic to Online Marketplaces in Australia averages 192M visits per month. Half of this traffic is driven by Mobile Web visits.
Device Distribution Overview
An optimal display for mobile devices is a must for Online Marketplaces in Australia: Local sites such as mydeal.com.au (74%), myer.com.au (70%) and catch.com.au (64%) have hopped on the Mobile Web trend, obtaining the majority of their traffic from mobile searches. However, international players such as ebay.com.au, amazon.com, amazon.com.au and etsy.com remain mostly visited via Desktop.
eBay threatened by the rise of competition
In 2016, ebay.com.au dominated the Online Marketplace industry in Australia, capturing 70% of the total traffic sent to top Marketplaces. However, over the past three years, half of the traffic has been captured by either new players such as catch.com.au or key players such as Amazon, whose Australian domain amazon.com.au, experienced a +600% growth between 2016 and 2019.
Overview of the top-performing traffic channels 
The analysis of traffic sources to Online Markeplaces in Australia revealed the need for these websites to exert strong brand awareness: On Desktop, 58% of the traffic sent to Marketplaces came from Direct visits while Organic Search accounted for 23% of the traffic and Paid Search for 9%. Almost half of the visits made via Mobile Web came from Search. Direct visits accounted for 35% of the visits to the top Marketplaces in AU, while Display Ads were the third most popular promotion tool on Mobile Web.
Different Strategies for Different players
Smaller domains such as catch.com.au and myer.com.au as well as mydeal.com.au, kogan.com and theiconic.com.au have actively used Display Ads to increase their brand awareness, capturing at least 10% of their Mobile Web traffic from this channel. Bigger brands have been able to profit from their equity:  75% of etsy.com.au's Mobile Web traffic comes from Search and Social Media. On Desktop, amazon.com.au gathers almost 50% of its traffic from Direct Visits. The latter is also the only player to extensively use Referrals, 56% of which come from Coupons and Rebates websites such as ozbargain.com or cashrewards.com.au.
Focus on Catch, an emerging player
Catch.com.au's Online Marketing Strategy
Catch.com.au has experienced a 24% year-over-year increase in traffic between February and October 2019 compared to the year prior. During that period, the website decided to invest in Paid advertising, boosting its traffic coming from Display Ads by 68% and Paid Search by 32%. These marketing efforts have proven to be successful, with the website's Organic Search traffic increasing by nearly 40%.
Content Analysis
Desktop
On Desktop, the best performing category on catch.com.au is Fashion, representing almost 60% of the traffic from the seven best performing folders on the site. It should also be noted that the Men's Fashion folder drove more traffic than the Women's Fashion folder. The Electronics folder is the second most popular category on the site.
Mobile Web
On Mobile Web, the Electronic folder takes over 44% of the traffic coming from Catch's top-performing categories. The Beauty and Sports & Outdoor segments are two times more popular on Mobile Web than Desktop. There was also growth of the Home & Kitchen, Furniture & Appliances and Kids Toys and Clothing categories, ranging from 28% to 61%.
Conclusion
The Online Marketplace industry in Australia is led by Mobile Web visits, which presents a key opportunity for websites to optimize their displays on that device. Market players must exert strong brand awareness to compete, as Direct visits and Search are the top channels bringing traffic to these sites. However, other traffic sources such as Paid Advertising, Referrals and Social Media may be leveraged as means of differentiation. The Similarweb platform offers a wide view of the industry trends, new players and competitors' strategies but also an in-depth analysis of any websites' content: Find out the best and least performing categories on your competitors' site to uncover opportunities for growth and traffic increase.
Discover more digital insights on your industry on our platform.
Request a live demo of SIMILARWEB PRO
This post is subject to Similarweb legal notices and
disclaimers
.
Wondering what Similarweb can do for you?
Here are two ways you can get started with Similarweb today!