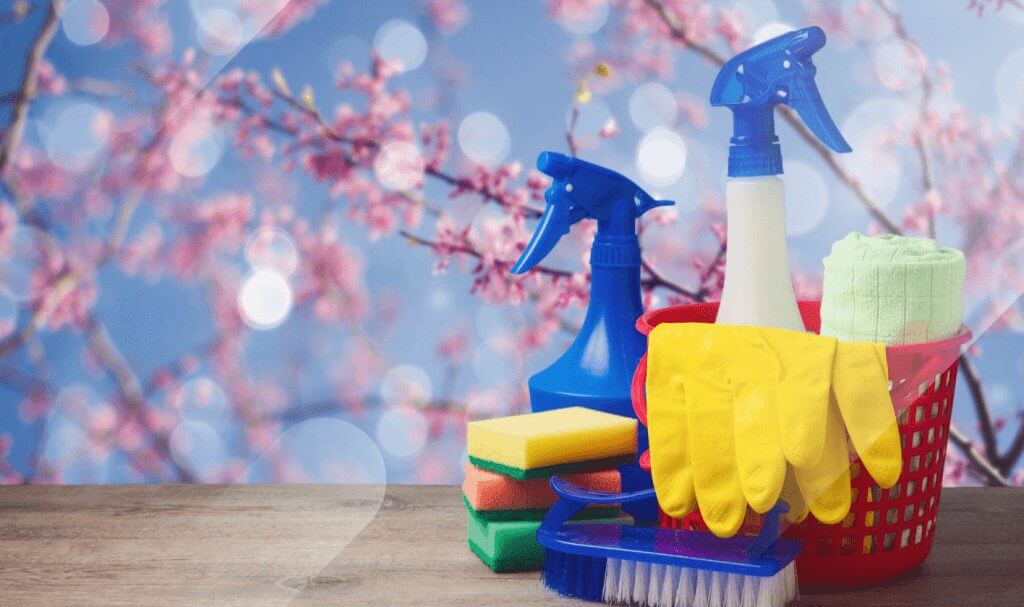 eCommerce Intelligence
4 Tips for Brands to Grow Sales This Spring Cleaning Season
April 23, 2021
| Updated September 4, 2022
Consumer confidence levels surged 19.3 points to 109.7 this March, one of the largest jumps recorded, and analysts expect spending to continue to power higher in the second quarter. Now, more than ever, your brand can gain from this spending wave. Since the spring cleaning season is now upon us, we'll focus on seasonal consumer behavior and the popular brands known for having the best household cleaning products. We'll break down four tips to help consumer packaged goods (CPG) brands follow their lead and increase online sales this spring season.
1. Hack educational content in spring
An analysis of seasonal keyword trends demonstrates that consumers are eager to clean March–June and brands should focus on educational-related content to cater to their needs.
During these months, four "how to" queries ranked among the top 15 non-branded searches for the cleaning industry, including "how to clean blinds," "how to clean wood floors," "how to bleach white clothes," and "how to wash windows."
In contrast, during winter, December through February, zero "how-to" or related queries composed the top fifteen non-branded searches.
For best-selling cleaning brand Clorox, pages with "how to" make up nearly 29% of traffic share to clorox.com. This is its second-largest segment, just behind products.
Takeaways
To increase organic traffic, brands should focus on producing high-quality, educational content during spring when consumers are eager to learn about cleaning and are searching for the top household cleaning products.  
Consider building out blogs and portals of your sites with cleaning-related resources such as Clorox's fully navigable portal dedicated to How-To Articles (pictured).
Web content should integrate education-related keywords including "how to" and "hack" to target seasonal consumer demand for cleaning supplies. 
Pro tip: Research the seasonal keywords trends that could influence your brand to make sure you have educational content ready at the right time.
 2. Forget winter white — bleach keywords reign in spring
Consumers want bleach in the spring. Keyword data over recent years shows that "bleach," "chlorine bleach," and "bleach cleaner" made up three of the four most searched terms. In winter, no bleach-related keywords made up top rankings. Within Clorox's "how-to" portal, Bleach 101 is a top-performing page.
Takeaways
Brands with bleach-related products should promote them in spring. They may want to consider investing in bleach-related paid keywords during these months to help compete with Clorox and other top brands.
CPG brands selling on Amazon may want to consider investing in Amazon PPC to boost their position in search results. Since the top two search results across Amazon's household cleaning category use paid search and get the greatest percentage of clicks, 9.9%, and 10.3%, respectively, this suggests a strong return on investment (ROI). In fact, the average percentage of paid clicks going to household cleaning products grew more than 50% this year versus the year and a half prior.
3. Optimize for Amazon
Regardless of the cleaning product type, CPG brands should consider selling on Amazon or promoting their presence there. Consumers are increasingly turning to Amazon for cleaning supplies – over the last six months, household cleaning supply revenue increased 23.7% as did product views (21.8%), conversions (0.70%), and units sold (22.6%).
Brands with ad budgets may want to consider PPC as paid search clicks across the category increased nearly 15% in 2021 and we expect this number to rise to pre-pandemic levels (or higher) in late spring as more American adults are vaccinated and have a pent-up desire to spend.
Low customer loyalty metrics across the household cleaning category open up opportunities for unknown brands to gain the attention of consumers by appearing higher in search results. Even for Lysol and Clorox the category's top brands, 78%, and 81.5%, respectively, of buyers are one-time customers. 
Takeaways
Amazon sellers should be sure to optimize product listings and employ Amazon SEO tactics to appear higher in search results organically. Amazon PPC may make sense to use for an additional boost. To help determine this, look at paid click share and loyalty metrics on the subcategory level for your products.
You can get your own insights with Shopper Intelligence by using the on-site search at the category or brand level to determine paid click share.
4. Leverage media sites
Brands that lack the resources to invest heavily in organic content can consider partnering with media sites commanding traffic share. This includes sites like Better Home and Gardens which command the most traffic share for "how to clean wood floors," with the top ten seasonal keywords. Selling shower cleaner? Thespruce.com, which also owns Investopedia, may be a good option.
Takeaways
See if you can advertise or partner with media sites commanding traffic share for top keywords. You can also target these sites using display ads. You can determine websites for advertising with Similarweb Pro by using the "keywords by industry" feature to determine websites driving significant traffic share for relevant terms.  This tool helps you to reference top sources of incoming referral traffic for competitor brands.
Next steps
Spring's arrived and consumers are eager to clean and open up their wallets according to recent economic reports. Consider the tactics above and leverage tools to boost your strategy. Our team would be happy to demo Similarweb Pro or Shopper Intelligence which pulled the article insights.

This post is subject to Similarweb legal notices and
disclaimers
.
Wondering what Similarweb can do for you?
Here are two ways you can get started with Similarweb today!