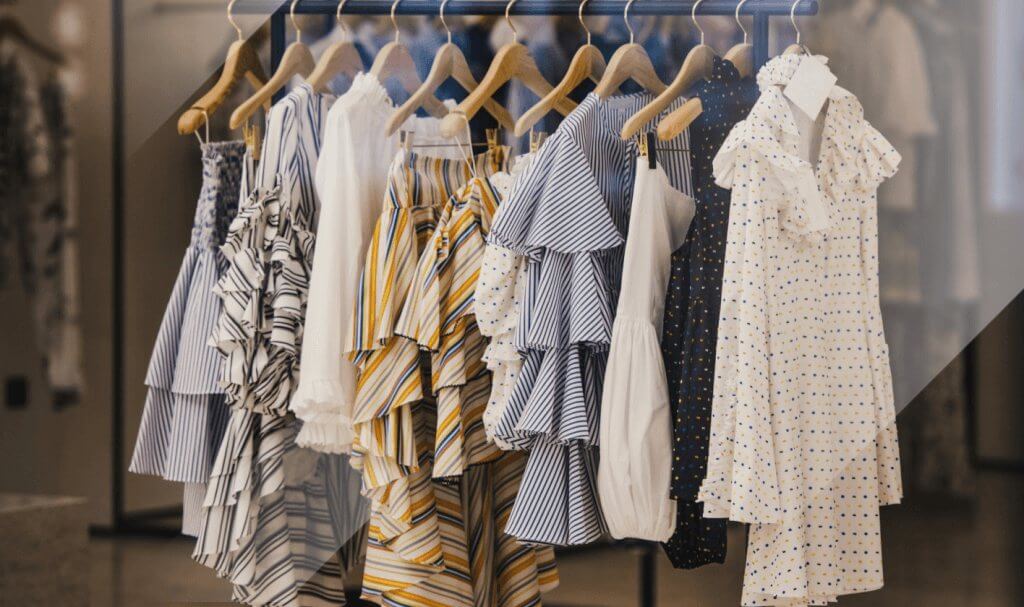 eCommerce Intelligence
Top 25 Trending Searches: Spring 2021 Fashion U.K. [+Retailer Tips]
May 14, 2021
| Updated July 4, 2022
Despite many Brits camping out at home in sweatpants last spring, traffic to apparel sites jumped 40% May '20 – April '21. Now, with experts saying that another lockdown is unlikely, consumers are eager to buy, go out, and show off spring fashions. In this article, we use Similarweb PRO to analyze trending keywords within the U.K.'s fashion and apparel industry and pinpoint spring fashion trends to help retailers tailor strategy to meet consumer demand.
Check out the search terms that are trending in the U.K. to see the styles shoppers are demanding: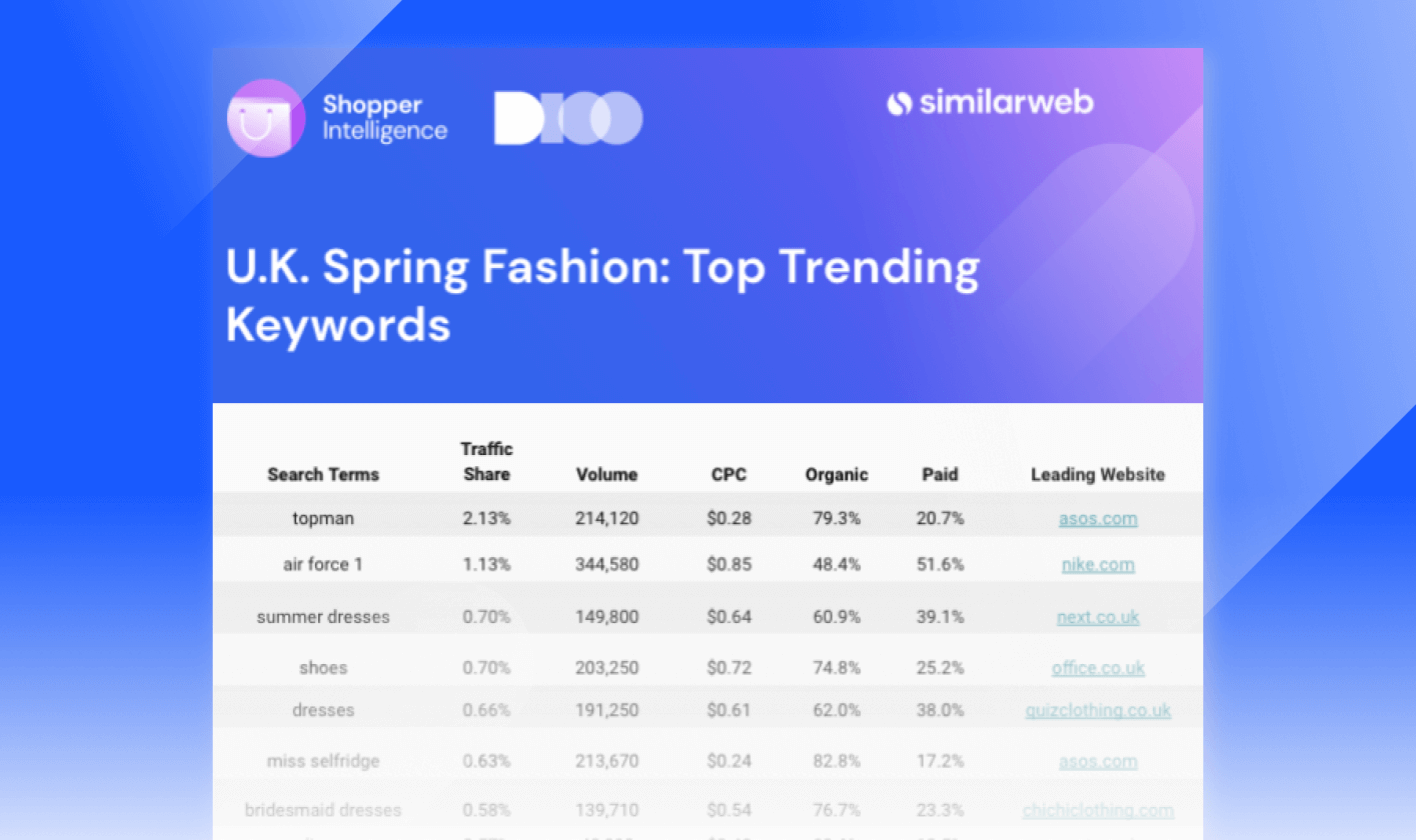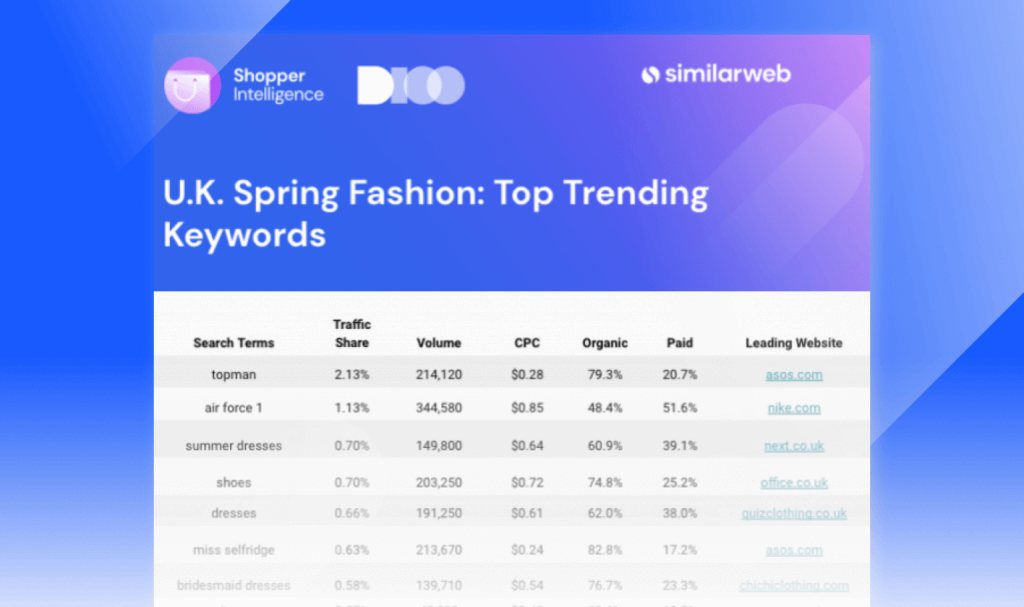 Trending apparel industry search terms
1. Air force 1 sneaks up the list
"Air force 1,"  a popular shoe by Nike, is the second most trending keyword among U.K. web users. The demand for the product, and high keyword ranking of other sneaker brands ("Converse," ranked 10, and "Vans," 15) shows online shoppers' eagerness to get outdoors and active (or, at least look fashionable doing so). 
Office.co.uk commands the most traffic share for "shoes," the fourth trending keyword. The retailer accurately reflects consumer demand on its website by including a banner image of Air Force 1s.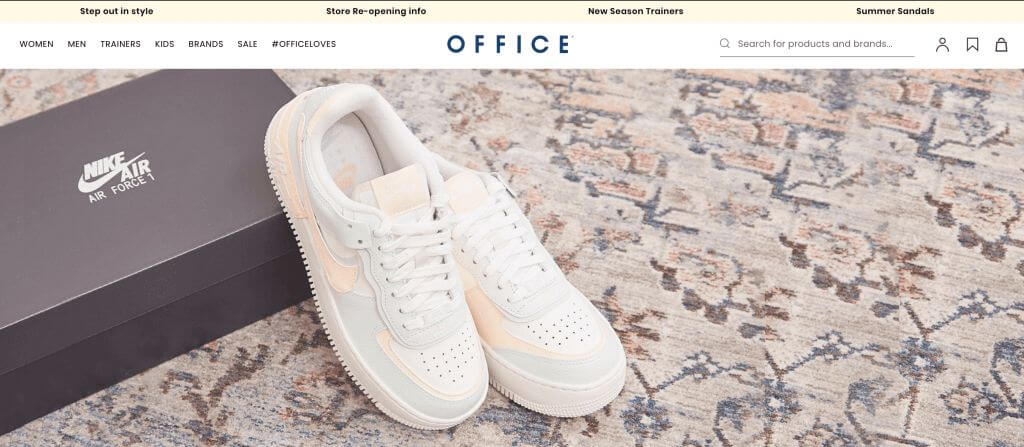 Office.co.uk highlights sneakers over other shoe types, by listing "New Season Trainers," as the first product in its menu bar ("summer sandals" is second), and, dedicating a whole category to "trainers" after "women" and "men."
3 tips for retailers
Office.co.uk effectively plays into consumer sneaker cravings – other retailers can do the same by: 
Giving more visibility to sneakers over other shoe types:

Sneakers can be highlighted on the homepage and menus. If a user searches for "sandals" or "high heels" you can also suggest sneakers on these other shoe product pages.

Strategically choosing related search terms:

While it may be difficult to compete for "sneaker", related less competitive but in-demand keywords can be integrated into product descriptions. This includes "white trainers," which is among the top 50 trending terms, ranked higher than "heels" which just makes the top 100, and sandals (platform sandals rank just over 100).

Selective discounts:

As a retailer, you may want to hold off on discounting sneakers and trending sneaker brands due to trending searches. Even if you're holding a storewide sale, for instance, Nike's Airforce 1s can be excluded from discounts.
2. Summer dresses are mid-in
Consumers are searching for summer dresses– half of the top 10 trending keywords relate to warm weather dresses or the fashion brands that specialize in them. As the third trending keyword "summer dresses," ranked higher than simply "dresses."
"Miss Selfridge" and "Lipsy," brands that have broad dress selection and feminine prints, rank sixth and eighth in keyword searches.
Hemline: "midi" ranks highest
"Midi" length is in. The term, which applies to lengths from two inches below the knees to just above the ankle, made the top 25 list twice with "midi skirt," ranked 19, and "midi dress," ranked 23. However, "mini" and "maxi" related terms do not make the list at all.
The popularity of "midi" searches ties to theories relating to the stock market and consumer confidence. According to Wharton Business School Professor George Taylor's 1920's hemline theory, the "shorter the hemline, the stronger the economy." (in a nutshell: the idea is that women need to afford stockings to wear shorter hemlines).
Regardless of the foundations of this theory, "midi," an in-between length, throws it all off. The stock market has been unpredictable in the COVID-19 era, so it may be difficult to take a firm mini/maxi stance. If and when the markets become more predictable, retailers may want to rethink hem length.
3 tips for retailers
Highlight dresses:

Particularly if you sell a variety of apparel, ensure that dresses, specifically summer dresses, are highlighted on your store's landing page. Also, make sure that landing page(s) for your dress category features summer dresses (midi length if you carry that style) to reflect current consumer trends.

Integrate "summer dress":

Selling a lightweight or summery dress? Make sure the specific keyword "summer dress" is added to the product description. As mentioned, consumers have been searching for summer dresses more than just dresses this spring.

Reflect midi:

If you carry "midi" length, make sure your product descriptions reflect that length to tap into more organic traffic.
3. Events (and appropriate attire) are back
With restrictions easing, consumers are eager to plan and attend formal events. Three of the top 20  trending keywords are events-related including "bridesmaid dresses," ranked seven, "prom dresses" ranked 18, and "wedding guest dresses," ranked 20.
Retailers that specialize in formal dresses are capitalizing on related searches. For instance, over the last three months, organic traffic spiked dramatically to Chichi Clothing's bridesmaid dress landing page. Chichi clothing generates the most traffic share for "bridesmaid dresses," a highly competitive search term.  
Since Chichi Clothing gets the most traffic share for "bridesmaid dresses," we suggest highlighting non-bridesmaid clothing and doubling down on effective lead generation forms and pop-ups to capture consumer information and ensure long-term stickiness.
Bridesmaid dresses are usually a one-time purchase. Therefore, Chichi should cultivate a community, including building a strong and engaging mailing list, to ensure repeat purchases.
2 tips for retailers
Highlight special occasion attire:

We expect search volume for event-related keywords to increase further as we come out of pandemic restrictions. Therefore, you should optimize and structure your

eCommerce website

with relevant keywords and highlight related products.

Plan "special" inventory:

Plan inventory for the remainder of the year that is suited for special occasions and that product descriptions reflect these special events. This may include formal wear for bar and bat mitzvahs, mother of the bride, and holidays like Christmas, Thanksgiving, and New Year's Eve.
Get fresh consumer insights
Replicate our method
Using data from Similarweb PRO, we analyzed top trending keywords in early spring '21 (March – April), for the U.K. fashion and apparel industry. Results were interpreted as indicators of consumer demand for the spring fashion season.
Want to check on your competitors or analyze any website, app, or industry?
Sign up for a demo of Similarweb PRO, which hundreds of retailers use for digital intelligence.

This post is subject to Similarweb legal notices and
disclaimers
.
Wondering what Similarweb can do for you?
Here are two ways you can get started with Similarweb today!