With the number of monthly listeners expected to reach nearly 118 million in the U.S., podcasts are a great marketing and traffic-generating tool for businesses, particularly those in eCommerce. Understanding the most popular ones and their audience can also boost media buying strategy. To help these stakeholders effectively tap into podcasts to boost revenue, we used Similarweb Digital Research Intelligence to analyze the best eCommerce podcasts and their related websites.
Why should you care about eCommerce podcasts?
Simply put, a popular podcast can put your brand on the map.
For example, some of the top eCommerce podcasts drive nearly a third of traffic to Shopify websites. In addition to its site, Shopify is home to 2.3 million active stores, and drives listeners to Shopify Masters, its own podcast. 
As eCommerce soared in popularity over the past two years, so has traffic to podcast websites.
So, which podcasts are winning and what makes them different?
Top 4 eCommerce podcast picks for retailers and brands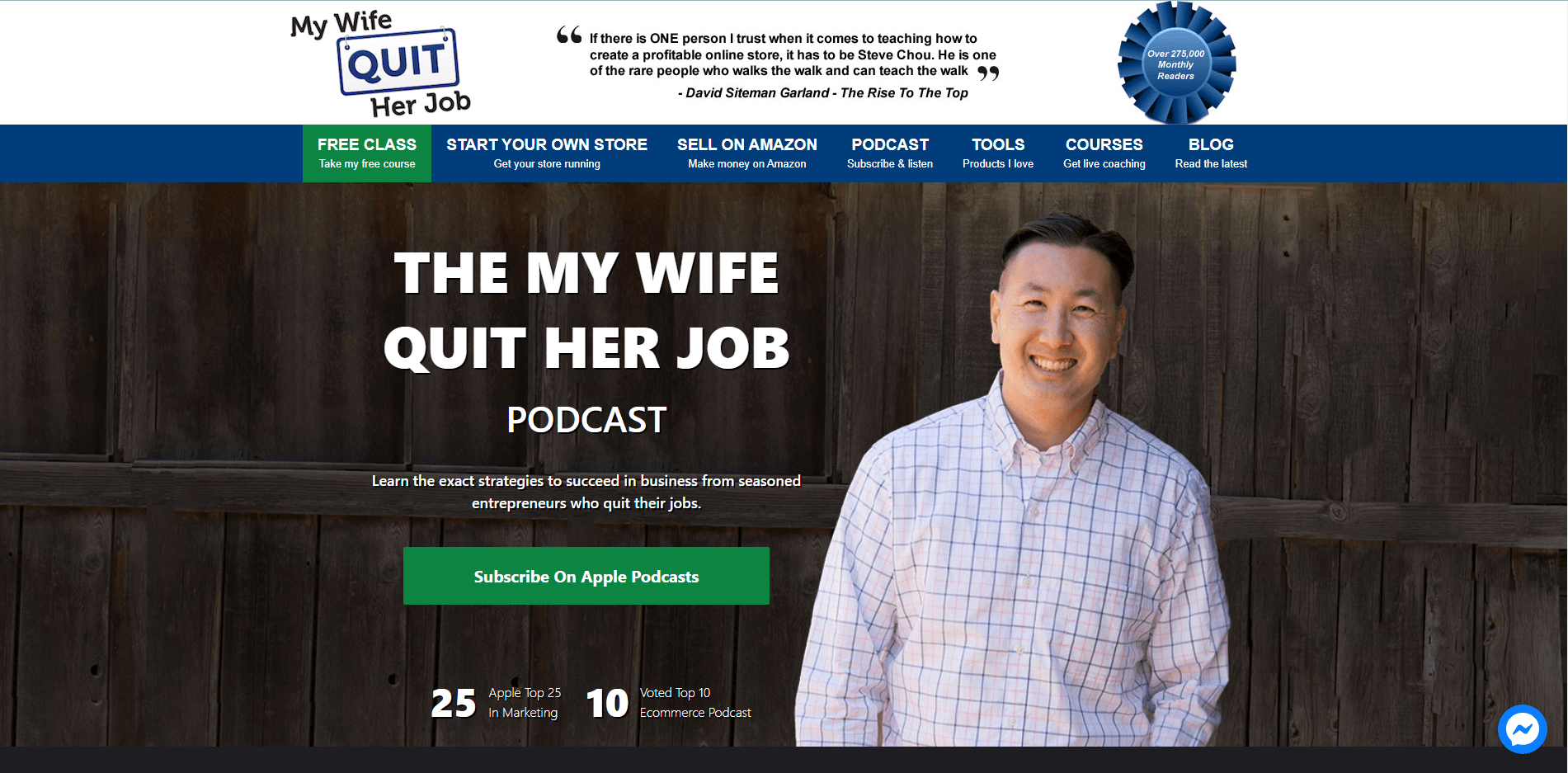 Host:

Steve Chou

Audience:

Listeners looking to get started in eCommerce
In addition to its catchy name, the traffic to this podcast's website really impressed us. 
Mywifequitherjob.com received an average of 216,800 monthly visits this year — triple that of eCommerceFuel, which ranks second. It's one of the top sites capturing traffic for keyword "eCommerce," which generated 2.8% of visits.
Host Steve Chou started the MyWifeQuitHerJob podcast after his wife quit her job to spend more time with their two kids. After dedicating his "day job" fully to this new venture, Steve shares actionable tips with others looking to break out of their nine-to-five and into eCommerce. 
Recent topics include selling on Amazon and growing your business with a range of eCommerce marketing tactics.
Traffic trends
Organic traffic accounts for 72% of visits to mywifequitherjob.com – more than our runner ups eCommercefuel.com (27.7%), eCommerceinfluence.com (62.7%), and eCommercefastlane.com (57.8%).
Direct channels account for just 20% of traffic, so it's clear that SEO is a key success for this brand. 
Looking to escape the trappings of a traditional nine-to-five, become a top seller on Amazon, or grow your own business with a variety of smart eCommerce strategies? Give this podcast a listen.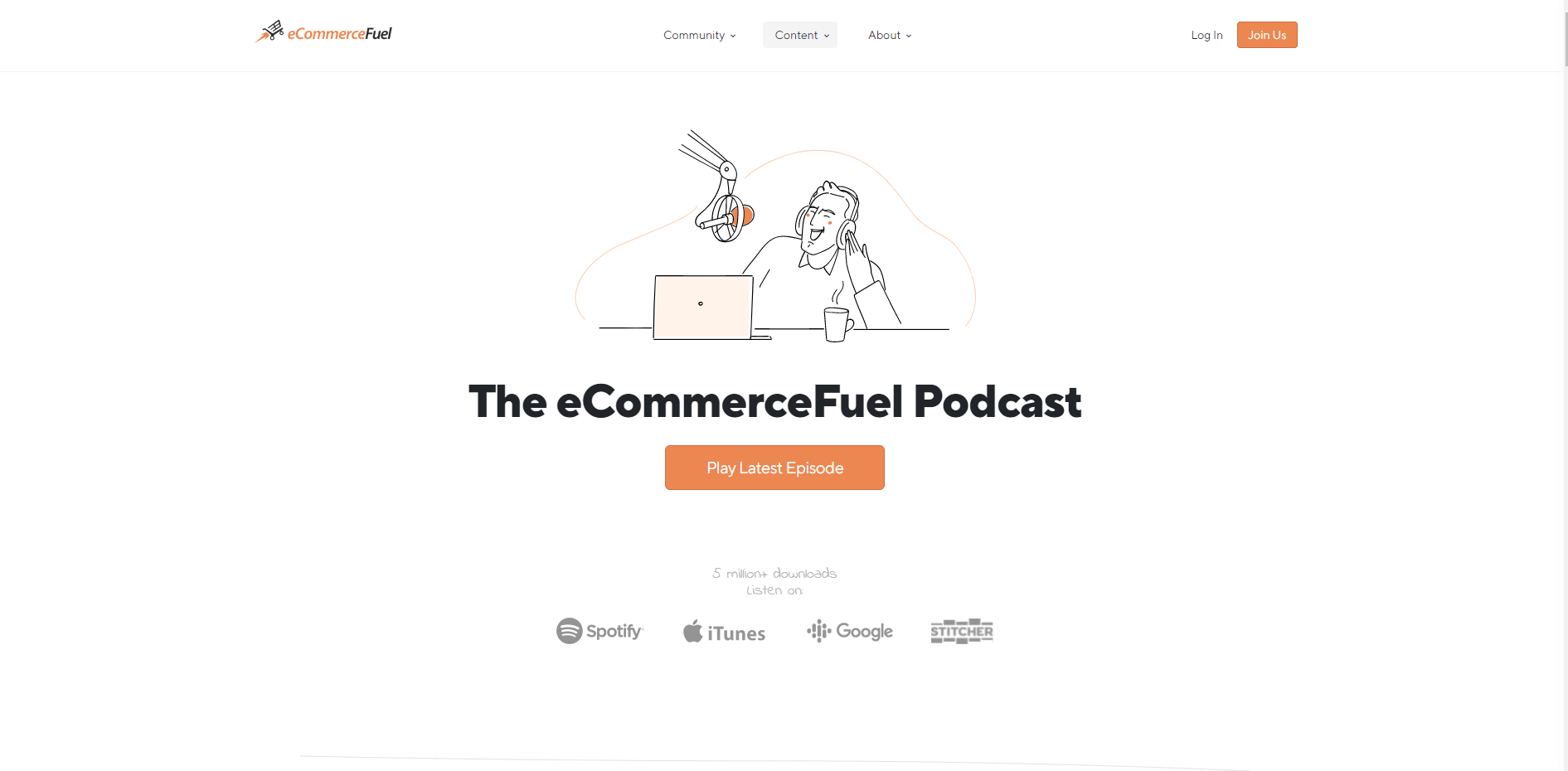 Listen here on iOS and Android
Host:

Andrew Youderian

Audience:

Listeners with any level of eCommerce experience 
Veteran eCommerce expert Andrew Youderian hosts the eCommerceFuel podcast, which builds a supportive community for global eCommerce store owners. Keyword "eCommerce" accounts for 4.8% of site traffic, showing that the podcast is a true player in the online retail space.
Traffic trends
Since August 2018, direct channels account for nearly 66% of the 2.6 million visits to eCommercefuel.com vs. 21% for its counterparts, illustrating the strength of the eCommerceFuel brand.
eCommerceFuel visitors are highly engaged, averaging 6.6 pages per visit with a 4:27 visit duration. In contrast, MyWifeQuitHerJob visitors average just under over 1.5 pages per visit and one minute on the website. Yet, at 213,803 monthly visits, are more than twice that of eCommerceFuel.
If you're looking to connect with like-minded, data-centric eStore owners and fuel up on eCommerce content, tune in to this podcast.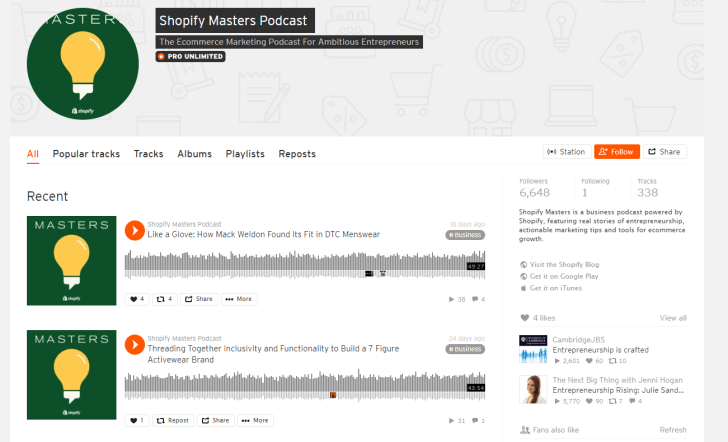 Listen here on SoundCloud for iOS or on iTunes or Android
Host: Kurt Elster
Audience: Shopify merchants looking for actionable tips and inspiration
This Shopify podcast profiles different merchants on its platform to discuss the lessons they learned and their path to success. Topics include scaling your eCommerce business, sustainable brands, getting acquired, bundling offerings, and conversion analysis.
Traffic trends
With almost 57 million monthly visitors today, shopify.com is a definite leader in the eCommerce industry. Desktop visits account for most traffic to its online stores, so the podcast is a great way for sellers to boost mobile traffic.
Shopify's website offers paid access to Shopify Masters. Shopify itself generates 5.8% of traffic from the keyword "shopify masters," showing that the podcast is a powerful tool to generate traffic to the leading eCommerce platform.
Shopify seller or thinking of joining the platform? Turn up the volume on this one.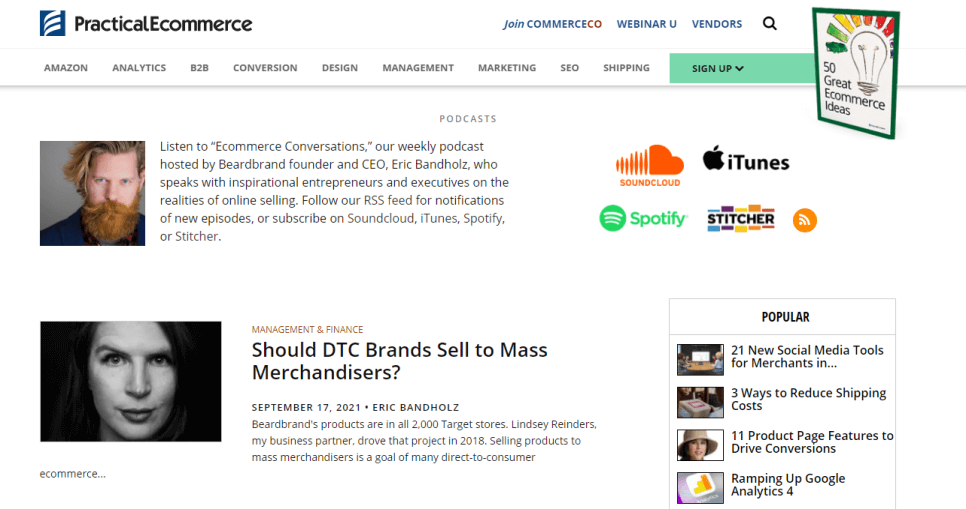 Listen here on iOS and Android
Host: Eric Bandholz
Audience: Listeners with all levels of experience
This interview-style podcast focuses on stories of successful entrepreneurs. Recent podcast episodes include selling to mass merchandisers, SEO keyword optimization, content marketing, and eCommerce acquisitions.
Traffic trends
Organic search accounted for almost 80% of traffic over the past year, far more than its closest competitors. Practical eCommerce ranked #44 in the list of the top 100 websites driving traffic to the "eCommerce" keyword as far back as 2018. Now, it averages 358,894 visitors a month, the most popular of the top selected podcast websites after Shopify. 
If you're looking to learn from the top online retail influencers, eCommerce Conversations is your chosen pick. 
Top eCommerce podcasts: Honorable mention, growth
The next batch of podcasts certainly impressed us with recent, explosive growth — here's why you should keep an eye (er, ear) on them.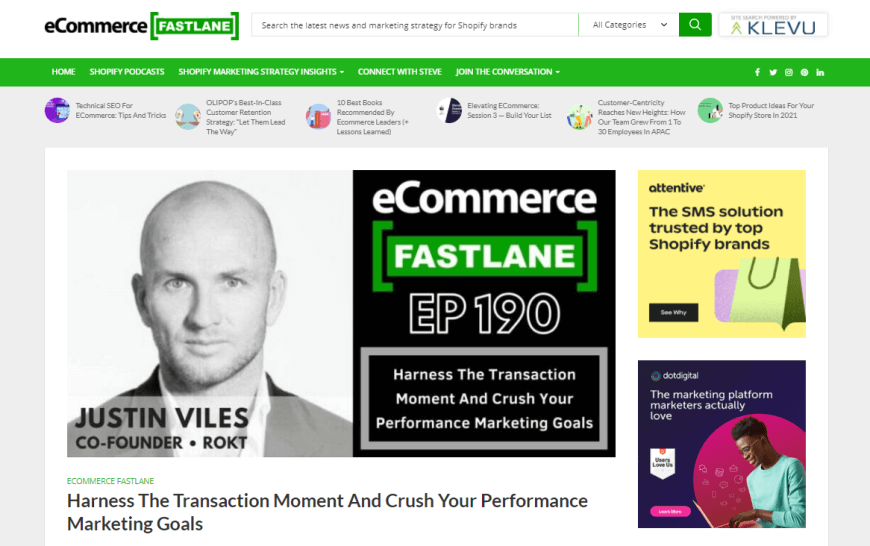 Host: Steve Hutt
Audience: Anyone looking to grow a new Shopify eCommerce business or jumpstart their existing one
Host Steve Hutt shares his expertise in scaling some of the most powerful brands at Shopify Plus during his day job to help listeners navigate the fiercely competitive eCommerce industry. 
Recent podcast episodes include marketing strategies and tactics to scale your business, drive growth and revenue with email marketing, implement marketing automation, and increase customer loyalty.
Traffic trends
This podcast is growing in a (very) fast lane! Traffic to eCommercefastlane.com nearly doubled from 7,223 visitors in May to almost 14,428 in July of this year.
Unsurprisingly, it directs 27.8% of its traffic to the shopify.com website, illustrating the symbiotic relationship between podcasts and eCommerce brands.
Ready to rule retail? Get in the fast lane now.
Host: Kunle Campbell
Audience: eCommerce business owners (intermediate to advanced)
Here, retail entrepreneurs share their success stories to a community interested in growth, customer acquisition, enhancing customer lifetime value (CLV), and UX optimization. 
Traffic trends
With traffic more than tripling from a steady 5,000 monthly visits in 2018 to nearly 14,000 at the beginning of this year, 2x eCommerce more than lived up to its name.
Moreover, organic and direct search accounts for nearly 90% of traffic, showing strong brand awareness and a loyal following.  
Entrepreneur in eCommerce? Be all ears for this one.
Host: Chloe Thomas
Audience: Listeners with all levels of experience
Launched in 2015, Chloe Thomas, a marketing expert and 15-year veteran of the eCommerce industry, delivers fascinating and inspiring conversations from online business experts. 
Traffic trends
Since H2 (January – June) 2018 through 2020, traffic to eCommercemasterplan.com averaged roughly 5,000 monthly visits. In 2021,1 it spiked dramatically – first to 39,956 monthly visits, then to 72,603 monthly visits in September.
If you're in the mindset that experts know best, join Chloe and her curated founder guests every Monday.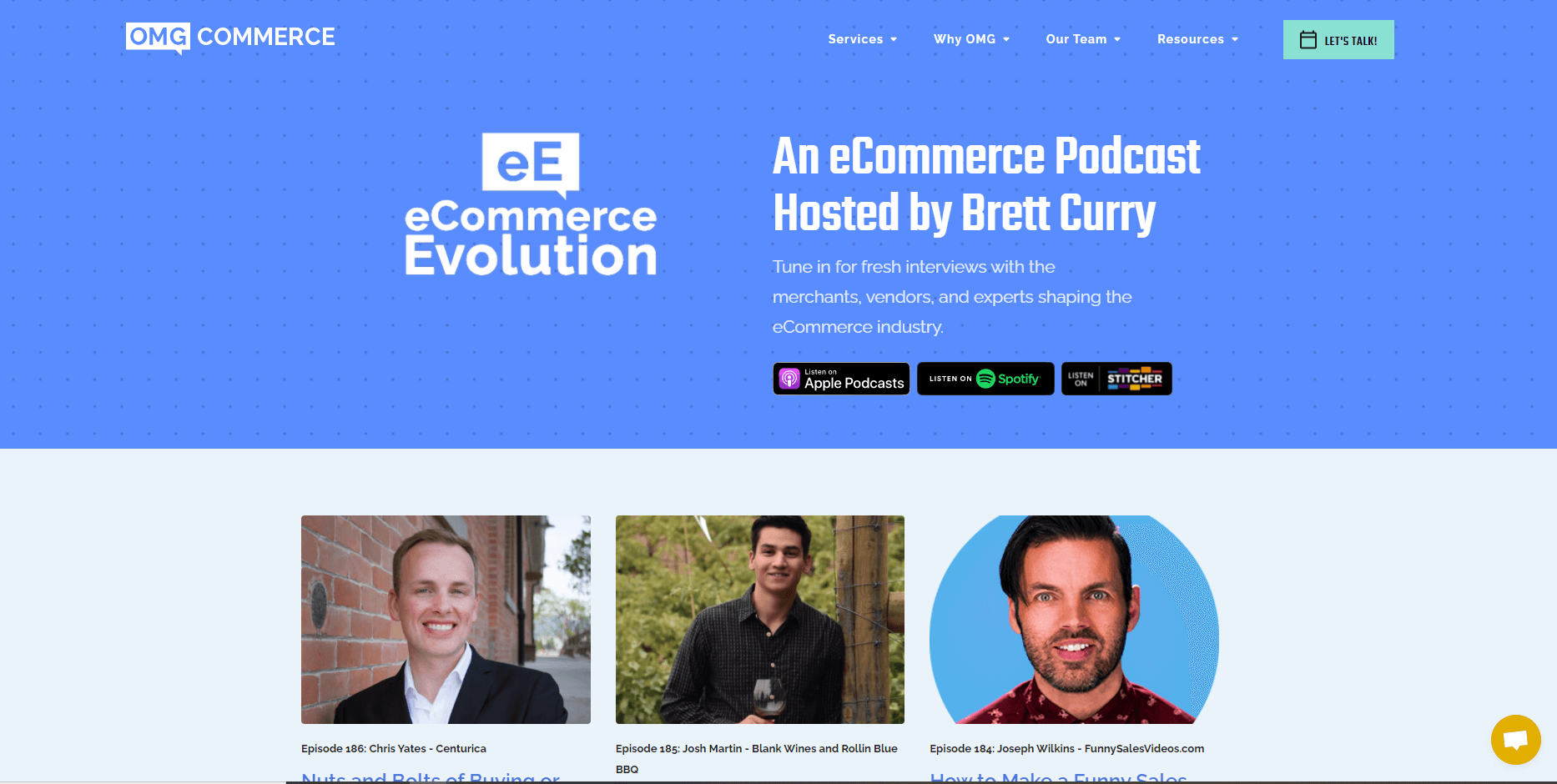 Host: Brett Curry
Audience: Cravers of a fresh perspective on the latest eCommerce trends
Traffic trends
Growth is impressive – after averaging less than 5,000 visits over the past two years, traffic increased by almost eight times in January and by five times in August. 
Looking for fresh insights on trending topics? Recent episodes of this podcast include protecting your brand, maximizing the potential from the holiday season, and optimizing eCommerce metrics.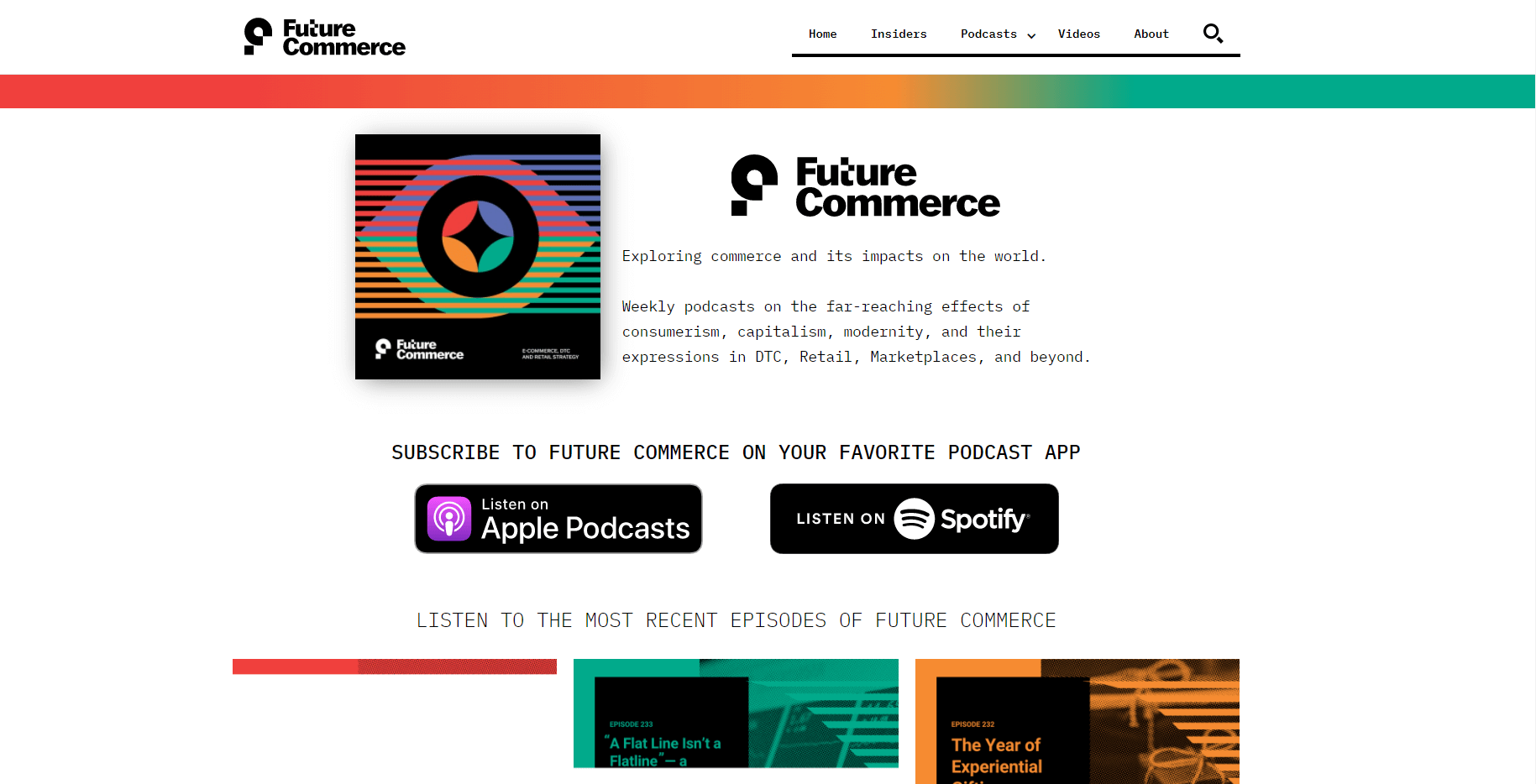 Listen here on iOS and Android
Host: Phillip Jackson and Brian Lange
Audience: Experienced listeners
This eCommerce podcast hones in on topics related to the future of the industry such as consumerism, capitalism, and modernity. A particularly riveting sample podcast episode discusses climate accountability and the future of third-party data tracking.
Traffic trends
Visitors to Future Commerce doubled from 2,154 monthly visits in January to 5,041 in June. Nearly 25% of visits are directed to Spotify to listen to this podcast. 
Already on Spotify? Add this one to your playlist. 
Top eCommerce podcasts: Honorable mention, entrepreneurs
Not sure where to start? Our honorable mentions are great picks for eCommerce enthusiasts as well as more general entrepreneurs.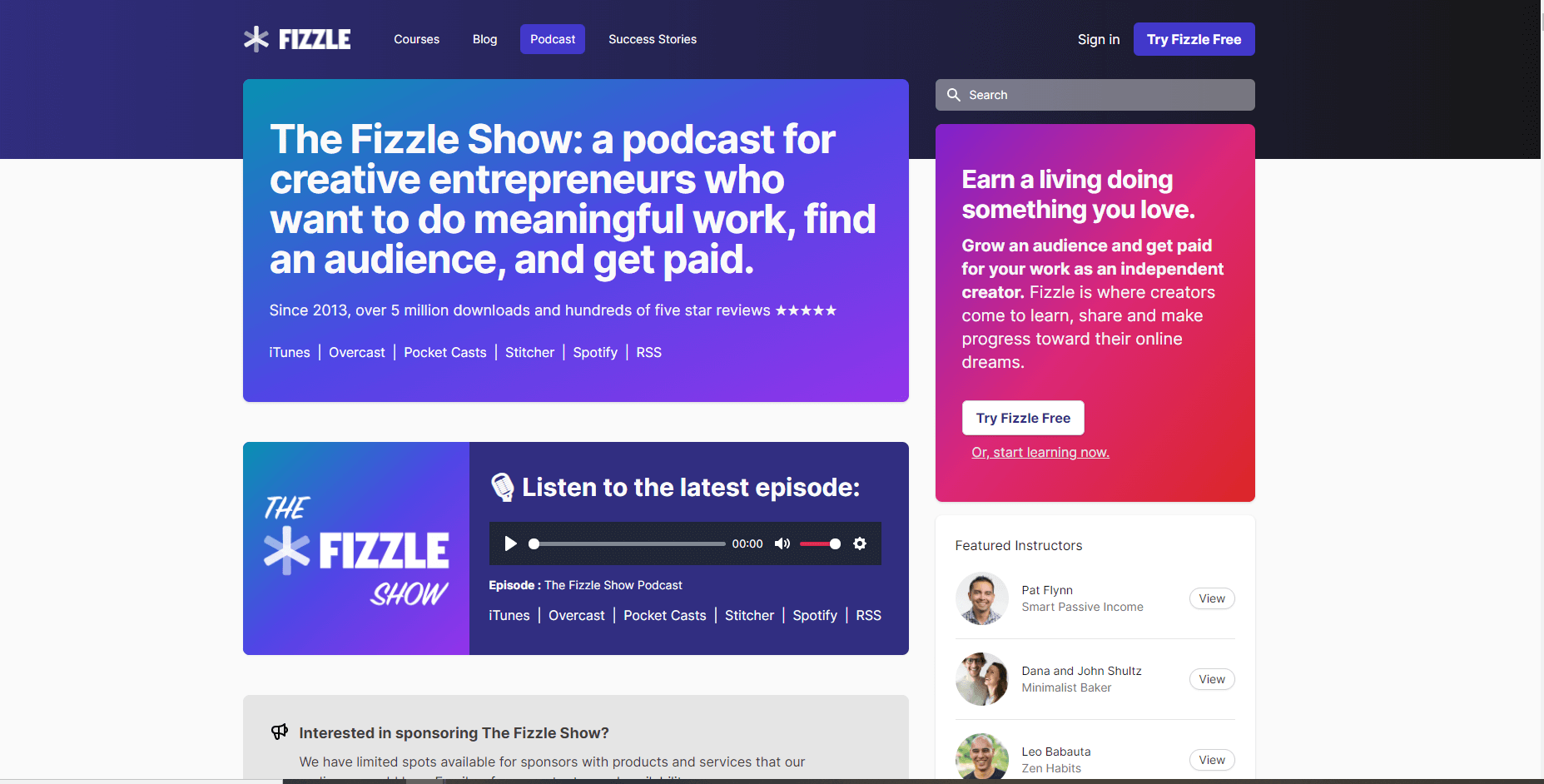 Host: The Fizzle crew
Audience: Anyone interested in meaningful work and earning a living doing something they love
Launched in 2013, this may be one of the oldest podcasts covering topics for the eCommerce industry.
While traffic steadied after reaching 96,305 visits at the beginning of this year, visitors are now more engaged, staying on the website a full minute longer.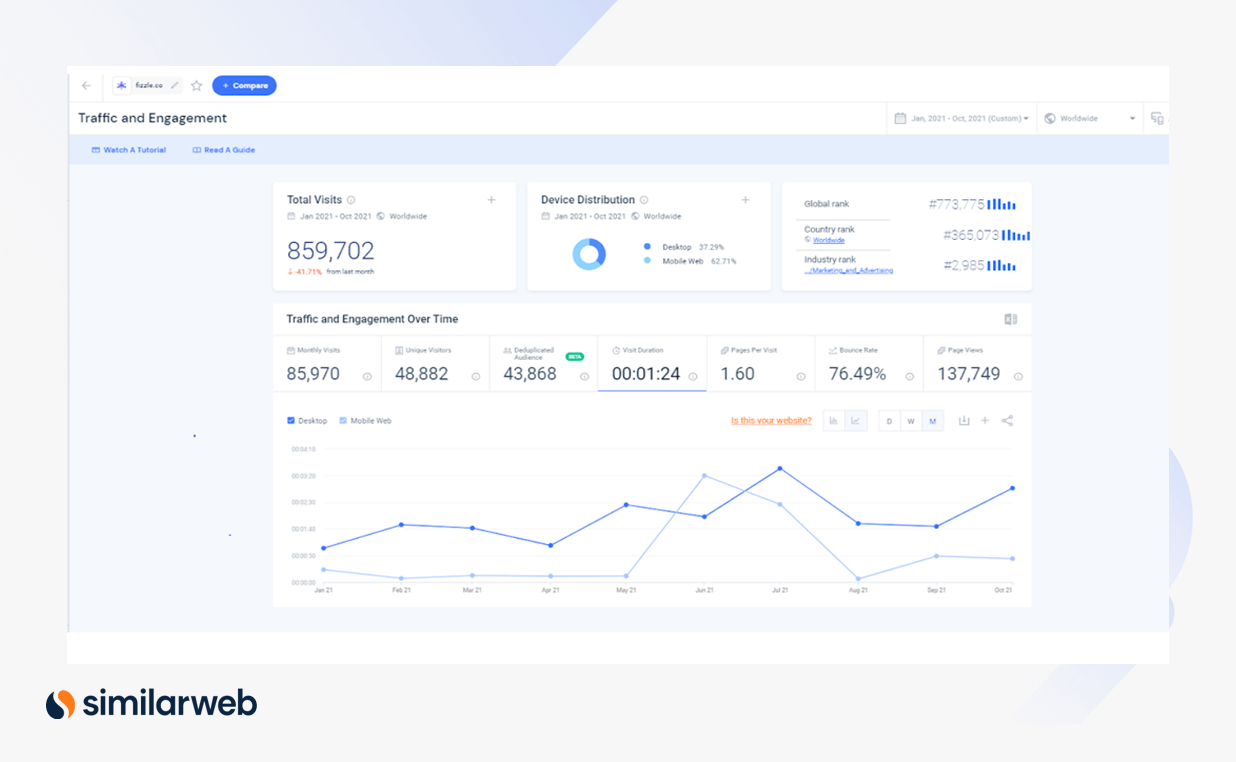 Even if you're not part of the eCommerce world, you'll want to hear for yourself why this "vintage" podcast continues to be so popular.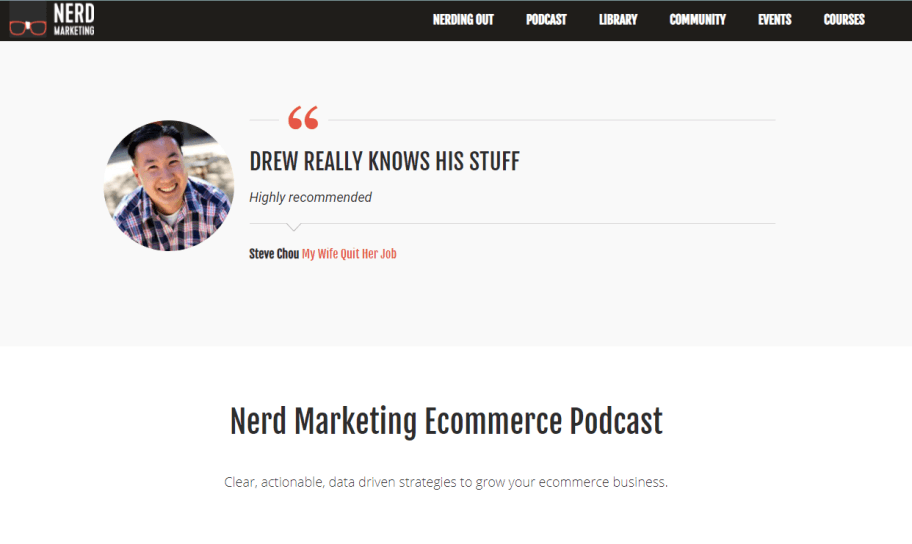 Host: Drew Sanoki
Audience: Listeners looking for clear, actionable advice backed by data
Podcast topics include maximizing revenue from the holidays and Black Friday, positioning your brand, and how to measure marketing. Its website also features newsletters, a blog, and paid courses.
Such rich content no doubt likely contributes to Nerd Marketing's strong engagement. With an average duration of 2:12 and a bounce rate of 56%, visitors are among the most engaged from podcast websites making the honorable mention list. 
Moreover, 85% of its 4,000 monthly traffic is generated from organic and direct channels, showing strong SEO and brand awareness.
Proud number nerd? Join Drew and his data-backed show.
Wrapping it up
eCommerce podcasts are a great way for retailers, brands, entrepreneurs, Shopify stores, and business owners to drive traffic to get to the next level with their online business. Publishers also need to understand the new media to boost their media buying strategy, and, can use tools like our digital solution for media and publishers.
To better understand traffic trends to these podcasts and your own business, check out Similarweb Digital Research Intelligence. For bonus eCommerce insights on topics like consumer demand, consumer behavior, and marketplace SEO, check out Similarweb's sister solution, Shopper Intelligence.
This post is subject to Similarweb legal notices and
disclaimers
.
Wondering what Similarweb can do for you?
Here are two ways you can get started with Similarweb today!