When it comes to the online travel industry, one company stands above all others and receives more traffic than any of its competitors in the OTA travel space. This website is Booking.com who has had over 4 billion visits over the last 12 months. So, what can we learn about booking.com's marketing strategy?
Over this period, Booking.com's peak month was in August 2015 when the site had 474 million worldwide visits on both desktop and mobile web. Even during February 2016, the site's weakest month over the last 12 months, the online travel behemoth still raked in 269 million monthly visits.
This traffic came from all over the world, with 25 countries accounting for at least 1% of the desktop traffic share. Among these countries, Spain led the way with 7.4% of the desktop traffic, while the US, France, Brazil, and Germany, round out the rest of the top 5 leading countries. If we expand that list to look at countries that account for at least 0.1% of the traffic share, the number of countries jumps way up to 72 countries across the globe.
Booking.com Digital Marketing Mix
So how does Booking.com do it and what can other digital travel companies learn from their strategies? First, let's take a look at where Booking.com's traffic sources. On desktop, the site's main source of traffic came from Direct traffic which was the main traffic source in all but 2 of the last 12 months. During those months, September and November 2015, Referral traffic was the largest source of desktop traffic to the travel site. Furthermore, using this graph we can discover which months Booking.com invested more heavily into Paid Search and Display Ads.
Leading Search Terms
During August 2015 for example, Booking.com received 39,803,000 worldwide desktop visits from Paid Search, their highest total of the last 12 months. Of these paid search visits, 27% came via the term 'booking' which is both generic and branded to Booking.com. After 'booking' the next 3 most popular paid search terms of August were 'booking.com' 'booking com' and 'букинг' which is the Russian translation of "booking".
However, after these top 4 terms, we can discover that the term 'hotel' was responsible for 0.46% of the site's paid search during the peak travel month of August. Compare this to October 2015, when the site only reached 1,4294,000 paid visits on desktop, and 0.13% of them came via the search term 'hotel', a staggering difference of 254%! Furthermore, in October, the site's 9th most popular paid search term was for 'hotel Paris' showing that Booking.com is targeting key travel destinations at different times during the year.
Display Ads
When looking at Display Ads, we can discover further insights into their marketing strategy and immediately notice 2 peaks in Display Ad traffic, during July and December 2015. During these months, Booking.com invested more resources into Display Ads, a strategy that wasn't used as extensively between August to October.
Other OTA travel companies that deal with hotels, flights, and more, can look at this data on Booking.com and discover further insights that they can use to leverage their own digital marketing strategies. For example, when looking at traffic to 4 of Booking.com's biggest competitors, it becomes clear the Booking.com wins in terms of traffic.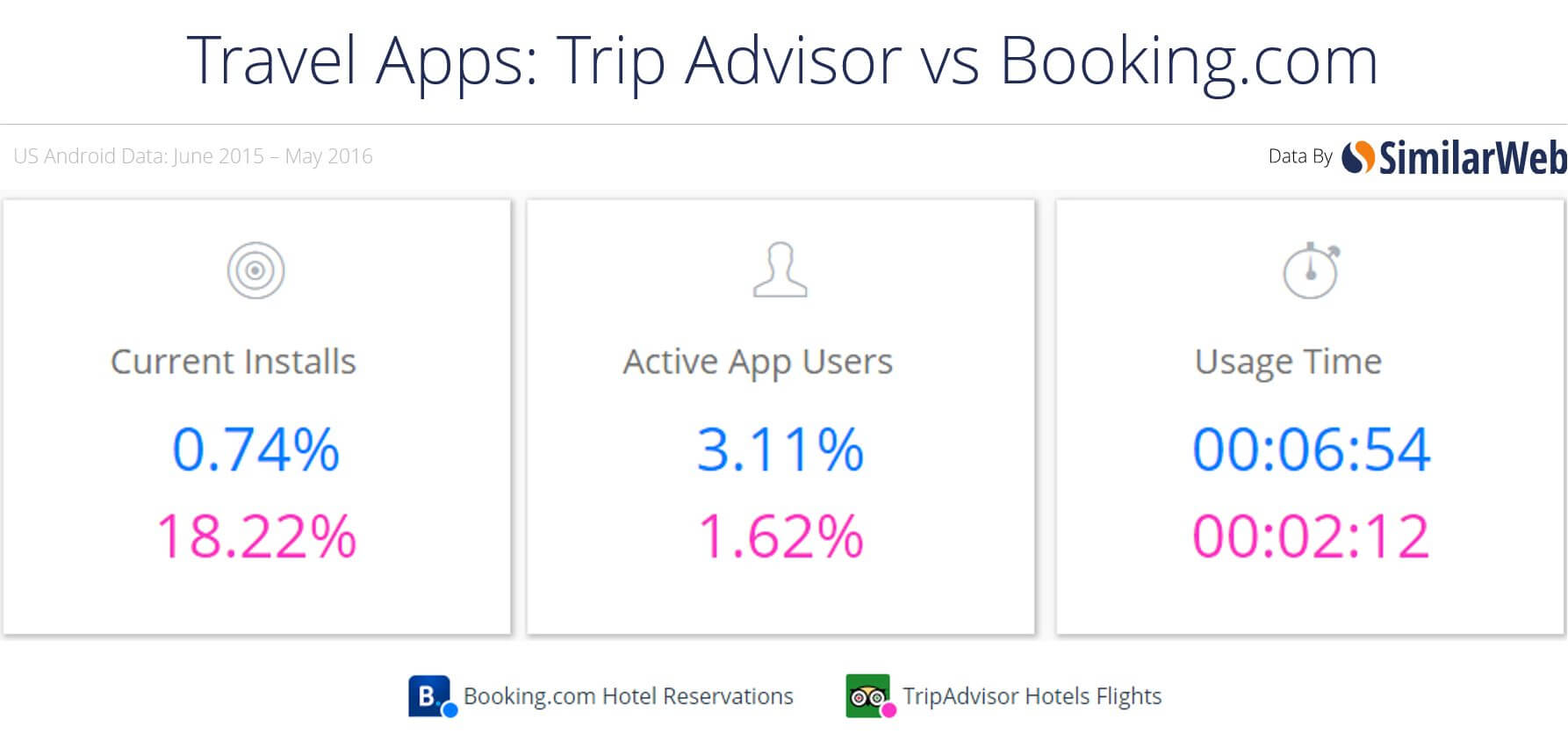 This graph is actually giving an incomplete picture as some of the sites listed above make use of many local domains. For example, Trip Advisor uses dozens of domains and 10 of these top domains can be seen in the graph below. The .com domain is clearly the worldwide leader, but other domains like the .co.uk accounted for a significant amount of traffic and brought the travel site almost half a billion visits over the last 12 months. Even when combining these 10 domains, Trip Advisor still only reaches 3.5 billion visits compared to Booking.com who had over 4 billion.
Though Trip Advisor falls behind Booking.com on website traffic, the OTA travel company is the leader when it comes to mobile apps. When looking at Current Installs of Trip Advisor, data shows that over 18% of Android users in the US have the Trip Advisor app installed on their device, compared to only 0.74% for the Booking.com app.
When measured on engagement metrics, however, Booking.com's app performs extremely well and over the last 12 months had an average usage time of 6 minutes, 54 seconds. Furthermore, on Active App Users, Booking.com's app beats out Trip Advisor, as 3.11% of Booking.com app users open the app on an average day, compared to 1.62% of Trip Advisor users.
For a full analysis of the online travel industry, download our latest travel report which includes data and trends on five distinct categories: Airlines, Hotels and Accommodation, Online Travel Agencies (OTAs), Cruises, and Travel recommendations Sites.
This post is subject to Similarweb legal notices and
disclaimers
.
Wondering what Similarweb can do for you?
Here are two ways you can get started with Similarweb today!