With COVID-19 restrictions lifted in most areas, July 4th celebrations over, and the Canadian borders reopening, travelers are feeling more freedom than ever!  Since there's more space to roam, pinpointing consumers' summer travel destinations may be challenging. To help, we'll use Research Intelligence to analyze the top 20 destinations, based on top trending keywords for the travel and tourism industry during June on U.S. desktop devices.  Here's what we discovered:  
1. California dreaming of cities, islands, lakes
Consumers are dreaming about the beaches, islands, cities, and forests in California. Keywords related to destinations in the Golden State make up a quarter of the top 20 trending search terms. "Things to do in LA" took the number one spot. 
"LAX car rental," referencing car rentals from the LA airport, takes the fifth overall ranking. It shows that travelers are more comfortable with flying and are renting cars to explore the state and the western U.S.
Popular intrastate destinations include Catalina Island, the 10th trending keyword, which is just over 22 miles Southwest of LA. It's part of the Channel Islands which comes in at number 11.
Lake Tahoe, on California's Nevada border, rounds out the top California-related keywords.
How are destination websites getting traction?
Leading websites for California destinations are spending on paid search to capitalize on search trends and recover from lost business in the summer of 2020 when California was locked down. Both "Catalina Island" and "Lake Tahoe", receive 84.3% and 83.5% of traffic from paid search, respectively– the second and third most on our Top 20 list.
Organic search and direct traffic for "Catalina Island" is more than twice this May than last year. Winning sites like visitcatalinaisland.com, which receives the most traffic share for the term, need to invest in paid search to stay competitive.
2. Jersey to Mississippi to Vegas: MGM Resorts wins traffic share
"Borgata" a Casino in Atlantic City, New Jersey is the second top trending search term. "Beau rivage," located in Mississippi, ranks eighth and the second which is a casino. Both Borgata and Beau Rivage receive more search traffic than casinos in Las Vegas (Bally's Las Vegas, is the only one that makes the top 20). MGM Resorts, which owns both casinos, captures the most traffic share, 3.1%, and 0.81%, respectively for both terms.
Prior to Memorial Day weekend, only Las Vegas casinos, some owned by MGM, made the top 20 list. We suspect that the easing of restrictions, including ending mask mandates and capacity limits in May, contributed to the Borgata and Beau Rivage's surging popularity.
Loyalty programs, like MGM's MLife Rewards, may also be driving organic search volume for the company's brands. After a hiatus, consumers can access discounted bookings, free hotel nights, and earn points for playing at their nearest MGM location.
3. Trending terms shift for national parks websites
Consumers are hunting for top national parks to visit this summer. Generic terms like "best nationals parks in the USA", ranked third, are trending more than specific names of destinations. Organic sources make up 100% of traffic driving visitors to National Park Service (nps.gov), which gets the most traffic share for all park-related destinations. In descending order, these include: 
North Cascades National Park (Washington State)

Mammoth Cave (part of Monmouth National Park)

Channel Islands (California)

Going to the sun road (Montana)

Hot Springs National Park (Arkansas)
Prior to Memorial Day 2021, different park destinations were trending. "Glacier national park," ranked number one on our list, followed by Arches National Park, Canyons National Park, and Yellowstone. Now, these areas are subject to overcrowding and travelers are looking for alternatives. Over Memorial Day Yellowstone saw a 50% increase in vehicle entries compared with the same weekend in 2019. 
Paid search to capitalize on park popularity
In order to capitalize on consumers' searches for park-related traffic, lodging providers are investing in related search terms. Although "glacier national park," no longer makes our trending keyword list, "glacier national park lodging" ranks 18 in the top 20. It has the most paid traffic for our overall list – 100%. Glaciernationalparklodges.com wins the most traffic share for the term. 
This pattern starkly contrasts nps.gov, which gets 100% of traffic organically, for park-related search terms and is a leading natural, summer destinations for consumers.
Ready to discover more top summer destinations?
We have the top 20 trending, destination-related keywords for summer which reflect consumer demand.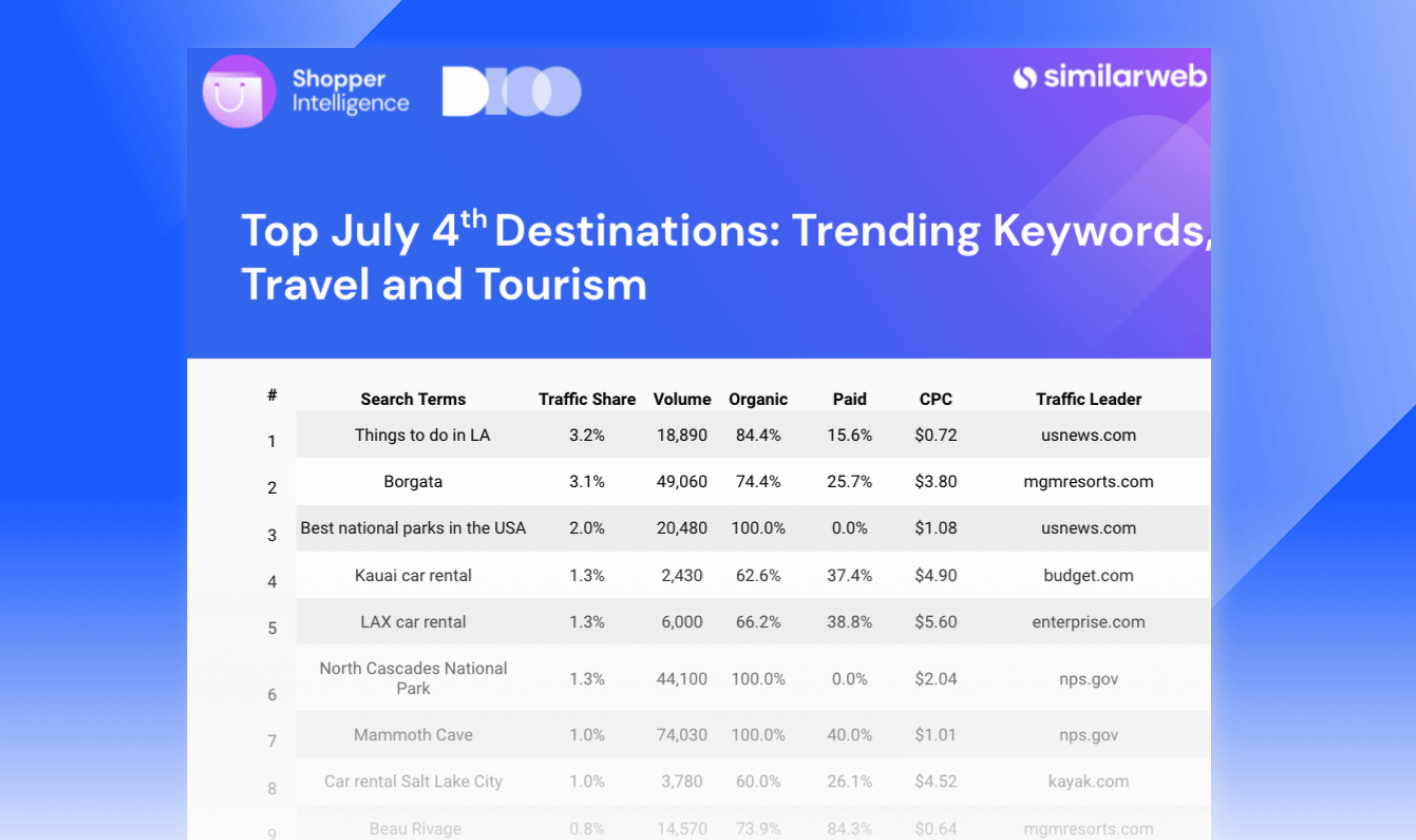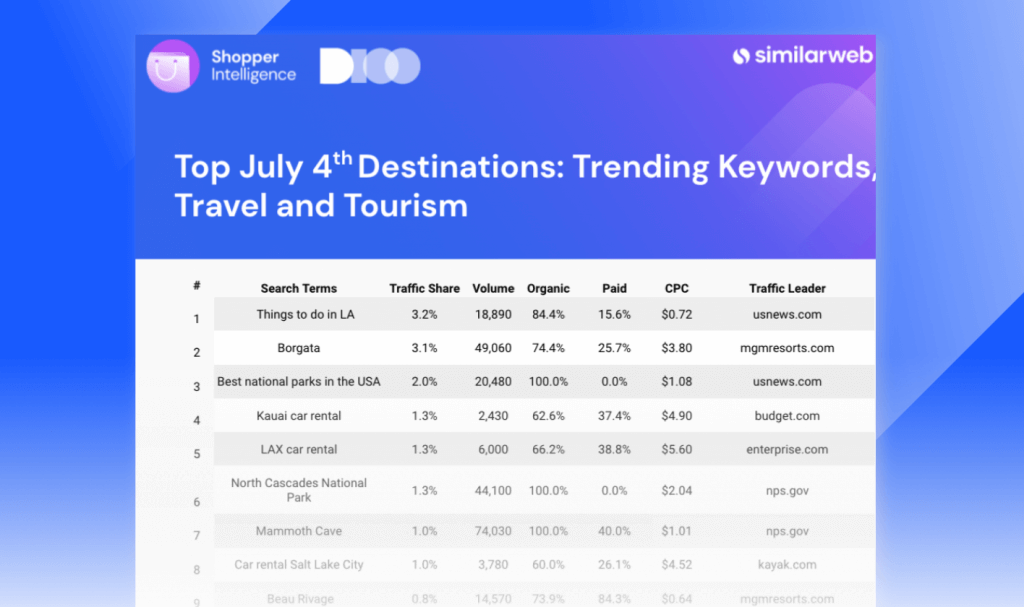 Methodology
To put together our list, we used Similarweb's Research Intelligence to rank trending terms for the Travel and Tourism industry based on traffic share for June (June 1–28, 2021), filtered by destination, on U.S. desktop devices.
Try Travel Intelligence to take off with your own insights.

This post is subject to Similarweb legal notices and
disclaimers
.
Wondering what Similarweb can do for you?
Here are two ways you can get started with Similarweb today!