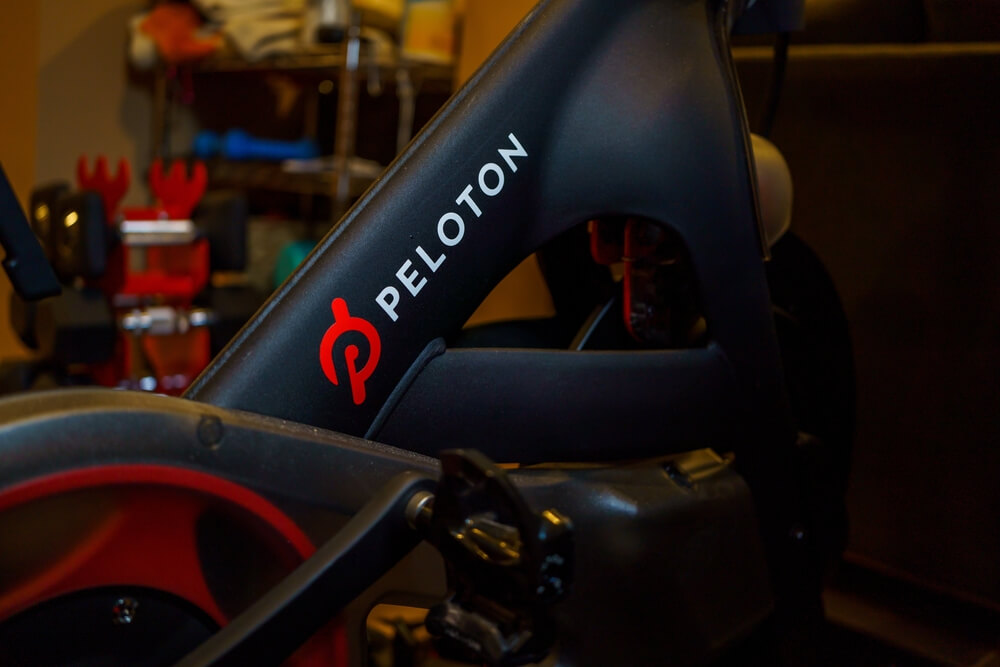 Insights
Peloton Stuck in Low Gear: Earnings Preview
August 19, 2022
| Updated August 24, 2022
Checkouts decelerating, overall fitness category seeing declines as well
Peloton has seen a deceleration in net connected fitness subscribers, which could spell trouble when the company reports earnings on August 26.
Key takeaways
Similarweb data indicates a decline in Net Connected Fitness Subscribers, with Q3 down 28% year over year after falling 16% in Q2 and in comparison to the first quarter of 2021, which saw 372% growth. These trends are likely to continue into Q4.
The overall home fitness category has seen a decline, with July checkouts down 54% year over year, as return-to-work likely trumps stay-at-home as trends driving consumer behavior.
Peloton remains the market leader, but Similarweb data on web traffic shows that they are in an increasingly crowded field, with some competitors gaining share
Peloton net connected fitness subscribers decelerating
Peloton is in an increasingly competitive market, with market share under pressure from rivals. Recent news on layoffs, a potential shift to customer self-assembly of bikes, and other negative news stories reflect an increasingly difficult marketplace. It seems that Peloton's once firm grip on the home fitness category is increasingly under pressure. Its challenges, some of which are self-inflicted, will see little relief this quarter.
One key Similarweb metric, net-connected fitness subscribers visits, has decelerated sharply. We track Peloton's net new connected fitness subscribers by measuring web traffic to checkout pages for Connected Fitness Products (excluding digital only) net of cancellations.
During the pandemic, home fitness gained a huge presence as people were either forced to or felt more comfortable exercising from home. From roughly 400% growth in the first quarter of 2021, year-over-year growth rates have come down sharply since. In the third quarter of 2022 net subscribers declined 28%. This is a worsening from the prior quarter, with Q2 seeing a 16% decline. We will have to wait until Peloton reports earnings to see if these negative trends continue. However, based on other data, there does not appear to be a reason for these metrics to improve.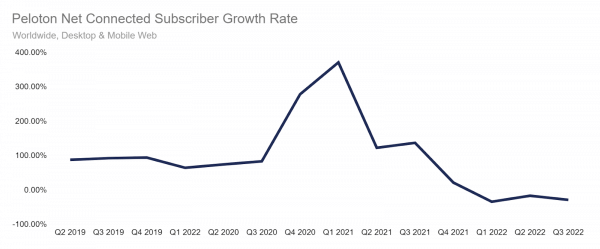 Customer churn rate rising
Similarweb estimates for Peloton's overall total subscriber churn rate (Connected Fitness + Digital Subscribers) have been trending upwards for the past several months as the company faced increased pressure from shifting its core model. Similarweb churn Estimates reached their height even before the subscription price hike from $39 to $44 per month, effective June 1st. After a slight drop in May, it climbed again in June when the price hike became effective. Additionally, as Peloton continued to experience large inventory issues, the company cut product prices for the second time in April, lowering the price of the bike and tread products by 20% and 25% respectively. While price cuts initially helped move products, momentum has been fleeting. The company continues to experiment with other inventory-depleting options, such as a rental program, and recently announced plans to exit all in-house manufacturing operations to simplify its supply chain and fix its cost structure.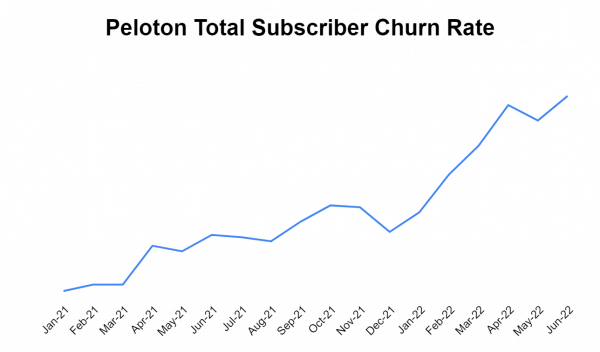 Peloton's Market share for the past 12 months is stable but highlights an increasingly crowded field
Pelton's market share, as reflected in the share of web traffic, over the past 12 months hit 50%, up from 45.6% a year earlier. However, this gain came against falling web traffic and checkouts, highlighting how the industry has seen reduced demand overall. A look at the competitive set the company faces shows they are the clear leader in an increasingly crowded field, with some competitors making advances over the past year. In particular, Tonal saw growth, as their market share over the past 12 months of 12% grew sharply over the prior year's 6.1%. However, most other competitors saw market share declines, with Peloton's largest competitor NordicTrack seeing a drop in share to 8.5 from 12%.
Conclusion 
With Peloton set to report fiscal 4Q EPS on August 26, metrics suggest a difficult climate, with deceleration in net subscribers and checkouts.
The Similarweb Insights & Communications team is available to pull additional or updated data on request for the news media (journalists are invited to write to press@similarweb.com). When citing our data, please reference Similarweb as the source and link back to the most relevant blog post or similarweb.com/corp/blog/insights/.
Contact: For more information, please contact Richard Krueger at richard.krueger@similarweb.com.
Citation:  Please refer to Similarweb as a digital intelligence platform. If online, please link back to www.similarweb.com or the most relevant blog post.
Report By: Jim Corridore, Senior Insights Manager
Disclaimer: All data, reports and other materials provided or made available by Similarweb are based on data obtained from third parties, including estimations and extrapolations based on such data. Similarweb shall not be responsible for the accuracy of the materials and shall have no liability for any decision by any third party based in whole or in part on the materials.
This post is subject to Similarweb legal notices and
disclaimers
.
Wondering what Similarweb can do for you?
Here are two ways you can get started with Similarweb today!