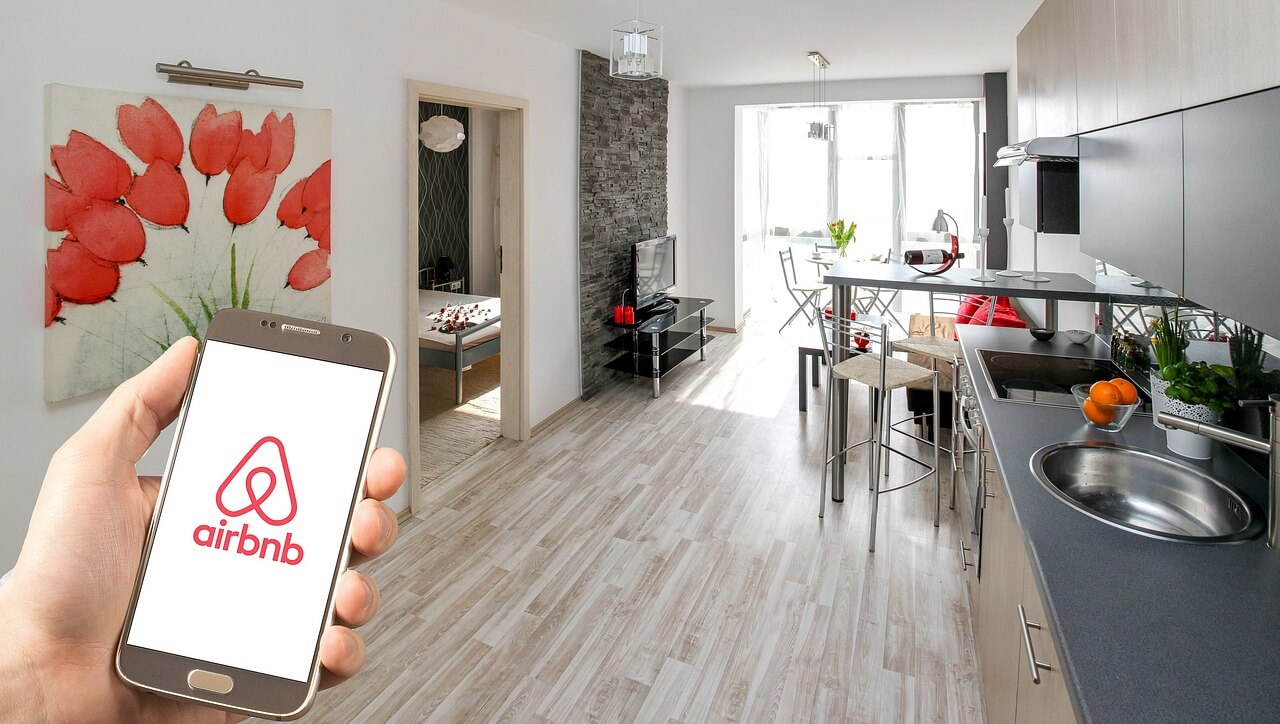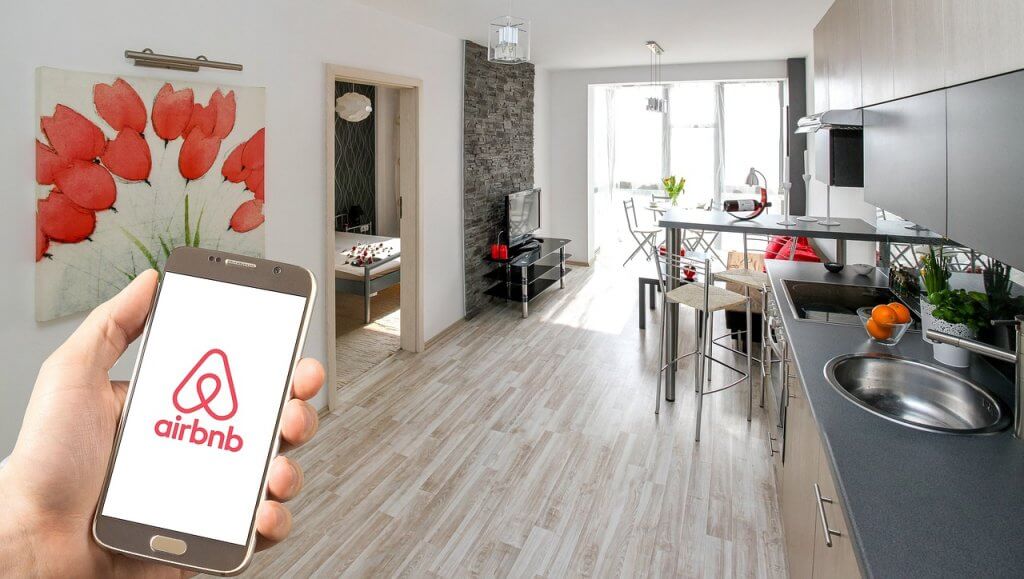 Insights
Airbnb Pulling Away from Peers in a Rising Market 1Q Saw Strong Growth
April 26, 2022
| Updated August 1, 2022
The resurgence in travel is buoying the vacation rental space, although this could be tempered by coronavirus outbreaks, the lockdowns in China, macroeconomic pressures, and the Russia-Ukraine conflict.
Key Takeaways
The vacation rental market is showing solid strength – with the past year seeing a 53% rise in total website visits to 9.0 billion from 5.8 billion in the prior 12 months (through March), benefiting from consumers' return to travel
Similarweb data shows converted visits rising at Airbnb, faster than for Vrbo over the past year in the U.S., perhaps indicating market share growth and strong revenues for 1Q
Airbnb converted U.S. visits in 1Q were up 22% year over year and up 22% over 4Q as well

Conversion also strengthening in most foreign markets, including France, Germany and Spain

Airbnb's 1Q22 monthly web traffic is up 26% over the prior year, and up 16% from Q4 2021

Monthly traffic could be an indicator of future sales, given that a customer visit must occur for a booking to take place, so this quarterly strength could equate to stronger revenues ahead

Airbnb is expected to report 1Q 2022 earnings on May 3rd
Airbnb Takes Lead in the U.S.
Airbnb has been a key beneficiary of this upswing and is seeing strong improvement in its conversion rate, significantly above rival Vrbo, based on Similarweb conversion estimates in the U.S. since April 2021. This trend has only sharpened in the first quarter of 2022. Airbnb conversions in 1Q grew 22% on both a YoY basis and sequentially from 4Q.  Airbnb gets 78% of its total web traffic from the U.S., making U.S. performance a good proxy for overall company performance. Positive conversion trends could also be benefitting from competitive pricing versus traditional hotels.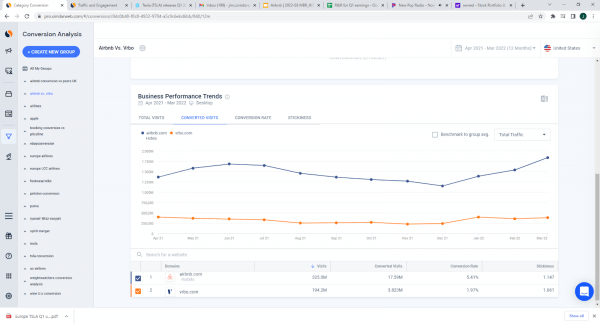 Conversion Data Shows Rest of World Also Strengthening
Outside of the U.S., Airbnb's conversions were strong across regions on a YoY basis, based on Similarweb estimates. Conversions grew 30%, 93%, 24%, and 37% in France, Germany, Spain, and the U.K., respectively. This occurred in spite of the Russia-Ukraine conflict. Airbnb's robust conversion traffic in 1Q should help contribute to a strong revenue growth environment in 1Q and 2Q.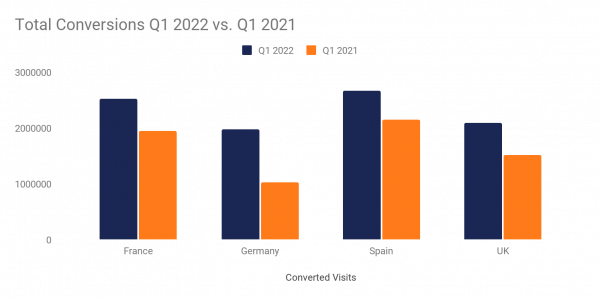 Overall Vacation Rental Market Strengthening
A snapshot of the vacation rental market over the past year shows generally strengthening trends, which should benefit Airbnb as one of the largest vacation rental companies. The chart below shows that over the past year, the industry has seen a 53% increase in website visits, from 5.8 billion to 9.0 billion. Other engagement metrics have also improved with the bounce rate down and visit duration up, signs that website visitors are much more engaged and potentially have more purchase intent and interest in vacation rentals relative to the prior year. We think this data shows that Airbnb is well-positioned for ongoing share gains in an overall growing industry, driven by rising consumer demand after several years of a global pandemic.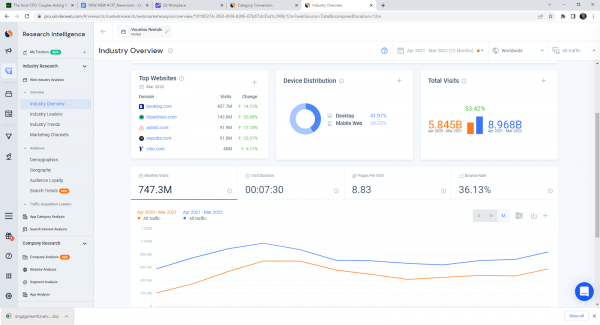 Airbnb Outperforming in a Strong Industry
Airbnb is not only outperforming its direct competitor, Vrbo, but also its broader peer set. Since January 2021, web traffic set against select leading competitors shows Airbnb outperforming in monthly visits and engagement, according to Similarweb estimates. Additionally, estimates highlight that 1Q 2022 was stronger than both the prior year and Q421. Expedia has also shown strength, due to the growth of the total market.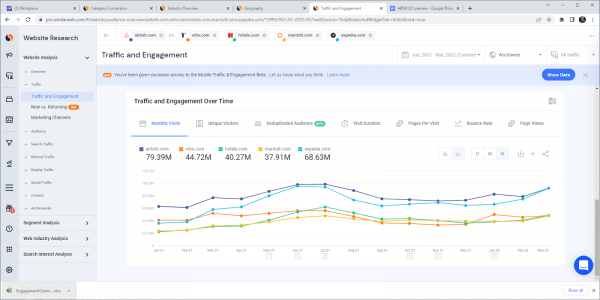 Conclusion
Airbnb looks well-positioned in 2022, with strong traffic and conversions in 1Q suggesting rising revenues ahead. In general, broader industry trends improved as well, providing a tailwind to Airbnb's own performance. Ongoing strong growth in Airbnb's conversion data seems to indicate an increasing edge over its largest competitor Vrbo.
The Similarweb Insights Newsroom is available to pull additional or updated data on request for the news media (journalists are invited to write to press@similarweb.com). When citing our data, please reference Similarweb as the source and link back to the most relevant blog post or similarweb.com/corp/blog/insights/.
Contact:
For more information, please contact Jim Corridore at jim.corridore@similarweb.com.
Citation:  
Please refer to Similarweb as a digital intelligence platform.
Disclaimer:
All data, reports and other materials provided or made available by Similarweb are based on data obtained from third parties, including estimations and extrapolations based on such data. Similarweb shall not be responsible for the accuracy of the materials and shall have no liability for any decision by any third party based in whole or in part on the materials.
This post is subject to Similarweb legal notices and
disclaimers
.
Wondering what Similarweb can do for you?
Here are two ways you can get started with Similarweb today!