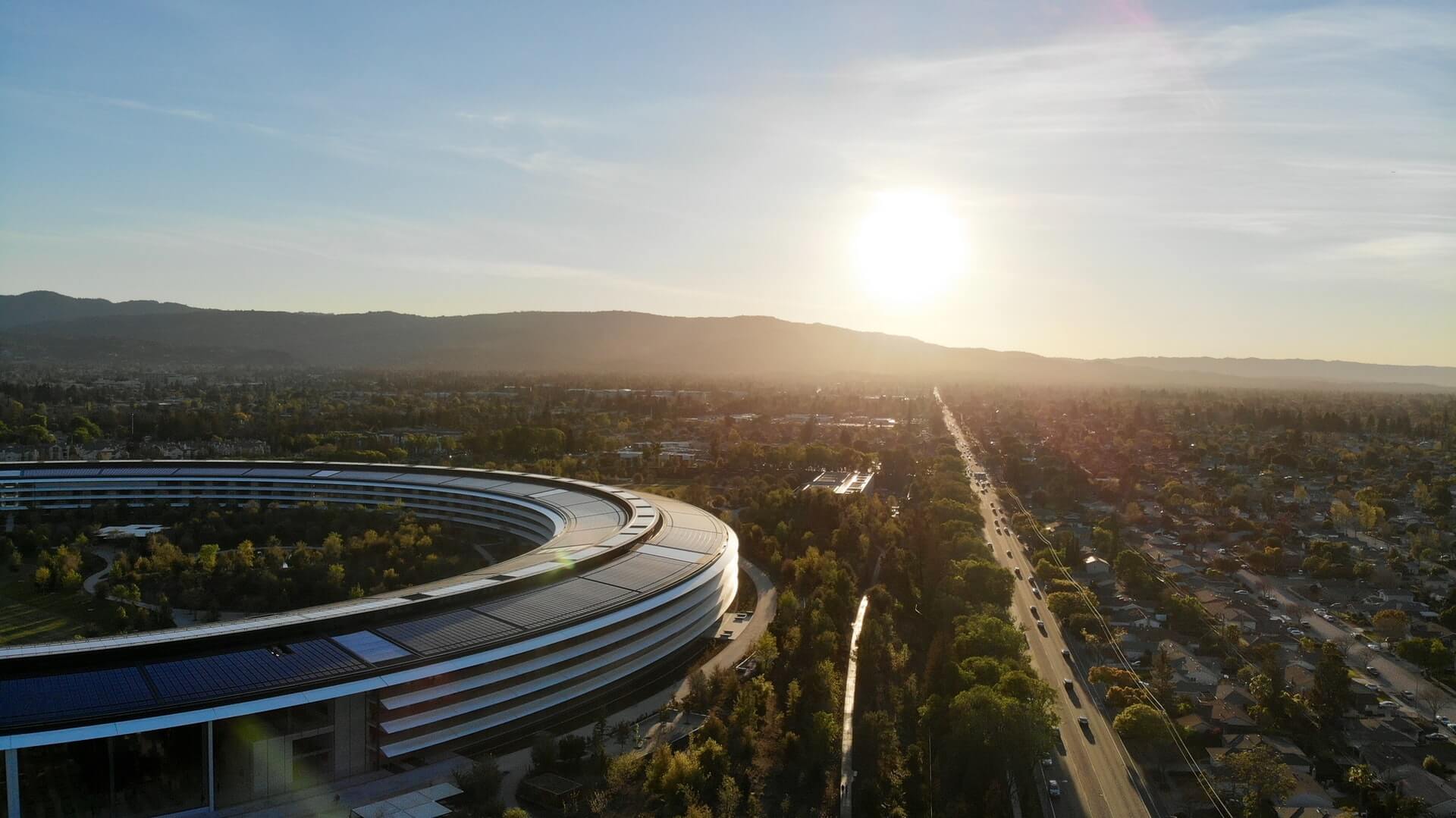 Insights
Apple Q2 2022 Earnings Preview
April 25, 2022
| Updated August 1, 2022
After posting a strong fiscal Q1 (calendar Q4) that included the holiday shopping season, Apple has now completed its typically seasonally weak fiscal Q2 ending in March. The company is set to report its fiscal Q2 earnings Thursday, April 28th, after market close. Despite supply constraints (especially for its iPads), Apple may have seen demand pushed into the March quarter after experiencing shipping delays during the Q1 holiday quarter, based on Similarweb traffic metrics on a YoY and/or sequential basis.
Apple has not been immune to supply chain issues, noting in its December earnings call that the December quarter experienced higher constraints than the September quarter and that the March quarter would continue to see supply constraints although to a lesser degree than what was seen in the December three-month run.
Key Takeaways
While Apple's fiscal Q2 (calendar Q1) is typically a seasonally weak quarter following the holiday, Similarweb estimates suggest strong year-over-year (YoY) sales growth for most product categories based on traffic visits to purchase pages
Page visits to iPhone purchase pages were down in fiscal Q2 from fiscal Q1, most likely due to seasonal weakness following the holiday quarter
Services continue to be a strong opportunity for the company to grow revenue and increase stickiness across its installed base
Supply chain issues most likely continued to persist in the March 2022 quarter, especially for iPad
Apple's streaming service, AppleTV+,  proved its ability to compete in the space with its exclusive film Coda winning Best Picture at this year's Academy Awards
The company has a strong product road map with opportunities in virtual reality, metaverse, augmented reality, wearables, payments, fitness and, potentially, an electric vehicle
Growth in Services Has Resulted in Multiple Expansion
Growth in Service revenue has been an important part of the investment thesis, as Apple has seen annual Services revenue more than double over the last five years – from almost $30 billion in fiscal 2017, to over $68 billion in fiscal 2021 which ended last September. Services have much higher gross margins than hardware sales. This factor has seen the stock's price-to-earnings multiple re-rate, from a lower level hardware-like market multiple akin to IBM, to a higher SaaS-like multiple similar to Microsoft. And with 27% YoY Service revenue growth in 2021, this growth should continue going forward. This compares to iPhone YoY growth at 39%, iPad at 34%, Mac at 23% and Wearables, Home and Accessories at 25%. As customers subscribe to new Services, this enhances the user experience and increases the value proposition of the products and the stickiness of the Apple platform.
AppleTV+ Content Wins Bode Well For Its Future
At the 94th Academy Awards held on March 27th, Apple's film Coda won the Oscar for Best Picture. This is the first time a film released exclusively on a streaming platform won the Academy's highest honor beating out its fiercest competitor Netflix. Troy Kotsur also picked up the Best Supporting Actor nod for his role in the film playing a deaf father (Kotsur himself is deaf). These results should help drive near-term subscriber growth to the platform while, more importantly, elevating Apple's profile in Hollywood as a legitimate player.
And following in the steps of Amazon's partnership with the NFL, Apple also announced at its March event that it has signed a deal with Major League Baseball to broadcast two MLB games per week on Fridays with the introduction of its Friday Night Baseball package, only available on AppleTV+. This is a significant development as it marks Apple's first foray into sports.
Product Sales
We looked at Similarweb's traffic estimates to purchase pages on Apple's website for each of its major product categories to gauge purchase intent during the quarter. We note that for all categories (with the exception of Apple Watch), global desktop visits saw strong year-over-year growth during March. This growth in traffic may have been driven by Apple's March 8th event titled "Peek Performance". Overall, sequential growth was down quarter-over-quarter due to seasonal weakness, following the traditionally strong holiday quarter.
iPhone
The iPhone is Apple's most important product and accounts for the majority of its revenues. While January and February desktop visits were mostly in line with the same respective months in 2021, March visits increased by over 60% YoY. Apple announced a new "Alpine Green" colored iPhone 13 as well as a 5G version of its entry-level iPhone SE at its "Peek Performance" event. However, in terms of iPhone purchase page visits, all three months in fiscal Q2 trailed the Q1 holiday quarter and total iPhone purchase page visits for fiscal Q2 were down -39% from fiscal Q1 due to seasonal weakness.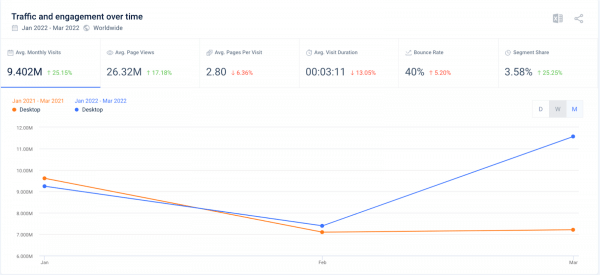 iPad
iPad saw moderate growth in YoY traffic for January and February of 6.6% and 8.8% respectively while March experienced 81% growth, most likely driven by the announcement of a next-generation iPad Air. Sequentially, traffic visits to iPad purchase pages in fiscal Q2 were down 19% from fiscal Q1, due to seasonal weakness following the holiday quarter.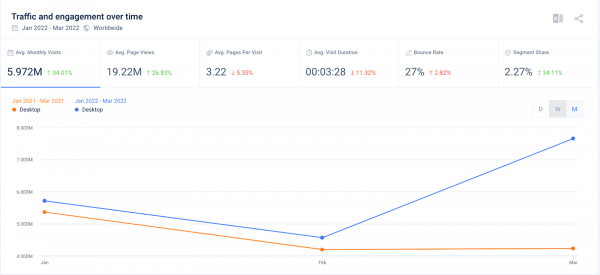 Mac
Similarweb estimates show traffic to Apple's Mac purchase pages was slightly down YoY in January and February but sharply rebounded by about 58% in March. This was most likely due to revealing the new Mac Studio at the March event, a supercomputer marketed to power users. Sequential traffic visits to Mac purchase pages were down about 34% quarter-over-quarter.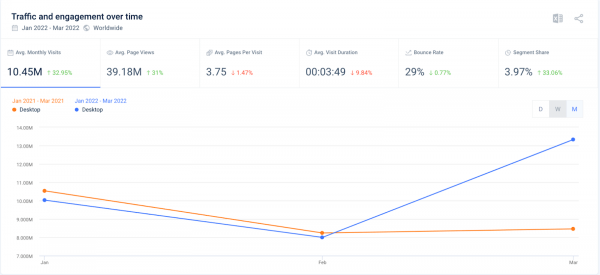 Apple Watch
When looking at Similarweb's estimates for visits to the Apple Watch purchase pages, we see 7% growth YoY in January and 4% growth in March, while February actually saw an 8% decline. There were no announcements regarding the Apple Watch at the March event, which may explain the lack of traffic spike seen in contrast to the other product categories that were mentioned. Quarter-over-quarter, traffic visits to Watch purchase pages were down about 41%.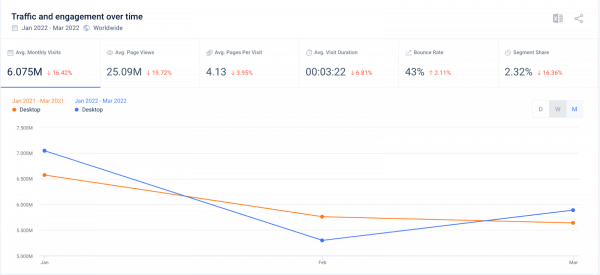 Outlook: Product Roadmap Key to Unlocking New Avenues of Growth
While Apple has always been very tight-lipped about future products, the scrutiny around the company and its pipeline produces a seemingly constant flow of rumors regarding what Apple is working on next. A virtual reality headset similar to Meta's Oculus product is rumored to be in the works as well as augmented reality glasses. Wearables continue to be a rumored area of interest given the company's success with products like the Apple Watch and Airpods. Some have speculated that Apple may be developing its own stationary bike to compete with Peloton for its Fitness+ service. And the persistent rumors of the company's work on an electric vehicle have many wondering if Apple will be able to bring a car to market to compete against the likes of Tesla.  This has become a space that is very difficult for Apple to ignore – considering it exists at the crossroads of hardware, software, connectivity, GPS, autonomy and is climate-friendly, all areas where Apple excels and is in keeping with its brand identity.
The Similarweb Insights Newsroom is available to pull additional or updated data on request for the news media (journalists are invited to write to press@similarweb.com). When citing our data, please reference Similarweb as the source and link back to the most relevant blog post or similarweb.com/corp/blog/insights/.
Contact:
For more information, please contact Anthony T. Occhipinti, Senior Insights Manager, at anthony.occhipinti@similarweb.com
Citation:  
Please refer to Similarweb as a digital intelligence platform.
Disclaimer:
All data, reports and other materials provided or made available by Similarweb are based on data obtained from third parties, including estimations and extrapolations based on such data. Similarweb shall not be responsible for the accuracy of the materials and shall have no liability for any decision by any third party based in whole or in part on the materials.
This post is subject to Similarweb legal notices and
disclaimers
.
Wondering what Similarweb can do for you?
Here are two ways you can get started with Similarweb today!