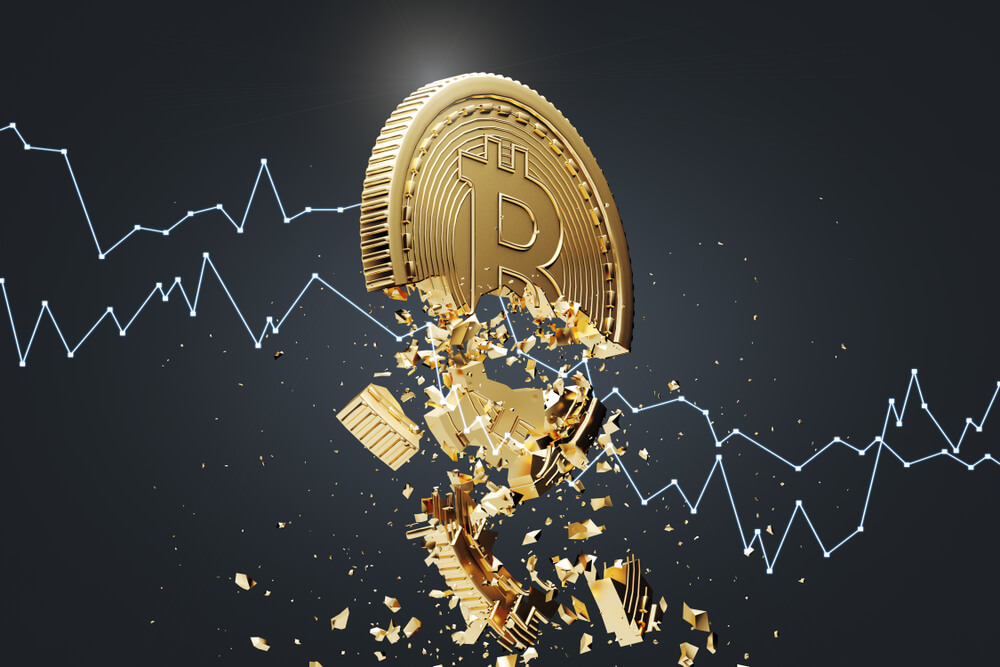 Insights
High Returns Give Way to High Anxiety for Crypto Lending
June 21, 2022
| Updated August 1, 2022
A few weeks after a "stablecoin" pegged to the U.S. dollar dropped in value to just pennies, a crypto lender that had been promising enormous returns did its part to cast doubts on the viability of the whole "Decentralized Finance" movement. Celsius Network, which until recently was one of the biggest buyers of search traffic on crypto investing opportunities, announced a halt to withdrawals, blaming "extreme market conditions." Here is what Similarweb data tells us about how Celsius grew into such a big – and now increasingly controversial – name in crypto lending.
Key takeaways 
Celsius Network, was among the top four companies buying paid search traffic on phrases like "how do I invest in crypto?" within the three months leading up to its crisis (see related report), according to Similarweb metrics. The number one paid search traffic competitor in this category, Genesis, is in the crypto lending business in addition to operating a crypto exchange.
Celsius Network was also a strong competitor in organic search, for example pulling in a 57% share of traffic on "earn crypto" within that same three-month period. Although anyone who read the fine print should have known Celsius was not a regulated bank, it paid high interest on crypto deposits up to the point it stopped paying out at all.
In May, Celsius Network (celsius.network) attracted more than 2 million visits to its website, putting it ahead of direct competitor BlockFi, which drew 1.7 million visits, according to Similarweb estimates. Both are significantly behind Nexo (nexo.io), which attracted more than 12 million visits in May.
Nexo's traffic is down somewhat from December 2021, when it peaked at 16.8 million visits. Year over year, May traffic was up 67.7% for Nexo, and up 28% for Celsius Network, but down 66% for BlockFi.
Does the Celsius Network crisis spell the end of Decentralized Finance? Or was it not DeFi enough?
As concerning as Celsius Networks latest moves are, tarring all the crypto lending players with the same brush may be unfair. Axios Crypto published a detailed analysis of the ways Celsius Network departed from Decentralized Finance ideals. That is, it wasn't as decentralized as some others, making selective use of cryptocurrency protocols but without the robotic automation of smart contracts meant to democratize digital finance.
The Nexo website currently welcomes visitors with a message loudly proclaiming the importance of "overcollateralization" of loans to ensure it can meet its obligations to lenders. That is, it's emphasizing the difference between its business practices and those of Celsius Network, which critics judge to have been engaging in financial slight of hand.
Still, Celsius Network is not the only one suffering from a more critical examination of its business practices. BlockFi, the crypto lender backed by Peter Thiel, announced it was laying off 20% of staff. BlockFi has its own problems: in May, it agreed to pay a $100 million penalty after the Securities and Exchange Commission charged it with operating as an unlicensed dealer in securities. That negative publicity likely undercut BlockFi's traction online. As mentioned above, traffic was down 66% in May. A year ago, BlockFi was routinely seeing year-over-year traffic increases in the neighborhood of 300%.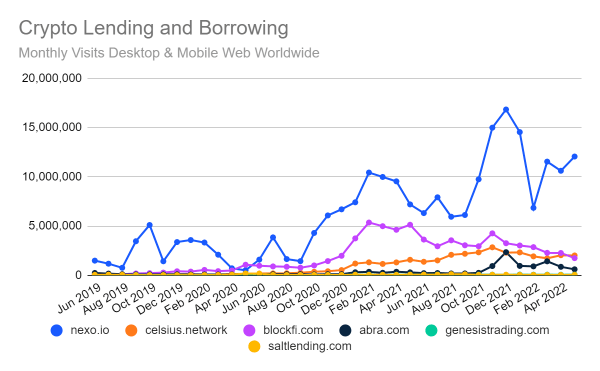 Celsius Network attracted more than 471,000 visits on June 12, the day it announced its freeze on withdrawals, although presumably from upset investors much more than potential new customers.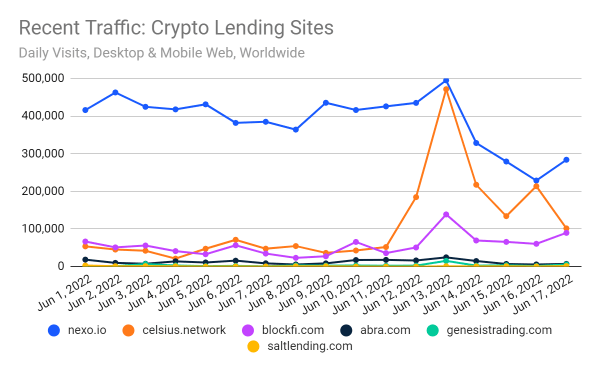 Paying for "invest in crypto" search traffic
In the three months prior to its crisis, Celsius Network was among the top 5 search advertisers buying traffic on topics related to investing in cryptocurrency, with its message of high returns on deposits of crypto assets.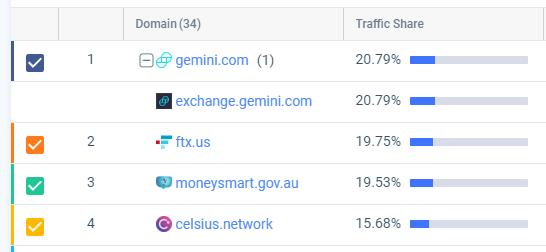 Incoming traffic reflects an interest in crypto loans, lending, and earning interest
Looking at in aggregate, the incoming traffic to Celsius Network, Nexo, and others in the crypto lending space reflects an interest in "banking" crypto and earning interest on it rather than speculating on it. In other words, these were crypto investors looking for a "safer" option.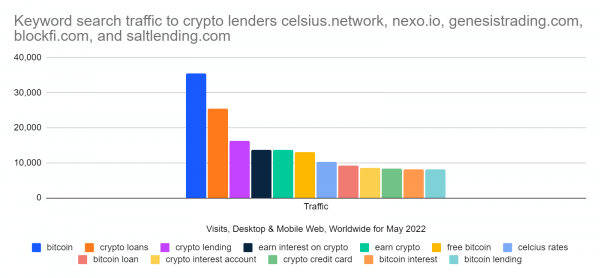 The breakdown below shows more detail on who was winning the most traffic for the most popular keywords in organic search. Over the course of a year, Celsius Network was a big winner on "earn crypto," while others such as BlockFi were winning on "crypto interest account," for example.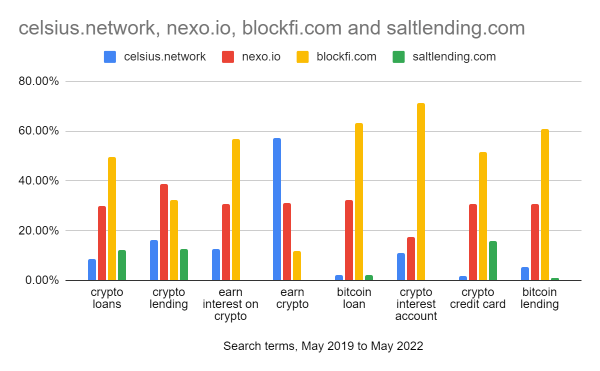 Searchers were also looking for reassurance, as you can see from Google's callout of frequently asked questions about crypto lending.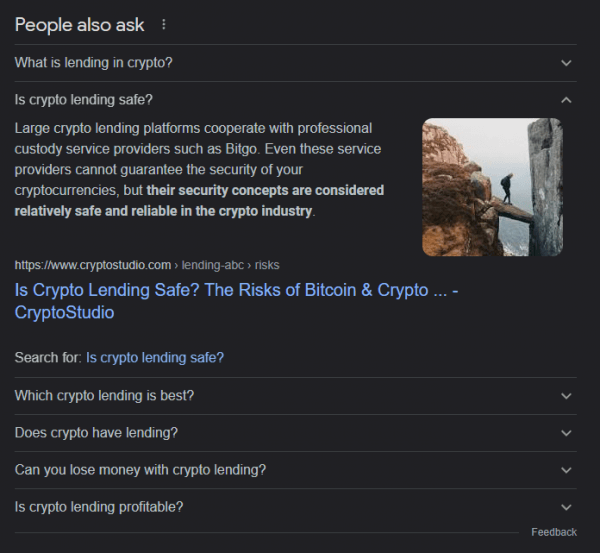 Featured results from a Google search on "crypto lending"
Banking on a recovery?
Crypto lending is seeing its name dragged through the mud. A crisis with one lender in the context of other things that have gone on recently are casting doubts on the overall viability of cryptocurrency and the Decentralized Finance aims of rewiring the financial sector on a digital and libertarian plan.
We won't claim to be able to predict what will emerge from the wreckage. What we can see is that consumers found the promise of relatively guaranteed returns in the form of interest on crypto deposits very attractive. And now that the boom has given way to an apparent bust, they are disappointed and are moving to seek regulatory relief from the "freedom" of the crypto market.
The Similarweb Insights Newsroom is available to pull additional or updated data on request for the news media (journalists are invited to write to press@similarweb.com). When citing our data, please reference Similarweb as the source and link back to the most relevant blog post or similarweb.com/corp/blog/insights/.
Contact: For more information, please contact Richard Krueger at richard.krueger@similarweb.com.
Citation:  Please refer to Similarweb as a digital intelligence platform. If online, please link back to www.similarweb.com or the most relevant blog post.
Report By: David F. Carr, Senior Insights Manager
Disclaimer: All data, reports and other materials provided or made available by Similarweb are based on data obtained from third parties, including estimations and extrapolations based on such data. Similarweb shall not be responsible for the accuracy of the materials and shall have no liability for any decision by any third party based in whole or in part on the materials.
This post is subject to Similarweb legal notices and
disclaimers
.
Wondering what Similarweb can do for you?
Here are two ways you can get started with Similarweb today!