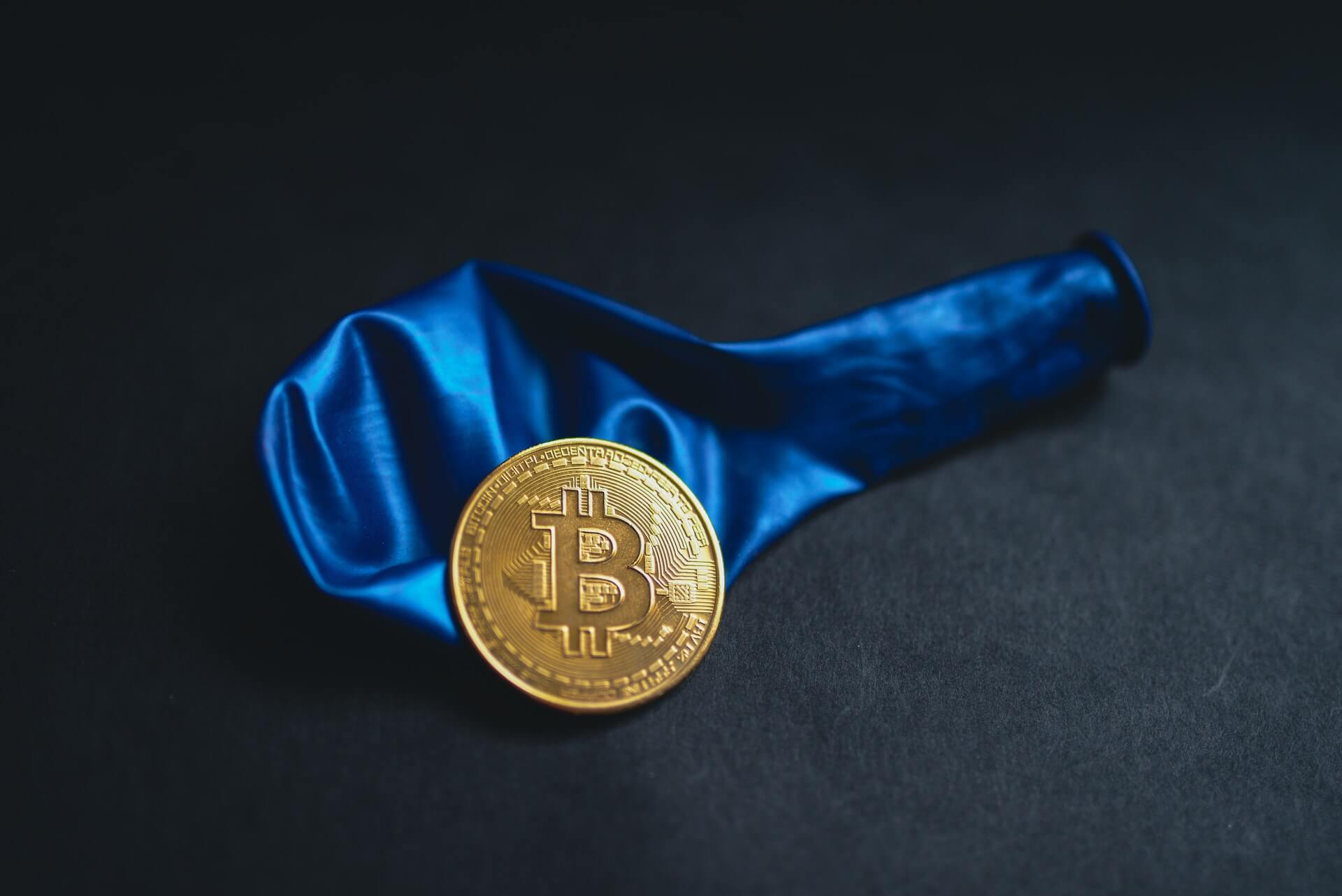 Insights
Coinbase Stuck in Crypto Doldrums
October 31, 2022
| Updated November 6, 2022
Coinbase is still "HODL"-ing on, hoping for a turnaround in the crypto markets and its fortunes specifically that has yet to materialize. Engagement with its website, app, and new customer signup pages are all down.
Coinbase retains a leadership position in the US and has seen positive news on other fronts: for example, Google recently announced it would partner with Coinbase to handle cryptocurrency payments from Google Cloud customers. But the optimism that prompted the company to buy a Super Bowl ad at the beginning of the year, in an attempt to build on its base of retail investors, has been no match for the wave of pessimism that has swept the crypto market overall.
Coinbase is scheduled to report third-quarter earnings on Thursday, November 3.
Key takeaways 
Traffic to the new account signup page on coinbase.com was down 30.8% year over year in Q3, according to Similarweb estimates.
Overall traffic to coinbase.com was down 44% year over year in the third quarter. Of course, Coinbase isn't the only crypto exchange suffering – traffic was down 46.5% for binance.com, down 36.1% for ftx.com, and down 48% for kraken.com in the third quarter.
In the US, Coinbase remains the largest player by a wide margin. But even in the US, traffic was down 46.2% year over year in the third quarter. Again, the downward trend was similar for most of its competition with the exception of ftx.us (which FTX uses for operations within the US), for which traffic was essentially flat (up 0.3%). That's a significant slowdown for ftx.us, which was seeing much stronger growth earlier in the year, up more than 900% year over year in Q1.
The trend is no more positive on mobile, which is how many Coinbase users access its cryptocurrency exchange. For example, daily active users on Android were down about 45% year over year in September.
New account signup activity continues to fall
Coinbase had hoped to keep growing its user base in 2022, but that hasn't happened.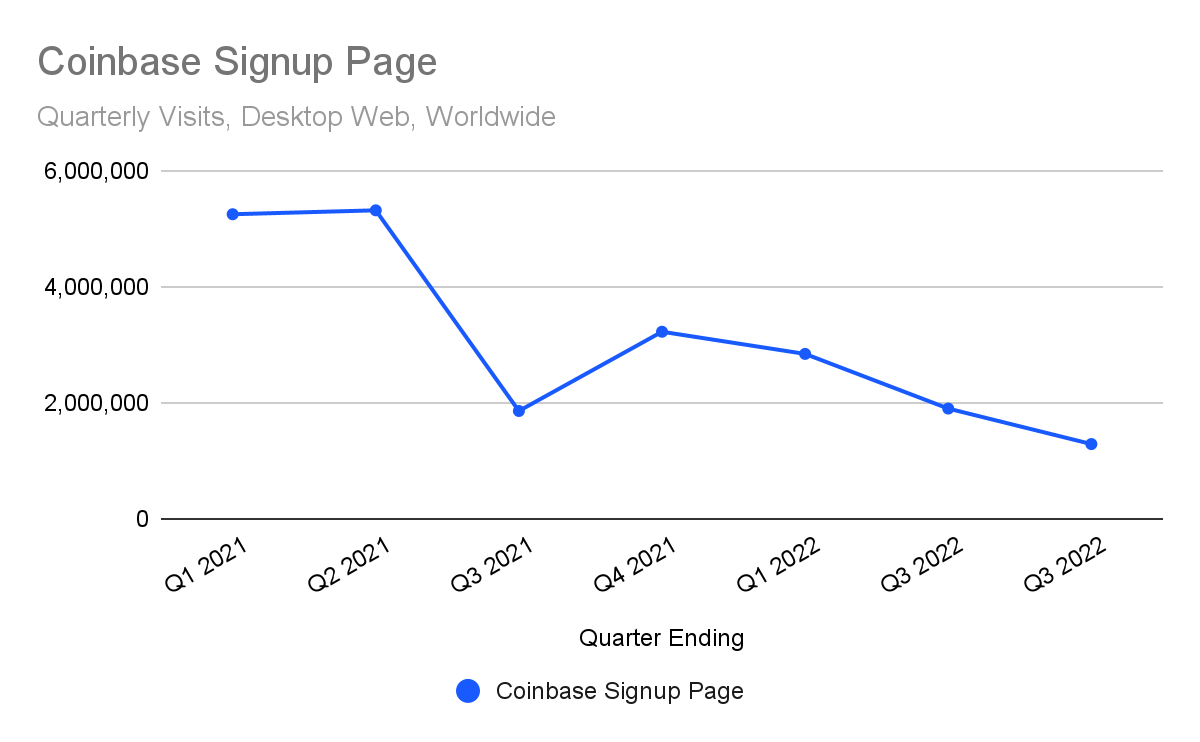 Overall traffic to coinbase.com is down (along with the market)
Traffic to coinbase.com has been falling, although it's in line with an overall decline in the market.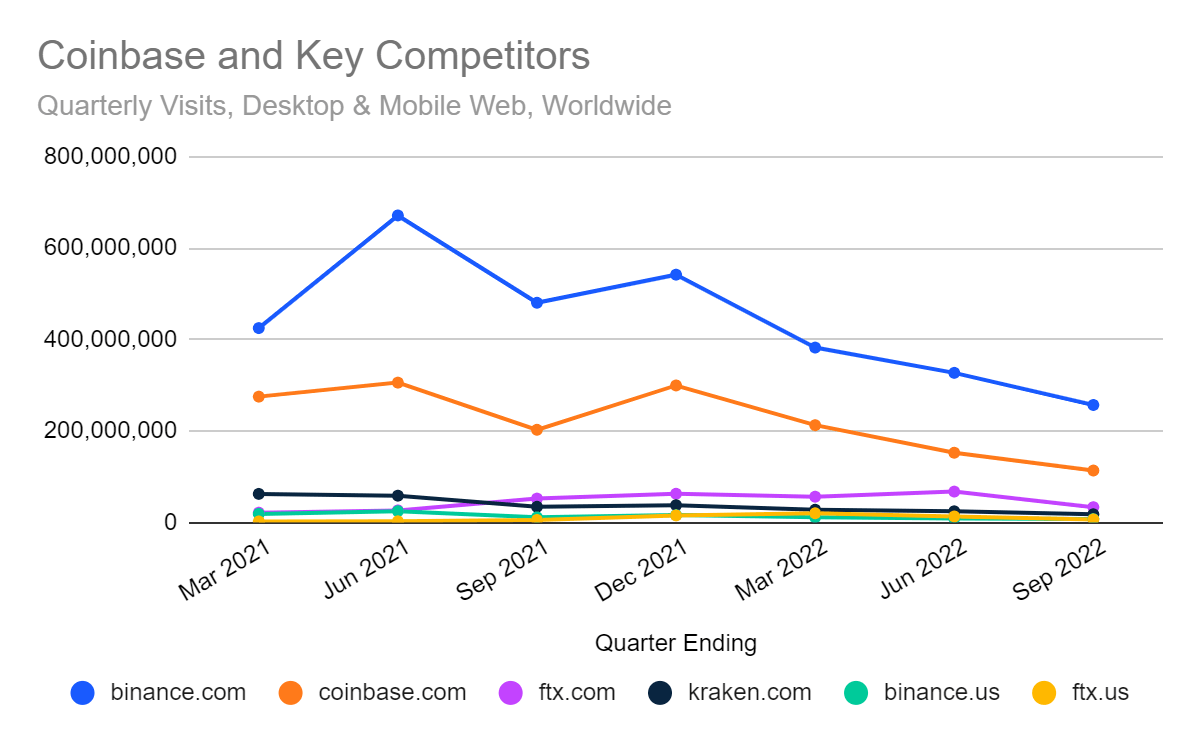 In the US, Coinbase remains the leading crypto exchange, although it has lost momentum.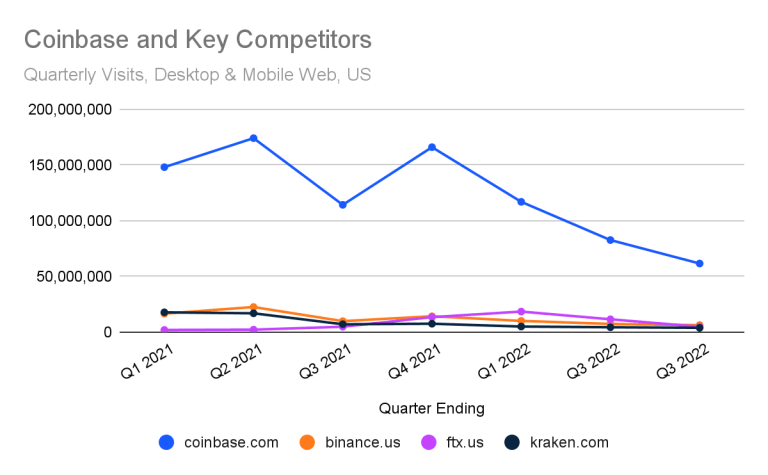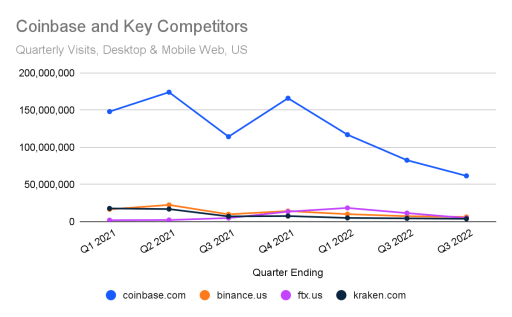 The entire crypto market is in decline, with trends only getting worse in recent weeks, as reflected in this heatmap analysis from the Similarweb Investor Intelligence team.

App engagement also in decline
Web traffic is only part of the story, given that Coinbase encourages active users to take advantage of its mobile apps. Unfortunately, active users of the apps are also down, as shown here for Android.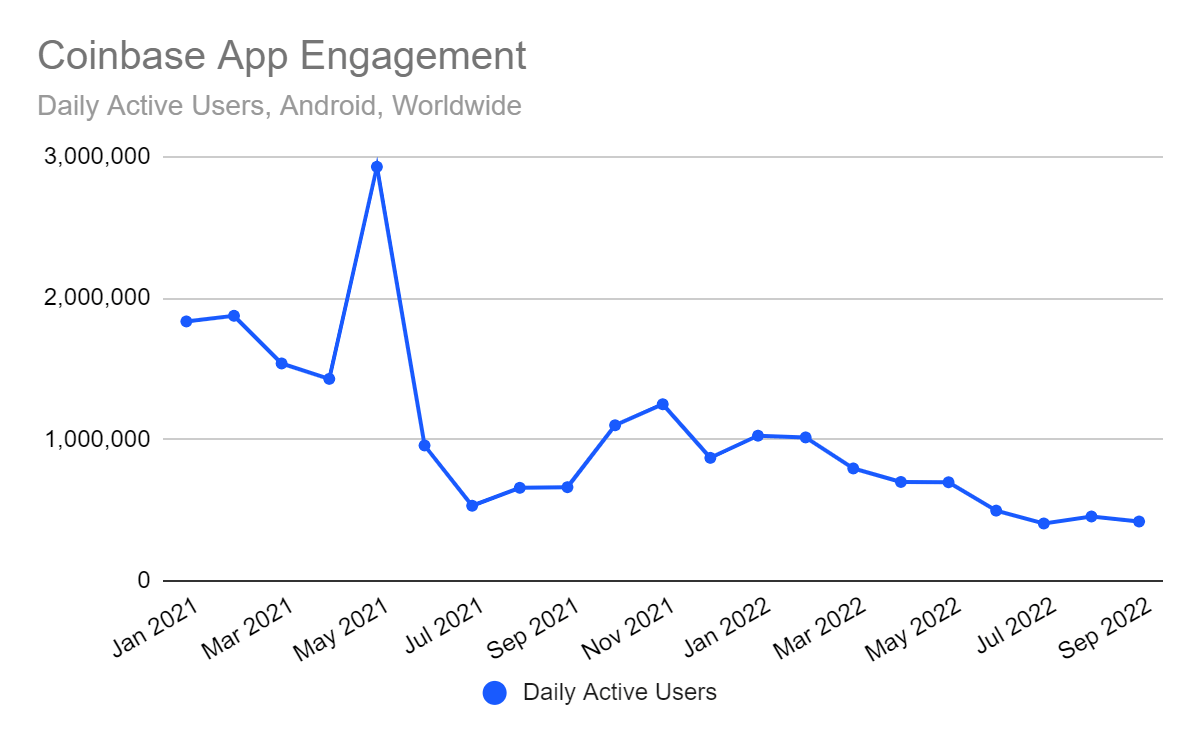 The Similarweb Insights & Communications team is available to pull additional or updated data on request for the news media (journalists are invited to write to press@similarweb.com). When citing our data, please reference Similarweb as the source and link back to the most relevant blog post or similarweb.com/corp/blog/insights/.
Contact: For more information, please write to press@similarweb.com.
Citation:  Please refer to Similarweb as a digital intelligence platform. If online, please link back to www.similarweb.com or the most relevant blog post.
Report By: David F. Carr, Senior Insights Manager
Disclaimer: All data, reports and other materials provided or made available by Similarweb are based on data obtained from third parties, including estimations and extrapolations based on such data. Similarweb shall not be responsible for the accuracy of the materials and shall have no liability for any decision by any third party based in whole or in part on the materials.
Photo by regularguy.eth on Unsplash
This post is subject to Similarweb legal notices and
disclaimers
.
Wondering what Similarweb can do for you?
Here are two ways you can get started with Similarweb today!