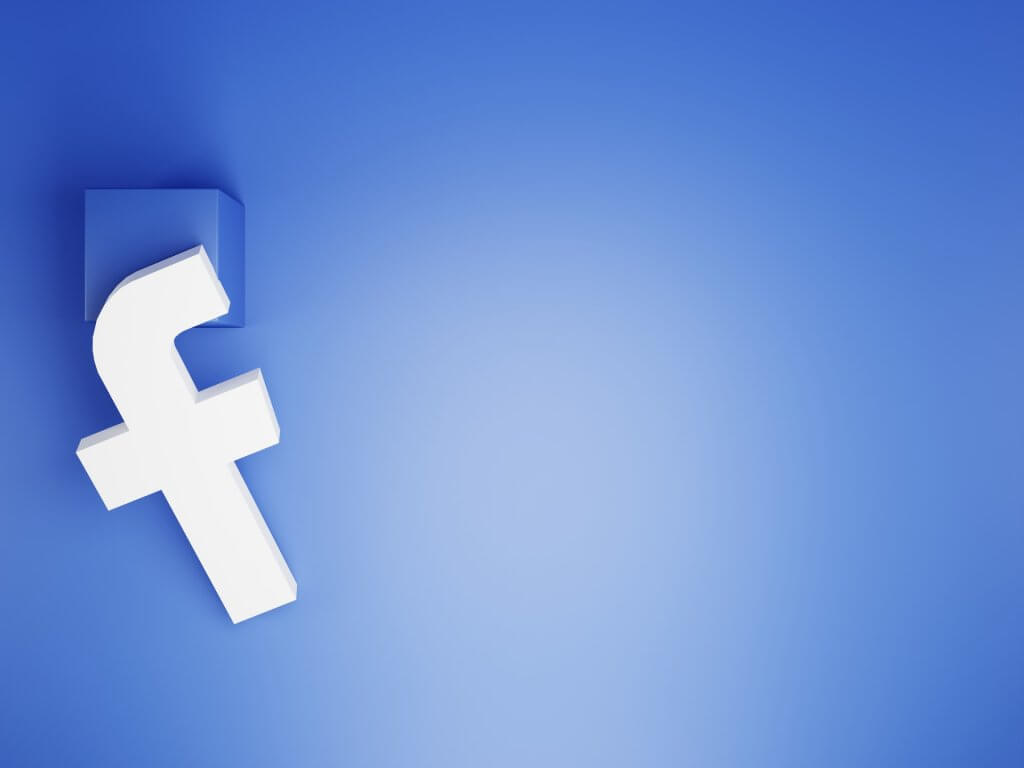 Insights
Facebook in Decline, Meta in Doldrums
July 13, 2022
| Updated August 2, 2022
While still a huge player in the digital media and social media world, Facebook is seeing its core business of advertising built on social media engagement decline – forcing parent company Meta to seek new ways of attracting audiences and advertisers. After years of seemingly endless growth, Meta announced in February that Facebook's daily active users had declined for the first time ever in the last three months of 2021. Although Meta said that its active user count ticked up again in the first months of 2022, Similarweb's independent estimates show other signs of trouble.
Key takeaways 
Facebook's core business is in decline
So far, Facebook is still making money, beating earning estimates for the first quarter of 2022 with $27.9 billion in revenue. That 7% year-over-year revenue gain was disappointing only in context – the first time since its 2012 IPO that the increase wasn't in double digits. When Facebook next reports earnings on July 18, investors and analysts will be watching to see whether that slowdown was an anomaly.
Facebook's core websites have shown a steady year-over-year decline in traffic to facebook.com, on top of the slowing growth (and recent slight decline) in traffic to business.facebook.com, according to Similarweb estimates. Given that ad revenue is linked to the size and engagement of the Facebook audience, any slowdown spells potential trouble.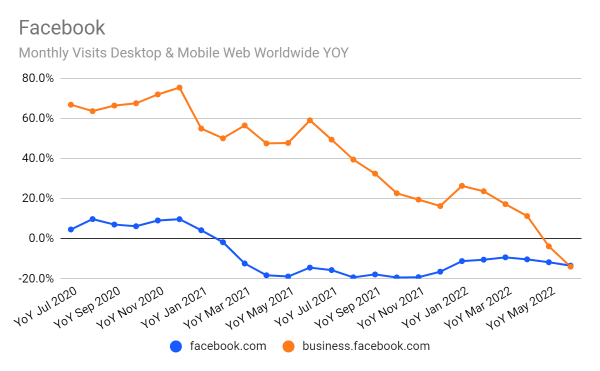 Facebook.com web traffic slides
Facebook.com still pulls in a huge volume of traffic, but it has declined from close to 2.5 billion visits in July 2019 to 19 billion visits in June 2022, according to Similarweb estimates.
Traffic to Facebook's business portal stutters
The business.facebook.com portal caters to a more selective audience, which has generally been trending up – 215.9 million visits in June 2022, more than double where it was in the summer of 2019. However, the pattern of steady gains ended in May and June, with May's traffic down 3.8% year over year and June's traffic down 14%.
Although business.facebook.com is not exclusively an ad buying portal, a drop in activity there signals a loss of advertiser interest in engaging with audiences on Facebook (and Instagram) whether with either paid or organic promotions.
Meanwhile, the rates advertisers are willing to pay for Facebook ads are also declining, according to ad market analysts.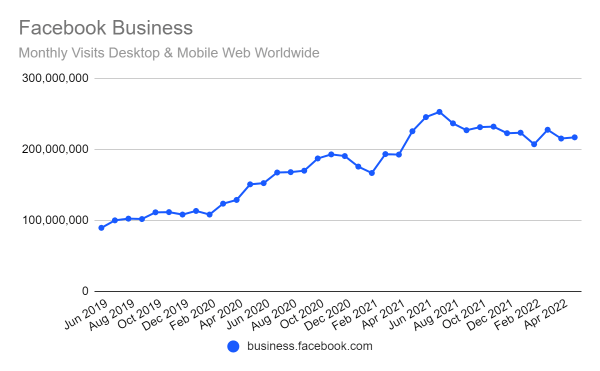 Fewer ads on mobile
To the extent that Facebook's audience has shifted from web to mobile, here's a sign that the mobile part of Facebook's business is also off. The number of ads per day seen by mobile users was over 40 in January compared to 30 in June, according to data collected from an enrolled panel of US Android users.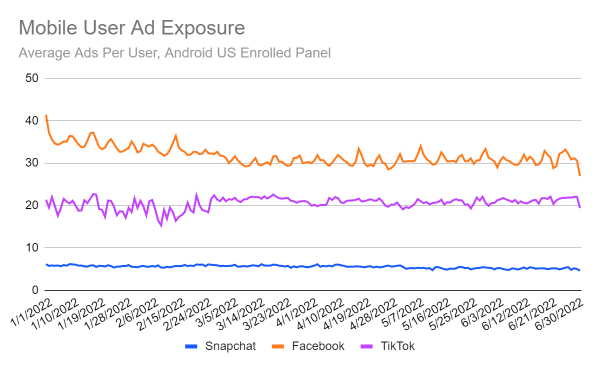 Collateral damage for businesses like Buzzfeed
Facebook isn't the only one suffering from the decline of Facebook. For example, the digital publisher Buzzfeed built its business on the creation of snackable content that users would happily share on Facebook and other social platforms.
In other words, Buzzfeed mastered the art of viral content creation.
However, with the dilution of the Facebook audience (plus other factors, such as changes in the Facebook newsfeed algorithm), viral hits aren't as big as they once were. As recently as May 2019, Buzzfeed got 68.5% of its traffic from Facebook referrals; in May 2022, Facebook referrals accounted for a 43% share – and total traffic to buzzfeed.com dropped about 27% over that period.
BuzzFeed CFO Felicia DellaFortuna recently pointed to people spending less time on Facebook in an earnings call explanation of why her company is struggling.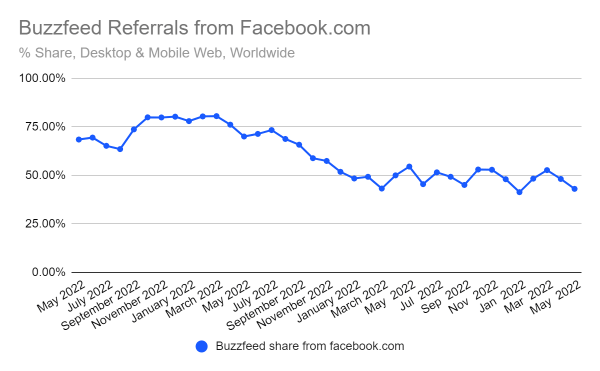 Still a company that can "move fast and break things?"
In the era when Facebook seemed unstoppable, CEO Mark Zuckerberg coined the maxim "move fast and break things" as a directive to employees who were expected to act with agility and urgency to innovate their way to growth for the service. That attitude came under fire when the company was sometimes deemed reckless – for example, with user privacy and political misinformation – but today the question is whether Facebook is breaking ahead of changes in the market or being broken by them.
Nothing we have presented here changes the fact that Facebook has achieved tremendous scale, meaning it could lose active users and website visitors for years and still have billions of both. With money and talent, it has the ability to pivot into adjacent markets as well as new ones. Meta has already shifted some of its attention to making money off Instagram. Perhaps in 10 years, Zuckerberg's decision to rename the company and plow research and development dollars into the metaverse will be hailed as a genius move, if 3D immersive experiences turn into fertile ground for advertising or Meta Quest headset sales bring in significant money.
On the other hand, the advertising model Facebook has profited from for years suddenly looks broken, and the company's ability to compensate by making money off the Metaverse – or even near-term projects like Instagram Reels – remains unproven.
The Similarweb Insights Newsroom is available to pull additional or updated data on request for the news media (journalists are invited to write to press@similarweb.com). When citing our data, please reference Similarweb as the source and link back to the most relevant blog post or similarweb.com/corp/blog/insights/.
Contact: For more information, please contact Richard Krueger at richard.krueger@similarweb.com.
Citation:  Please refer to Similarweb as a digital intelligence platform. If online, please link back to www.similarweb.com or the most relevant blog post.
Report By: David F. Carr, Senior Insights Manager
Disclaimer: All data, reports and other materials provided or made available by Similarweb are based on data obtained from third parties, including estimations and extrapolations based on such data. Similarweb shall not be responsible for the accuracy of the materials and shall have no liability for any decision by any third party based in whole or in part on the materials.
Photo by Deeksha Pahariya on Unsplash
This post is subject to Similarweb legal notices and
disclaimers
.
Wondering what Similarweb can do for you?
Here are two ways you can get started with Similarweb today!