 Insights
Just Eat Takeaway & Deliveroo Earnings Preview 1Q22
April 11, 2022
| Updated August 1, 2022
Both Just Eat Takeaway and Deliveroo are seeing elevated threats from major US players UberEats and DoorDash that are aggressively expanding into their core European markets. Last quarter, both Just Eat Takeaway and Deliveroo experienced top-line deceleration largely driven by the post-pandemic slowdown in food delivery demand and increased competition, namely from UberEats.
Key takeaways
Similarweb's key indicator for Just Eat's Global Orders, Total JET Pageviews, remained negative in 1Q22, and was stable sequentially vs 4Q21.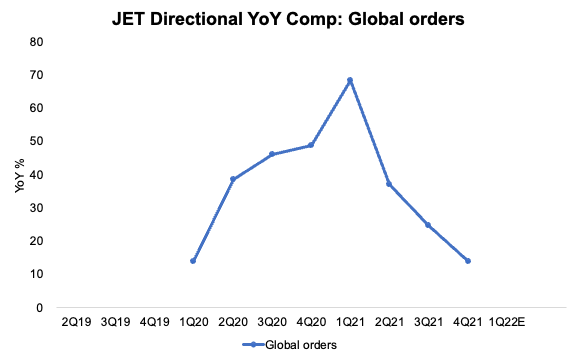 Total ROO Pageviews, our key signal for Deliveroo's Global Orders also remained negative in 1Q22, though experienced a sequential improvement vs 4Q21.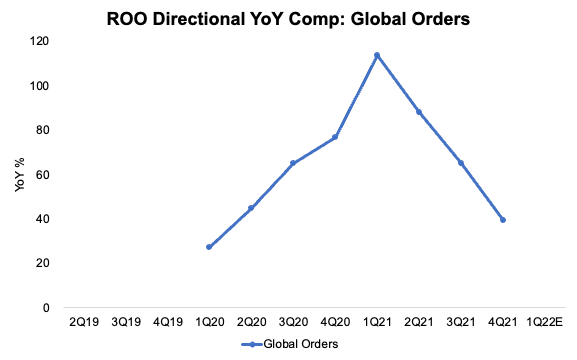 Competition in the food delivery sector has intensified as Similarweb data show both Just Eat and Deliveroo lost pageviews and/or organic keyword traffic share to UberEats and DoorDash in its core European markets.
At the same time, engagement across the Food Delivery Sector has been moderating. Non-branded search visits for food delivery keywords dropped 17% YoY in the US and only increased 10% YoY in the UK in TTM 1Q22, signaling a slowdown in new customer growth.
Food Delivery Competition Heats Up
In 1Q22, both platforms face their toughest comp to date and as a result, more deceleration appears likely, with the rate of moderation somewhat more accentuated for Just Eat vs Deliveroo. Just Eat's relative weakness in global orders can be partially explained by the recently acquired Grubhub business, which has been the subject of recent activist interest.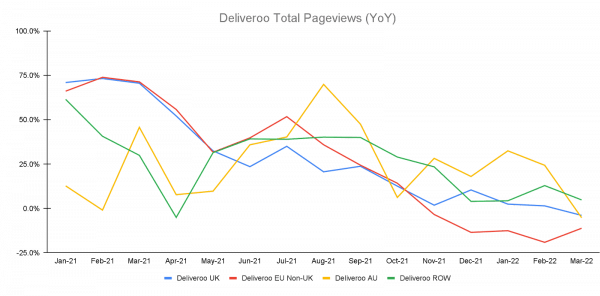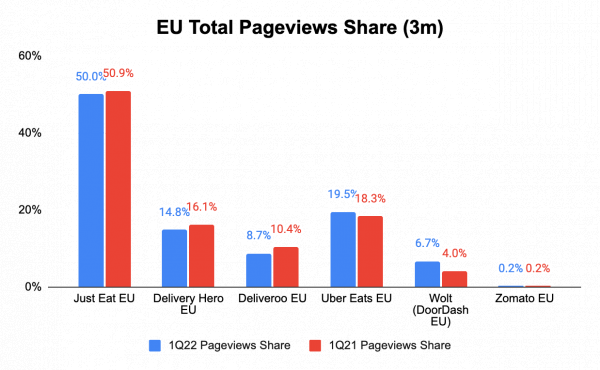 Grocery Delivery, An Opportunity for Growth
With legacy grocery delivery players such as Instacart and Shipt fairing well during the pandemic and with the rise of up-and-coming rapid delivery grocery and convenience startups such as GoPuff and Gorillas, restaurant delivery incumbents' Just Eat Takeaway, Deliveroo, DoorDash, and Uber Eats have pushed into the space by partnering with chain and independent grocery and convenience stores, developing grocery warehouses and rapid delivery services of their own, and by investing in and acquiring grocery delivery startups
Due to their early mover position in the European food delivery space, Just Eat and Deliveroo are in excellent positions to capitalize on their existing customer base and brand power to become leaders in the grocery delivery space, given their leading EU grocery delivery visits share positions.
NA + EU Grocery Delivery Total Visits Share TTM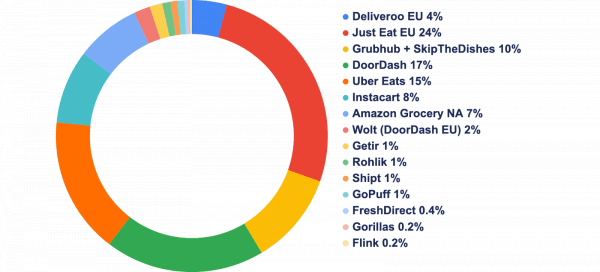 Up-and-coming rapid grocery delivery services consist of less than 10% of the grocery delivery market's visits share over the past 12 months, while legacy grocery delivery incumbents such as Amazon, Instacart, and Shipt accounted for less than 20% of the grocery delivery market's TTM visit share
Conclusion
Difficult comps will drive continued deceleration in global order growth in 1Q22 for both Just Eat and Deliveroo. For Just Eat, relative weakness in the US business will likely be in focus given activist pressure. Just Eat Takeaway's frequency data indicates the company has built considerable loyalty within its core markets, which will be key in protecting its EU market share. Whether or not it can defend its core territories while replicating its success in the US will be central in the activist debate. Keyword shifts suggest rising tension across the EU markets, with UberEats and DoorDash heavily investing in winning the street fight. Stabilization in Just Eat's and Deliveroo's restaurant/partner and driver/courier traffic trends are positive indicators for the companies long-term in order to drive customers to their platforms, as optionality and speed of delivery are key to customer growth and loyalty.  Just Eat and Deliveroo report earnings on April 12th and April 15th, respectively.
The Similarweb Insights Newsroom is available to pull additional or updated data on request for the news media (journalists are invited to write to press@similarweb.com). When citing our data, please reference Similarweb as the source and link back to the most relevant blog post or similarweb.com/corp/blog/insights/.
Contact:
For more information, please contact Seema Shah at seema.shah@similarweb.com or Nicholas Katzaroff at nicholas.katzaroff@similarweb.com.
Citation:  
Please refer to Similarweb as a digital intelligence platform. If online, please link back to www.similarweb.com.
Disclaimer:
All data, reports and other materials provided or made available by Similarweb are based on data obtained from third parties, including estimations and extrapolations based on such data. Similarweb shall not be responsible for the accuracy of the materials and shall have no liability for any decision by any third party based in whole or in part on the materials.
This post is subject to Similarweb legal notices and
disclaimers
.
Wondering what Similarweb can do for you?
Here are two ways you can get started with Similarweb today!