 Insights
Just Eat Takeaway Defends Its Slice of a Smaller Pie
October 14, 2022
| Updated October 20, 2022
If the pandemic was a feast for food delivery companies, these days companies like Just Eat Takeaway are fighting for a share of a somewhat smaller pie. The online food ordering business has grown substantially, but Just Eat Takeaway brands have lost share in Europe and are still working to build a bigger business in North America.
Key takeaways 
Just Eat Takeaway pageviews (across multiple domains) accelerated slightly in the third quarter, the first positive shift after five quarters of deceleration, according to Similarweb estimates. Traffic has improved across both North and South Europe as well as for Grubhub and Skipthedishes. However, UK traffic was essentially unchanged from the prior quarter.
Competition in Europe has intensified, causing Just Eat Takeaway to lose 5% of its market share in the past 12 months. Although Just Eat continues to control more than half of the food delivery traffic from European Union countries, smaller competitors including Delivery Hero, Deliveroo, UberEats, and Wolt (now part of DoorDash) have gained share.
Just Eat bought its way into the U.S. market with the acquisition of Grubhub and its Seamless subsidiary in 2021, but those brands continue to lag significantly behind DoorDash (see related report on DoorDash). Grubhub has yet to show it can capitalize on a new Amazon Prime partnership.
How the traffic adds up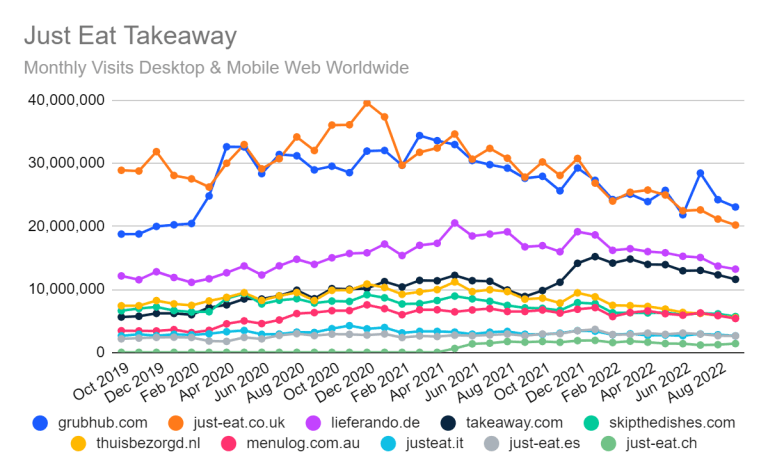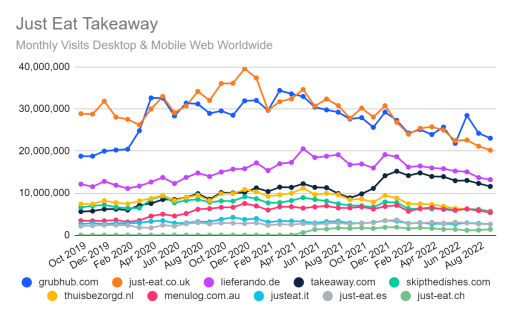 If we sum up all of that traffic and look at year-over-year change, we see the problem Just Eat Takeaway faces. The tremendous growth that food delivery enjoyed during the pandemic has given way to a tighter market of price sensitivity due to cost of living increases, particularly in the U.K. and Europe.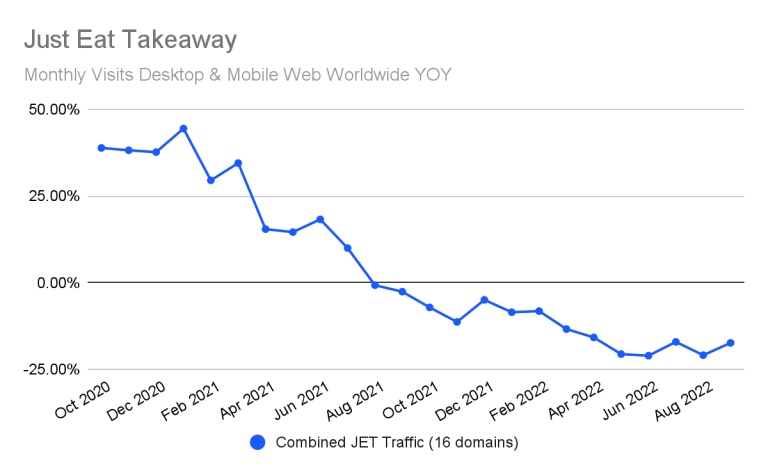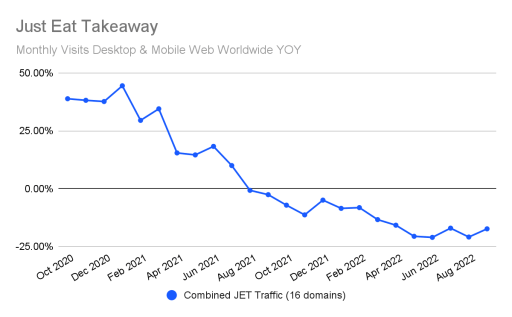 Although some brands such as takeaway.com are seeing growth, on a year-over-year basis, traffic has been trending lower since mid-2021 – down by double digits for the past six months.
Grubhub's opportunity with Amazon Prime members
In July, Just Eat Takeaway's lead U.S. brand Grubhub announced a deal with Amazon for no-fee food delivery for Amazon Prime members. Called Grubhub+, the service gave Grubhub access to a large pool of potential customers – but that potential does not yet seem to have translated into a large surge of business.
"While Grubhub partnered with Amazon earlier this year in hopes of broadening its customer base, segment traffic to the partnership page increased significantly – but the traffic was fleeting," said Hali Levine, an analyst with the Similarweb Investor Intelligence team.
Here is what we see for the segment of Grubhub traffic attributable to the Amazon Prime / Grubhub+ partnership.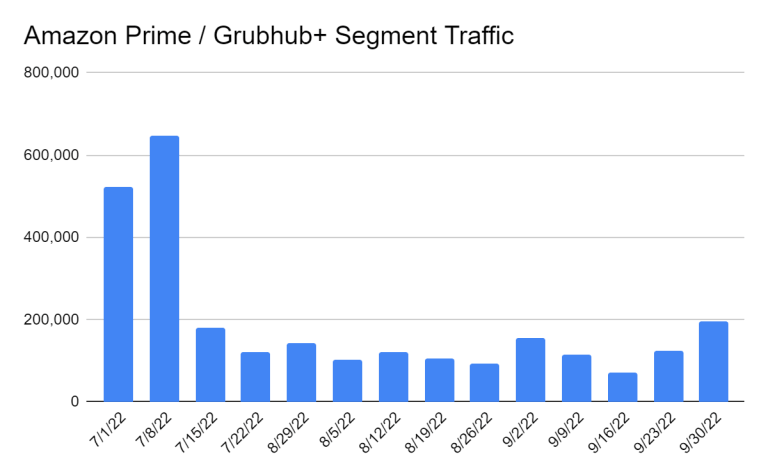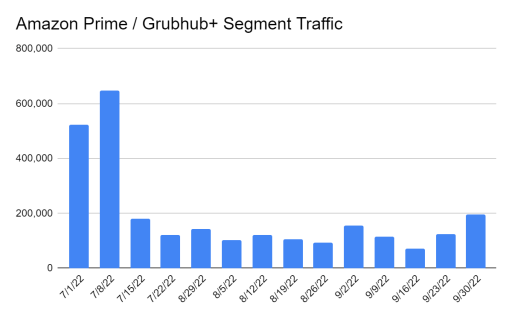 Grubhub has a search lead to build on
Grubhub also leads in search traffic related to keywords like "food delivery."


"Food delivery" search, U.S.
So far, however, Grubhub has not converted its advantages into a significant increase in traffic. UberEats has been advertising heavily and its traffic is climbing but still a fraction of what DoorDash enjoys. In September, doordash.com received 58.3 million visits compared with 22.8 million for grubhub.com and 16.1 million for ubereats.com from within the U.S. Grubhub also does business as seamless.com, which attracted another 4.4 million visits in September in the U.S.
Grubhub's challenges have left some investors wondering if Just Eat's opportunity in the U.S. is skinnier than management had hoped.
The Similarweb Insights & Communications team is available to pull additional or updated data on request for the news media (journalists are invited to write to press@similarweb.com). When citing our data, please reference Similarweb as the source and link back to the most relevant blog post or similarweb.com/corp/blog/insights/.
Contact: For more information, please write to press@similarweb.com.
Citation:  Please refer to Similarweb as a digital intelligence platform. If online, please link back to www.similarweb.com or the most relevant blog post.
Report By: David F. Carr, Senior Insights Manager
Disclaimer: All data, reports and other materials provided or made available by Similarweb are based on data obtained from third parties, including estimations and extrapolations based on such data. Similarweb shall not be responsible for the accuracy of the materials and shall have no liability for any decision by any third party based in whole or in part on the materials.
Photo by Cristiano Pinto on Unsplash
This post is subject to Similarweb legal notices and
disclaimers
.
Wondering what Similarweb can do for you?
Here are two ways you can get started with Similarweb today!