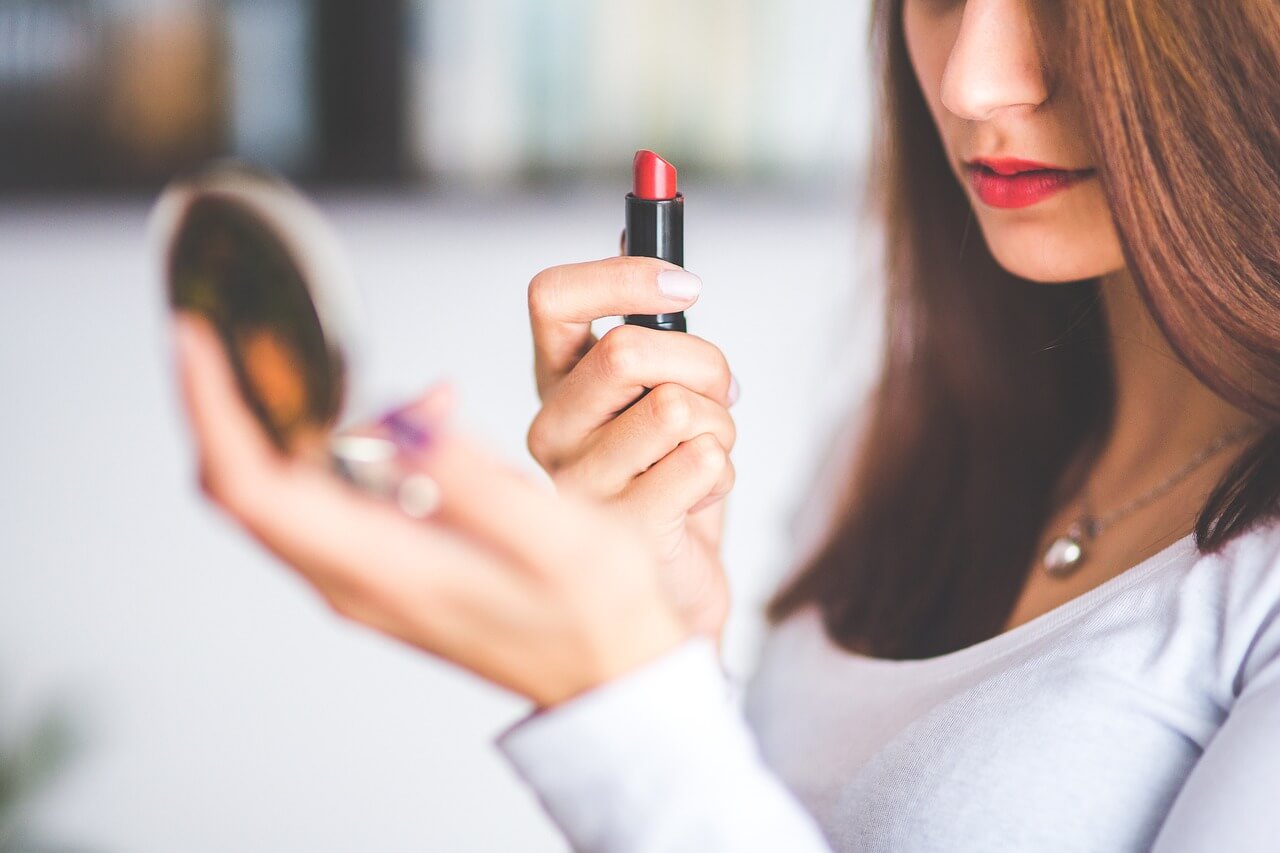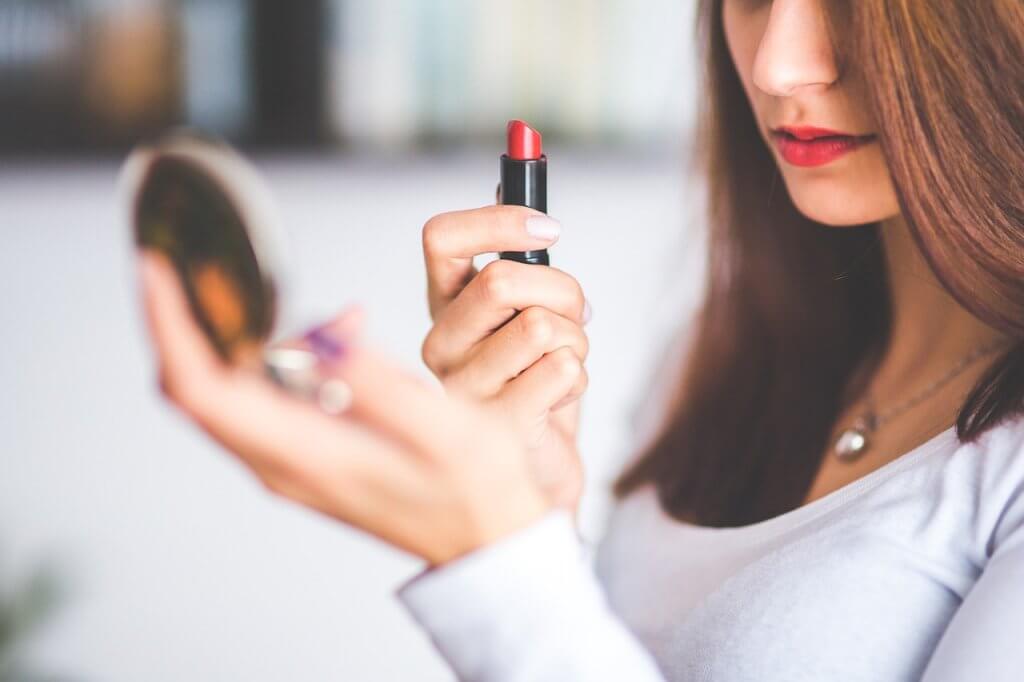 Insights
Measuring the "Lipstick Effect" on Online Retail
November 21, 2022
| Updated November 29, 2022
Global beauty companies reported positive Q3 2022 earnings, showing that consumers are not cutting back on beauty purchases, even as they show less interest in other categories, such as consumer electronics.
In part, this may reflect the fact that many who had been working from home are now spending more time in the office. Even those in a hybrid model still need to look their best at least twice a week. Moreover, it reflects the lipstick effect. This is the theory that when facing an economic crisis, consumers will be more willing to buy less costly luxury goods. Here are a few highlights from our lipstick effect whitepaper, which is available for you to download.
Key takeaways
In the US & UK, online traffic to Beauty & Department Stores sites has spiked year-over-year, emphasizing Skincare products in both countries and Fragrances in the US.
As luxury retailers' exclusive audience lowers,  their audience overlap with mass-market retailers increased YoY, indicating a greater willingness of customers to browse for cheaper products, and thus, the impact of inflation on consumer behavior.
Consumers are more than willing to leverage discount sales to stack-up premium beauty products, given the high uplift of Prime Day October Premium Beauty sales compared to the lead-up days.
In the US, if converted visits increased at department stores such as Saks Fifth Avenue or Neiman Marcus, consumers tend to convert more to more affordable brands and items such as skincare products, with best-converting keywords including Jo Malone, Clinique, Dior, La Mer Shiseido, and Shampoo).
In the UK, the lipstick effect also appears in consumers choosing affordable designer clothing brands (Comme des Garcons, Axel Arigato, and Mfstrep).
The global trend
In this heatmap analysis, created by the Similarweb investor team, beauty is one of the very few 'green' or 'growth' categories based on web traffic.
Retail Sectors Biweekly Traffic Heatmap
Global, Desktop & Mobile Web, May – October 2022 vs. 2021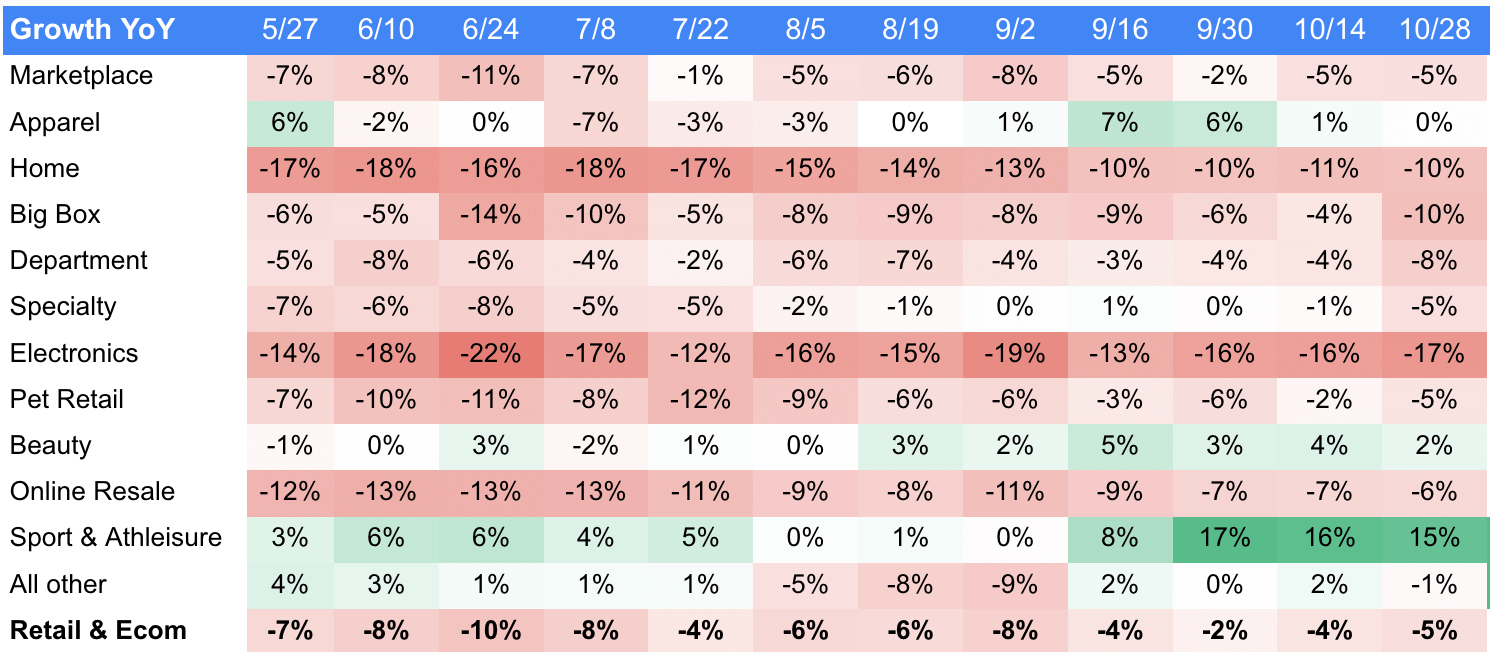 How to read this: Each 2-week snapshot of industry traffic is color-coded green or red for year-over-year increases and decreases. Rising and falling trends are determined by comparing data from the most recent four weeks with the most recent 12 weeks.
Beauty in the US
While inflation is galloping and the Fed is raising interest rates again, the luxury, beauty & apparel retail sectors defy the odds with strong YoY online traffic growth. To explain this, we may use the lipstick effect, a popular indicator among economists trying to spot early signs of a recession. Department stores may get a lot of traffic, but beauty products, whose prices are lower, are driving conversion, and demand is skyrocketing for beauty across different ranges of retailers, including Amazon, as consumers are treating themselves to these affordable pleasures.
An interesting corollary to the lipstick effect in the third quarter was what I call the nail art effect. Sales for fragrance and nail art, two beauty categories that are not essential for basic grooming, saw faster year-over-year growth than any other categories on amazon.com, while purchase prices for those items were down slightly.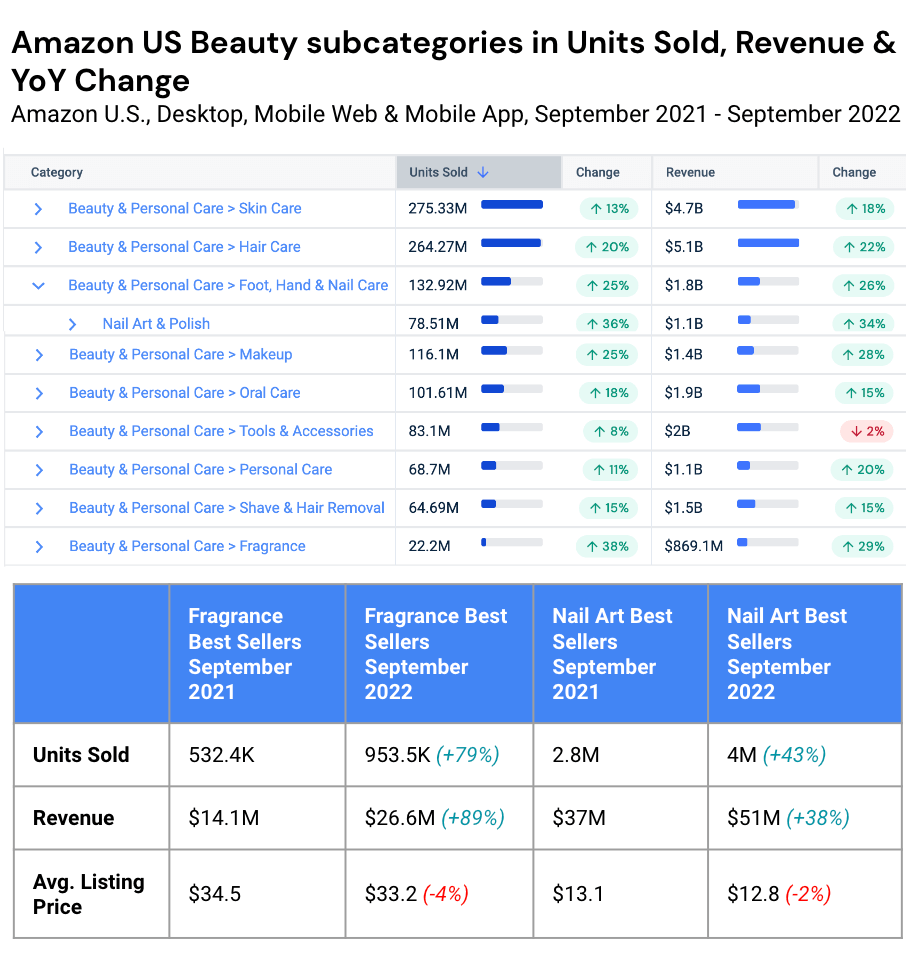 Luxury in the UK
While overall demand for consumer goods online has decreased year-over-year in the UK, illustrated by a drop in traffic to transactional websites and caused by diverse macroeconomic factors, the luxury sector has been doing surprisingly well. Conversely, demand for lower-end products such as fast fashion is also increasing as consumer income increases slower than inflation; Selfridges, Net-a-Porter, and other luxury retailers are seeing increased traffic, but consumers are mainly interested in affordable luxury products.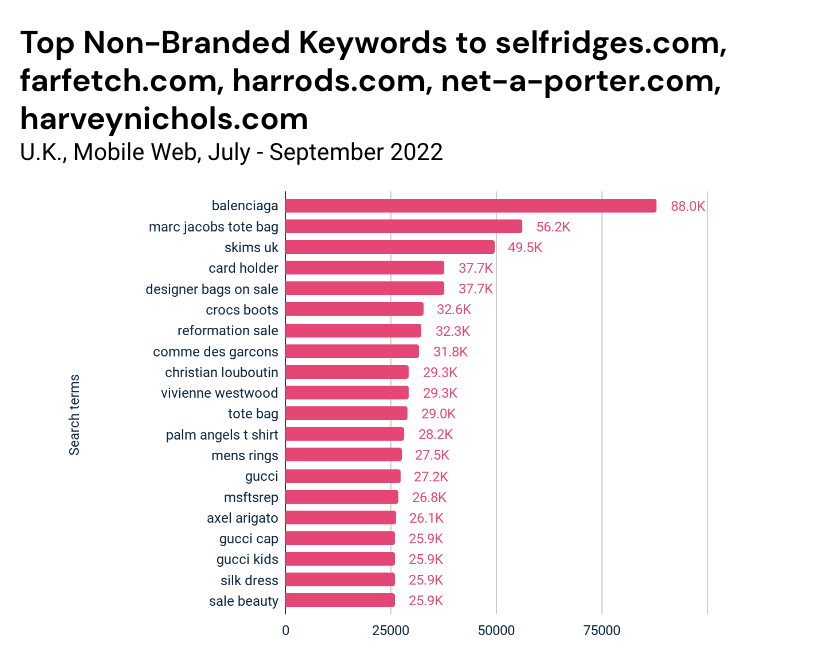 For much more detail, use the form below to download the full report
Our whitepaper on the lipstick effect uses multiple datasets from Similarweb ecommerce tools, Digital Research Intelligence, and Shopper Intelligence, to compare the beauty & luxury industries' performance against other retail sectors.
The Similarweb Insights & Communications team can pull additional or updated data on request for the news media (journalists are invited to write to press@similarweb.com). When citing our data, please reference Similarweb as the source and link back to the most relevant blog post or similarweb.com/corp/blog/insights/.
Contact: For more information, please write to press@similarweb.com.
Citation:  Please refer to Similarweb as a digital intelligence platform. If online, please link back to www.similarweb.com or the most relevant blog post.
Report By: Ines Durand, Similarweb Senior Market Insights Manager, Retail & CPG.
Disclaimer: All data, reports, and other materials provided or made available by Similarweb are based on data obtained from third parties, including estimations and extrapolations based on such data. Similarweb shall not be responsible for the accuracy of the materials and shall have no liability for any decision by any third party based in whole or in part on the materials.
This post is subject to Similarweb legal notices and
disclaimers
.
Wondering what Similarweb can do for you?
Here are two ways you can get started with Similarweb today!