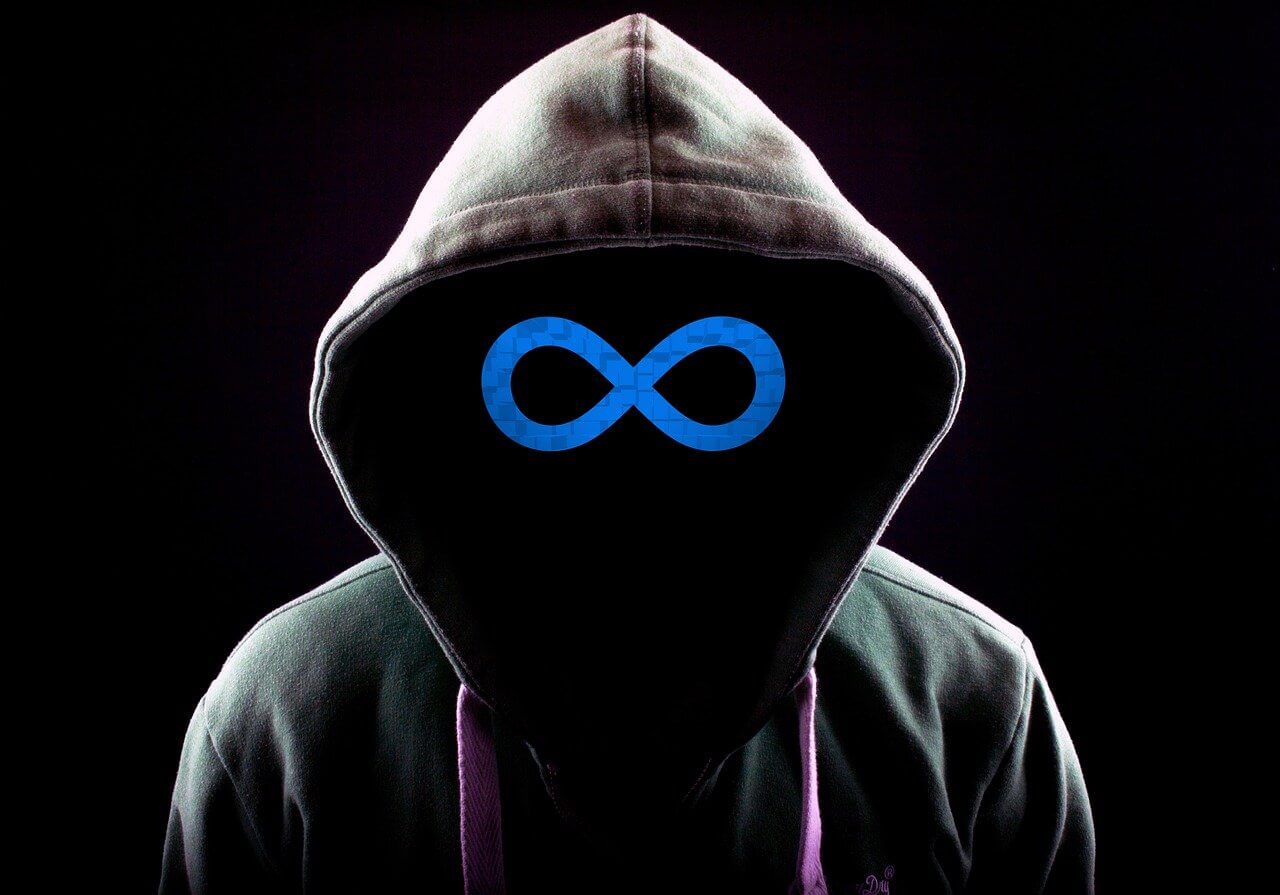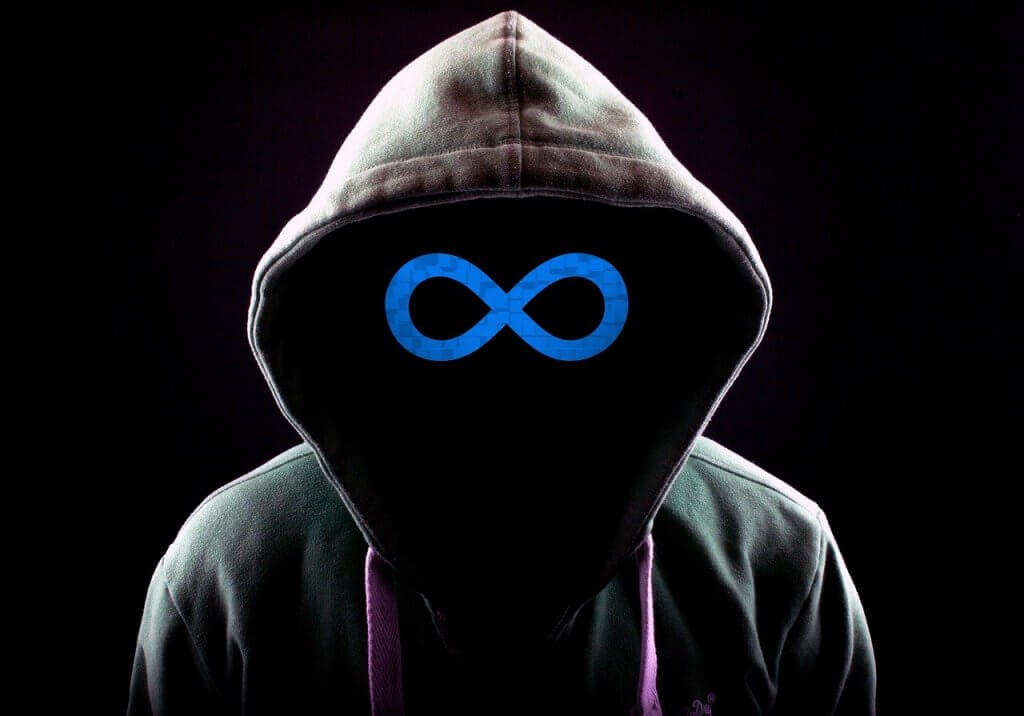 Insights
Meta Contends with Shrinking Facebook, Growing TikTok
October 12, 2022
| Updated October 26, 2022
Since Meta announced its first-ever decline in Facebook users in February, it has been trying to staunch the bleeding and fend off competitive threats, particularly from fast-growing TikTok. February was when the company disclosed that Facebook's global daily users had dropped by half a million in the fourth quarter of 2021. And despite those user counts bouncing back in subsequent quarters, some analysts continue to project the social network will end 2022 with a further loss of users.
Similarweb estimates show Facebook's web traffic has been declining all year, and the performance of its Android app has also been poor to mediocre. The relative strength of Instagram helps offset some of that weakness, but there are still bad signs for Meta's overall performance as an ad-driven business. Meanwhile, the business related to the metaverse vision that prompted the name change from Facebook to Meta is still at an early stage.
Meta is expected to report third-quarter earnings around the week of October 24.
Key takeaways 
Visits to business.facebook.com have been down every month since May – and by 7.4% in September. While that business portal is also used for posting organic content, it's the gateway destination for buying ads across Facebook, Instagram, Messenger, and other properties. An overall decline in engagement with the business community can't be good news for Meta's ad revenue. Meta is busy trying to make up for the decline with new ad formats for Instagram and Messenger.
Web traffic to facebook.com has been falling all year (and was falling throughout all of 2021), down 13% year-over-year in September. In comparison, Twitter, for all its challenges, grew its web traffic 4.5% in September.
Facebook has shifted much of its focus to mobile apps, but the daily active user count for its Android app has been stagnant in recent months.
Instagram has performed better, with web visits showing growth most months and daily active user counts for its apps also growing – sometimes faster than TikTok.
While its user and advertiser audiences are still relatively small, TikTok continues to display enviable growth.
Why everyone's jealous of TikTok
Judged by growth numbers, TikTok looks like the competitor to beat. Traffic to the ads.tiktok.com ad portal isn't growing as fast as it was in early 2022, but it was still up 57% year-over-year in September. In comparison, traffic to business.facebook.com was down 7.4%.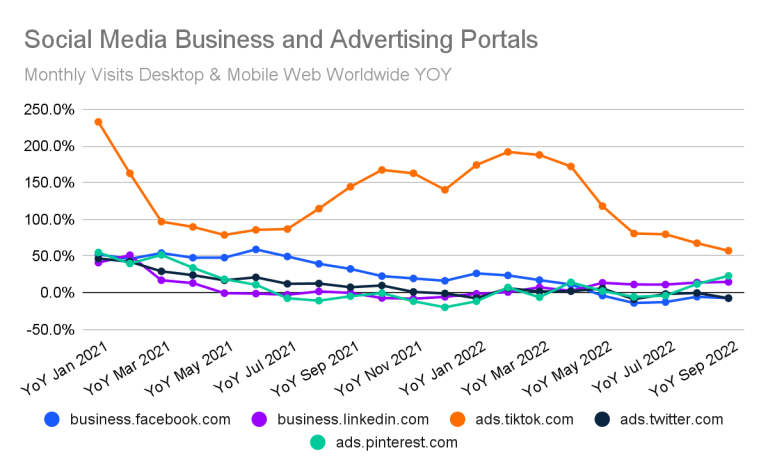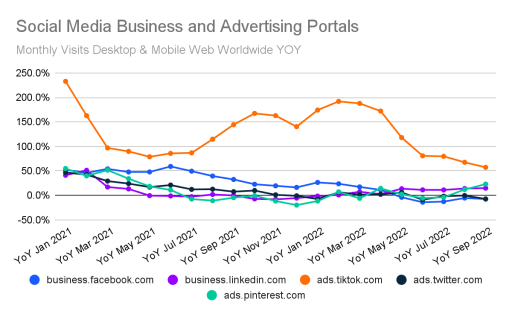 Note that business.facebook.com is used for other purposes besides buying and managing advertisements. The Similarweb Investor Intelligence team provides additional, proprietary data to its professional investor clients. Still, business.facebook.com traffic still provides a rough proxy for Meta's success in engaging with businesses and potential advertisers.
Also, for a sense of proportion, TikTok's ad-buying audience is still far smaller than Facebook's – it's only in percentage growth that TikTok's numbers look imposing.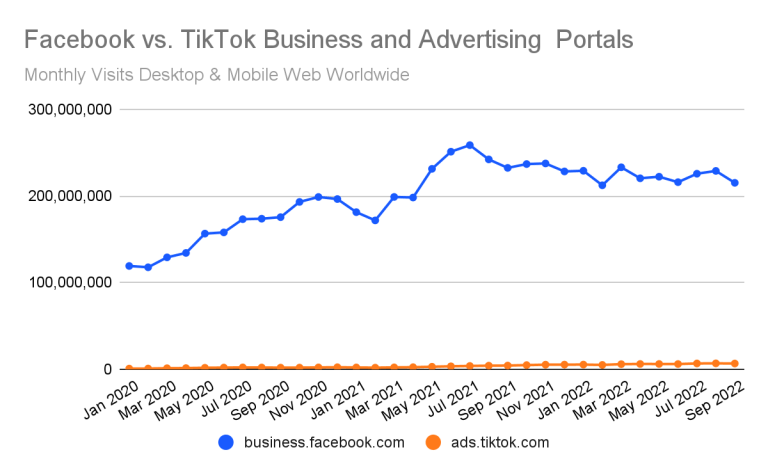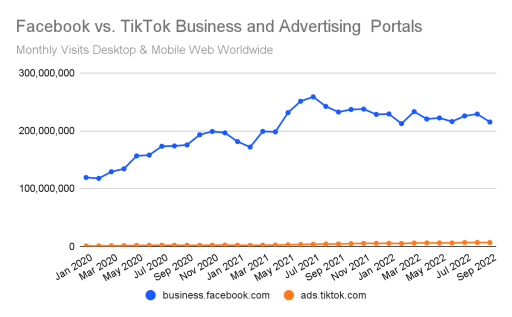 Web traffic to facebook.com keeps falling
Web traffic to facebook.com has been falling all year, most months by more than 10% year-over-year. In September, it was down 13%. Instagram's traffic has done better, even though the service is better known as a mobile app. However, in September Instagram traffic was down 2.4%.
On the web, Instagram gets about as much traffic as Twitter.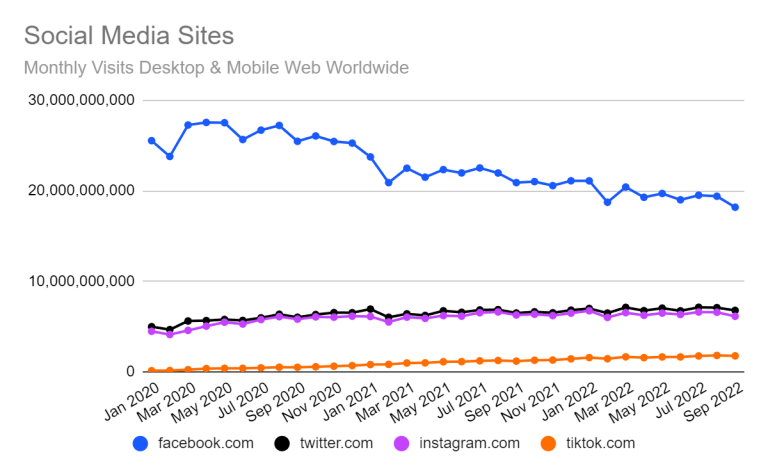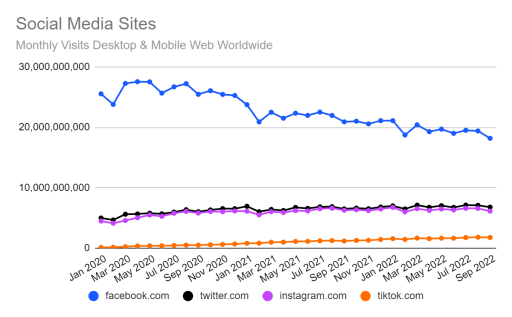 Like Instagram, TikTok is best known as an app, but the service can be accessed through its website – and as with the ad portal, tiktok.com tells an impressive growth story that has only recently begun to slow. Visits to tiktok.com were up 48% year-over-year in September, compared with 468% in January 2021.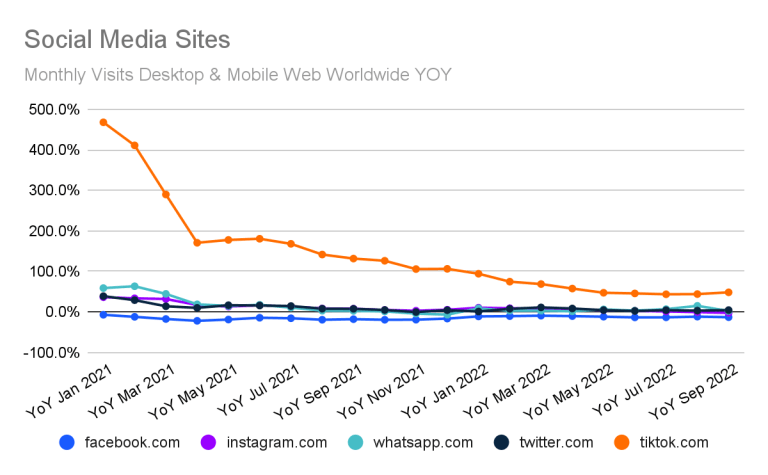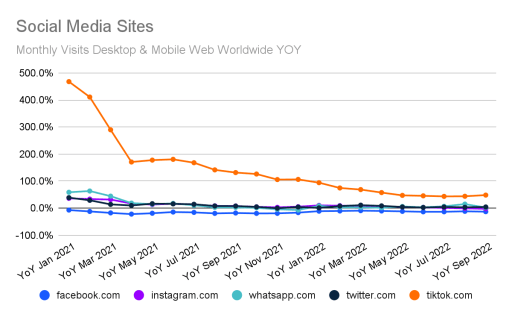 Again, for context, one of the reasons growth is so hard for meta to come by is that its properties already own such a dominant position in the social media landscape, where only Alphabet / Google's YouTube commands more web traffic than the combination of Facebook, Instagram, and WhatsApp.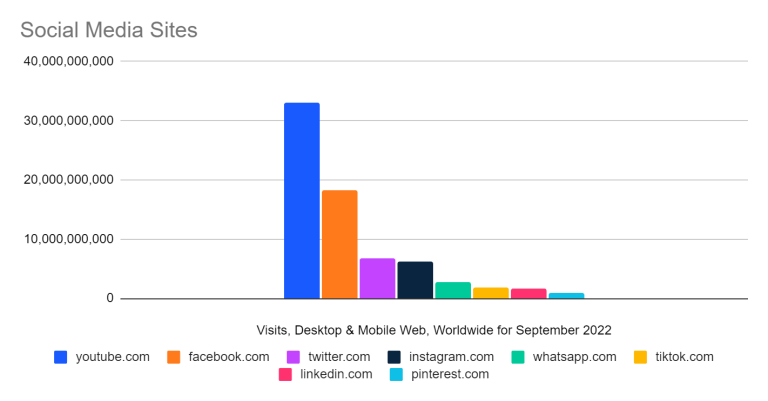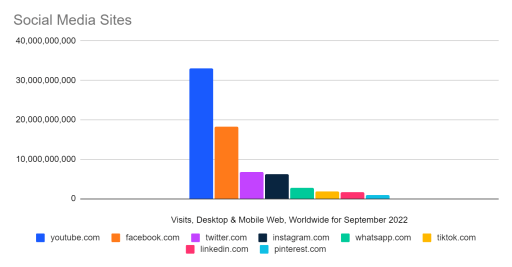 Facebook App Usage Stagnates. Instagram Does Better. 
Based on Similarweb's Android app usage data, engagement with the Facebook app has been essentially flat in recent months – an improvement over the first few months of the year, when daily active users were down by as much as 5% year-over-year in January, according to Similarweb estimates. The count has been up and down by statistically insignificant amounts (less than 1%) for the past several months. WhatsApp Messenger is also in the doldrums, and Facebook's Messenger app is down 6%. On the other hand, Instagram continues to show growth – in fact, its daily active user count has risen even more than TikTok's for the last several months. Instagram's daily active users were up 5.8% in September, compared with 5.2% for TikTok.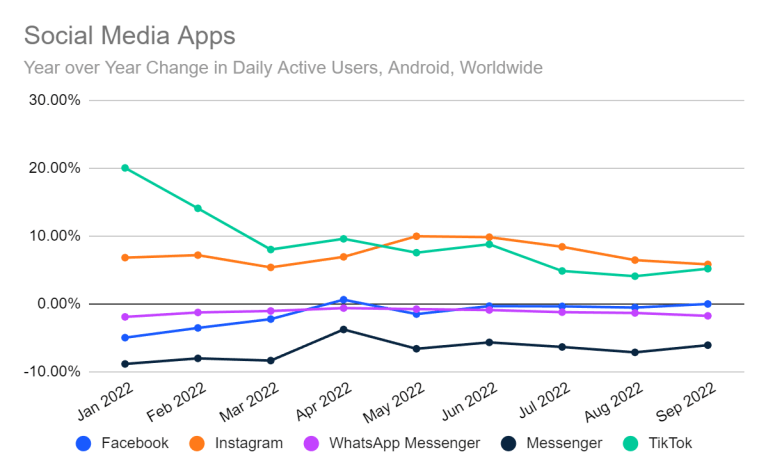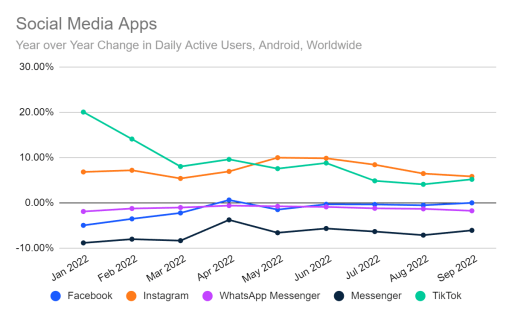 Time to retrench?
Meta recently announced plans to institute a hiring freeze and cut total headcount for the first time as it seeks to drive down costs. Meta continues to promote its metaverse vision, but meanwhile, Instagram looks like its savior – and the Facebook business that used to be the entire business continues to sputter.
The Similarweb Insights & Communications team is available to pull additional or updated data on request for the news media (journalists are invited to write to press@similarweb.com). When citing our data, please reference Similarweb as the source and link back to the most relevant blog post or similarweb.com/corp/blog/insights/.
Contact: For more information, please write to press@similarweb.com.
Citation:  Please refer to Similarweb as a digital intelligence platform. If online, please link back to www.similarweb.com or the most relevant blog post.
Report By: David F. Carr, Senior Insights Manager
Disclaimer: All data, reports and other materials provided or made available by Similarweb are based on data obtained from third parties, including estimations and extrapolations based on such data. Similarweb shall not be responsible for the accuracy of the materials and shall have no liability for any decision by any third party based in whole or in part on the materials.
Image by Chetraruc from Pixabay 
This post is subject to Similarweb legal notices and
disclaimers
.
Wondering what Similarweb can do for you?
Here are two ways you can get started with Similarweb today!