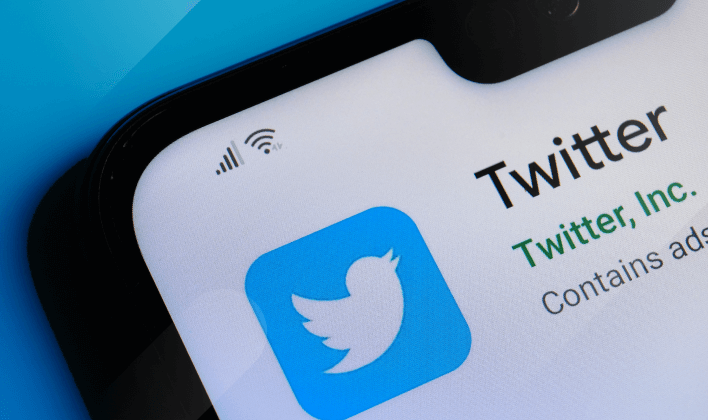 Insights
Twitter Ad Performance No Better as Musk Resumes Acquisition
October 5, 2022
| Updated October 11, 2022
Elon Musk is setting aside his arguments about bots on Twitter to resume taking over the company – and hoping to avoid what was shaping up to be a grueling court battle. What changed his mind?
Perhaps lack of strong evidence for his bot claims? Similarweb research found Twitter's estimates of the ratio of bots to humans seem reasonable, although the amount of bot-generated content threatens to dilute the real human interaction on the social network.
One thing we can say for sure is that Musk didn't change his mind because Twitter's business outlook improved. Twitter's revenue model primarily revolves around advertising, and traffic to Twitter's ad-buying portal is down 7% from where it was in April, according to Similarweb estimates. That was when Musk originally convinced Twitter's board to accept an offer of $44 billion, or $54.20 per share.
Although twitter.com remains one of the top 5 most trafficked websites in the world, translating that traffic into the kind of business growth stockholders expect remains a challenge. And although Musk has talked about transitioning Twitter to a business model based on subscriptions, rather than advertising, Twitter's early experiments with subscriptions have not been impressive.
Twitter is expected to report Q3 earnings in the last week of October.
Key takeaways 
Traffic to the ads.twitter.com ad portal has been down in recent months and dropped nearly 7.4% year-over-year in September, according to Similarweb's estimates. Meta's ad portal for Facebook and Instagram saw a similar decline, although traffic to ads.tiktok.com – the growth story all others are jealous of – was up 57%.
Twitter remains one of the most trafficked websites in the world, attracting 6.8 billion visits in September. That's a 4.5% year-over-year increase, likely reflecting an increase in news-driven traffic as the midterm elections approach in the U.S.
Mobile app engagement on Twitter also remains fairly healthy, with the number of monthly active users on Android and iOS up in the range of 4-8% in August. Daily active users on Android were up about 4.4% in August, according to Similarweb estimates.
Six months of drama
Musk, the billionaire CEO of Tesla and SpaceX, among other ventures, revealed in early April that he had bought a 9% stake in Twitter, making him its largest shareholder. After flirting with joining the Twitter board, he instead launched a hostile takeover offer at a substantial premium. Twitter's board initially tried to fend him off before concluding that his offer was too good to refuse. All that happened before the end of April. By May, Musk began to have second thoughts and by June he was saying he couldn't go through with the deal because Twitter hadn't provided adequate proof of the size of its real, live audience – not counting bots. Twitter's board provided him with additional data but also sued to compel him to follow through with the deal.
A trial was scheduled to start on October 17, and messy pre-trial disclosures like Musk's text messages were already starting to come out when Musk changed his mind again this week. He said he would honor the original agreement in return for the lawsuit being dropped. Many observers speculate that Musk's lawyers were telling him he was likely to lose, incurring court costs and interest on top of the price he had previously committed to pay.
Whether the deal will really, truly close remains in question. But if Musk really does wind up owning Twitter and taking it private, he will be buying a company damaged by turmoil he helped cause and that in any case suffers from many intractable problems, including its reputation as a hotbed of bots and misinformation. By focusing so much on the bot problem, he may have further undermined confidence in Twitter as an advertising channel, which was already under pressure due to economic and demographic forces, such as the affinity of young people for TikTok.
Attracting advertisers
Traffic to the ads.twitter.com portal for buying and managing advertisements has been up and down for months but shows no consistent trend of improvement.
Twitter's challenges with attracting advertisers in the current economy are not much different than for competitors like Meta's Facebook and Instagram. However, it also reflects pressure from newer competitors, such as TikTok.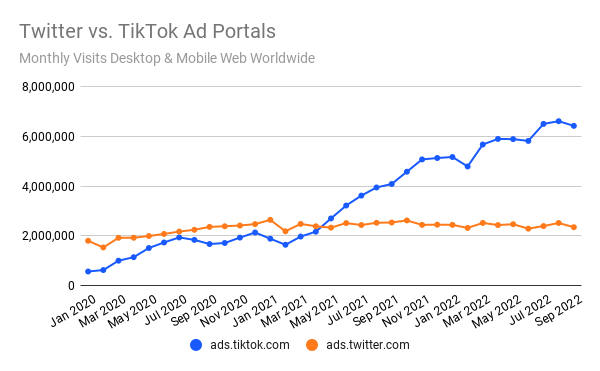 Still a top 5 website and popular app 
Twitter.com remains one of the most popular domains on the web, and the Twitter app continues to grow. However, in both cases, that growth has sputtered from time to time.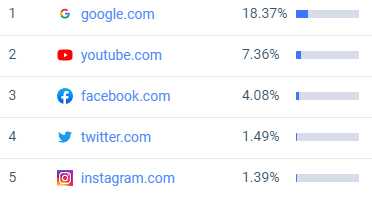 Twitter's share of all web traffic in August 2022. Source: Similarweb
Overall, traffic to twitter.com continues to grow, although not rapidly.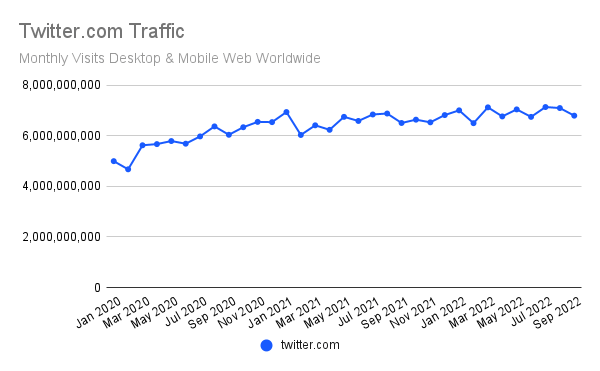 Zooming in to see the year-over-year change in visits, we can see that growth has been slowing.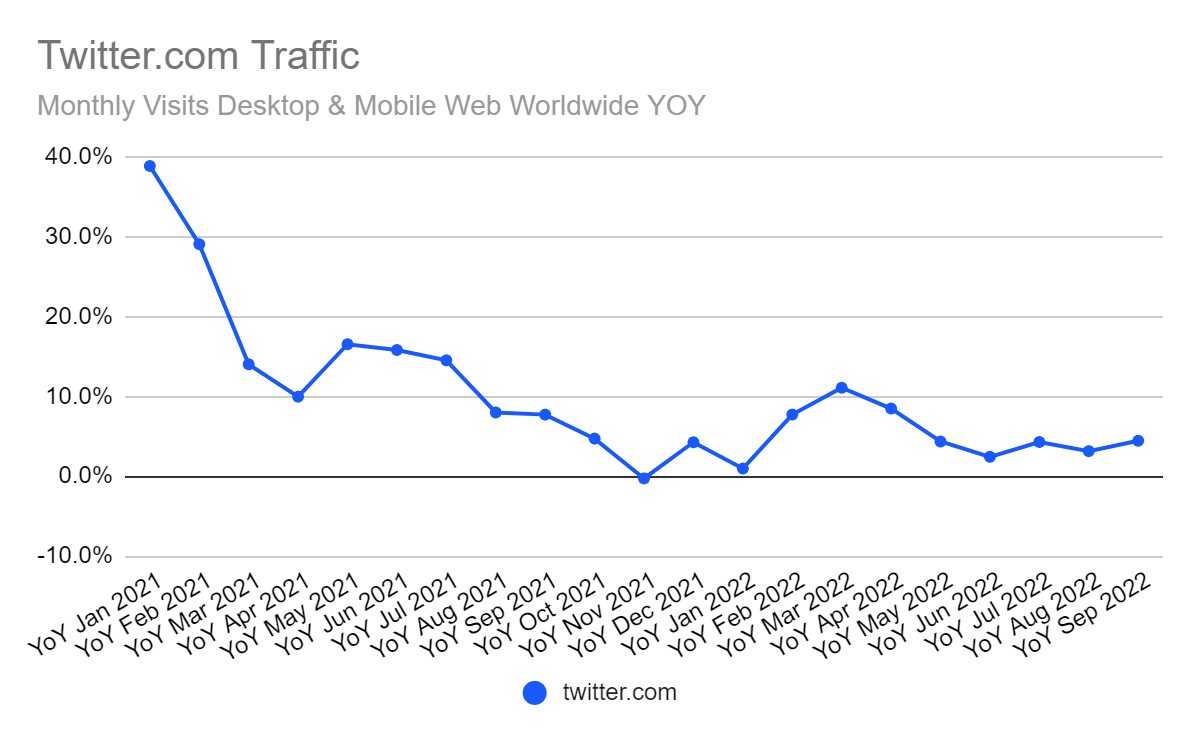 Monthly active users of Twitter's Android and iPhone apps were up in the range of 4-8% year-over-year in August. Daily active users of the Android app have been up most months and were up 4.4% in August (update: for September, the daily active user count was up nearly 7%).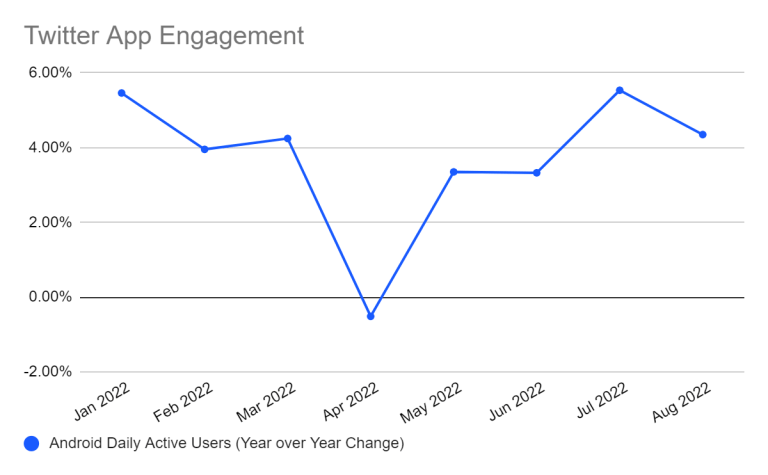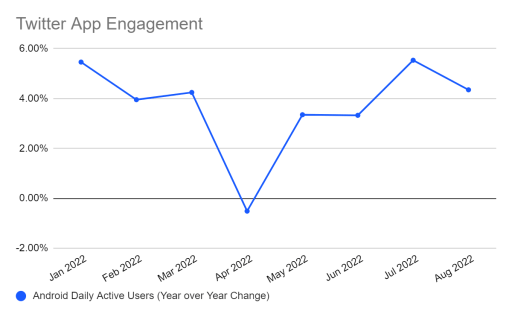 Sell subscriptions instead?
One of the remedies Musk has proposed for Twitter's business challenges is to shift to a subscription model, rather than an advertising model. This change could even help weed out some of the bots by positively identifying humans with a credit card in hand.
However, this is not necessarily a new thought for Twitter management, which introduced a Twitter Blue subscription plan a little less than a year ago.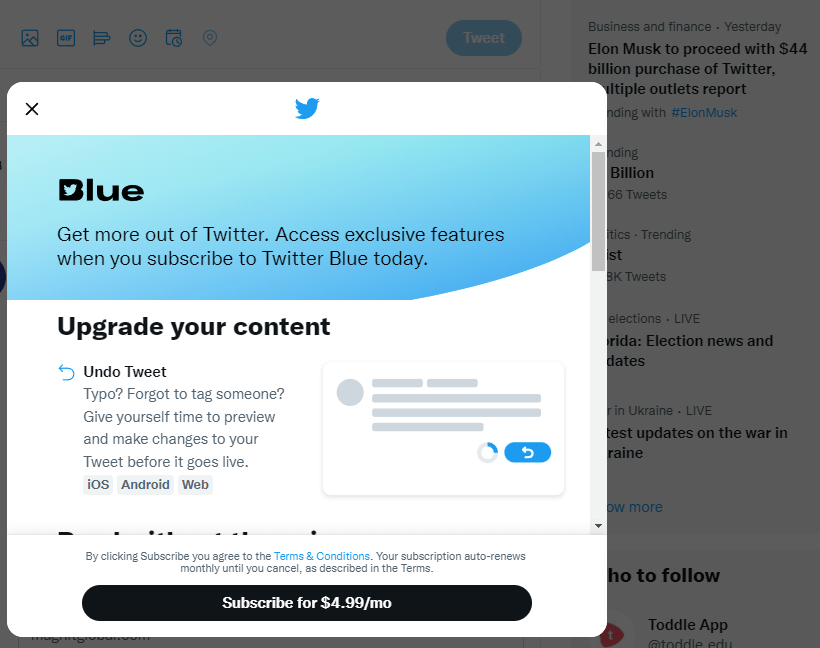 Unfortunately, interest in Twitter Blue appears to have peaked back in January, when the signup page for the service drew more than 4 million visits. Since July, the signup page has attracted well under 1 million.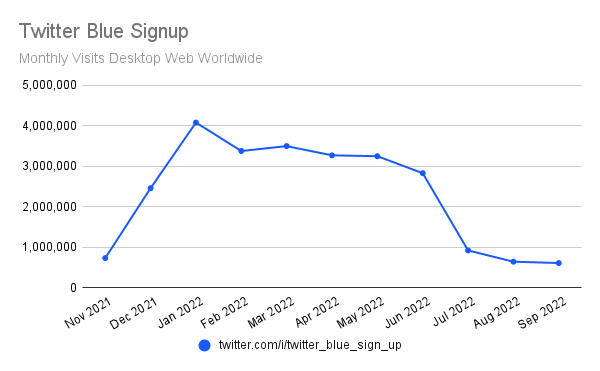 No end to the drama
We shouldn't be surprised if another plot twist awaits. Elon Musk could change his mind about changing his mind. Or his financing could fall through. The judge scheduled to hear the case could go ahead with the trial if she is not convinced Musk is ready to act in good faith. Or something even stranger could occur.
Meanwhile, it seems increasingly likely that Musk will get his chance (like it or not) to prove he knows better than Twitter's current leaders how to solve the company's problems.
Updated Oct. 6 with final traffic numbers for September
The Similarweb Insights & Communications team is available to pull additional or updated data on request for the news media (journalists are invited to write to press@similarweb.com). When citing our data, please reference Similarweb as the source and link back to the most relevant blog post or similarweb.com/corp/blog/insights/.
Contact: For more information, please write to press@similarweb.com.
Citation:  Please refer to Similarweb as a digital intelligence platform. If online, please link back to www.similarweb.com or the most relevant blog post.
Report By: David F. Carr, Senior Insights Manager
Disclaimer: All data, reports and other materials provided or made available by Similarweb are based on data obtained from third parties, including estimations and extrapolations based on such data. Similarweb shall not be responsible for the accuracy of the materials and shall have no liability for any decision by any third party based in whole or in part on the materials.
Image: "Sad Twitter bird" via Dall-E
This post is subject to Similarweb legal notices and
disclaimers
.
Wondering what Similarweb can do for you?
Here are two ways you can get started with Similarweb today!