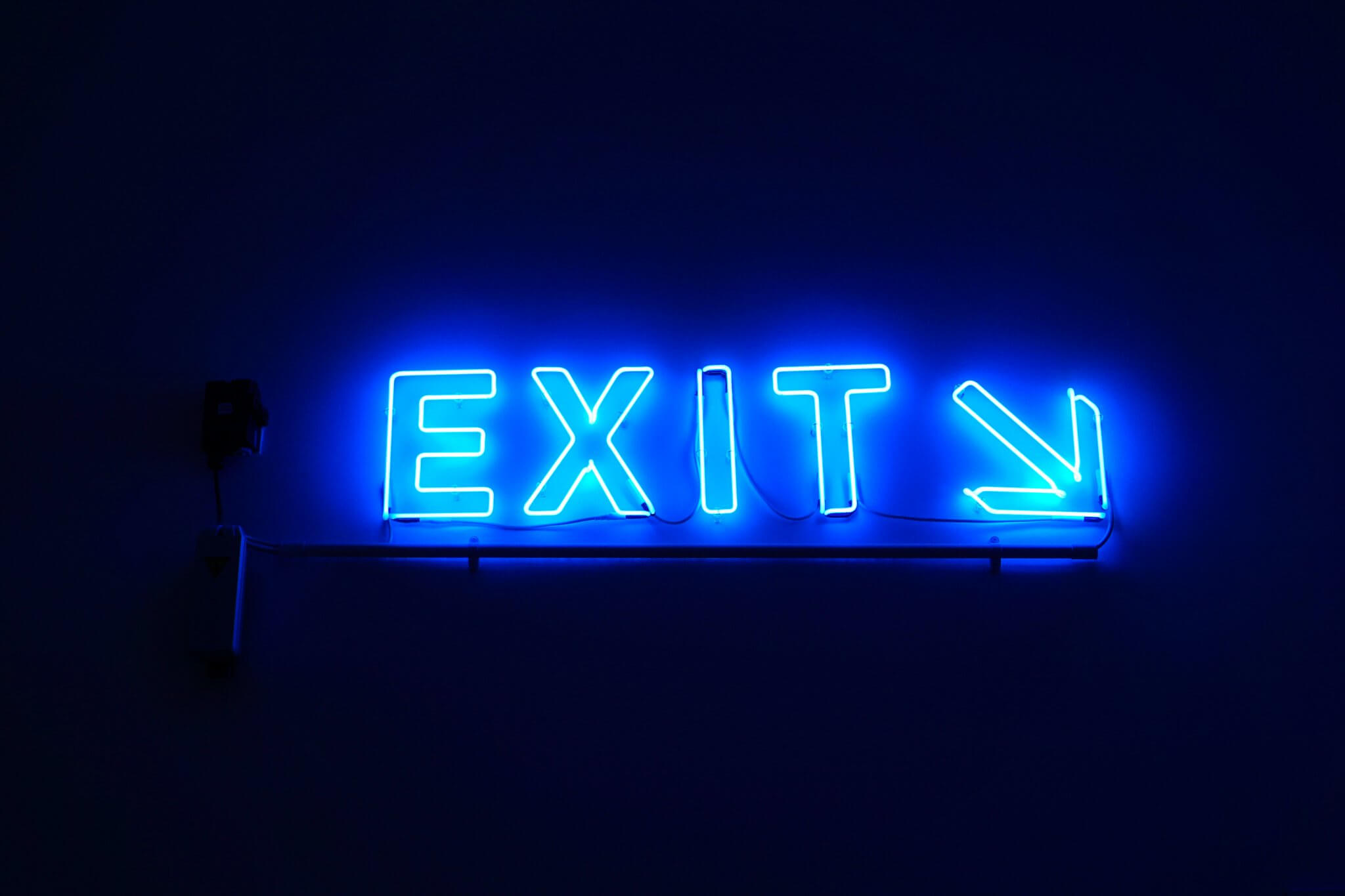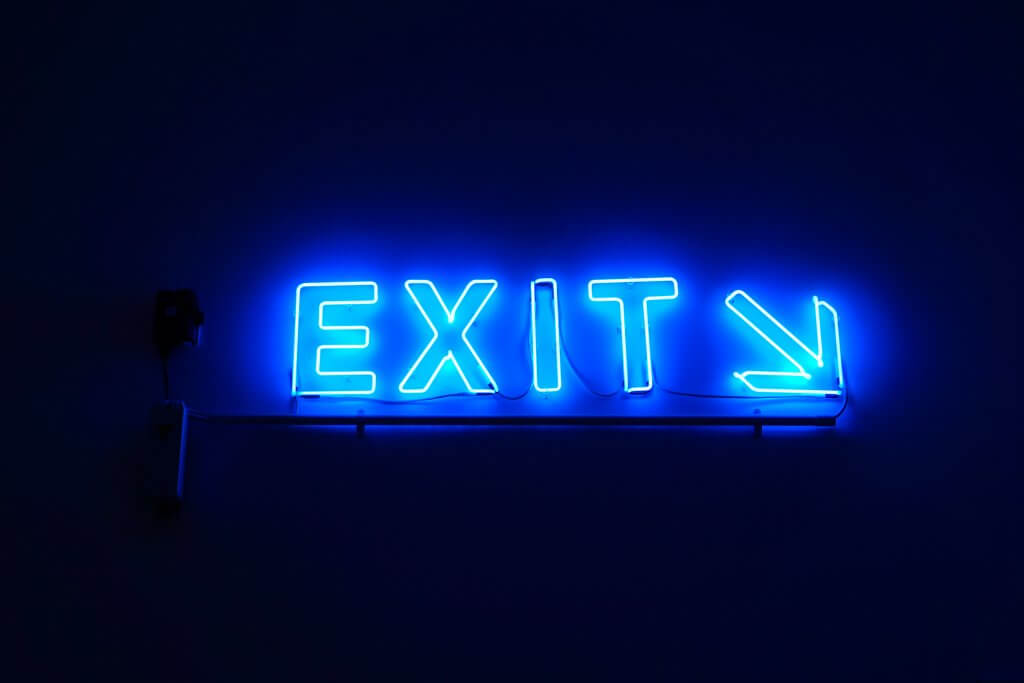 Insights
Over 100K Users Left Twitter on Musk Deal Day
May 17, 2022
| Updated July 10, 2022
Lots of people who were concerned about Elon Musk's plans for Twitter said they would leave the service – and not all of them were bluffing. Similarweb's web traffic monitoring allows us to see the extent to which people have been following through.
Key Takeaways 
On the day Twitter's board announced it had agreed to sell to Elon Musk, account cancellation activity more than doubled, according to Similarweb estimates. The April 25 news drove more than 126,000 desktop web visits to the page for deactivating your account — and nearly 100,000 (95,656) visitors pulled the trigger, landing on the confirmation page for account deletion.
The total number, including those who canceled through a mobile app, would be even higher, but these stats give us a sense of proportion. Visits to the signup page of twitter.com were still higher that day, 336,000 visits, up about 23% from the average of previous days.
Twitter has publicly explained the gains and losses in follower counts of major public figures as being the result of account elevated signup and cancellation activity – mostly to make clear that it wasn't the result of the company canceling accounts – but without giving numbers.
Other reporting has tracked a shift of follower counts, with conservatives gaining and liberals losing followers, with, for example, Florida's Republican Governor and potential presidential candidate Ron DeSantis gaining 141,556 followers.
Speculation that Musk would invite former President Donald Trump to rejoin Twitter (which Musk has confirmed would be his intent) also got Trump's Truth Social service back in the news. The truthsocial.com website drew over 1 million visits on April 25, the most it has seen since its launch on February 21, when it attracted over 2 million visits.
Yes, people really are leaving Twitter
Tesla and SpaceX CEO Elon Musk disclosed that he had taken a large stake in Twitter in early April and after some back and forth (would he or wouldn't he join Twitter's board?) made a bid to buy the company outright a few weeks later. He has said changing Twitter's content moderation policies in favor of "free speech" and recently said he would probably restore former President Donald Trump's access to the platform, which the company cut off following the January 2021 attack on the U.S. Capitol by Trump supporters. So far, Trump has said he would stick with Truth Social, the alternative social platform he has been working to create.
This political dimension has led to rejoicing on the right and distress on the left, including pledges to deactivate accounts by liberals and others concerned about how Musk would function under Twitter.
On the chart below, the orange line represents visits to the page Twitter users visit if they are considering deactivating their account. Following close behind, the red line indicates who followed through on the impulse to deactivate their account.
Twitter accounts must be deactivated before they are deleted. If not reactivated within 30 days, they are automatically deleted.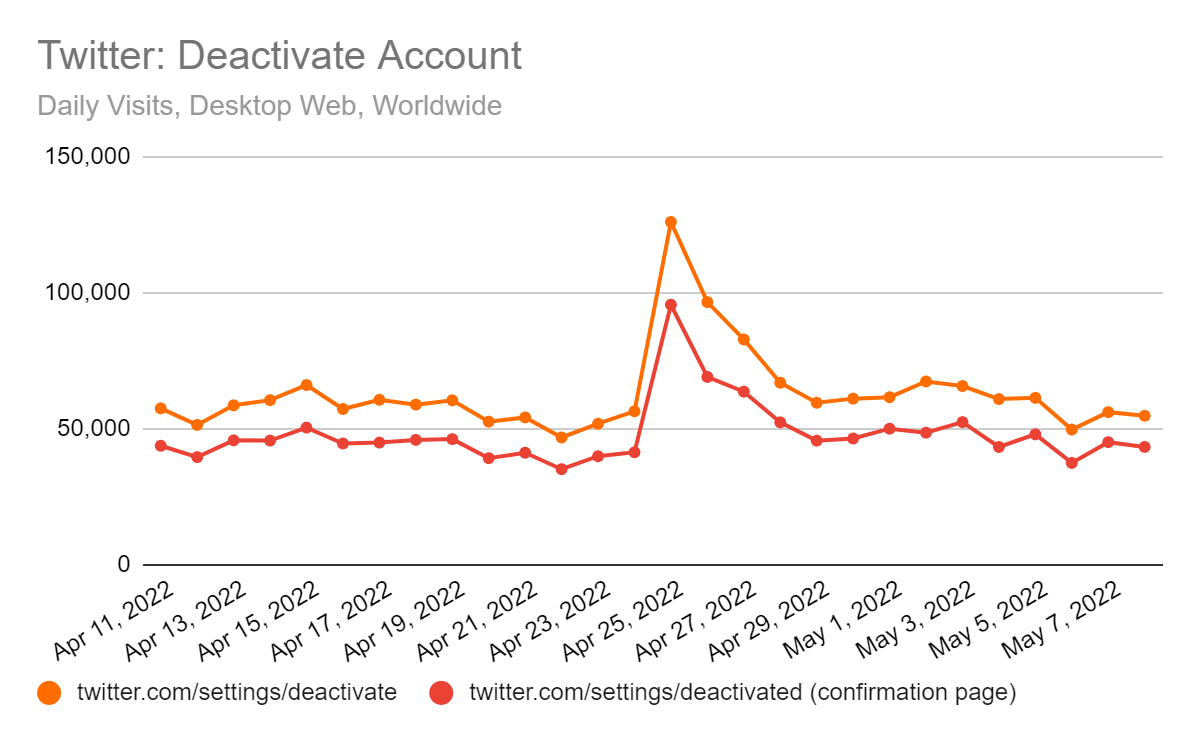 This data is for desktop web traffic. The total number of users deactivating their accounts, including those doing so on a mobile device, would be even higher.
The news also drove new signups
The number of people looking to sign up for Twitter accounts also rose on April 25 – not by as much on a percentage basis, but more in total.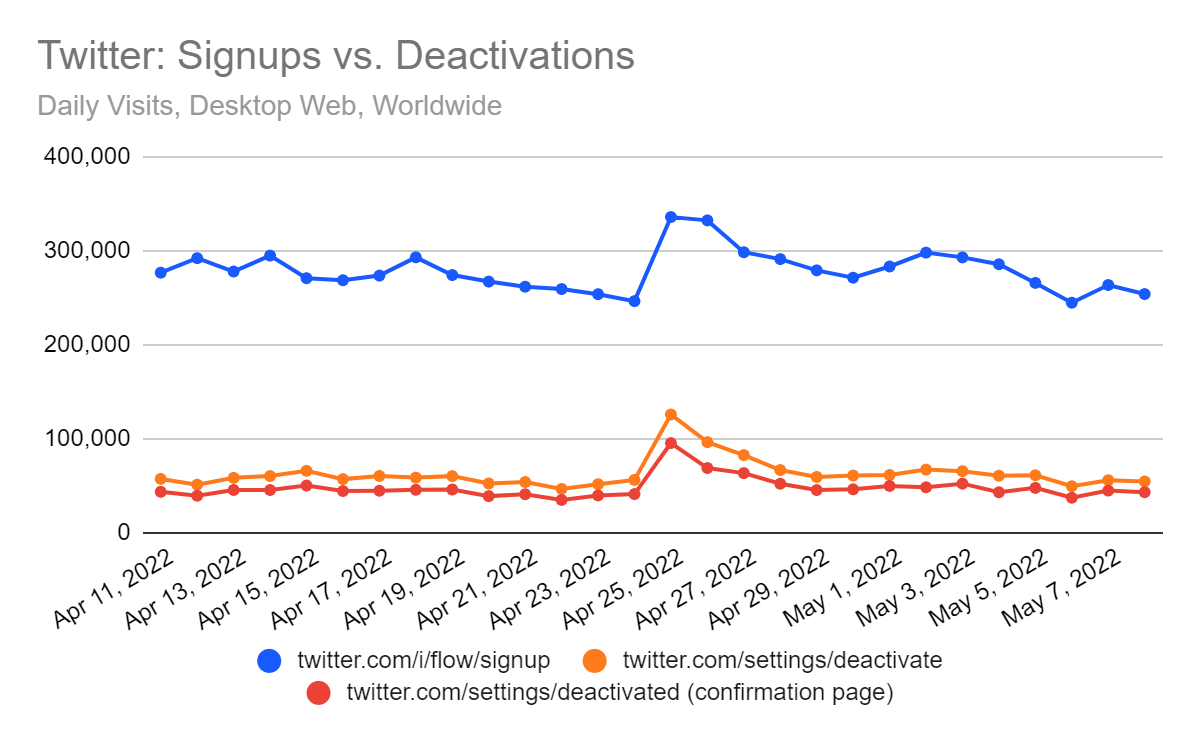 Visits to the signup page of twitter.com hit 336,000 on April 25,  up about 23% from the average of previous days.
A bigger pattern of ups and downs
For the month of April as a whole, as the drama about Musk's bid to takeover Twitter played out, account deactivations were up 11.7% while signup page visits were down 3.4%, based on our analysis of desktop web traffic.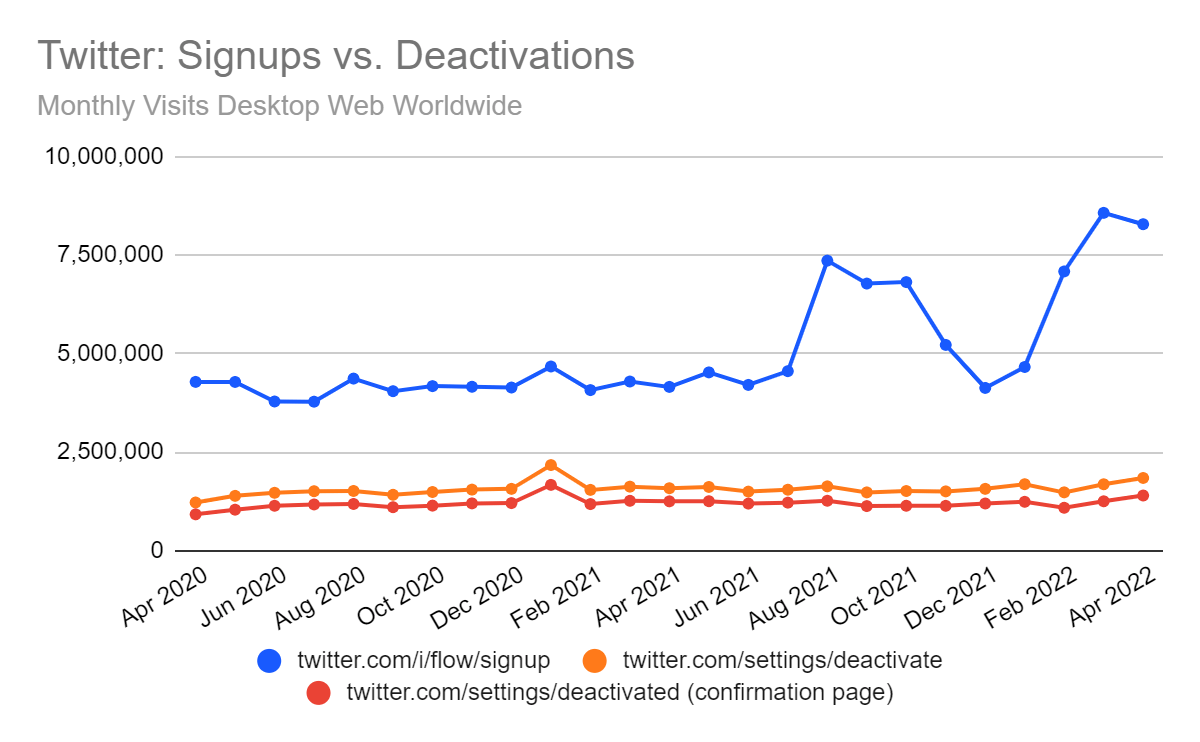 Looking from this broader perspective, the recent surge fits into a broader pattern of ups and downs where signups in particular have been going through some big swings. Twitter saw a similar pattern of both signups and cancellations peaking in January 2021 when President Donald Trump was banned from the platform. That month, cancellations jumped about 39%, and signups rose 13%.
On a year-over-year basis, April's account deactivations were up 11.9% but signups were nearly double the level of April 2021.
Truth Social Sees New Interest
All this talk about a revival for Trump-friendly social media also got Truth Social, the social network Trump has created in his own image, back in the news. The truthsocial.com website, which had seen relatively little traffic in the months since the launch of the service in February, attracted more than 1 million visits on April 25, the day Twitter announced its agreement with Musk. That's nearly half the traffic the website got on February 21, the day the service officially launched.
Truth Social is accessible only as an iPhone app, so the website mostly serves as a place people can learn about the service and where to download the app. Still, visits to the site might be interpreted as a revival of interest in signing up for the service – or at least get an update on its progress.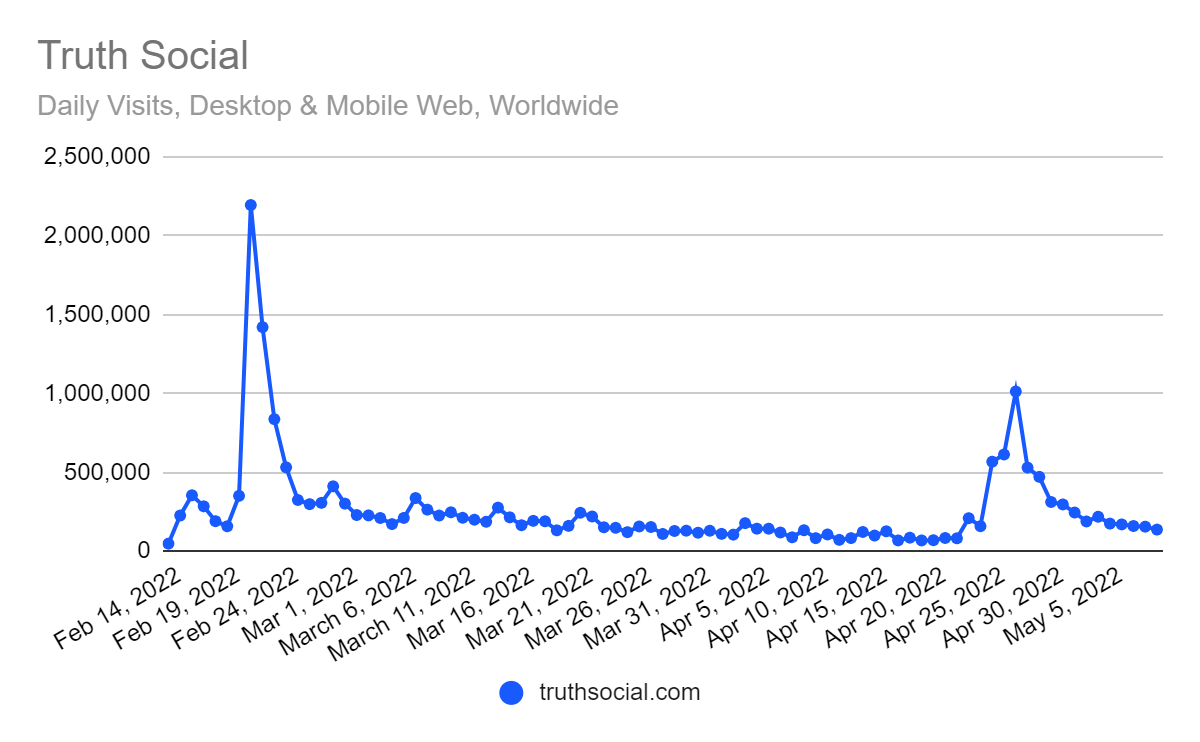 Conclusion
On the day Twitter's board agreed to sell to Elon Musk, hundreds of thousands of people decided to either create or deactivate accounts on the service, apparently on the basis of that news. How permanent the change in Twitter's user base will remain to be seen. Although Twitter has agreed to sell itself to Musk, he does not yet own the company.
We can expect to see account creation and deactivation surge again whenever he closes the deal, assuming that happens, and, when and if, big changes like the return of Donald Trump occur.
The Similarweb Insights Newsroom is available to pull additional or updated data on request for the news media (journalists are invited to write to press@similarweb.com). Please cite Similarweb as the source and link back to this post as a reference for your readers.
Contact:
For more information, please contact Richard Krueger at richard.krueger@similarweb.com.
Data:
See this Google Sheet for the data behind the graphs here
Citation:  
Please refer to Similarweb as a digital intelligence platform. If online, please link back to www.similarweb.com.
Methodology:
https://support.similarweb.com/hc/en-us/articles/360001631538-Similarweb-Data-Methodology
Disclaimer:
All data, reports and other materials provided or made available by Similarweb are based on data obtained from third parties, including estimations and extrapolations based on such data. Similarweb shall not be responsible for the accuracy of the materials and shall have no liability for any decision by any third party based in whole or in part on the materials.
Photo by Dustin Tramel on Unsplash
This post is subject to Similarweb legal notices and
disclaimers
.
Wondering what Similarweb can do for you?
Here are two ways you can get started with Similarweb today!