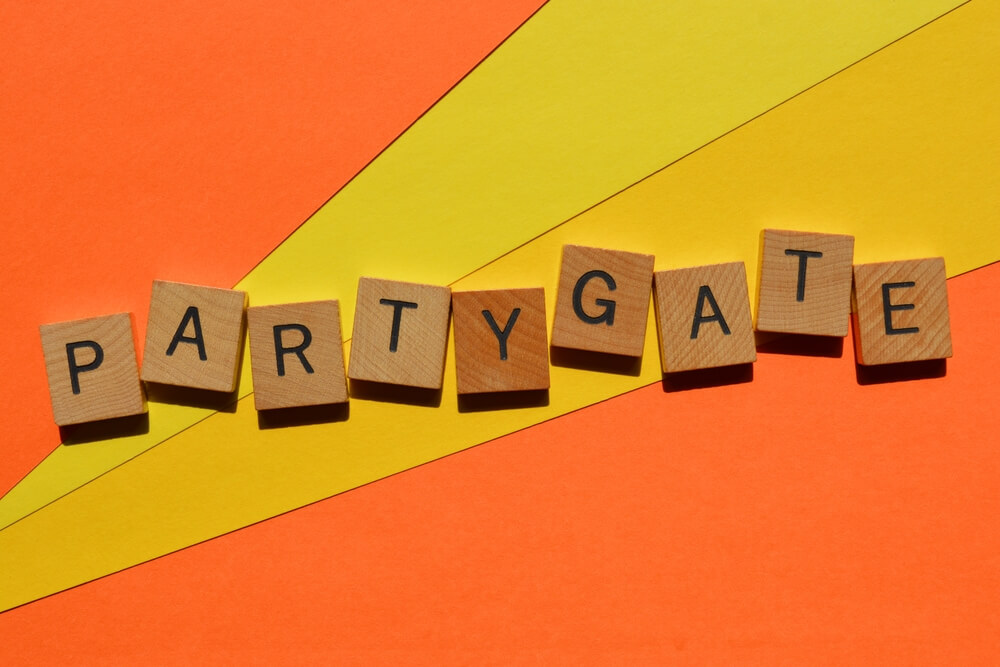 Insights
UK Search, Web Traffic Show Partygate Impact on Boris Johnson
June 6, 2022
| Updated August 1, 2022
Searches on "Boris Johnson resign" rose 60% ahead of the Conservative Party vote
As Prime Minister Boris Johnson faced a vote of no confidence over his "partygate" scandal, we revisited what Similarweb search and website traffic metrics tell us about rising sentiment opposed to Johnson's leadership. Johnson wound up surviving Monday night's vote within his Conservative Party by 211 to 148, but the crisis for him as a leader continues.
Key takeaways 
U.K. searches on "Boris Johnson resign" peaked in January, at about 77 times pre-partygate levels. Interest had died down in recent months but was up 60%, month over month, in May, according to Similarweb estimates.
Search on "vote of no confidence" went through a similar pattern – exploding to about 24 times pre-scandal levels – before settling down to a lower level. Those searches spiked again in recent days as the prospect of a no-confidence vote became real.
In May, visits to the Conservative Party website were down 33.5%, year over year, and traffic has been trending lower than for the Labour website.
MPs Priti Patel and Riski Sunak attracted the most search attention from the public among Johnson's potential successors.
Search shows growth in interest in "vote of no confidence", "Boris resign," and "Boris lies"
Johnson is under pressure because of revelations that he and his allies partied while the rest of the country was under a strict lockdown, as well as how he managed news of the scandal and what critics say is a record of dishonesty as a leader.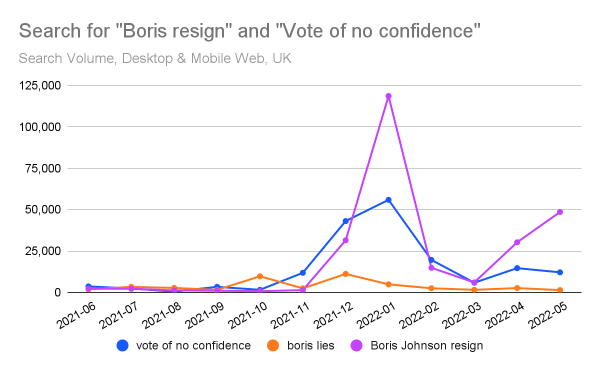 The volume of U.K. searches on "vote of no confidence," "Boris Johnson resign," and related terms exploded in December and January before settling down to a dull roar. Interest in "Boris Johnson resign" as measured by U.K. search volume peaked at about 118,600 in January, up more than 870% from pre-partygate levels. After subsiding in the months when the war in Ukraine dominated the news, search volume related to Johnson's potential resignation rose 60%, month over month in May.
Meanwhile, searches on "vote of no confidence" approached 56,000 in January – 740% higher than in the months before the partygate scandal broke. Naturally, interest surged again in recent days as the prospect of a vote of no confidence actually happening became real.
For a pre-scandal comparison, we averaged the volume of U.K. searches on those keywords between June and October, before the partygate news broke.
Organic search traffic related to "vote of no confidence" through June 4, 2022

Top 10 destinations of "vote of no confidence" searches, May 2022
Partygate impact dampens traffic to Conservatives website
Traffic to the Conservative Party website has been down on a year-over-year basis for the past several months, falling 33.5% in May and as much as 46.7% in recent months. Traffic to the Labour Party website has also been lower but not by as much – declining 6.5% in May.
One of the reasons some members of Johnson's own party have turned against him is they worry he has become a liability to their own electoral prospects and the health of the party.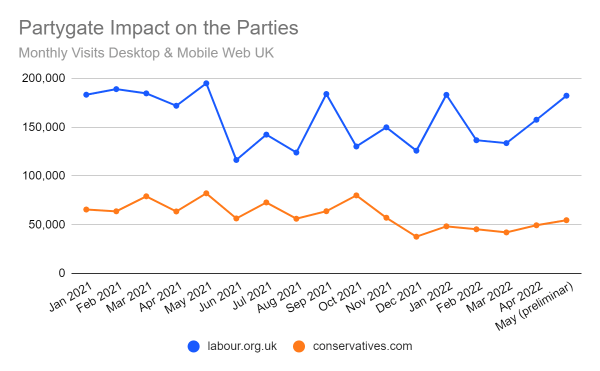 Who is gaining at Johnson's expense?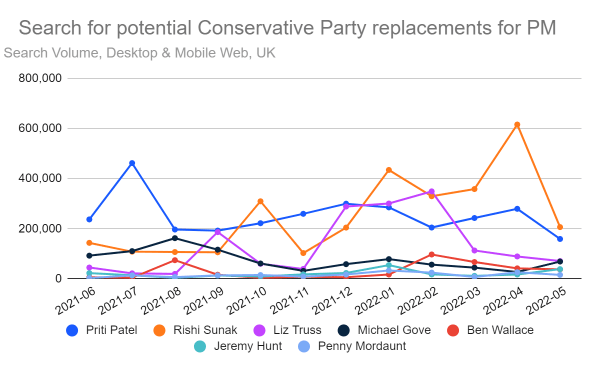 Had the vote of no confidence succeeded, the next question would have been who among the Conservatives could potentially replace Johnson. The public has been showing the most interest in MPs Priti Patel, who attracted more than 600,000 searches in April, and Riski Sunak. For now, they and others will continue to wait in the wings for Johnson to stumble again. A number of news stories noted that Johnson's predecessor Theresa May, beat a vote of no confidence over her handling of Brexit in 2018, only to resign the following year.
Lingering concern
The intensity of interest in seeing Boris Johnson ejected from office has subsided in recent months, but the prime minister has been wounded by scandal and that wound is still festering. The intensity of search interest in "Boris Johnson resign" isn't at the same elevated level it was in January, but it is still more than 30 times higher than it was before this scandal.
The Similarweb Insights Newsroom is available to pull additional or updated data on request for the news media (journalists are invited to write to press@similarweb.com). When citing our data, please reference Similarweb as the source and link back to the most relevant blog post or similarweb.com/corp/blog/insights/.
Contact: For more information, please contact Richard Krueger at richard.krueger@similarweb.com.
Citation:  Please refer to Similarweb as a digital intelligence platform. If online, please link back to www.similarweb.com or the most relevant blog post.
Report By: David F. Carr, Senior Insights Manager
Disclaimer: All data, reports and other materials provided or made available by Similarweb are based on data obtained from third parties, including estimations and extrapolations based on such data. Similarweb shall not be responsible for the accuracy of the materials and shall have no liability for any decision by any third party based in whole or in part on the materials.
This post is subject to Similarweb legal notices and
disclaimers
.
Wondering what Similarweb can do for you?
Here are two ways you can get started with Similarweb today!