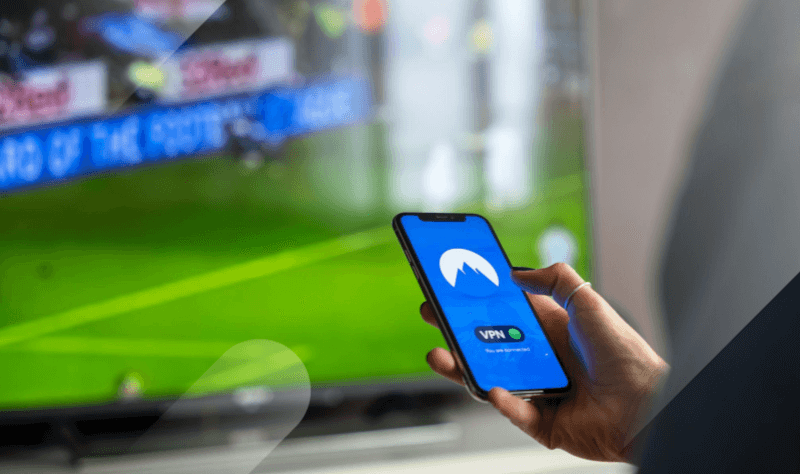 Insights
How Peacock Perfected Its Paywall Strategy
The shutdown of CNN+ signified a failed battle in the streaming wars  — at first glance.
But Warner actually shut CNN+ down to house it under a broader, larger all-in-one streaming service, similar to Peacock, NBC's app.
A breakdown of Peacock's performance using Similarweb Digital Intelligence indicates that Warner and other media brands should consider putting live sports behind paywalls to monetize audiences and achieve long-term growth.
Peacock's performance – a bird's eye view
NBC's 2021 launch of Peacock marked the first time a broadcast network required users to pay for streamed content, regardless of whether they owned an existing cable package. After Peacock took flight, other broadcast and cable channels followed, including CBS (Paramount Plus) and ESPN (ESPN+).
Though its business model is very different, the streaming industry's interest in Peacock is nearly on par with veterans. Jan. – May 2022, the term ranked eighth for organic searches within the TV movies and streaming industry, only outranked by veterans like YouTube and Hulu. Traffic gains in May for key terms like "peacock streaming" — up 25.9% month-over-month (MoM) — indicate sustained momentum. 
Most importantly, money seems to be flying in – paid subscribers reached 13 million at the end of Q1 2022.
App performance also shows Peacock is in the green.  As of June 22, it ranked the fifth top-grossing entertainment app on both the Apple and the Google Play stores.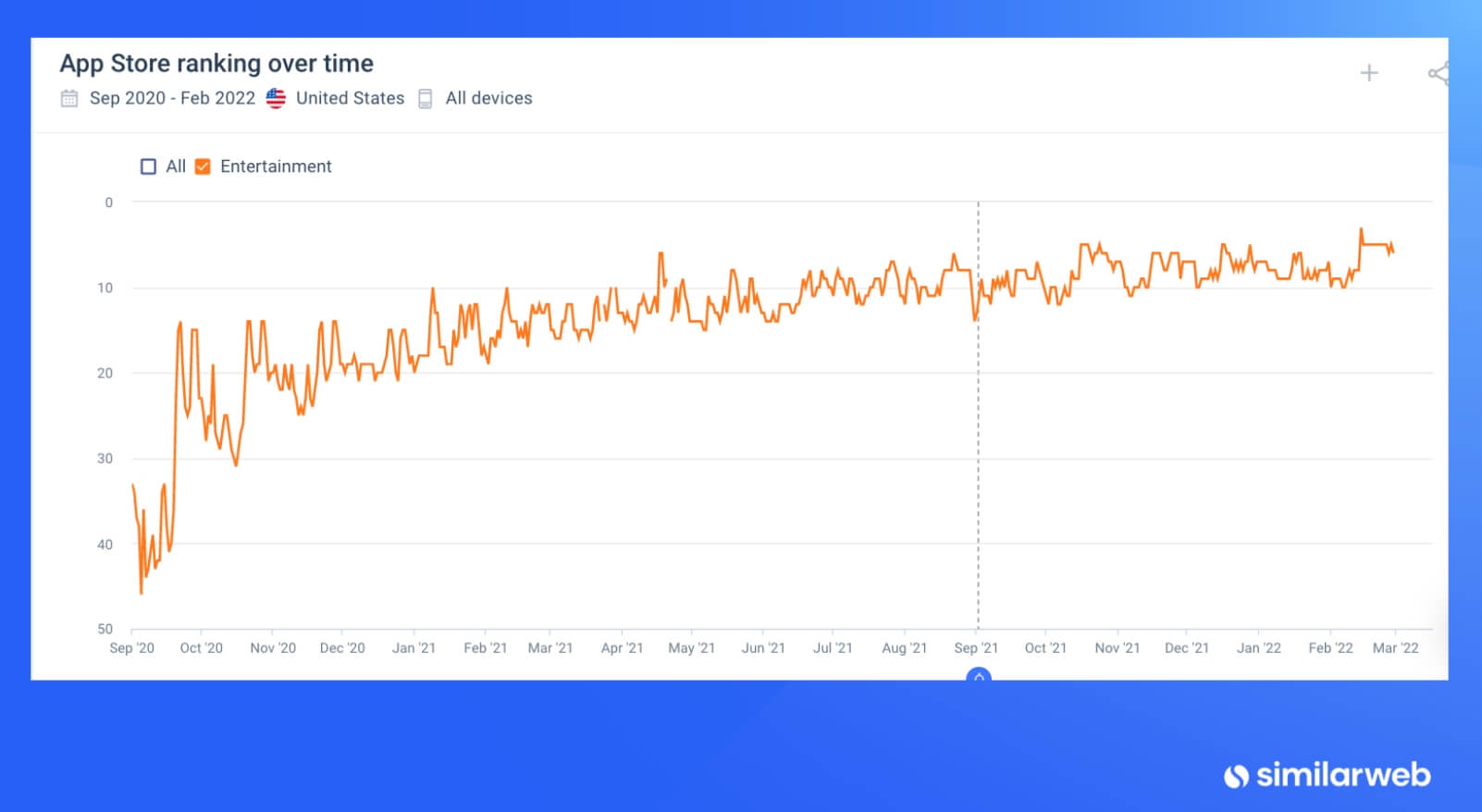 Sports: Streaming's fan-favorite
NBC's unusual move to swap 2022 Super Bowl rights with CBS after committing nearly $8 billion to air the Olympics that year, appears to have Peacock pay-offs.
The streaming services' greatest subscription spikes of the year align with live sports broadcasts, including: 
WWE Royal Rumble:

40K subscriptions (Jan. 29)

Olympics Opening Ceremony:

50K subscriptions on avg. (Feb. 3-5)

Super Bowl LVI:

235K subscriptions (Feb. 13)
While immediate cancellations outnumbered subscriptions briefly after Super Bowl Sunday, subscriptions took the lead again in early April, aligning with WWE Wrestlemania 38 (April 2-3). 
Although new subscriptions declined in the weeks after the wrestling event, cancellations remained similar to the rest of the year.
Also, keep in mind — that as Peacock's subscriber base grows, so does its market penetration, meaning fewer potential sign-ups.
Why sports fans are winners
Sports fans' behaviors show that they're a lucrative audience for networks to pursue:
1. Habituated customers
Paying to watch a big game is nothing new. After all, the first major pay-per-view (PPV) event was a boxing match featuring Sugar Ray Leonard in 1981. 
The PPV model proved sweet for other sports, especially wrestling. Eventually, WWE (World Wrestling Entertainment), which distributed most of its content through PPV services, launched WWE Network, charging $9.99 a month for its entire lineup. NBC later shelled out $1 billion for five years of exclusive streaming rights, wrestling away its content for Peacock.
In addition to subscription spikes, paid app downloads also soared on the dates of top wrestling events, like WWE Next (Oct. 19, 2021).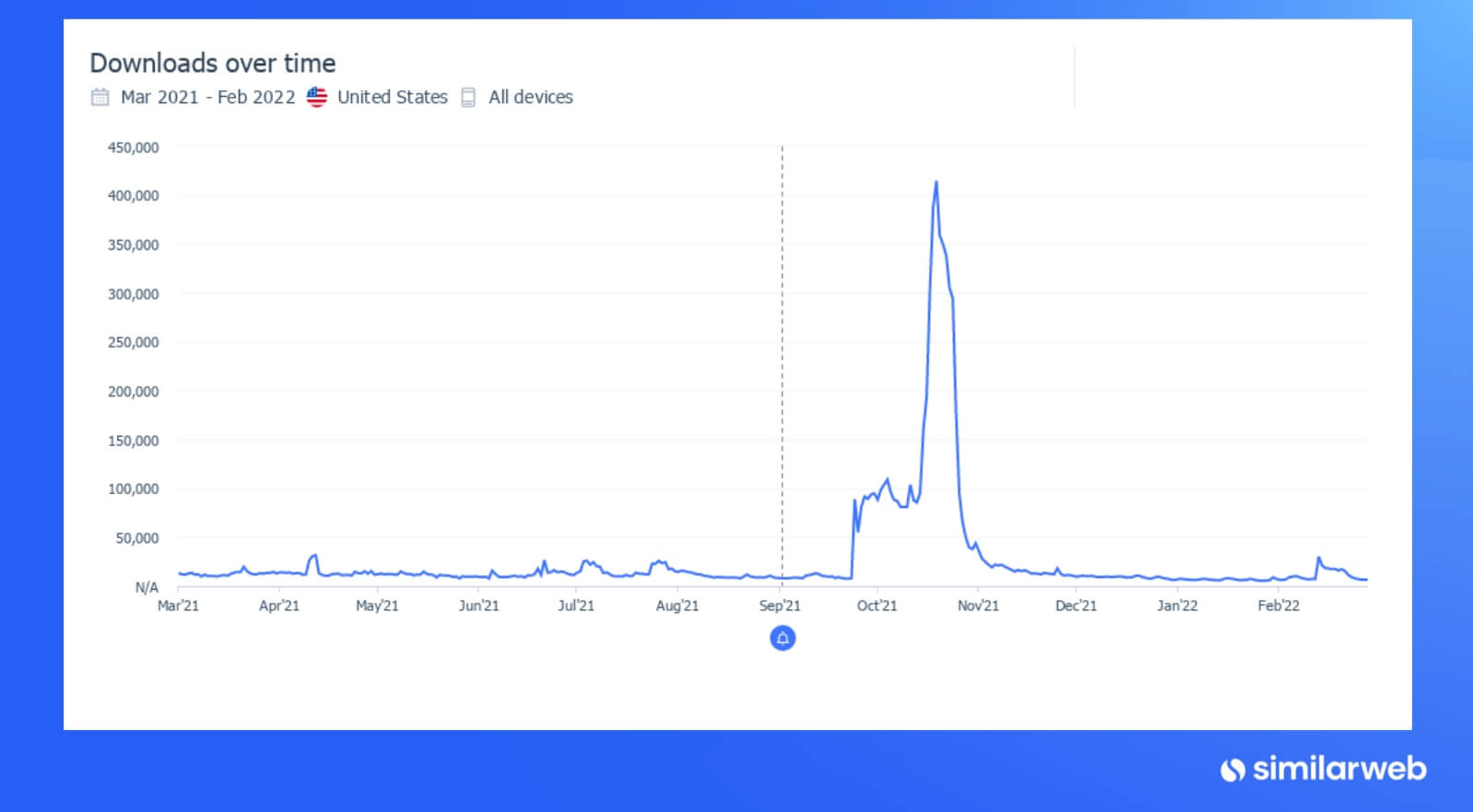 2. Increased comfort streaming
Fans' increased comfort in streaming trumps audience interest in the actual game.
Despite searches more than halving, a symptom of "Olympics fatigue," Peacock gained 12,000 more signups during the Winter Olympics than the more popular Summer Games, showing interest streaming can trump interest in the actual, live sport.
3. Eager engagement
Sports fans tend to follow teams or seasons composed of multiple competitions. Therefore, by promoting similar content to enthusiasts in their initial month, networks ramp up chances of gaining loyal, paid customers
Therefore, NBC's decision to air both the 2022 Olympics and Super Bowl — concurrent, live content — mitigated competition for audience and dollars and helped win over a new, paying audience.
Stick to sports
Consuming live events in real-time beats reading about them the next day. So, why do sports win over other happenings?
Awards shows and pageants, like Miss America, are past their heyday. As controversies increase, ratings and viewership numbers plummet.
Case in point? The Academy Awards and Golden Globes lost more than 70% of their audience from 2020 to 2021.
Yet, Super Bowl viewers continue to rise. With 11.2 million viewers this year, the big game made records as the most-streamed ever.
If current trends continue, we expect this number to soar higher next year.
Highlights
Airing live sporting events beyond a paywall is key to winning paid subscribers in a market that's still learning how to best monetize its offering.
For customer acquisition in the evolving streaming market, broadcast and cable networks can follow Peacock's flight and pursue rights to big matches from the Kentucky Derby to the World Cup. They can consider acquiring related, streamed content, very much in the same way NBC purchased WWE Network.
Sports not your niche? No problem – stay attuned to consumer habits and adjust your customer acquisition strategy accordingly.
For real-time insights on audience and consumer behaviors, check out Similarweb's suite of tools for publishing and media, including Digital Research Intelligence and Shopper Intelligence. Start your trial today.
This post is subject to Similarweb legal notices and
disclaimers
.
Wondering what Similarweb can do for you?
Here are two ways you can get started with Similarweb today!