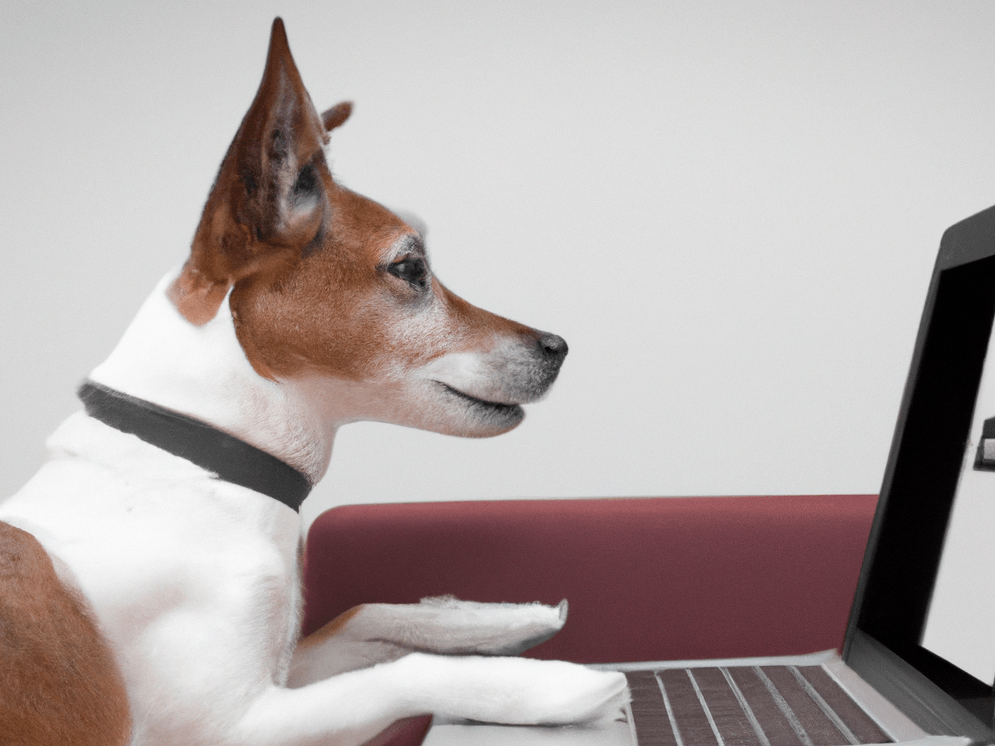 Insights
Pet Retail in the Doghouse While Rover Walks Faster
November 23, 2022
| Updated November 24, 2022
Like many e-commerce businesses, online sales of pet products and services suffer from comparison with the boom levels they achieved during the pandemic. However, one business that has resisted backsliding is Rover, the dog-walking and pet-sitting venture that continues to show strong growth, particularly with its app for ordering services.
Key takeaways 
Online activity tends to foreshadow digital business results. Petco is scheduled to report Q3 earnings on November 30, followed by Chewy on December 8, while PetSmart remains private (despite talk of a possible SPAC merger that popped up earlier this year). Rover reported earnings on November 7, with revenue up 45% year-over-year to $50.9 million, and Wag followed on November 10, boasting a revenue increase of 161% to $15.4 million.
The petcare market
The petcare products and services market includes both pure plays like those we are discussing here as well as the pet departments of Amazon, Walmart, Target, and mass market retailers, as well as many niche players. Even as the pandemic waned, many of those habits remained. 
Meanwhile, Rover and Wag found an opportunity in gathering the scattered market for freelance dog walkers and pet sitters into apps for ordering those services.  The online component of this market boomed during the pandemic not only for the same reasons that other retailers moved online but also because consumers sought the company of pets when they were more isolated from other people. More recently, the recovery of the travel market may have elevated the demand for pet-sitting services.
The chart below shows the current standings for the leading petcare retailers and the more service-oriented Rover and Wag, based on the August to October quarter.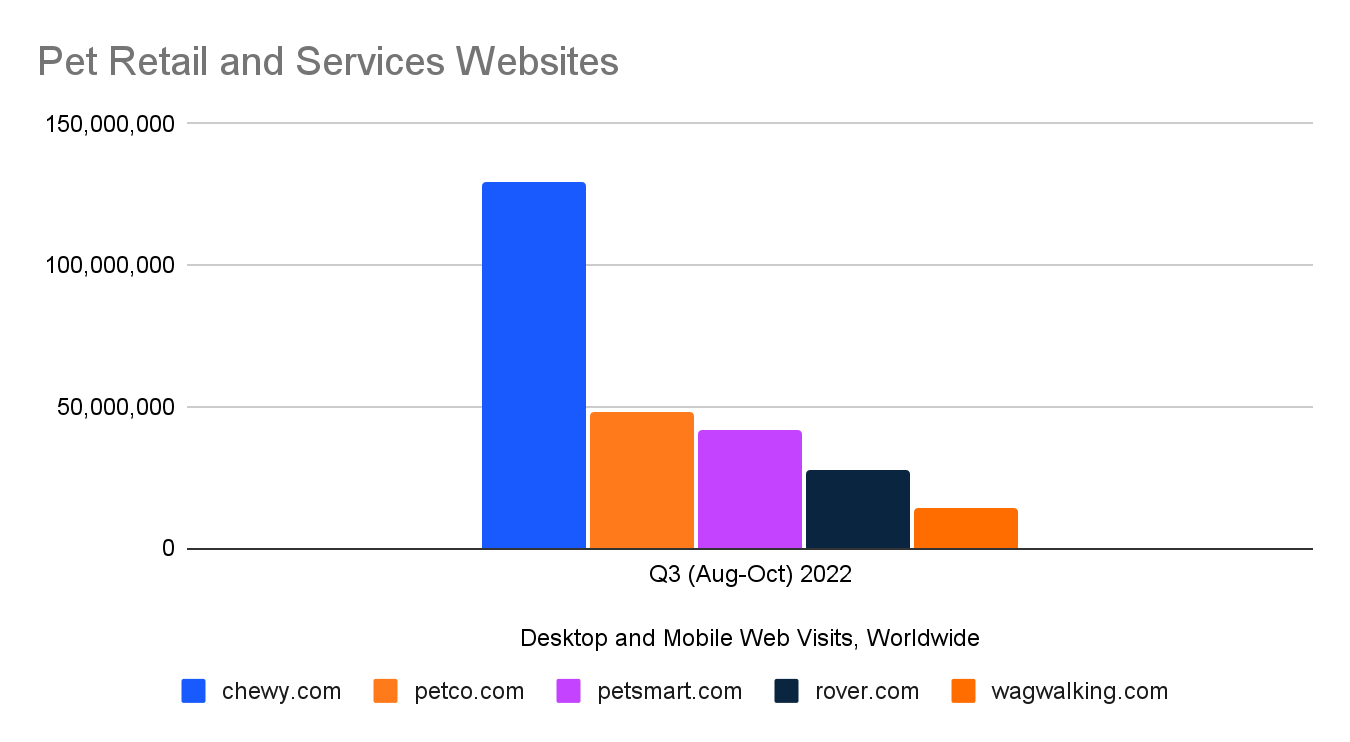 While the retailers are all seeing a dip in demand, as shown by web traffic analysis, Rover grew traffic by a little over 2%. Chewy's traffic was down 5.5%, compared with a 5.8% drop for PetSmart and a 9% drop for Petco.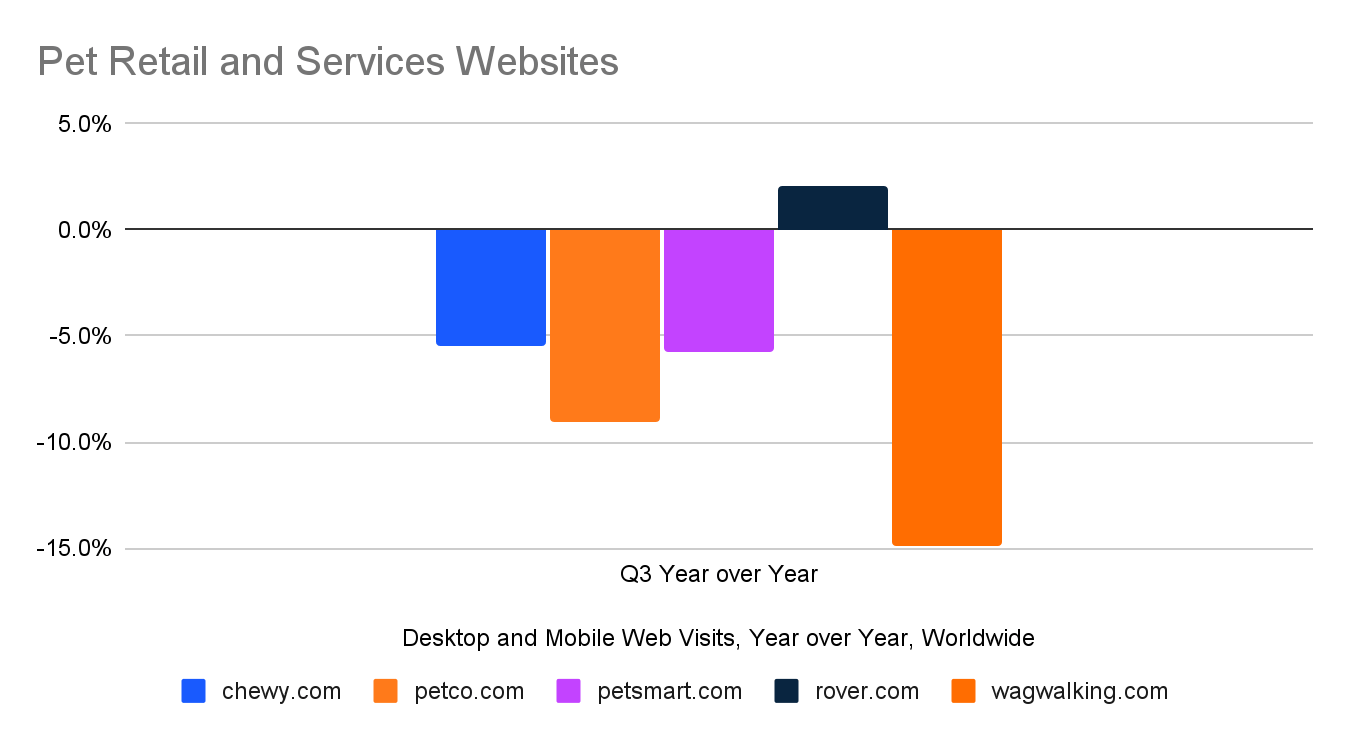 All these companies saw traffic and revenue boom during the pandemic, but year-over-year comparisons have been tougher since then.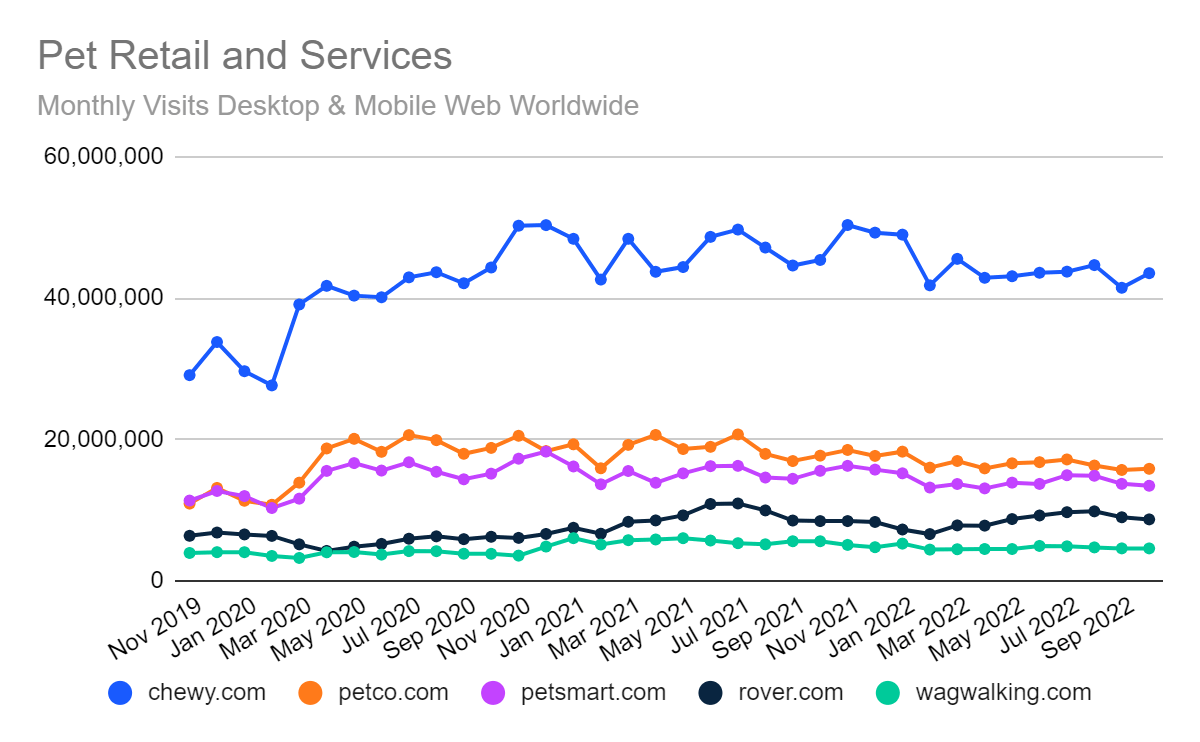 How Rover came to dominate dog walking and pet sitting
Rover has successfully made itself the leading brand among dog walking, pet sitting, and related services like doggy daycare, partly by offering attractive terms to gig workers and also with strong search marketing.
For example, rover.com captures 20.5% of organic search traffic …

… and 38.8% of paid traffic.

Wag ranks 9th for organic traffic associated with those keywords and 16th for paid search traffic.
While rover.com is doing well compared with other web domains for pet care, Rover's growth story stands out even more if we look at how these companies are competing in the world of top mobile apps. The dog walking and pet sitting business has a strong mobile component, much like food delivery and ridesharing.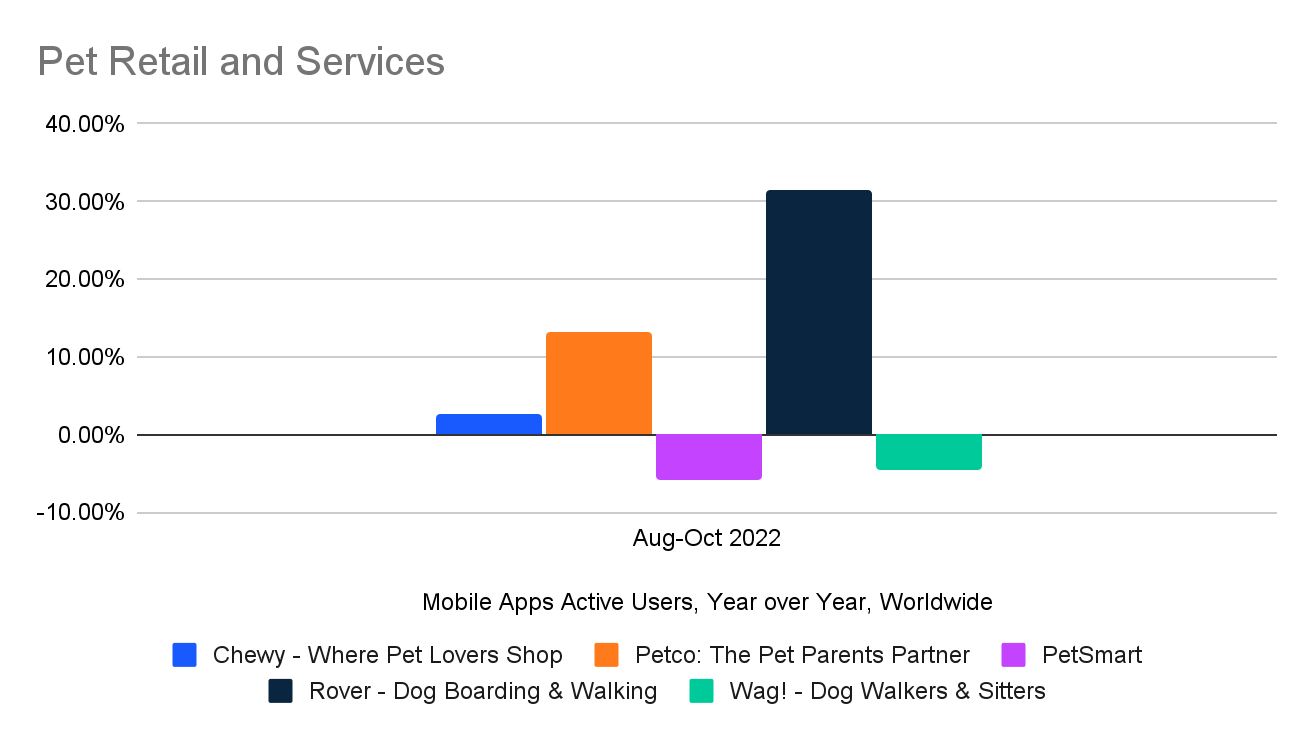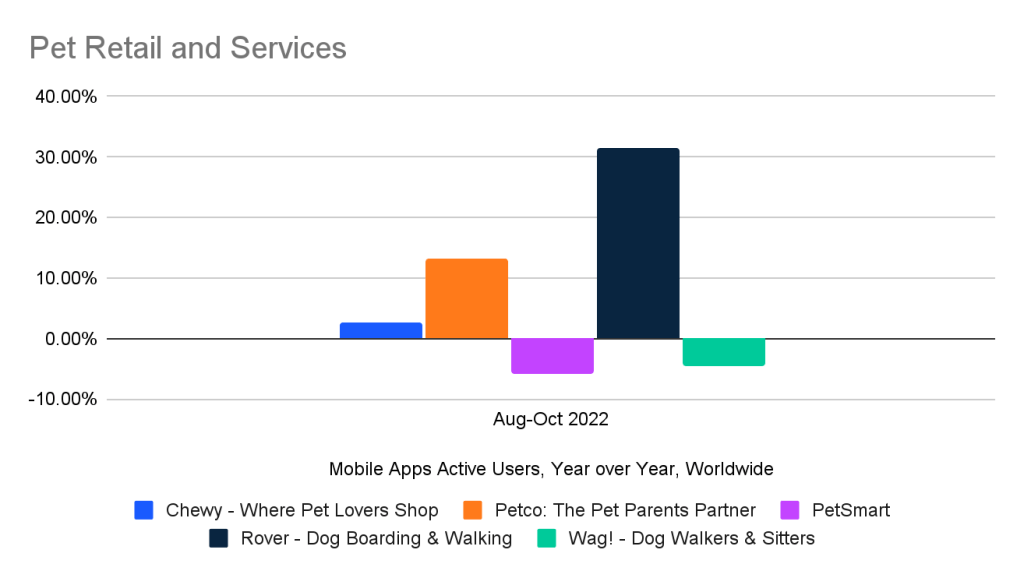 How the petcare apps stack up
Getting an app onto consumer phones is also important for online retail, and here some like Petco seem to be performing stronger in terms of app users than on the web. 
Rover's mobile app for Android ranks second among these competitors, behind Chewy and ahead of PetCo app and PetSmart.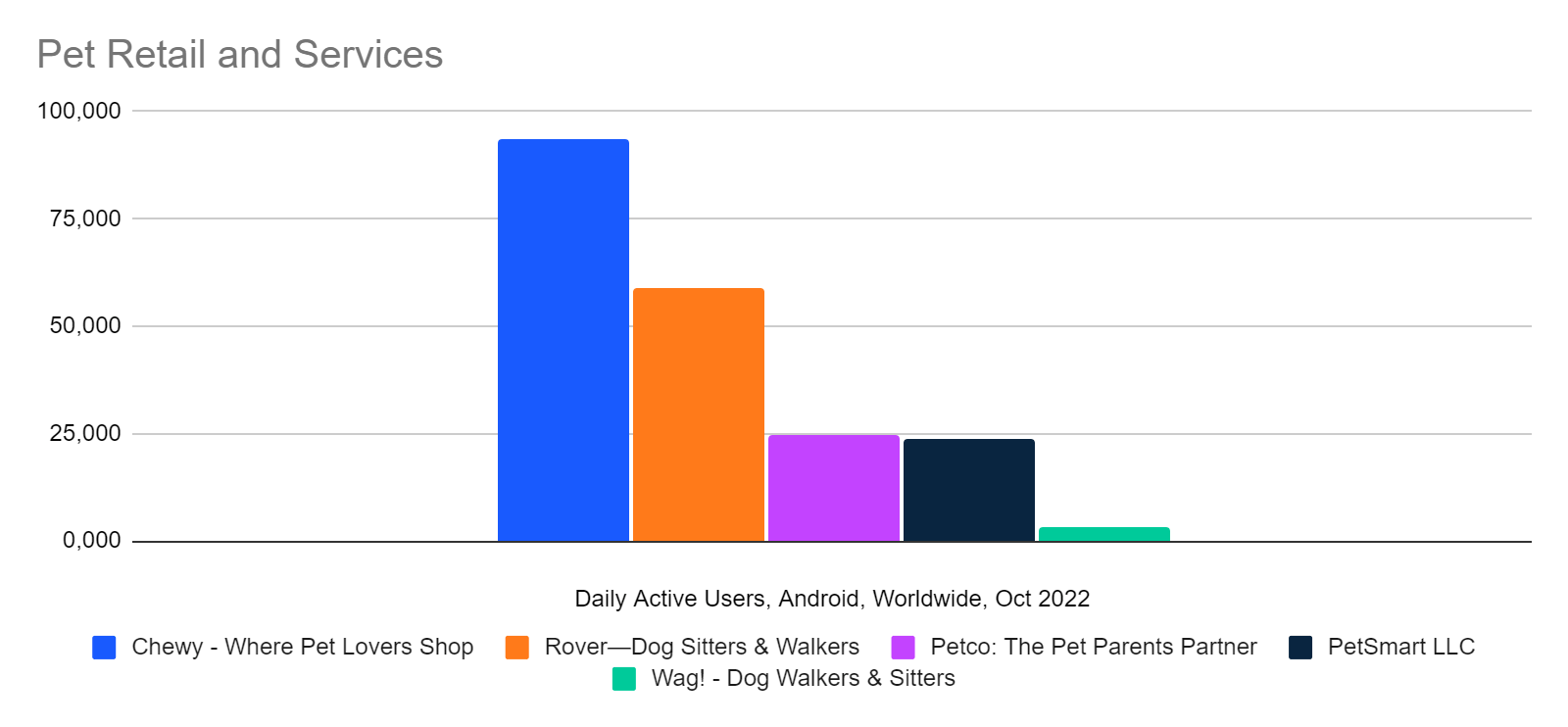 The Similarweb Insights & Communications team is available to pull additional or updated data on request for the news media (journalists are invited to write to press@similarweb.com). When citing our data, please reference Similarweb as the source and link back to the most relevant blog post or similarweb.com/corp/blog/insights/.
Contact: For more information, please write to press@similarweb.com.
Citation:  Please refer to Similarweb as a digital intelligence platform. If online, please link back to www.similarweb.com or the most relevant blog post.
Report By: David F. Carr, Senior Insights Manager
Disclaimer: All data, reports and other materials provided or made available by Similarweb are based on data obtained from third parties, including estimations and extrapolations based on such data. Similarweb shall not be responsible for the accuracy of the materials and shall have no liability for any decision by any third party based in whole or in part on the materials.
This post is subject to Similarweb legal notices and
disclaimers
.
Wondering what Similarweb can do for you?
Here are two ways you can get started with Similarweb today!