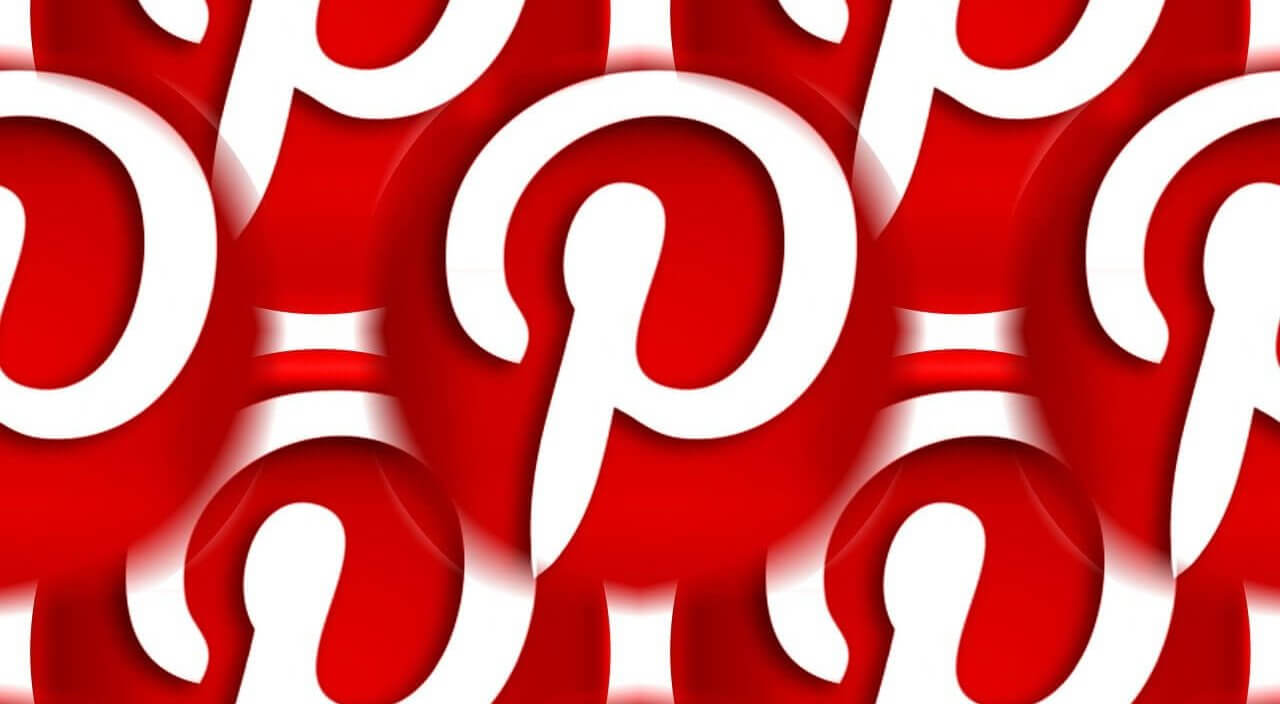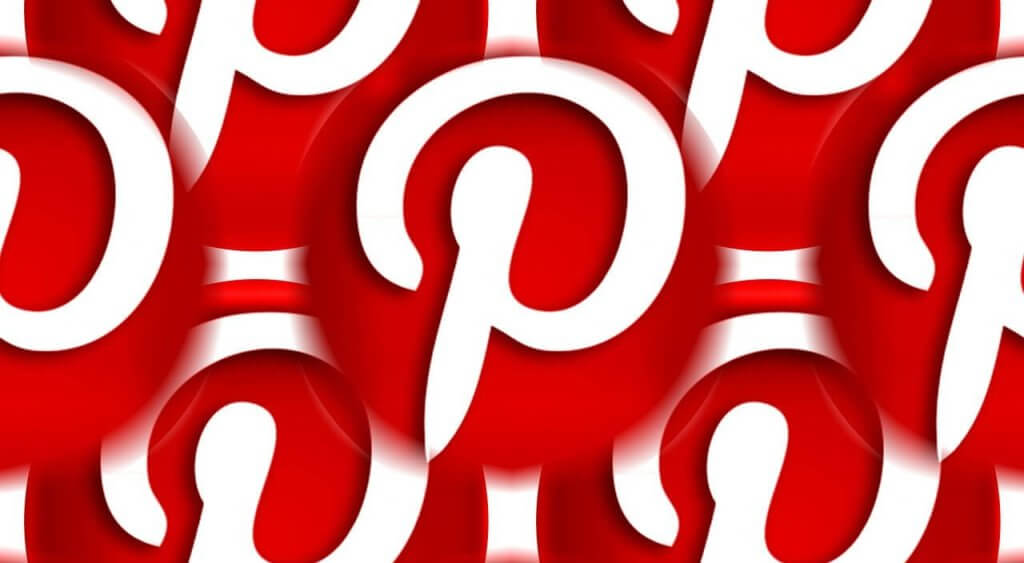 Insights
These Pinterest Charts Wouldn't Make for a Pretty Board
October 13, 2022
| Updated October 20, 2022
Pinterest is among the social media websites and apps that have been struggling with an erosion of its user base, coming on top of a difficult ad market. Nonetheless, some analysis in Motley Fool and Bezinga points to a potentially positive leadership change at the company and a pattern of increasing revenue per user as reasons to be bullish. With an audience that leans female (58% of its website audience in September) and a strong focus on topics like fashion, Pinterest captures a consumer audience with strong advertiser appeal.
Perhaps Pinterest will have good (or, at least, better than expected) news to report when it announces third-quarter earnings in early November. Unfortunately, we can see only a few positive trends for the company in its web traffic, app usage, and conversion funnel – although some positive trends seem to have emerged in the month of September.
Key takeaways 
Pinterest audience engagement seems to be trending down, both in terms of web traffic (down months so far this year, although it was up 6.6% year-over-year in September) and app engagement (also down most months of this year but up incrementally in September), according to Similarweb estimates.
Traffic-related to converting potential advertisers into ad buyers has also been down on a year-over-year basis every month in 2022 except July, when it was up 3.5%. However, one top-of-the-funnel metric was up nearly 30% in September – unique visitors to the ads.pinterest.com portal where businesses can learn about their advertising options.
Compared with Instagram, another social site that emphasizes visual engagement, Pinterest has generally underperformed in terms of web traffic momentum. However, this is another trend that seems to have taken a positive turn for Pinterest in September, when pinterest.com traffic was up 6.6% while visits to instagram.com were down 2.4%.
Pinterest advertiser interest is up, but conversion is down
One favorable advertiser metric we see lies in visits and unique visitors to ads.pinterest.com, which were up by 23% and 29.6%, respectively, on a year-over-year basis. Visits to that portal for advertisers and potential advertisers could be an encouraging leading indicator for customer acquisition.
"Global Pinterest desktop uniques within the ad domain has been recently experiencing an acceleration," said Hali Levine, an analyst on the Similarweb Investor Intelligence team. "After multiple quarters of decelerations, global advertiser engagement appears to be inflecting positively in a market that is softening."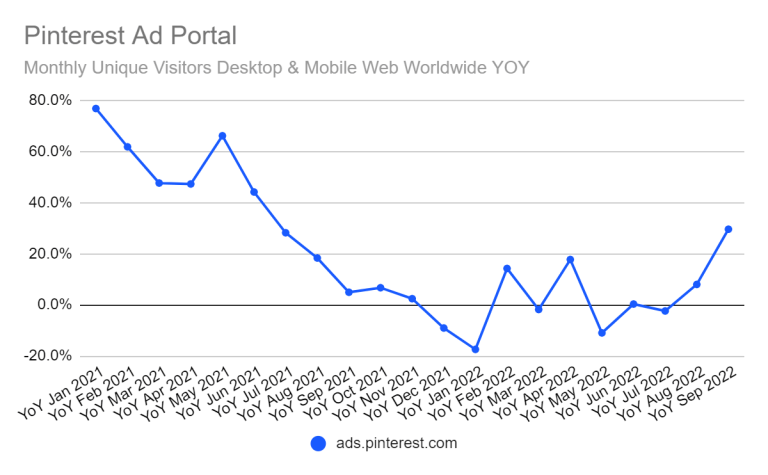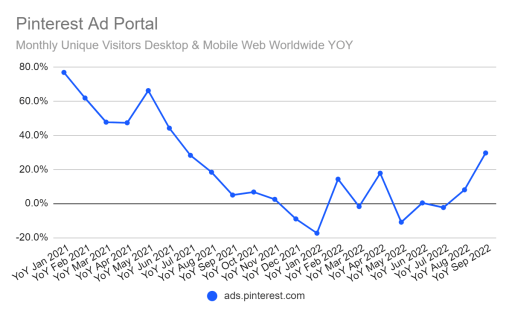 However, we also track conversions – visits to the pages within pinterest.com where businesses sign up for advertiser accounts – and that traffic has been trending lower.
In September, that new account signup activity about doubled over August's level – but was still down 89% year-over-year.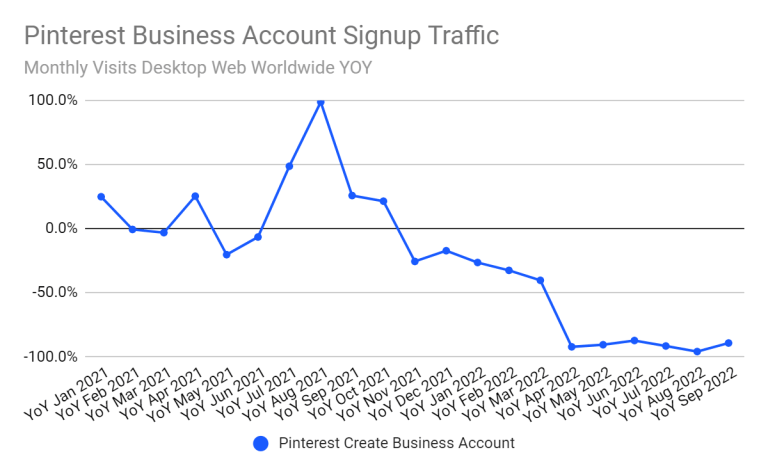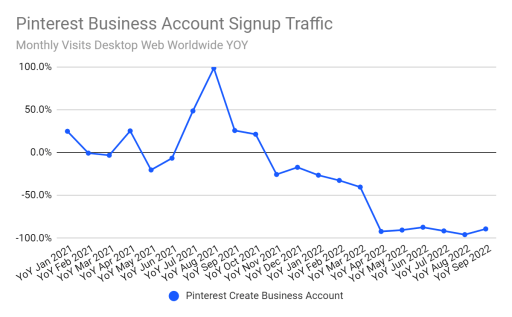 Pinterest web traffic declining
Web traffic to pinterest.com has been trending downward.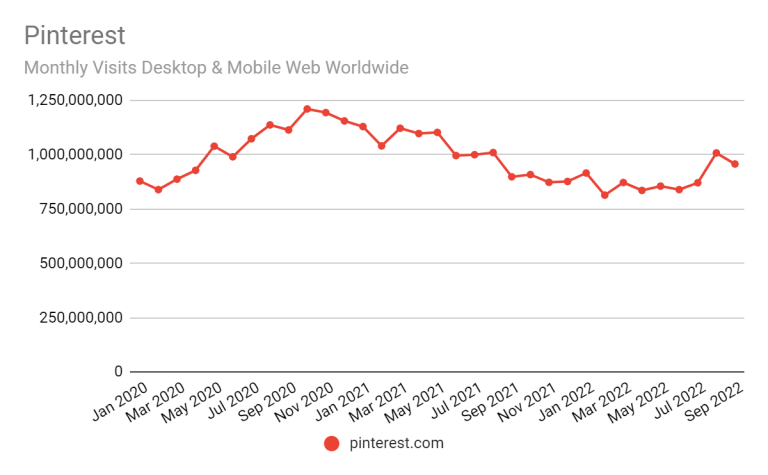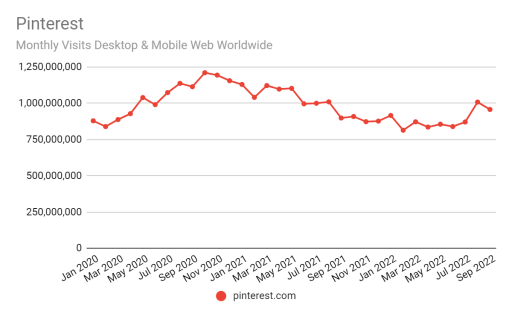 Here is what it looks like in comparison with a couple of other visually-oriented social sites, Instagram and TikTok.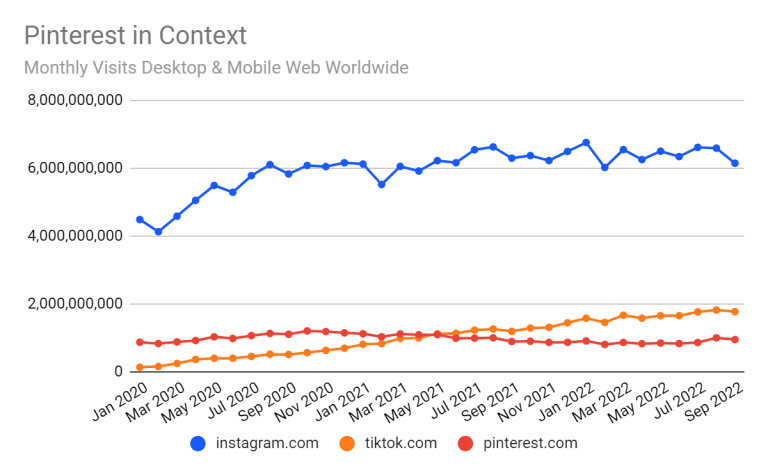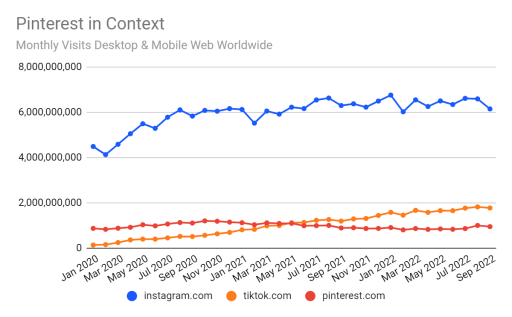 Or we can zoom in tighter, using the lens of year-over-year change in web visits, showing how Pinterest has lagged behind Instagram in momentum as well as total numbers. September 2022 was an exception, with pinterest.com traffic up 6.6% while instagram.com was down 2.4%.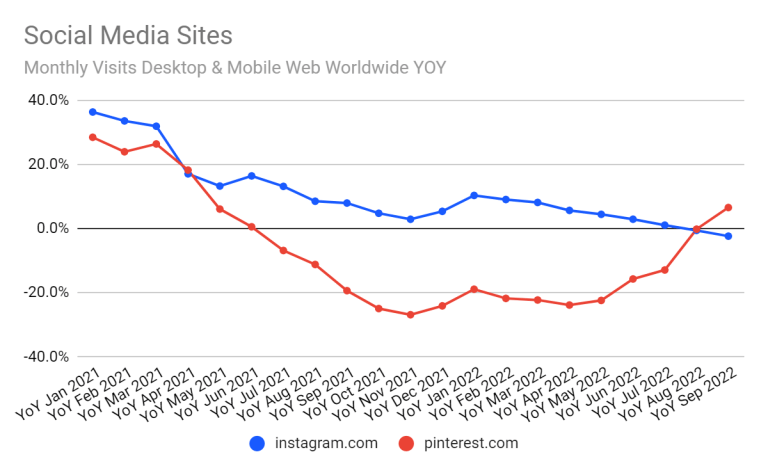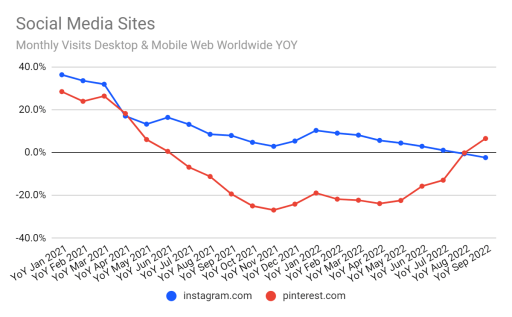 App usage down
So far this year, daily active users of the Pinterest app have been down by as much as 11% year over year until September when the count was essentially unchanged.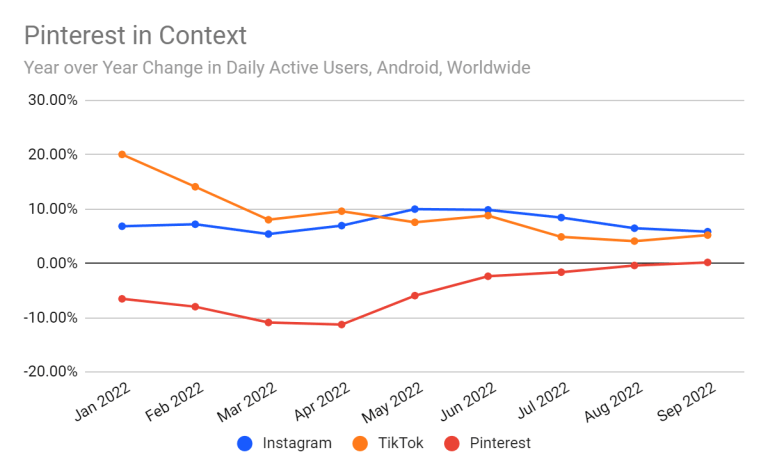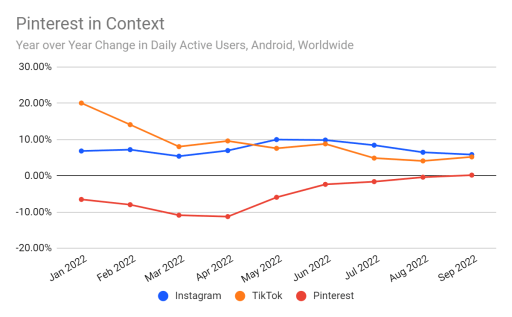 For a sense of scale, here is how Pinterest compares with Instagram and TikTok for app engagement on Android.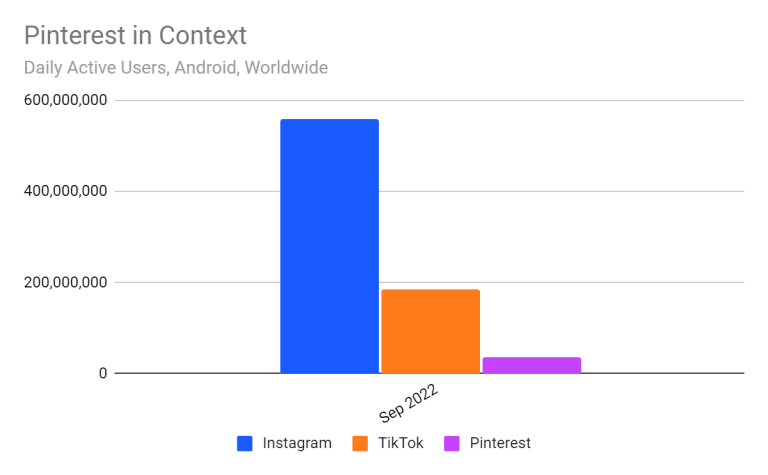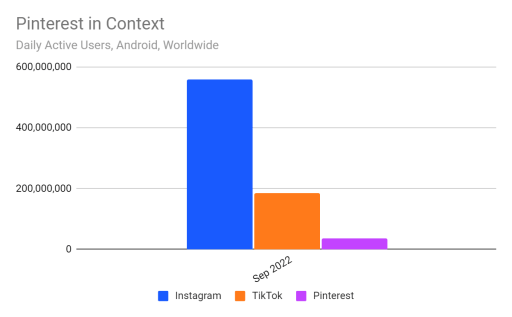 What can management pin its hopes to?
Pinterest is under new management, with former Google executive Bill Ready having taken the reins as CEO in June, while co-founder and former CEO Ben Silbermann remains on the board. Ready formerly ran Google's shopping and payments products, is a former COO of PayPal, and ran Braintree prior to its 2013 acquisition by PayPal. So he knows something about making money flow online and is turning his talents to making more of it flow into Pinterest's coffers.
The Similarweb Insights & Communications team is available to pull additional or updated data on request for the news media (journalists are invited to write to press@similarweb.com). When citing our data, please reference Similarweb as the source and link back to the most relevant blog post or similarweb.com/corp/blog/insights/.
Contact: For more information, please write to press@similarweb.com.
Citation:  Please refer to Similarweb as a digital intelligence platform. If online, please link back to www.similarweb.com or the most relevant blog post.
Report By: David F. Carr, Senior Insights Manager
Disclaimer: All data, reports and other materials provided or made available by Similarweb are based on data obtained from third parties, including estimations and extrapolations based on such data. Similarweb shall not be responsible for the accuracy of the materials and shall have no liability for any decision by any third party based in whole or in part on the materials.
Image by Kevin Phillips from Pixabay 
This post is subject to Similarweb legal notices and
disclaimers
.
Wondering what Similarweb can do for you?
Here are two ways you can get started with Similarweb today!