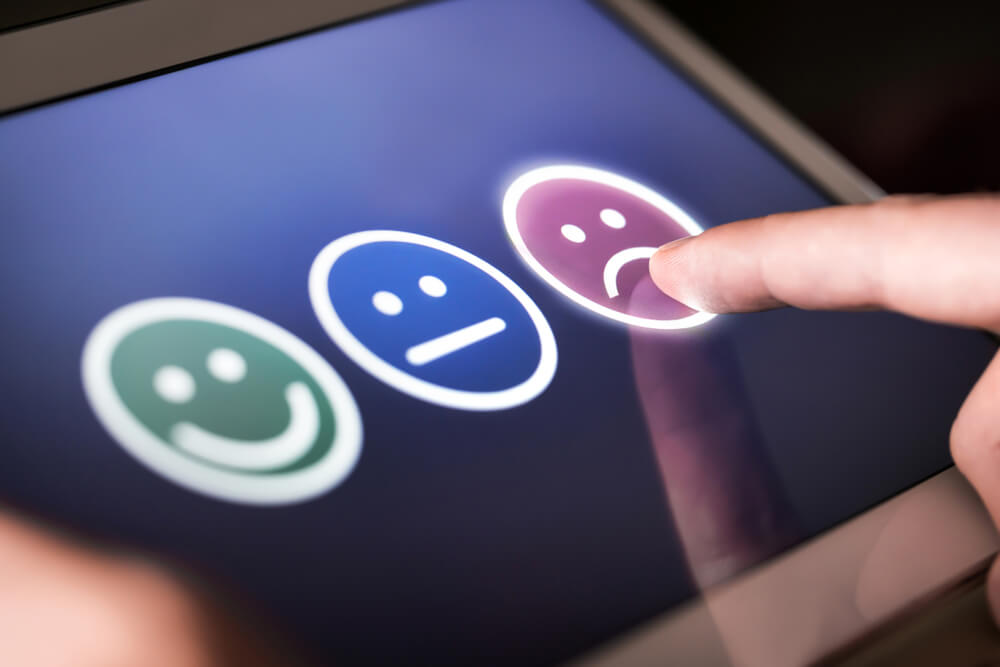 Insights
Search Trend Turns Sharply Skeptical on Crypto
June 21, 2022
| Updated August 1, 2022
From "How do I invest in crypto?" to "Is crypto a scam?" – Caution Ahead
Cryptocurrency enthusiasts are shivering through the onset of the latest "crypto winter," a time when digital currency values are plummeting and "decentralized finance" or DeFi is experiencing a series of "run on the bank" panics.
Key takeaways 
When we compare phrases like "cryptocurrency investing" or "how do I invest in crypto?" (which accentuate the positive) with negative takes like "crypto is a scam" or "is crypto a scam?" the "scam" topics generated 353% more search volume in May than they did six months ago – while volume for the "how do I invest in crypto" topics dropped 28.9%, according to an analysis of Similarweb comparative web metrics.
One of the crypto operations most associated with the current plunge, Celsius Network, was among the top four companies buying paid search traffic within the past three months. Celsius Network is the borrower and lender of cryptocurrency that recently announced a halt to customer withdrawals, citing "extreme market conditions." See related report.
The domains attracting the most paid traffic for crypto investing within the past three months included gemini.com (20.79% share), ftx.us (19.75%), moneysmart.gov.au (19.53%), and celsius.network (15.68%). Where the others contain promotional content, the moneysmart domain is an Australian government site offering cautions about cryptocurrency risk.
The majority of traffic (96%) driven by the "investing" topic was organic (DEFINE), which was true of virtually all of the "scam" oriented search traffic. Organic traffic winners on the "scam" front were media sites like foxnews.com (32.5% share), techradar.com (28%), nytimes.com (14%), globalnews.ca (9%), and time.com (5.5%). Each offers news of specific scams and advice on avoiding them. Example: Time's 6 Common Crypto Scams, and How Investors Can Protect Their Coins.
From "fear of missing out" to fear of getting taken
FOMO, or "fear of missing out," was one of the most powerful sentiments driving interest in cryptocurrency investment when crypto trading millionaires were very much in the news, but it has always been in close competition with fear of getting scammed. Whether or not you believe cryptocurrency as a whole is nothing more than a digital Ponzi scheme, there are unquestionably scams and ripoffs, hacks and criminal activity in the market.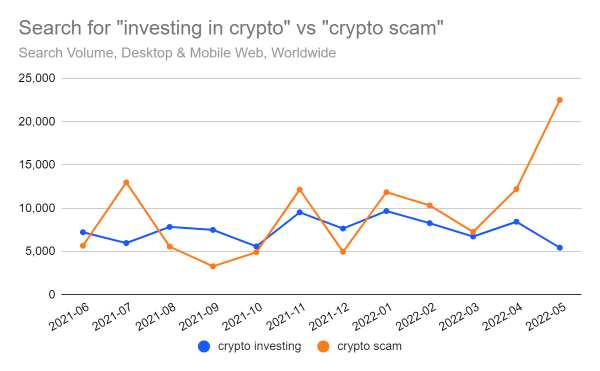 What's attractive about cryptocurrency is also what's worrying: the ability to mint money in an unregulated market with unlimited potential for innovation and creativity – or for "creative accounting" of assets that may evaporate either because of the vagaries of the market, the dishonesty of specific players or lack of regulation.
When Bitcoin was booming, it was easier for crypto advocates to explain that the skeptics "just don't get it" and will kick themselves for ignoring the potential to enrich themselves by buying and holding. Even now, those with stern constitutions are shrugging off losses and proceeding to "buy on the dip." While his competitors are laying off staff, Binance CEO and cofounder Changpeng Zhao told Yahoo Finance he will capitalize on the opportunity to hire and acquire his way to greater dominance of the market.
Meanwhile, individual investors who ignored all the warnings and sank their life's savings into crypto are screaming about being scammed. And some of them probably have legitimate complaints about the gap between how the investment vehicles were promoted and how they worked in practice.
Who has been buying traffic in crypto investment opportunities?
Most of the search traffic related to crypto investing is organic, as is virtually all of the traffic on the "crypto scam" front.

Of the search traffic driven by paid promotions (3.75% over the past year), most of it goes to exchanges and cryptocurrency finance services. Over the past three months leading up to its decision to halt withdrawals, Celsius Network was high on that list.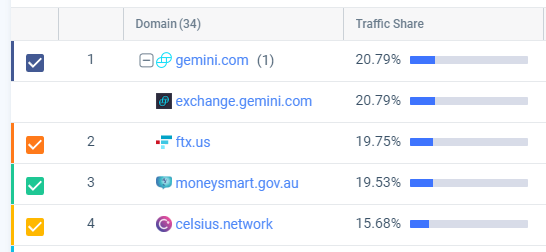 Paid search on "invest in crypto" keywords
Naturally, search volume has declined with the amount of money flowing into the market, however.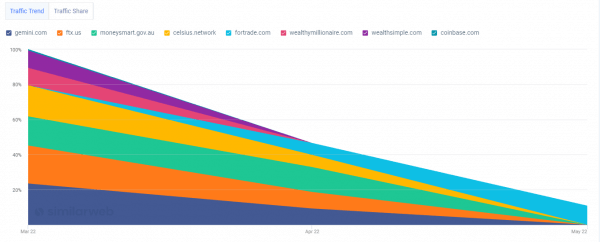 Decline in traffic driven by "invest in crypto" keywords
Conclusion 
Does the more skeptical turn in search interest mean that crypto is over and done with? Of course not, but it does represent a rise in skeptical sentiment. Just as the dot-com boom and bust at the end of the 1990s cleared the decks of pretenders and made room for the rise of Amazon, Google, and other global network offerings that figured out how to offer real value on top of an internet domain, the survivors of the crypto crash could ultimately prove that the potential of cryptocurrency was real all along.
Or maybe not. "Past performance is no guarantee of future success" remains classic advice for business and investing, overall, as well as tech.
The Similarweb Insights Newsroom is available to pull additional or updated data on request for the news media (journalists are invited to write to press@similarweb.com). When citing our data, please reference Similarweb as the source and link back to the most relevant blog post or similarweb.com/corp/blog/insights/.
Contact: For more information, please contact Richard Krueger at richard.krueger@similarweb.com.
Citation:  Please refer to Similarweb as a digital intelligence platform. If online, please link back to www.similarweb.com or the most relevant blog post.
Report By: David F. Carr, Senior Insights Manager
Disclaimer: All data, reports and other materials provided or made available by Similarweb are based on data obtained from third parties, including estimations and extrapolations based on such data. Similarweb shall not be responsible for the accuracy of the materials and shall have no liability for any decision by any third party based in whole or in part on the materials.
This post is subject to Similarweb legal notices and
disclaimers
.
Wondering what Similarweb can do for you?
Here are two ways you can get started with Similarweb today!