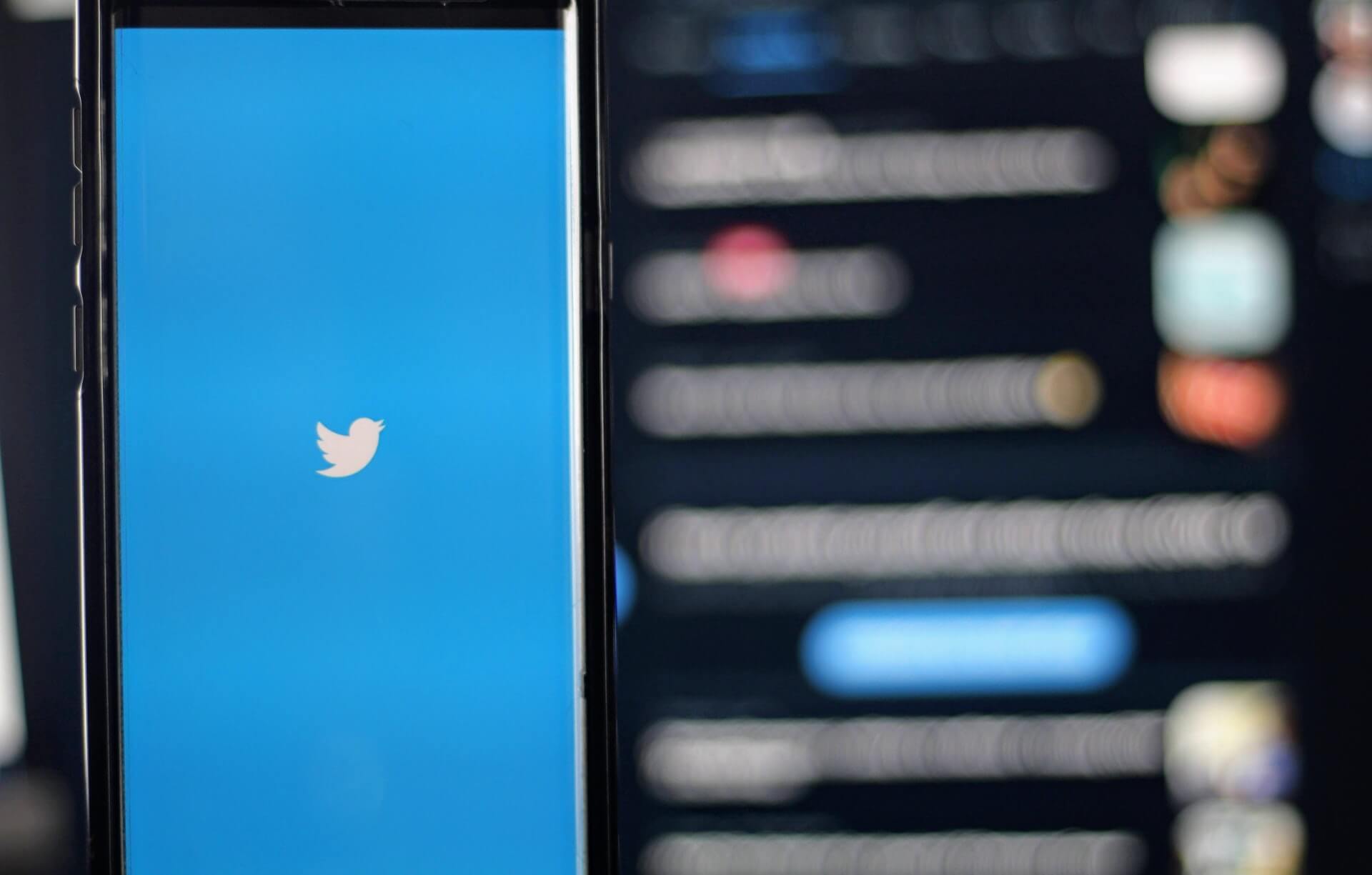 Insights
Twitter Ad Portal Traffic is Shrinking: Q2 Preview
July 19, 2022
| Updated August 2, 2022
While Twitter has been busy dealing with the unsolicited takeover offer by Elon Musk – and now the turn to litigation as he tries to walk away from the deal – traffic to its ad buying portal dropped 10.5% year over year in June and 2% for the quarter. Whether the softening of advertiser interest is a result of Musk-induced turmoil or broader market conditions, it's bad news as the company prepares to report Q2 earnings on July 22.
Ad traffic shifts in reverse 
Traffic to ads.twitter.com, the portal where advertisers buy and manage ads, was down 10.5% year over year in June and down 2% for the quarter, according to Similarweb estimates of desktop and mobile web visits. These are signals of a tough quarter.
Twitter wasn't alone in struggling to attract advertiser interest, but for comparison, traffic to TikTok's ad portal was up 127% in the quarter (although that's a slowdown from the explosive growth in past quarters) and LinkedIn's ad portal saw 4.3% growth.
Overall growth in total web traffic to the consumer website, twitter.com, used to be in the mid-double digits (+50% year over year in November 2020). Traffic was just 2.6% year-over-year in June. Mobile app access to the service was also up modestly, as measured by daily average users of Twitter's mobile app for Android, up 3.3% year-over-year.
Twitter ad portal traffic contracts
Visits to ads.twitter.com, the portal where advertisers buy and manage ads, were down 10.5% in June and down 2% for the quarter, according to Similarweb estimates of desktop and mobile web traffic. Until recently, traffic to Twitter's ad portal had been showing modest year-over-year growth.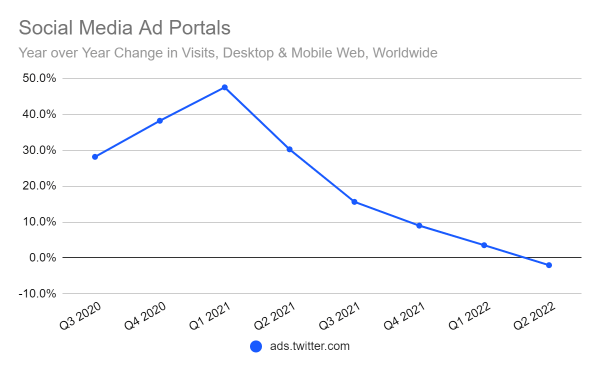 Although all other social networking websites lag far behind facebook.com, Twitter remains one of the laggards in the second tier of social websites.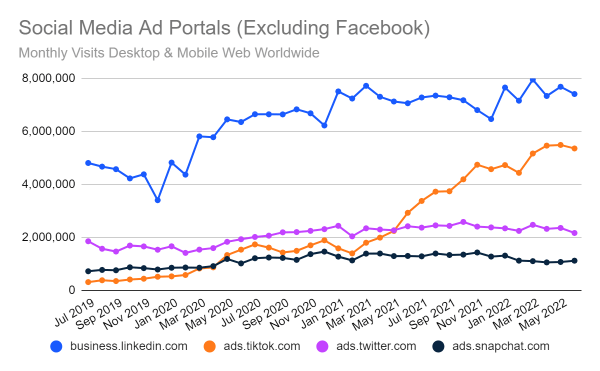 Overall, Twitter sees modest traffic growth
Overall traffic for twitter.com is growing modestly, doing better in recent months than advertiser traffic. In June, visits to twitter.com were up 2.6% even as visits to ads.twitter.com fell 10.5%.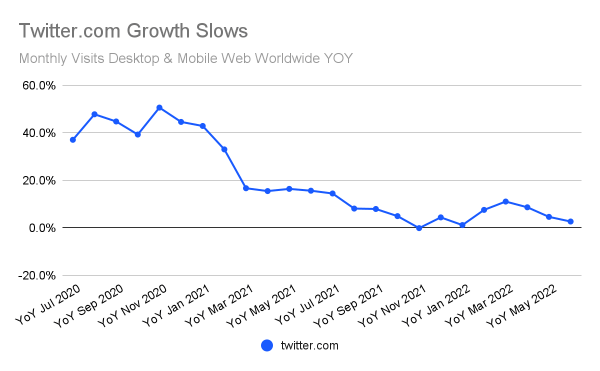 On mobile, Twitter is also seeing modest growth. On Android, daily active users averaged 3.3% higher in June, year over year.
Exciting times, but not for advertisers
Lately, news about Twitter has been generating excitement for all the wrong reasons. Contention with Elon Musk has put spambots in the news, casting doubt on the value of Twitter advertising, just as other economic pressures undermine ad volumes as well.
The Similarweb Insights Newsroom is available to pull additional or updated data on request for the news media (journalists are invited to write to press@similarweb.com). When citing our data, please reference Similarweb as the source and link back to the most relevant blog post or similarweb.com/corp/blog/insights/.
Contact: For more information, please contact Richard Krueger at richard.krueger@similarweb.com.
Citation:  Please refer to Similarweb as a digital intelligence platform. If online, please link back to www.similarweb.com or the most relevant blog post.
Report By: David F. Carr, Senior Insights Manager
Disclaimer: All data, reports and other materials provided or made available by Similarweb are based on data obtained from third parties, including estimations and extrapolations based on such data. Similarweb shall not be responsible for the accuracy of the materials and shall have no liability for any decision by any third party based in whole or in part on the materials.
This post is subject to Similarweb legal notices and
disclaimers
.
Wondering what Similarweb can do for you?
Here are two ways you can get started with Similarweb today!