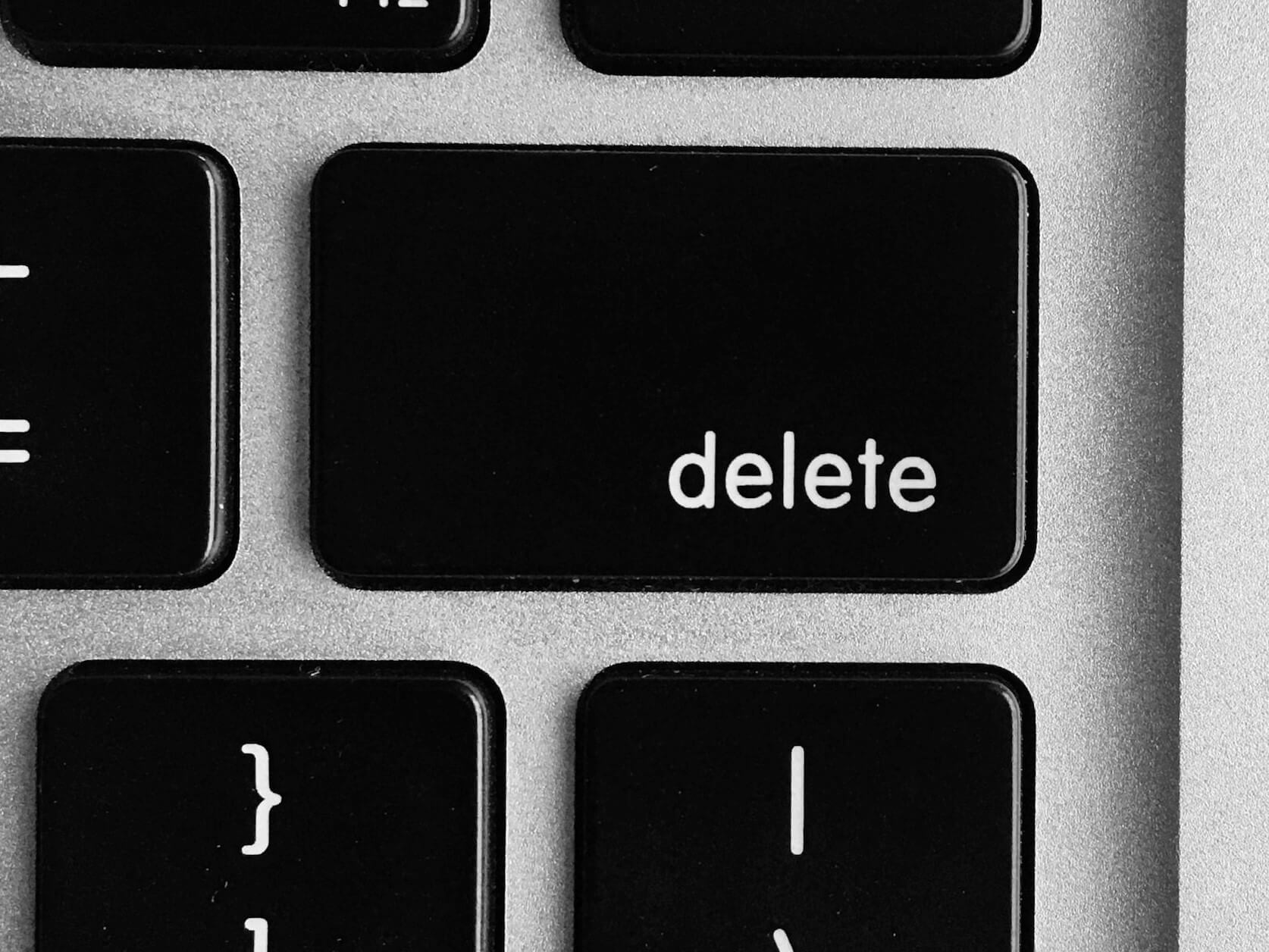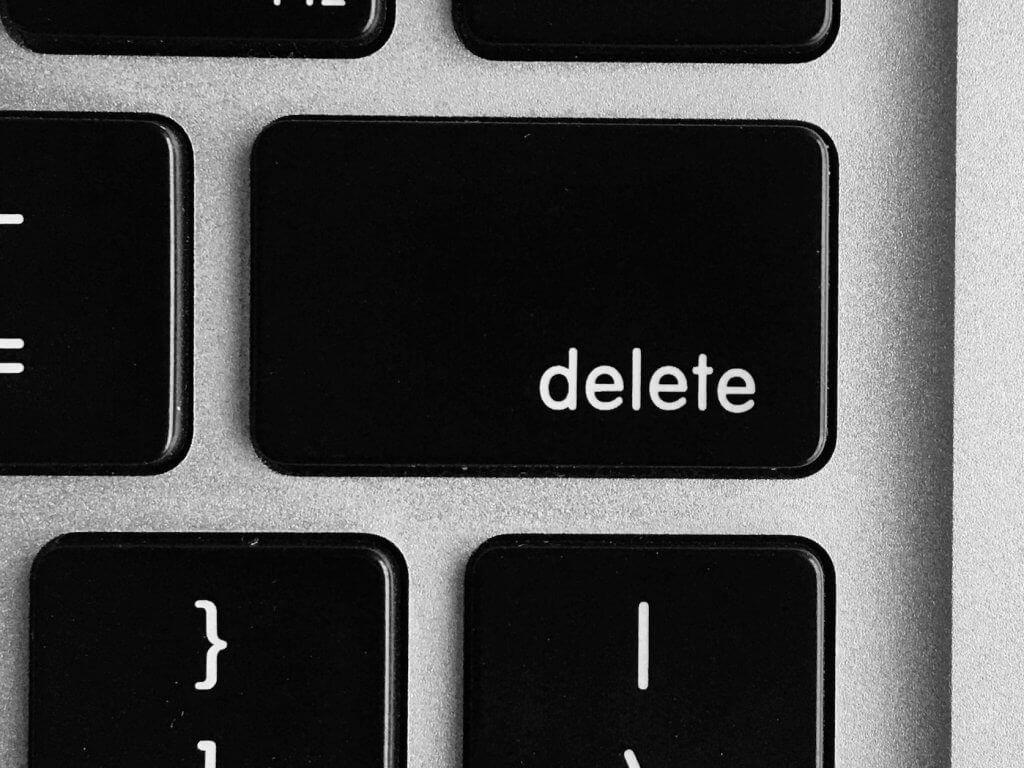 Insights
200,000+ Twitter Quitters in Weekend Following Musk Takeover (But Even More New Users)
November 2, 2022
| Updated November 6, 2022
More than 200,000 users quit Twitter the weekend after Elon Musk officially took over the company, but four times as many landed on the pages for creating a new account, according to Similarweb estimates.
This repeated the pattern we saw at the end of April 2022, when about 100,000 Twitter users quit in a single day after Twitter's board of directors announced its intent to accept Musk's takeover offer. That was before all the drama caused by Musk's attempt to back out of the deal, following through only when it looked like he might lose in court when Twitter sued to compel him to complete the acquisition.
Presumably, some of those people deactivating their accounts are those who believe Musk's stated intent to scale back content moderation in favor of his philosophy as a "free speech absolutist" and to support the return of banned accounts, including the account of former President Donald Trump, will create a toxic environment. And some of those joining or rejoining the service may welcome those moves.
A small exodus, so far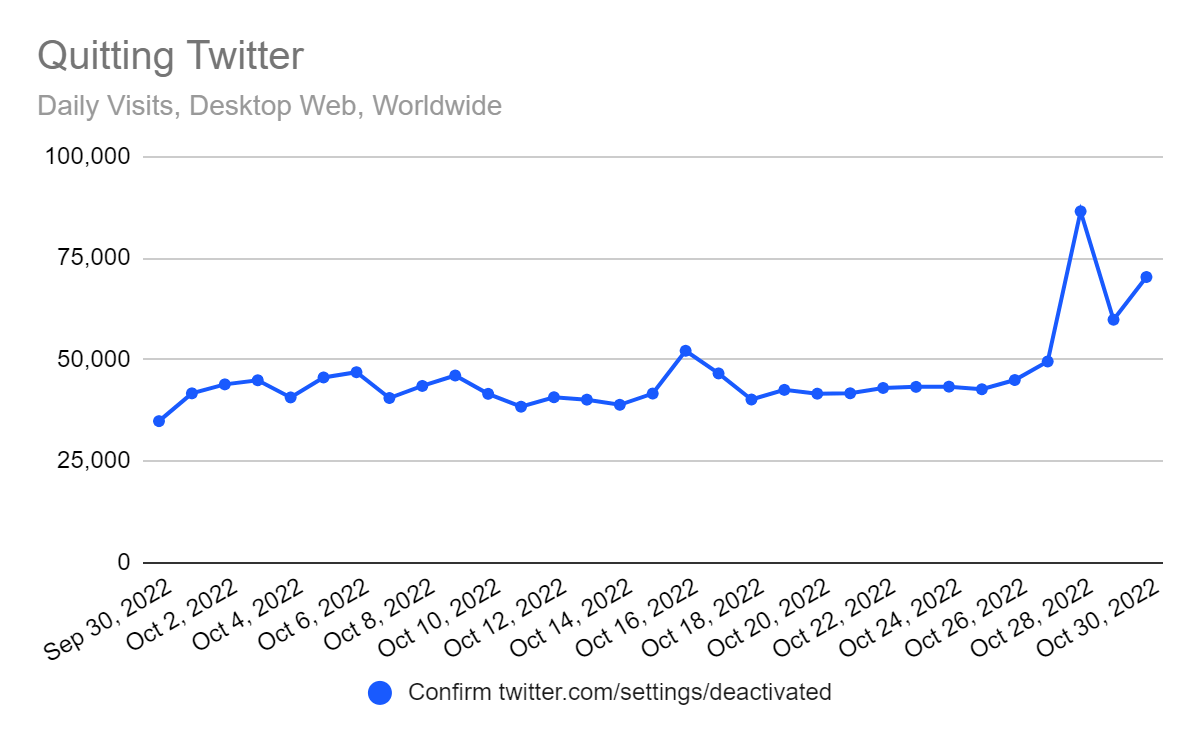 Visits to the confirmation page for deactivating a Twitter account hit about 86,565 on Friday, Oct. 28, according to Similarweb estimates. That was the day Musk formally took up residence as what he called "Chief Twit" of the company, firing CEO Parag Agrawal and other senior executives. That number of confirmed account deactivations was about double the level for an average day earlier in the month. The number of people visiting the initial page for those thinking about deactivating their accounts was slightly higher, about 100,000.
However, visits to the signup page were up also, to almost 300,000 visits.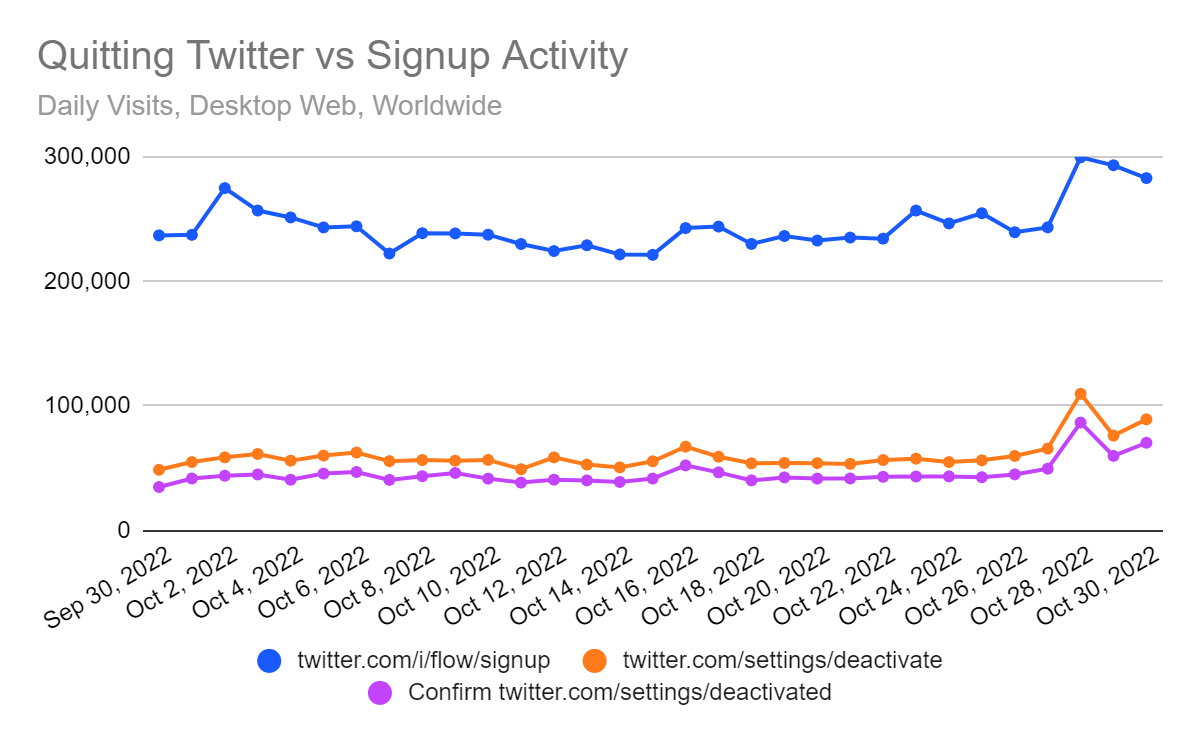 By the end of the weekend, about 217,000 users had confirmed their exit. That number is based on Similarweb tracking of desktop web visits to the account deactivation confirmation page, so the total number is likely higher – but proportionately higher, and still only a fraction of the level of new account signups.
Back on April 25, right after Twitter said it was accepting Musk's offer, we saw nearly 100K confirmed account deactivations, and that activity wound up being up 11.9% year over year for the month of April. On the other hand, signup page visits that month were up 99.5%.
Where are Twitter expatriates going?
One of the alternatives getting the most attention as a new home for those leaving (or at least considering leaving) Twitter is Mastodon, which says 70,000 new users signed up in the immediate aftermath of Musk's takeover. Although Mastodon is a microblogging service somewhat similar to Twitter, it is decentralized and open source with content moderation rules that vary depending on who administers the specific Mastodon server you join. The two domains shown below represent jumping-off points to the broader Mastodon network users are likely to visit prior to creating an account. Both saw traffic increase by well over 200% on Friday, compared to the day before.
Another service, Tribel, is more explicitly appealing to liberals seeking an alternative to Twitter. Its traffic was up 37% on Musk takeover day.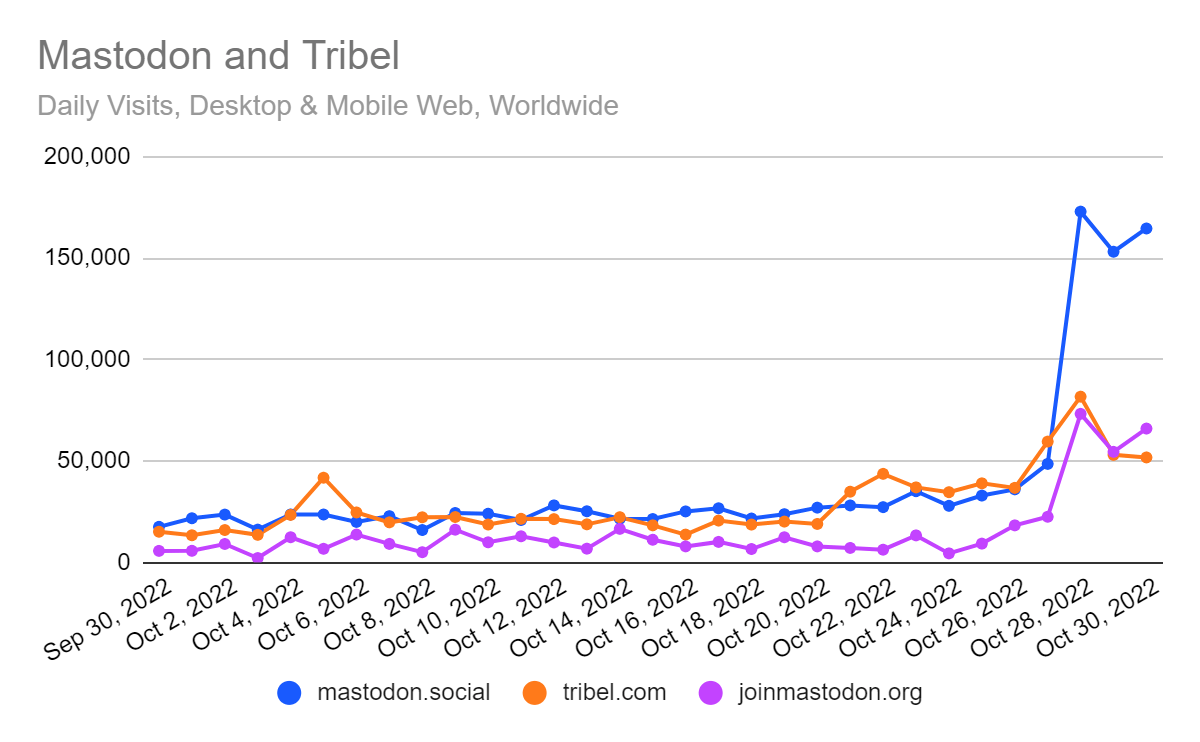 However, it remains true that the most successful Twitter alternatives to date are those that appeal to right-leaning and Trump-friendly users, such as Gettr, Gab, Parler, and Trump's own Truth Social.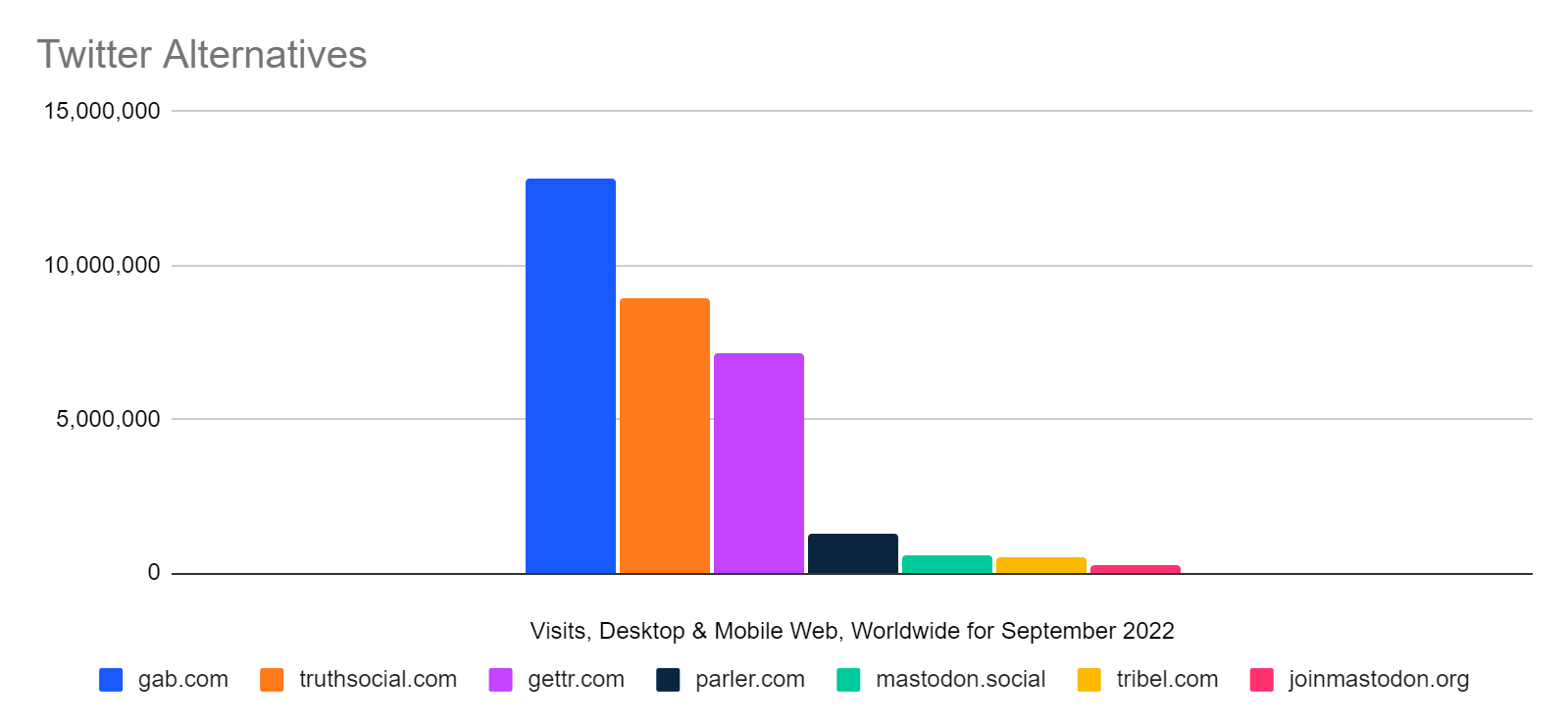 The comparison shown above isn't fair to Mastodon, which operates across multiple domains in addition to those shown in the chart. Gab actually runs a fork of Mastodon's open-source code – taking advantage of the ability to set its own content moderation rules – although many other Mastodon servers block Gab content.
The Mastodon open-source project has been around since 2016 and is part of a fediverse of federated social websites. The complexity of this distributed computing setup could be an obstacle to Mastodon achieving huge adoption. Tribel is more of a direct Twitter clone and is being promoted on Twitter by such left-leaning accounts as Occupy Democrats.
Only a minor exodus, so far
So far, no mass exodus from Twitter has materialized, perhaps partly because the changes Musk has promised have yet to be fully implemented. Even among those who actively disapprove of Musk's plans, many have decided to remain part of the conversation on Twitter, at least for now. 
The Similarweb Insights & Communications team is available to pull additional or updated data on request for the news media (journalists are invited to write to press@similarweb.com). When citing our data, please reference Similarweb as the source and link back to the most relevant blog post or similarweb.com/corp/blog/insights/.
Contact: For more information, please write to press@similarweb.com.
Citation:  Please refer to Similarweb as a digital intelligence platform. If online, please link back to www.similarweb.com or the most relevant blog post.
Report By: David F. Carr, Senior Insights Manager
Disclaimer: All data, reports and other materials provided or made available by Similarweb are based on data obtained from third parties, including estimations and extrapolations based on such data. Similarweb shall not be responsible for the accuracy of the materials and shall have no liability for any decision by any third party based in whole or in part on the materials.
Photo by Ujesh Krishnan on Unsplash
This post is subject to Similarweb legal notices and
disclaimers
.
Wondering what Similarweb can do for you?
Here are two ways you can get started with Similarweb today!