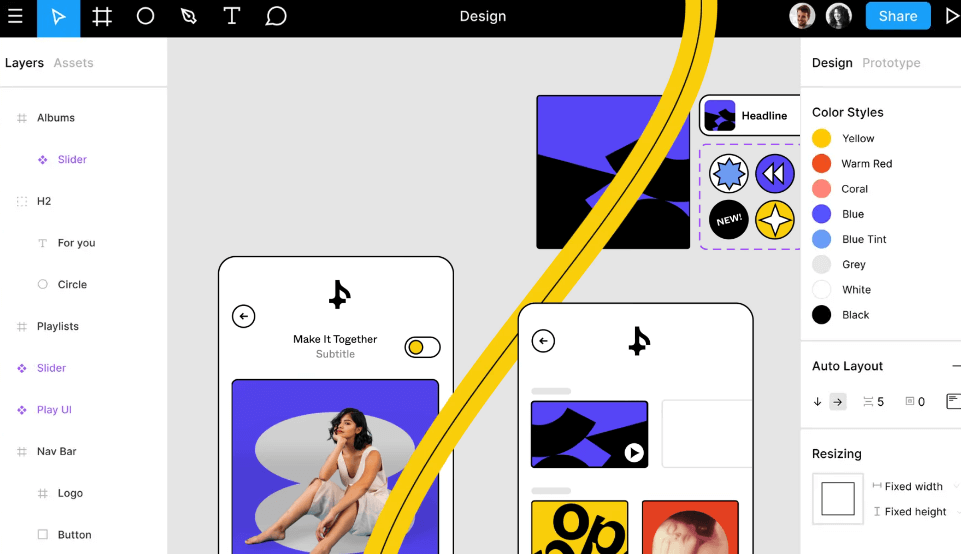 Insights
Why Adobe Was Attracted to Fast-Growing Figma
September 19, 2022
| Updated September 28, 2022
Adobe announced the biggest acquisition in its history last week, the $20 billion purchase of design collaboration specialist Figma. Adobe's stock price dropped on concerns that it had overpaid at a time when IPOs are at a standstill and acquisitions have slowed, web traffic analysis shows why Figma is a hot property. As TechCrunch pointed out, that price was a big jump for Figma, which was valued at $10 billion when it last raised money in June 2021.
Two years ago, during some of the toughest months of the pandemic, Figma was seeing traffic grow at more than 200%, year over year, as companies were forced to switch to highly distributed modes of design and product development.
Figma filled that need as a 100% web-based and highly collaborative platform for carrying the design of digital products and experiences from whiteboard sketches, to prototypes, to polished products. As a giant in the world of design software, Adobe saw Figma increasingly encroaching on its territory and decided to make it part of its own family of products.
Key takeaways 
From 200%+ year-over-year growth in Sept. 2020, figma.com continued to see 100%+ gains through September 2021. Although traffic growth hasn't been quite as frenetic over the past year, in August it was up 44.6% year over year to more than 58 million visits.
Figma's community website, an important element of its success, has followed a similar trajectory, with traffic growth of more than 100% year over year as recently as February 2022. In August, it was up 49% to nearly 2.9 million visits.
Similarweb Director of Product Management Roey Shafir says he sees the software not just as a design tool but as a platform for product-led growth and a great example of community-first development. "I personally think It's a smart move for Adobe," he said, noting that it would be challenging for Adobe to duplicate what Figma has accomplished.
Further, Figma didn't stop at appealing to design professionals (~65% of Figma's users are non-designers). "Designers were the first to adopt the product, but the whole idea is to work with non-designers," Shafir says, and Figma made it easy to integrate marketing, sales, product, and engineering,  into the design process.
Strong growth for the base offering, free and paid
Figma built its strength in the design market partly by offering a less expensive alternative to Adobe's suite of tools. Figma offers a free starter plan with an upsell to pro, organizational, and enterprise subscriptions. Students and educators get free accounts.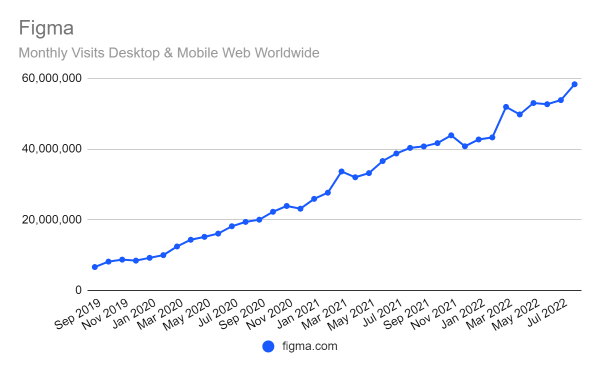 By offering free access to the educational market (a policy Adobe has pledged to continue), Figma has made its tools a standard part of the toolbox design that computer science graduates want to take with them into the workforce.
A strong community of designers and other users
Beyond appealing specifically to students, Figma has invested in educational content and sample design workspaces that are available to anyone wanting to learn how to use the software effectively. "So it's not only a fun and intuitive product, but also rich with design lessons, courses, and educational content anyone can easily find," Shafir says.
Figma creates some of that content itself, but it also leans on a strong community of users who create and share content they think will be of use to other community members. That community allows Figma to highlight the work of its users and position itself as a champion of design best practices. The community segment of Figma's website alone is pushing 3 million monthly visitors.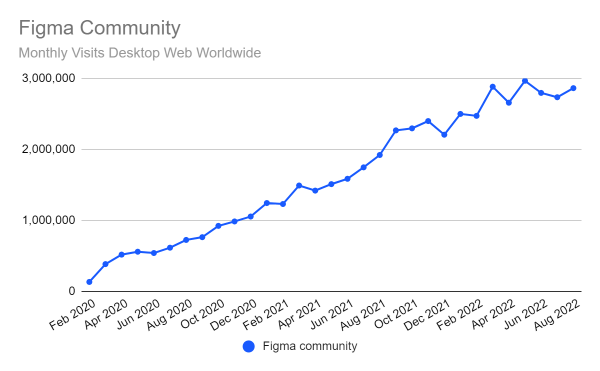 The investment community may or may not learn to love Adobe's acquisition of Figma, but its users love the product – and are only concerned that Adobe will continue to support what's best about it.
The Similarweb Insights & Communications team is available to pull additional or updated data on request for the news media (journalists are invited to write to press@similarweb.com). When citing our data, please reference Similarweb as the source and link back to the most relevant blog post or similarweb.com/corp/blog/insights/.
Contact: For more information, please write to press@similarweb.com.
Citation:  Please refer to Similarweb as a digital intelligence platform. If online, please link back to www.similarweb.com or the most relevant blog post.
Report By: David F. Carr, Senior Insights Manager
Disclaimer: All data, reports and other materials provided or made available by Similarweb are based on data obtained from third parties, including estimations and extrapolations based on such data. Similarweb shall not be responsible for the accuracy of the materials and shall have no liability for any decision by any third party based in whole or in part on the materials.
This post is subject to Similarweb legal notices and
disclaimers
.
Wondering what Similarweb can do for you?
Here are two ways you can get started with Similarweb today!