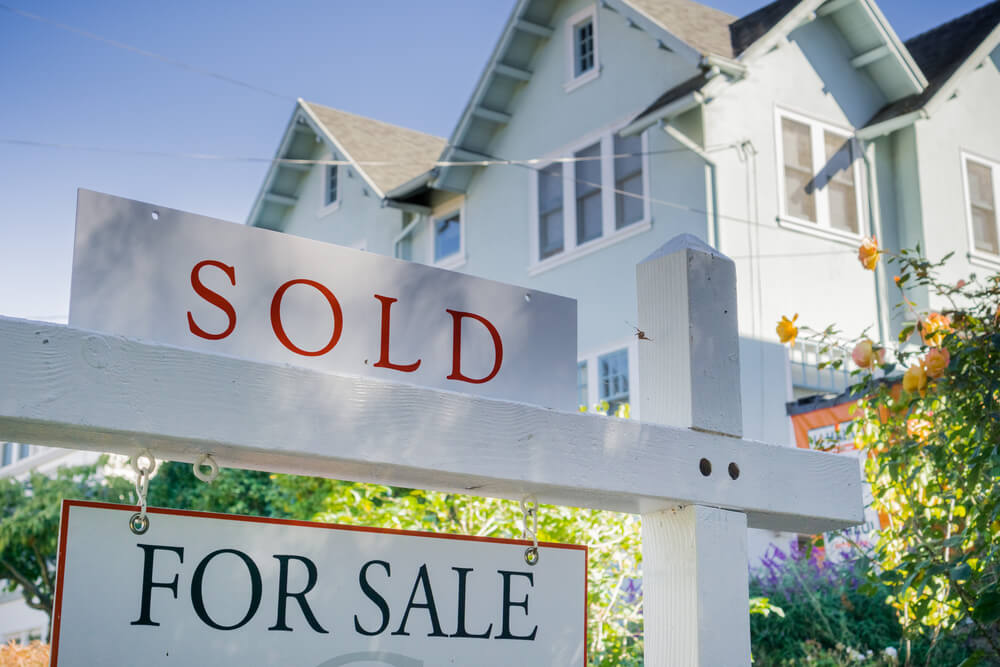 Insights
Zillow & Redfin Q1 2022 Earnings Preview
May 3, 2022
| Updated August 1, 2022
Zillow remains the market share leader in the U.S. online real estate industry that's seen little change over the past few years. According to Similarweb estimates, Zillow Group's brands, which include both Trulia and StreetEasy, continue to be the dominant drivers of web traffic. However, Redfin has won the most incremental share in web traffic recently.
Key Takeaways
Market share shifts continue to be gradual with Zillow capturing the lion's share of real estate web traffic among the competitive set

Redfin had slightly positive growth, while Zillow had a small decline, according to Similarweb estimates in Q1 2022

Visit duration continues to shorten for both websites which could impact revenues, as consumers spend less time searching for homes
Conversion remains a core focus for both companies as Redfin aims to reduce the number of customers per lead agent and Zillow integrates more technology to service tour requests and streamline scheduling
When Zillow and Redfin report after market close on May 5th, the focus will be on how the recent changes in the economy (including rising interest rates due to 40-year high inflation) have affected consumer engagement and traffic. Similarweb estimates highlight the pressures on the housing market as visits and engagement to these sites fall, which have been correlated with the decrease in the year-over-year rate of growth in home sales.
Rising Home Prices Weigh on Traffic
Over the last few years, housing inventory has been at historic lows. This limited supply has led to increasing home prices and lower affordability for many people, particularly millennials and Gen Z. Exacerbating this issue is the rise in interest rates. These trends have pressured Redfin's and Zillow's traffic with Redfin seeing a year-over-year traffic growth spike to a high of 93% in April 2021 down to a low of only 1% in October of the same year. However, in the near term, there could be a burst of sales as buyers rush to lock in prices and interest rates. Still, the duration of the buying surge may be short-lived, especially given inflation in consumer staples and energy which could temper demand.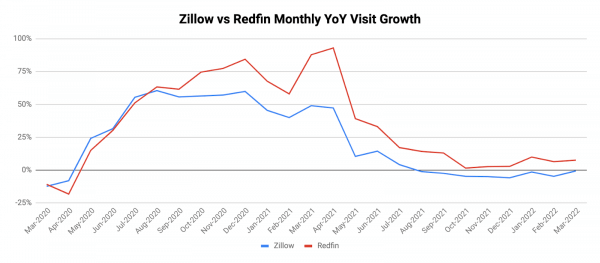 Overall, however, Similarweb estimates show that as 30-year mortgage rates have risen, visits to both sites have declined and stayed relatively flat since last summer, with affordability being a key bottleneck for younger home buyers.
Zillow's Market Share Ebbs
Zillow remains the market share leader in web traffic for the online real estate industry, which has been relatively stable over the last few years, although Zillow's traffic share has fallen from 53% in March 2019 to 49% in March 2022, according to Similarweb estimates. During that same period, Similarweb estimates show Redfin's traffic share has grown from 14% to 16%. In addition, Redfin continues to operate its iBuying business while Zillow recently exited the segment as it has made a strategic decision to focus on its core businesses of Internet, Media and Technology (IMT) and mortgages.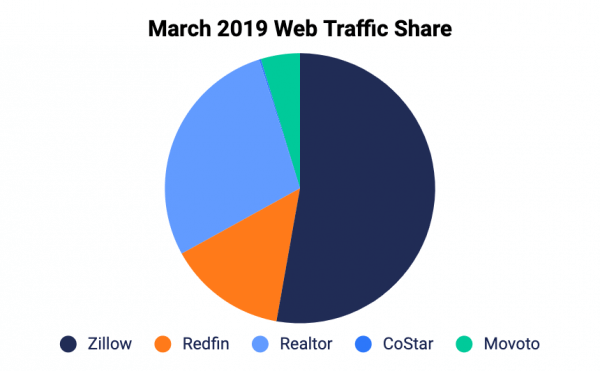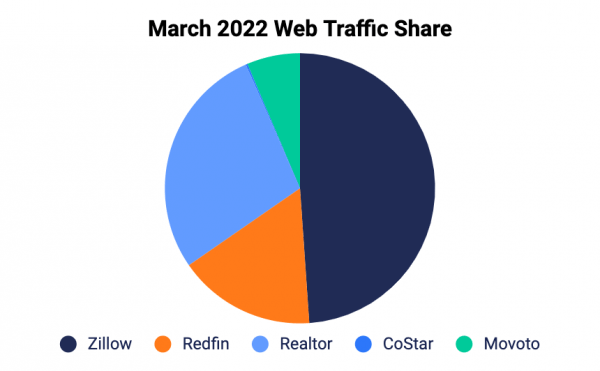 Engagement Falls 
Visit duration on both sites fell in Q1 2022, with slight declines at Redfin's core sites and the continuation of negative trends at Zillow; Zillow's duration has decreased for the last three quarters. However, for both companies, conversion rate remains a key metric despite sliding engagement, although Zillow continues to make investments it believes will help boost conversion.
Traffic to Mortgage Lending Site Improves
After seeing strong growth in traffic visits to its mortgage site in 2020, Zillow saw declining growth in 2021 as it lapped difficult comparisons. In Q1 2021, traffic to Zillow's mortgage lending pages declined from a year-over-year growth rate of 42% in December 2020 to -25% in March 2021. However, 2022 is off to a much better start with traffic growth returning to the positive side in Q1 as homebuyers attempt to get ahead of increasing prices and now rising mortgage rates. Interesting to note, that adjustable rate mortgages are making a small comeback as people attempt to mitigate rising interest costs.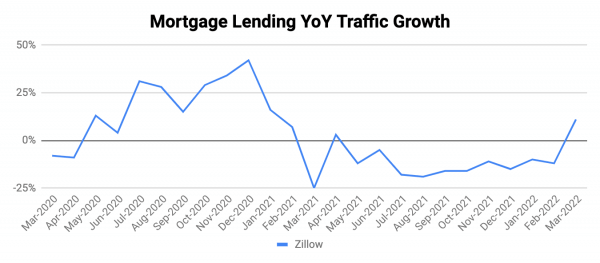 Growth Aspirations
Zillow has set 2025 financial targets of $5 billion in revenue and 45% adjusted EBITDA (earnings before interest, taxes, depreciation and amortization) margins. That's up from 2021 revenue of $2.1 billion and 39% EBITDA margins. This will require the company to continue to be very strategic in terms of how it deploys capital and investments as the ultimate goal is to continue to drive traffic and increase conversion rates for both companies.
Redfin gave quarterly guidance in its Q4 earnings presentation where management forecasted year-over-year revenue growth of between 99% and 109% for Q1 2022. However,  gross margins were guided down compared to Q1 2021 and Q1 2020 partly due to $5 million in restructuring expenses from the expected closing of the Bay Equity acquisition.
The Similarweb Insights Newsroom is available to pull additional or updated data on request for the news media (journalists are invited to write to press@similarweb.com). When citing our data, please reference Similarweb as the source and link back to the most relevant blog post or similarweb.com/corp/blog/insights/.
Contact:
For more information, please contact Anthony T. Occhipinti at anthony.occhipinti@similarweb.com and Aleks Nozhnitskiyat aleks.nozhnitskiy@similarweb.com.
Citation:  
Please refer to Similarweb as a digital intelligence platform.
Disclaimer:
All data, reports and other materials provided or made available by Similarweb are based on data obtained from third parties, including estimations and extrapolations based on such data. Similarweb shall not be responsible for the accuracy of the materials and shall have no liability for any decision by any third party based in whole or in part on the materials.
This post is subject to Similarweb legal notices and
disclaimers
.
Wondering what Similarweb can do for you?
Here are two ways you can get started with Similarweb today!