Generating alpha and increasing returns requires a lot of data. To make sure your  fund grows relative to the benchmark, you need data from various sources and something to set you apart from other investors. 
Alternative data is a powerful reference point that reveals the health and performance of companies so you can build a strong investment thesis and make decisions on whether to buy, sell, or hold a company. . According to Forbes the Buy-side spent $1.1 billion on alternative data in 2019 alone.
In this article we will answer the following questions:
What is alternative data?

What are the different types of alternative data sets?

How do different types of investors use alternative data?

How to integrate alternative data into your investment process
What is alternative data?
Alternative data is defined as data that investors use to assess a company or investment outside of traditional sources, like SEC filings and financial statements. Alternative data, like web traffic data, provides timely and accurate insights that give investors an edge.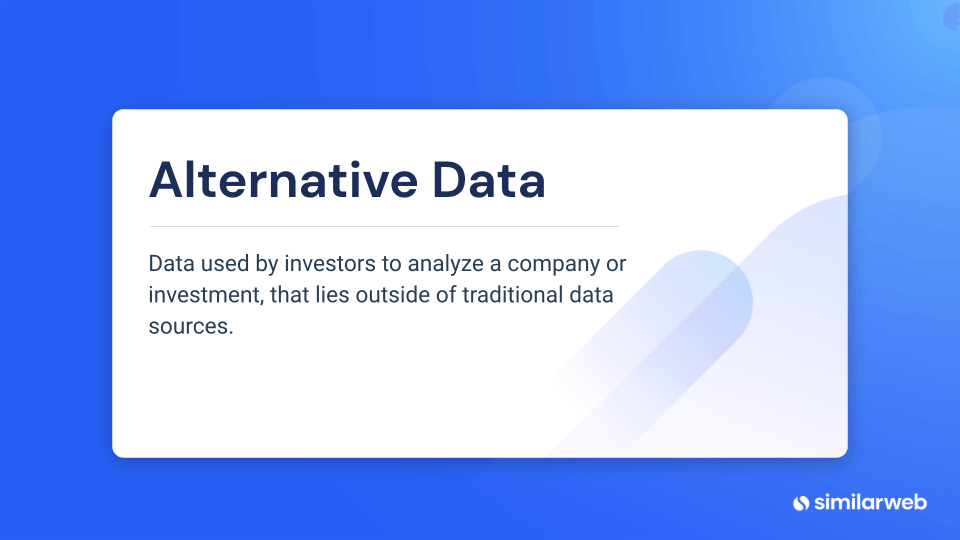 So let's take a step back and talk about traditional data sources. Traditionally data used for investment managers consists of public company disclosures and includes SEC filings, management presentations, and press releases as well as primary research produced by sell-side analysts. 
Leveraging only traditional data sources poses a number of challenges for investment professionals. Firstly, since all of this data is public, everyone has access to the same data; and although investors build different models, using different methodologies, based on different assumptions, in the end the market is efficient at pricing in all traditionally sourced data. As a result, gaining any useful advantage is diminished.
In addition as this information is available publicly the market can react, and it does. Quickly.
Using non-traditional and non-public data from alternative data providers gives investors a more complete picture of a business.  Alternative data can be the number of visitors to a website, the number of people who walked into a mall, or even credit card transaction data. Any data used to estimate the performance of a company not provided by the company itself or its dedicated sell-side analysts can be considered alternative data.

What are the different types of alternative data sets?
There are many types of alternative data sets. From email receipt data to weather data, pretty much anything is used by investors in their quest to generate alpha. Below the three most broadly used types of alternative data sources are explained.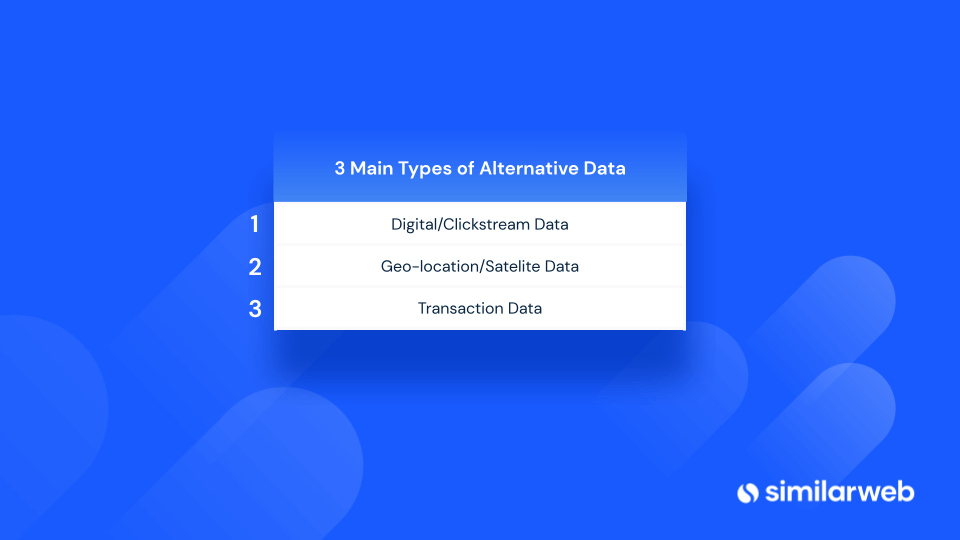 Digital / Clickstream Data
Digital data providers, like Similarweb Investor Intelligence, provide data on website traffic and engagement, and much more. As online activity both on desktop and mobile devices has become an increasingly large part of our lives, this data is more insightful than ever before.
With access to these data points investors are able to choose the relevant metrics to evaluate and benchmark company performance, and forecast growth. By doing this, investment managers are able to increase conviction in their hypotheses and find new investment opportunities.
Digital data is a must for investing in any company with an online presence from social media companies to eCommerce, food delivery, and more. For more on exactly how to do this see our blog post on why web traffic data is the perfect alternative data set.

Geo-location / Satellite Data
What is referred to as geo-location or satellite data is essentially the physical equivalent of online traffic, and there are a few types. Some GPS/Satellite data providers such as placer.ai track foot traffic in certain places of interest (for example malls and/or stores), while others have access to satellite imagery and can track whether parking lots are full or empty.
Another type of GPS/Satellite data is flight and shipping trackers. By tracking the movement of goods around the globe, investors can get insights into the global economy.
Transaction Data
Aggregators of credit card transactions and point of sale data providers such as Earnest Research and Second Measure give investors insights into a company's sales. Instead of waiting for a quarterly report, investors can estimate a business' sales by following the digital trail of credit card transactions. 
Not all transactions can be tracked, but it serves as a useful reference for gauging sales performance before the market reacts to the public company disclosures.
The above are just three examples of alternative data sources available to investors.
How do different types of investors use alternative data?
While alternative data sets have different use cases for private and public investors, it can be used by any investor in their decision-making processes.
Public investors
Public investors include any investor in listed companies (buy-side) as well as equity research companies (sell-side). Buy-side firms such as hedge funds and asset managers can include both fundamental and quant funds and everyone from hedge fund managers to data scientists can use alternative data. 
Read More – Alternative Data for Hedge Funds: The Competitive Edge to Investing
Fundamental investment managers will use these data sets to validate management messaging and increase conviction in investment theses. Quant fund managers using big data will integrate these data sets into their existing workflows to find real-time digital inflection points and monitor the digital health and competitive positioning of companies in their universe. 
Talking practically, public investors can leverage alternative data for earnings forecasting, to understand a company's performance in any given quarter before this is announced publicly in an earnings release. In addition alternative data is used by public investors to aid in the decision making process when it comes to investing in IPOs, where there is often limited public information available.  
Private investors
Private investors include any investor in non-listed companies. Unlike listed companies that are required to report on performance on a quarterly basis, there is much less information available on private companies and therefore any additional data these investors can get their hands on is welcome. 
In addition, investors in private companies can leverage insights from alternative data to advise management on strategic business decisions.
How to integrate alternative data into your investment process
Alternative data isn't meant to replace traditional data, however, it complements it very well. It provides additional signals that a business is or isn't doing well, and can help investment professionals validate an investment thesis, provide more confidence in their investment strategy, and even identify new investment opportunities.
Take a look at this report we compiled, using Similarweb's Stock Intelligence data, on Etsy earnings, ahead of its 2Q21 earnings call. The key metrics we used to measure Etsy's performance include outgoing traffic to payment providers, as an indication for Etsy Marketplace revenue trends; conversion rate (the proportion of visits that end on a 'Thank You' page), as a measure of eCommerce revenue; marketing channels, as a measure of brand awareness, and unique visitors, as a signal for active buyer growth.
Since our data comes out in near real-time (48-72 hour lag) investors can monitor company performance before this is officially disclosed (for instance through quarterly earnings reports).
For more on using alternative data in your investment process download our guide on key digital metrics per sector
To end off
You can use alternative data sources to generate more alpha, identify new investment opportunities, and strengthen your investment thesis.
Alternative data is simply non-financial data, from non-traditional sources used by investment professionals in their investment processes. There are many types of providers and many types of data sets. Each investor must understand the different types of data, and how these can be leveraged into their processes to help them generate more alpha. 
If you are part of a financial institution and would like to learn more about what alternative data is, and integrating our data into your process, contact us, and a Similarweb expert will walk you through our offering – including our API, which can provide you with incredible amounts of data at the click of a button.

This post is subject to Similarweb legal notices and
disclaimers
.
Wondering what Similarweb can do for you?
Here are two ways you can get started with Similarweb today!