Online marketplace for handmade creations, vintage goods, and craft supplies
Founded in 2005 and headquartered in Brooklyn, New York
Valued at $29.49B
Earnings date: Feb. 25
Expectations are high into the print after Etsy beat consensus revenue estimates over the past two quarters. Shares are now up over 300% on a one-year basis. So, will this hotshot eCommerce stock, beloved by Elon Musk, maintain momentum going forward?
Let's dive into the stock market data for a closer look:

Etsy Earnings Key Takeaways:
Etsy

experienced a strong 4Q20

with an upsurge in growth in global unique visitors. 

Global outgoing traffic to PayPal from etsy.com accelerated sequentially in 4Q20.

Traffic to one of Etsy's largest categories – Homewares & Home Furnishings – stepped up meaningfully from Q3.

This should help offset any potential weakness in face mask sales.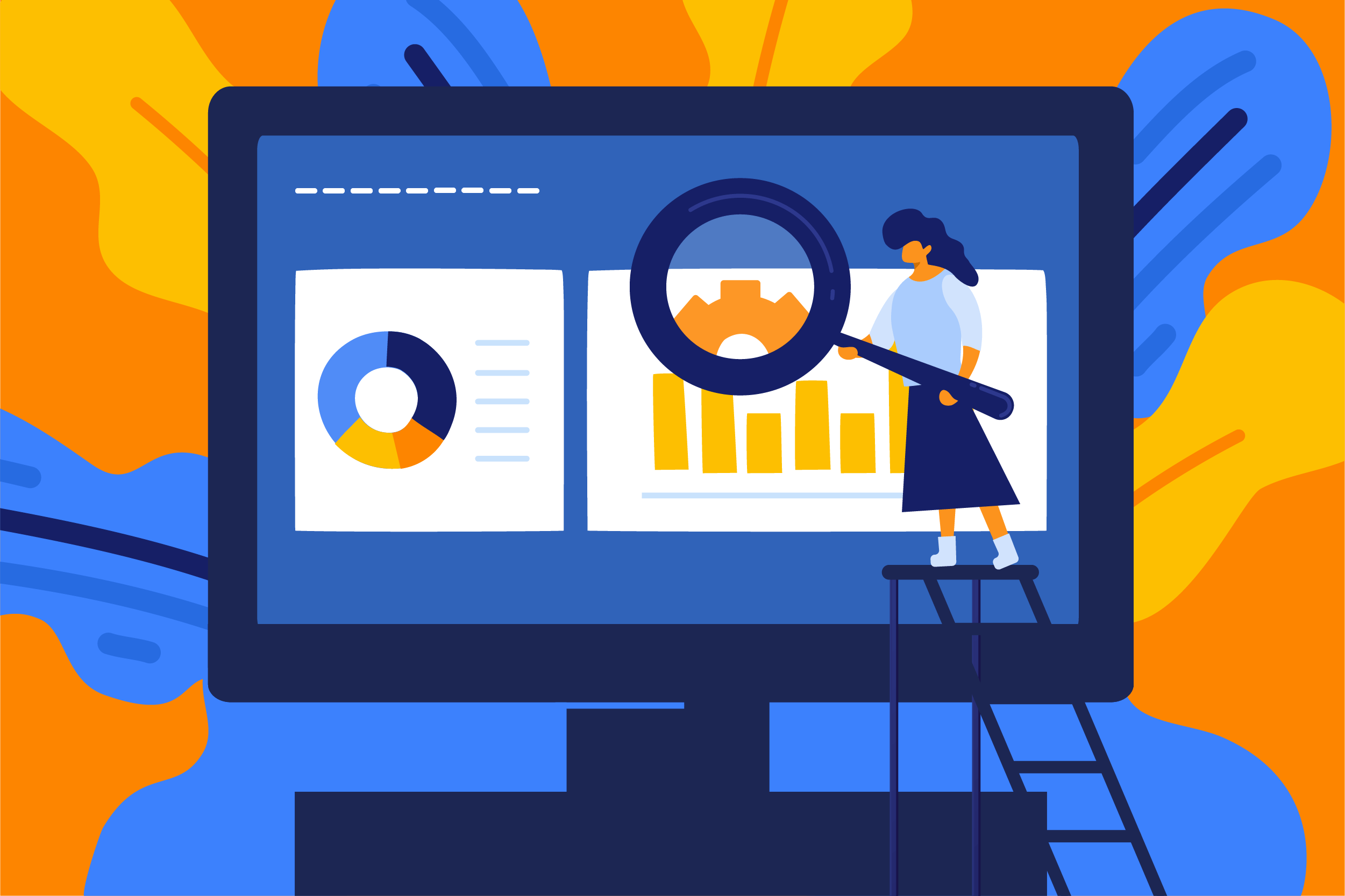 PayPal referrals 
According to Similarweb estimates, global outgoing traffic to PayPal from etsy.com, which is a historically strong directional indicator of total marketplace revenue, accelerated sequentially in 4Q20. 
Last quarter, management guided for a meaningful slowdown in 4Q20 total revenue (+70-90% year-over-year). That's a big step down from 3Q20's total revenue growth of 128% and marketplace revenue growth of 140%. 
Our data imply that this guidance might be conservative, given that management expected a steady decrease in mask sales and the deceleration of new buyer growth that they were experiencing at the end of 3Q20 to gain traction in 4Q20.  
"Masks as a percentage of GMS [gross merchandise sales] contracted sequentially from 14% of GMS in Q2 to 11% in Q3. In fact, masks declined 34% month-over-month in September. While masks are still meaningful, we expect this deceleration to continue" CFO Rachel Glaser, on the Q3 earnings call. 
So what's driving the sustained strength in outgoing payment traffic? Potential factors include: Continued momentum from COVID-19 tailwinds; stronger-than-anticipated holiday sales; the new personalized search feature; and better-than-expected results from Etsy's savvy 'Gift Like You Mean It' marketing campaign. 
Global unique visitors 
Global unique visitors to etsy.com, a historically strong indicator of growth in active buyers on Etsy's marketplace, accelerated for the third straight quarter. Indeed, unique visitors surged 75% YoY in Etsy's 4Q20 vs. 61% in the third quarter, and 39% in the second quarter. 
Etsy (ETSY) Earnings: Home & Living 
In Etsy's 3Q20 earnings call, management emphasized ongoing strength in Etsy's sales outside of masks. Management specifically highlighted healthy growth rates in the company's six core categories. 
"Despite the deceleration in overall GMS, we saw healthy underlying trends in non-mask GMS growth, which was 93% in Q3 the same growth rate as last quarter" CFO Rachel Glaser stated on the Q3 call. 
Our segment level data on one of Etsy's largest categories – Homewares & Home Furnishings, shows 4Q20 U.S. Desktop visits to etsy.com/c/home-and-living stepped up meaningfully quarter-over-quarter. Accordingly, this should help offset any weakness in mask sales. 
U.S. eCommerce industry overview 
Etsy is one of the best performing websites in the eCommerce & Marketplaces industry. On average, the industry only experienced an average year-over-year (YoY) growth in website traffic of 44% during the fourth quarter – whereas in 4Q20 etsy.com's YoY traffic growth soared from just over 70% to almost 100%. 
For instance, in the week of Dec. 11, in the buildup to Christmas, Etsy recorded 105% YoY traffic growth while amazon.com was only up 17% and eBay climbed just 31%.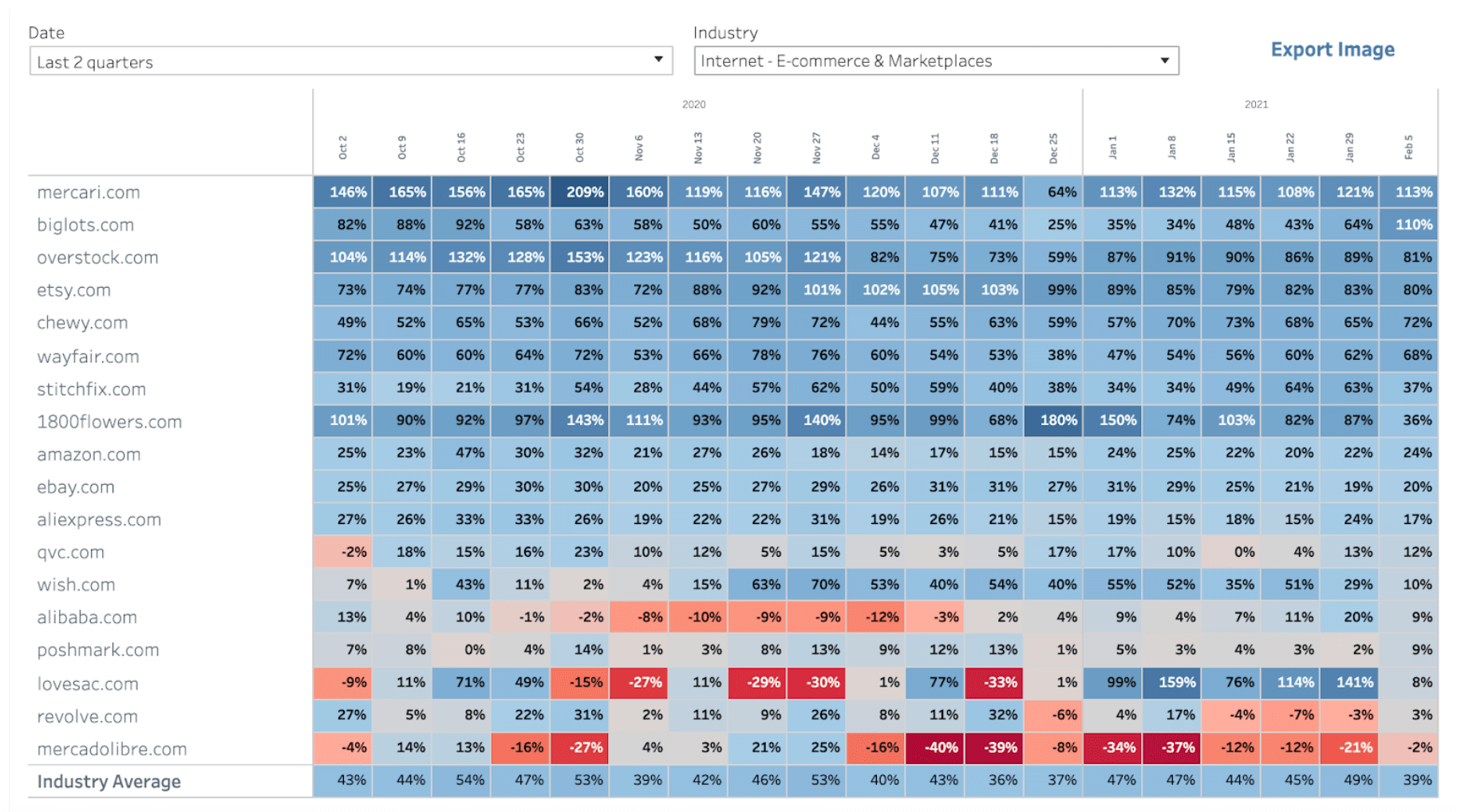 Net-net: 
This data should give investors confidence that Etsy's core business continues to take steps in the right direction in 4Q20 and that the company can continue to experience solid growth – even without the pandemic's initial mask-driven boost. 
Join thousands of investors who are already using alternative data to make better investment decisions
This blog post is subject to Similarweb legal notices and disclaimers. It was written in collaboration with Nicholas Katzaroff. 

This post is subject to Similarweb legal notices and
disclaimers
.
Wondering what Similarweb can do for you?
Here are two ways you can get started with Similarweb today!