2021 has been another recording-breaking year for Wall Street. At the same time, we've seen historic volatility.
Making predictions at such an unprecedented time for the global economy has proved to be exceptionally challenging. Strategists, single-stock analysts, and economists alike have all missed the mark more than usual in 2021. Right now, it's more important than ever to have alternative data sets for accurate and near real-time digital data to monitor online trends and guide your investment strategies.
Here we'll map out 7 spaces you should be prepared to track closely heading into 2022 (and beyond).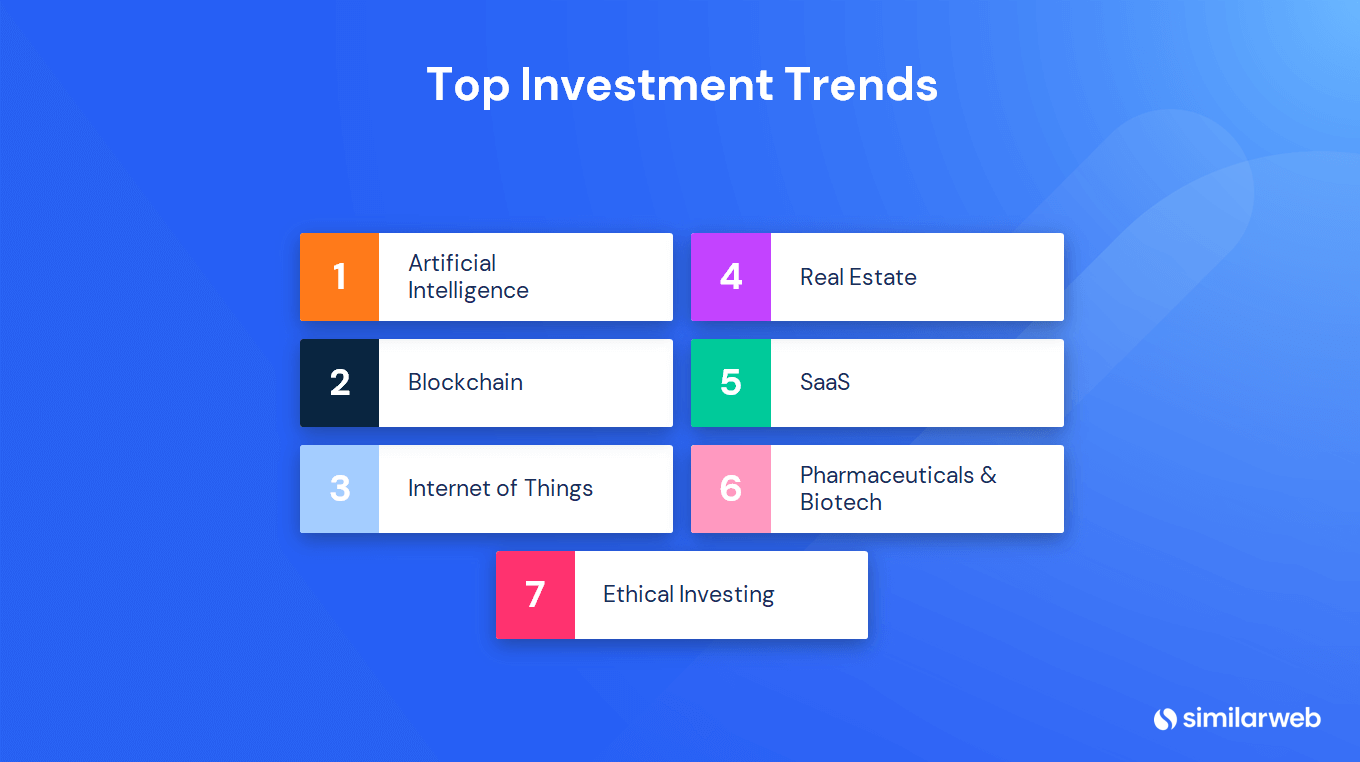 1. Artificial intelligence tops the list
The digital transformation of the worldwide economy and artificial intelligence (AI) is playing a key role. This needs to be a factor in your investment decisions.
USB predicts "AI services and hardware to grow 20% a year to reach USD 90 billion by 2025, and it could even surprise to the upside…" Here are a few stock market giants already using AI:
AI is behind Apple's Face ID, Huawei's AI Scene Recognition Feature, and Samsung's virtual assistant Bixby
Chipmakers such as Intel, Arm, and Nvidia have pivoted their manufacturing focus to AI-powered hardware
CrowdStrike, a rapidly growing cloud-based cybersecurity company, uses the power of AI to predict and hunt for cyber threats, protecting its customers from breaches, making it a leader in the cybersecurity industry
AI supports Tesla's self-driving car technology
Google's search is also powered by AI
We expect this trend to propel higher in 2022 and the decade to come. Barrons outlines three key reasons why: "First, the world is awash in valuable data…Second, advances in data-center chips allow machines to scour that information for insights…Third, companies are already profiting."
2. Blockchain popularity bubbles up
As the dollar's value weakens and inflation fears loom, alternative currencies are gaining favor from more mainstream institutions. Digital wallets and lenders are among the biggest winners as consumers move away from traditional banking institutions and toward a decentralized financial system. Many corporate leaders even accept bitcoin as payment for products. But this isn't about cryptocurrencies (although you can find the top crypto websites here if you're interested).
We're talking about blockchain. Although blockchain was popularized because of its role as a decentralized, digital ledger allowing transactions of bitcoin, many other spaces are taking advantage of blockchain's technology to record information and allow supply chain managers to easily track their products and trace all transactions from beginning to end. For example:
Chipmaker Advanced Micro Devices, Inc. (AMD) formed a strategic partnership with Blockchain Gaming Alliance to advance the development of new blockchain-powered gaming platforms
AMD also paired up with ConsenSys, Halo Holdings, and W3bcloud to build cloud computing infrastructure based on the blockchain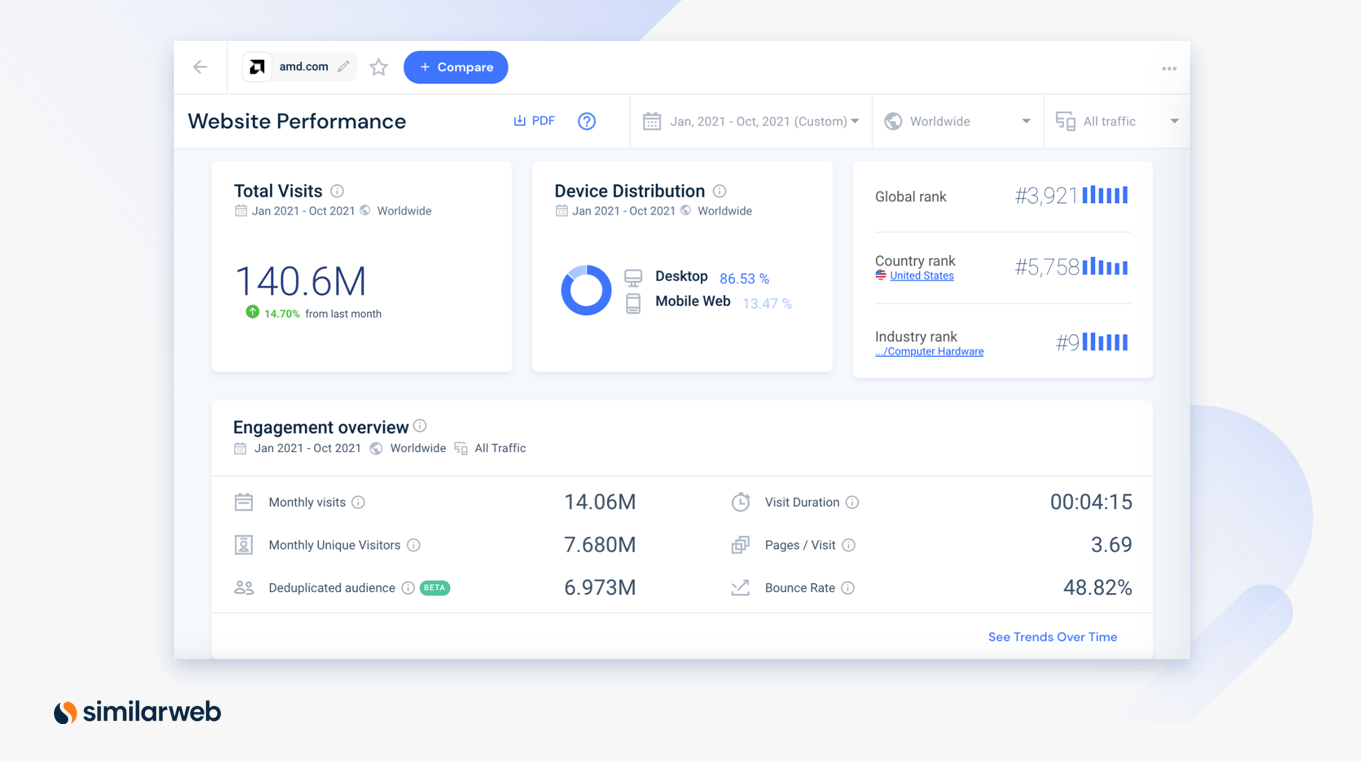 Blockchain technology has become a must-have tool for health care, supply chain management, banking, governments, manufacturers, and retailers. As its market continues to grow, we have a feeling we'll be seeing more of it in the future.
3. Internet of Things takes over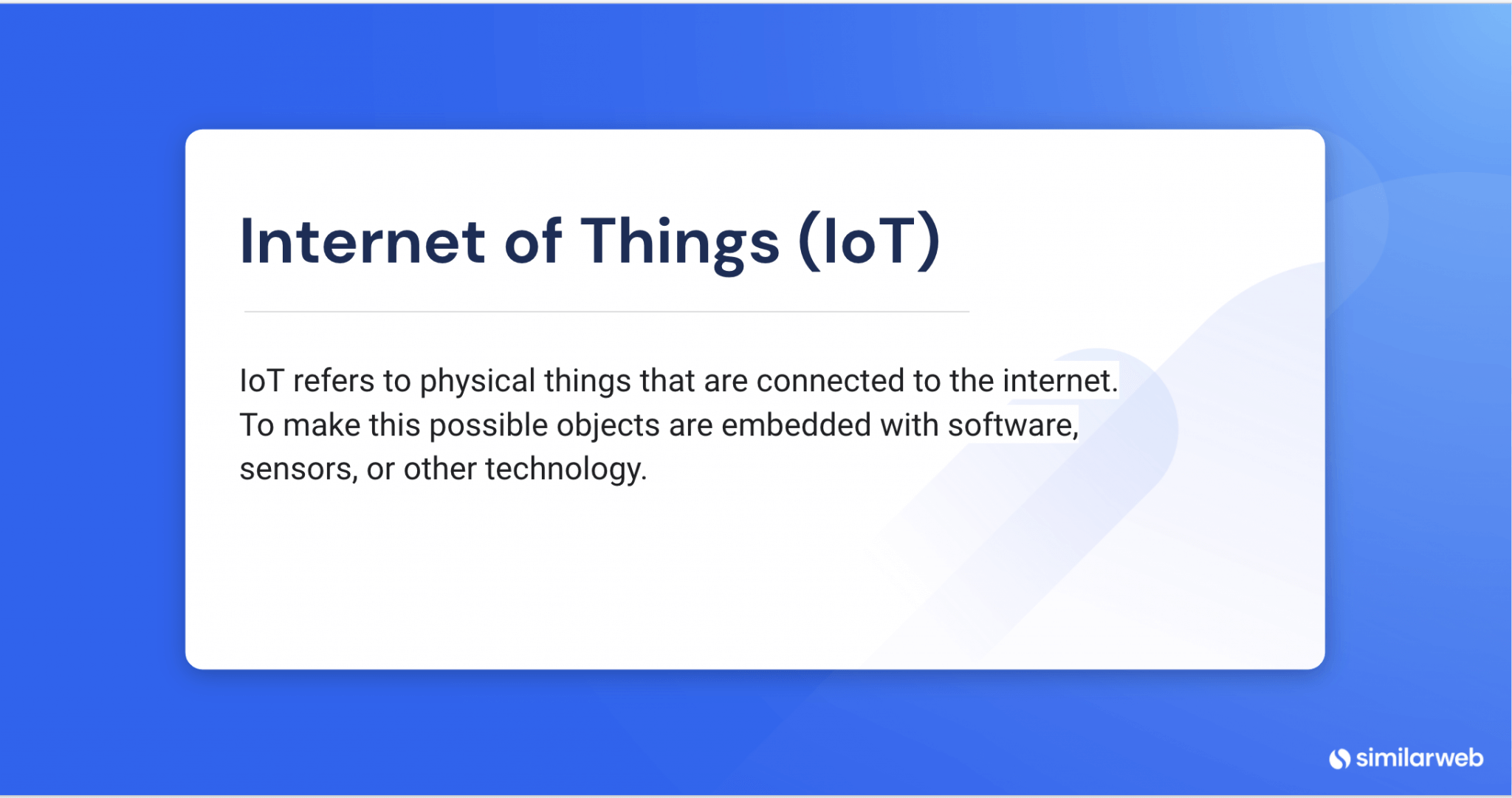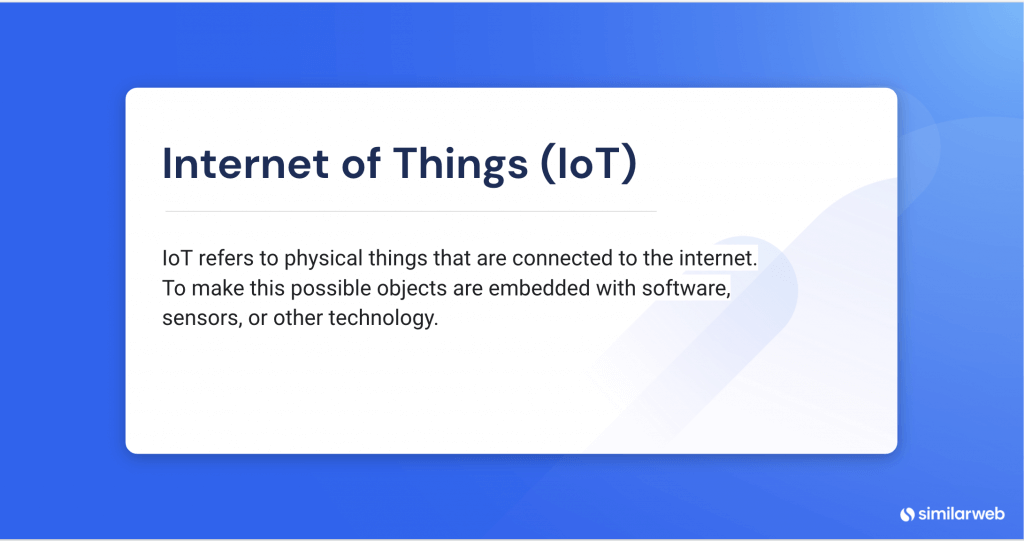 The pandemic also stimulated the development of the Internet of Things (IoT). Today that can be everything from TV remote apps to connected thermometers. IoT encompasses four components: sensors, networks, cloud, and applications.
COVID-19 fueled demand because of health concerns in hospitals, increased need for data, and the shift to working from home in many industries. As 5G continues its roll-out, delivering more reliable, higher bandwidth data transfer capabilities, IoT will flourish and improve connected devices, encouraging the development of the next generation of digital devices and services.
Industry research suggests that IoT will overcome cloud computing, big data analytics, and next-generation security. According to a Fortune Business Insights report, the IoT market will reach $1.46 trillion by 2027.
Major players tapping into IoT solutions include IBM, Microsoft, Qualcomm, Apple, Cisco, Amazon, and Bosch.
4. Real estate holds steady
One of the hottest 2021 investment trends was real estate investment trusts (REITs). In 2022, we expect this to continue.
REITs invest in income-generating real estate assets, including residential homes and apartments, hospitals, hotels, retail stores, office buildings, and data centers. By law, a REIT must distribute at least 90% of its taxable income in dividends.
The pandemic hit hospitality and office properties hard, but their future outlook is positive as economies reopen. Still, the COVID-19 pandemic actually boosted the performance of long-term rental housing, prefabricated homes, lab and medical research facility office spaces, biotech, and pharmaceutical project innovation hubs, and data centers.
Retail investors can purchase shares of REITs on the stock exchange. However, you'll want to do your homework by utilizing alternative data platforms to access critical information on how a REIT's properties are trending.
5. Software as a Service (SaaS)
Today's digital-first economy means that just about everything is digitized. SaaS stocks like Zoom, Salesforce, and DocuSign benefited from the switch to remote work and school.  They also became very attractive because they help companies shift online and scale quickly and add new customers with minimal cost. 
Looking at the growth in site visits over time for docusign.com. You can see that they keep climbing higher, although not as dramatically as the peak of the pandemic.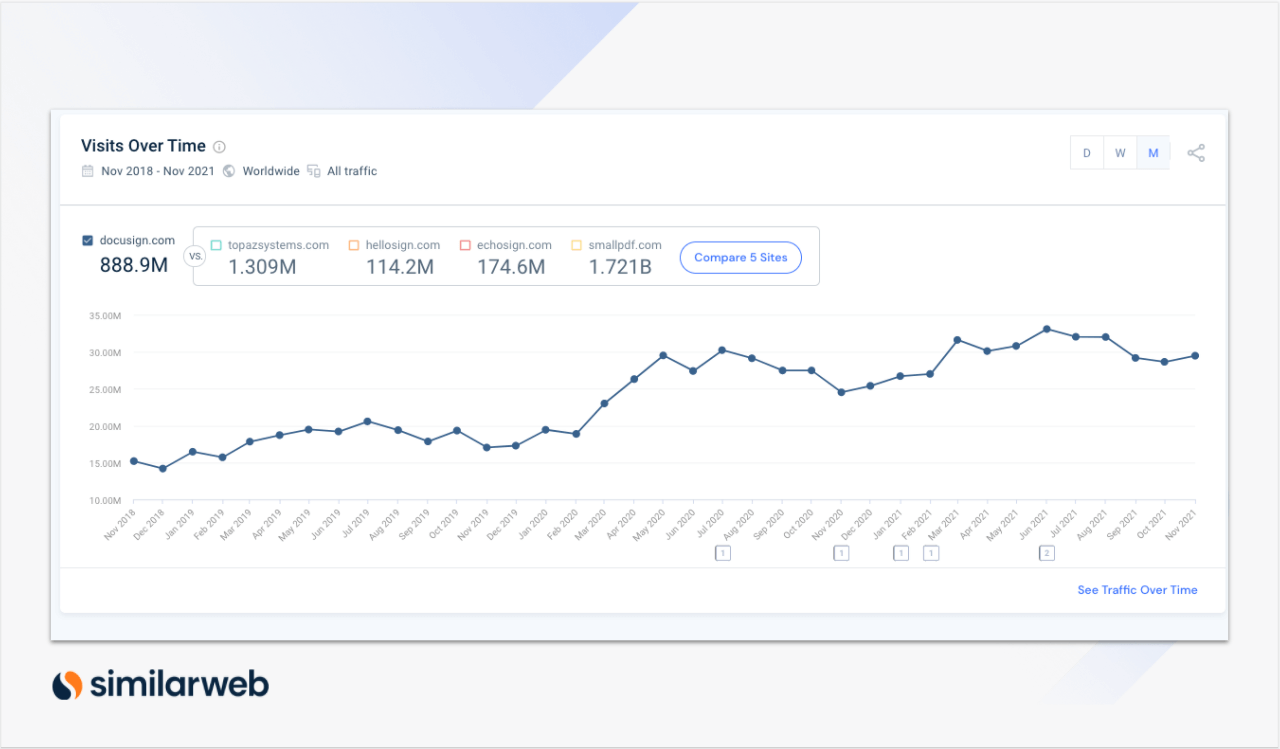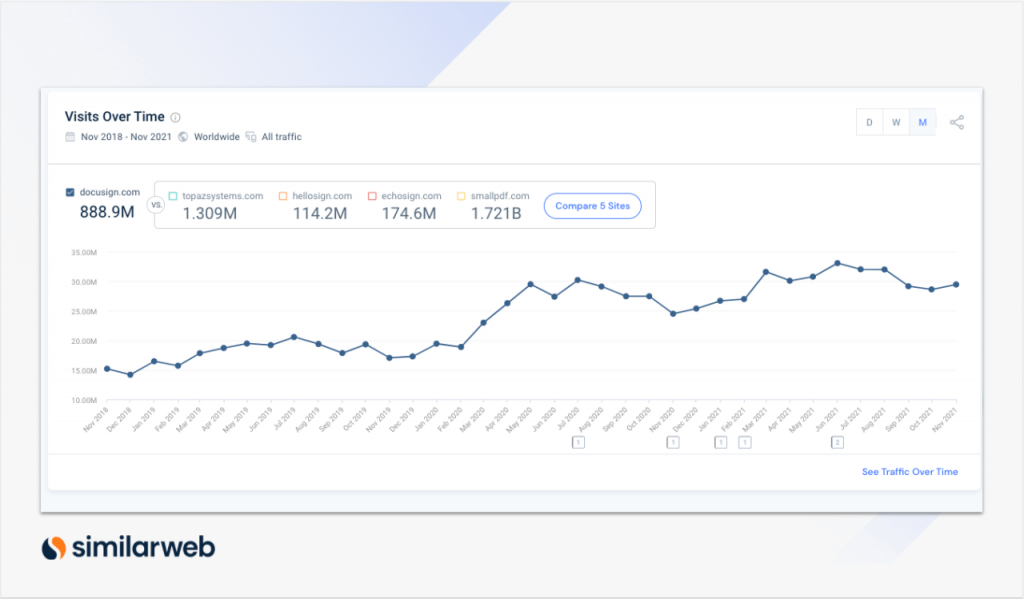 For 2022, we expect SaaS companies to keep growing their influence.
6. Pharmaceuticals and biotech join in
As COVID-19 pandemic vaccinations roll out across the globe, pharmaceutical giants Pfizer and Moderna are reaping the most significant benefits. And this looks to continue for the foreseeable future, with the need for boosters fueling demand. But drug manufacturers working on therapeutic drugs such as Regeneron will benefit too.
An exciting new frontier of medical and scientific innovation is the engine behind this latest investment trend.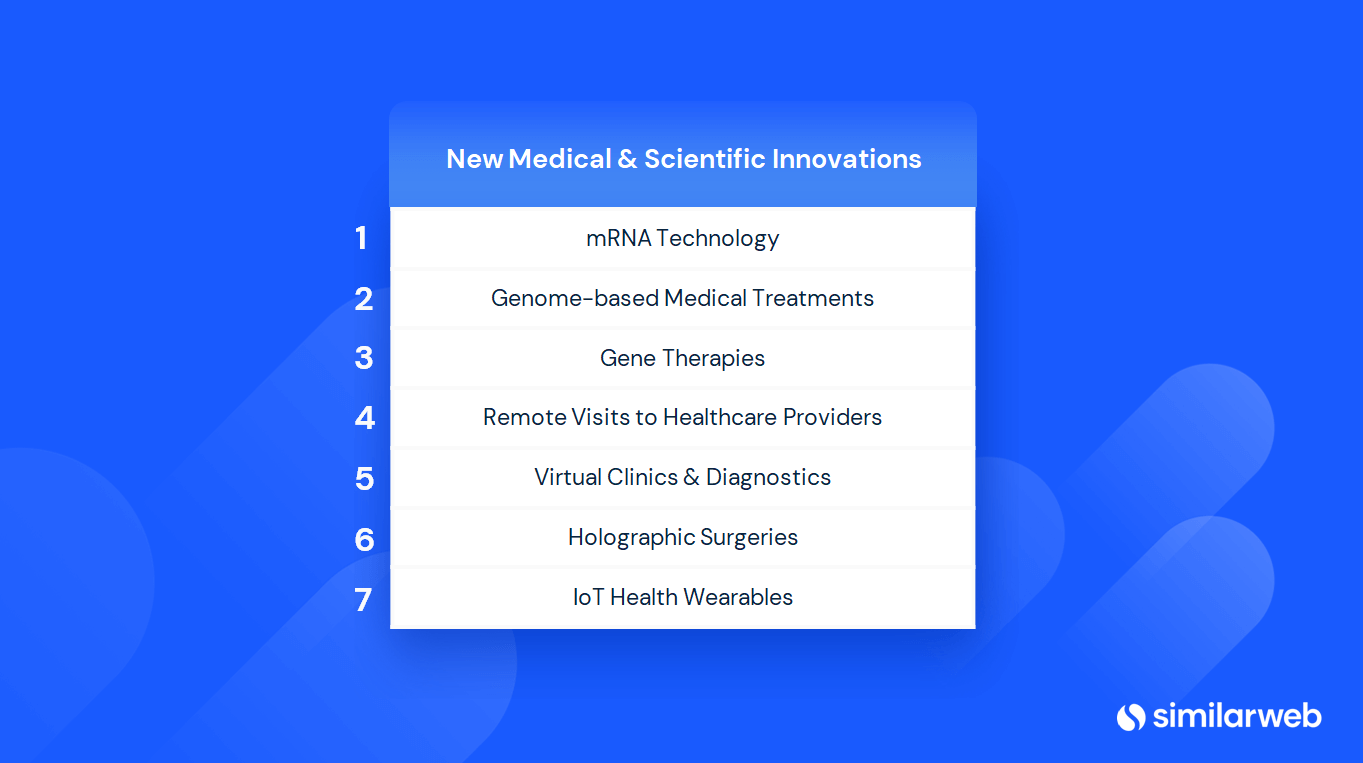 But it's not just the vaccines and drug therapies — there's an entire supply chain required to get these where they need to go.
For instance, effective delivery requires cooling and transport technologies. In addition, more sophisticated drones are being deployed to deliver drug therapies to remote locations. Startups on the cutting edge of these technologies will be the first to benefit.
7. Ethical investing gets an edge
Consumers are increasingly demonstrating their preference for value-driven companies.
Consider the rise of electric vehicles and the popularity of Tesla alone. One of the leading investment trends among investors is using money to advance values and ethics. And it pays.
In an analysis from March 5, 2020 to March 5, 2021, S&P Global Market Intelligence found that 19 out of 26 ESG ETF and mutual funds analyzed outperformed the S&P 500 – rising between 27.3% and 55% over the period vs. the S&P 500 27.1% rise.
An ethical investment portfolio can actually protect you from risk while allowing you to make a positive impact.  With climate change concerns on the rise,  sustainable investing is becoming more influential for risk management.
These factors have made ESG stocks more attractive to investors.
3 disruptors – future investment trends
The creator economy rises
Recent data indicates that the number of creators grew by 48% from the previous year, making it one of the most exciting future investment trends. Fintech platforms such as Stripe help fuel the creator economy by making it possible for creators to earn money on platforms including Clubhouse, Twitter, Quora, and Medium. PayPal, Square, and Karat Financial are making serious moves to capture the growing creator economy as well.
NFTs take off
The NFT (non-fungible tokens) market is soaring, reaching a valuation of $1.7 trillion in 2021. Driven in part by the rise of the creator economy, NFTs enable artists, influencers, and other creators to make money by digitizing their creations. As such, NFTs are digitized assets that are verified and stored on blockchain technology. They can then be attached to JPEG images, Tweets, and other social media posts. Sotheby's and Coinbase both announced in October 2021 that they would launch NFT marketplaces. NFTs are likely to move up the list of new investment trends.
Renewables rush in
Renewable energies will become more critical in the future, especially in light of growing fuel shortages and the rising cost of fossil fuels. Renewables such as solar, wind, and hydropower have the potential to capture a larger market share, though dependence on fossil fuels won't disappear soon. Nevertheless, growing energy consumption combined with climate events such as droughts, floods, and major storms push renewables to the forefront of mainstream energy sources. For long-term investing trends, all indicators point to growth in the renewable energy sector.
The Metaverse moves in
A summary of future investment trends would be incomplete without talking about one of the hottest topics in the world today — the Metaverse.
Altered Reality (AR) is not new, but the race to become king of the Metaverse fuels what Bloomberg estimates will become an $800 billion market by 2024. Facebook CEO Mark Zuckerberg recently announced that the Metaverse would be a primary focus of the platform from now on. But it's not the only name in the race. Companies like Fastly, Nvidia, Roblox, Shopify, and Roundhill Ball Metaverse ETF will offer stiff competition. Will the Metaverse dominate future investment trends?
Expect the unexpected
Investment trends for the next decade will showcase new technologies that break through the digital frontier as we know it. In the meantime, the current investment trends spotlighted here offer exciting opportunities for investors.
Looking toward the future can net you significant gains. However, you'll want to confirm everything with your research, utilizing cutting-edge investment research technologies such as alternative data, which provide real-time indicators of an industry's or company's performance. Keeping your focus on the long-term is the best approach to successful investment, despite trends and disruptions.
This post is subject to Similarweb legal notices and
disclaimers
.
Wondering what Similarweb can do for you?
Here are two ways you can get started with Similarweb today!