 Investor Intelligence
The Mother of All Short Squeezes: Robinhood Traffic Explodes 1,200%
February 3, 2021
| Updated August 2, 2022
When they said all press is good press, they can use the recent Robinhood scandal as a case study. Looking at the digital traffic alone over the last 7 days, it is clear that Robinhood is on fire. 
The online brokerage – and potential unicorn IPO –  is at the epicenter of the surreal GameStop (GME) trading saga. It sparked outrage after banning, and then restricting, trades in so-called meme stocks like GameStop, Nokia (NOK) and BlackBerry (BB). 
"[Last] week demonstrated that unsustainable excess in one small part of the market has the potential to tip a row of dominoes and create broader turmoil," Goldman Sachs' David Kostin commented.
Now the U.S. Securities and Exchange Commission has agreed to review the restrictions imposed by trading platforms. Meanwhile, Robinhood has raised an eye-watering $3.4B in order to stabilize its operations.
Using Similarweb's powerful alternative data, we took a deep dive into Robinhood's key digital data points over the last few weeks and months. We also compared these trends to those of traditional U.S. retail brokerages: Fidelity, Charles Schwab, TD Ameritrade, Etrade, and Interactive Brokers. 
As you will see, the impact of recent events is startling. 
Pro Tip: Similarweb data is updated daily with only a 48–72 hour processing lag so users can immediately identify emerging players and market trends. 
Key takeaways for Robinhood:
A high correlation between Robinhood ticker on-site search vs. actual trading volumes. Here we can see how GME trading volume drops dramatically after Robinhood blocked trades in GameStop on Jan. 28.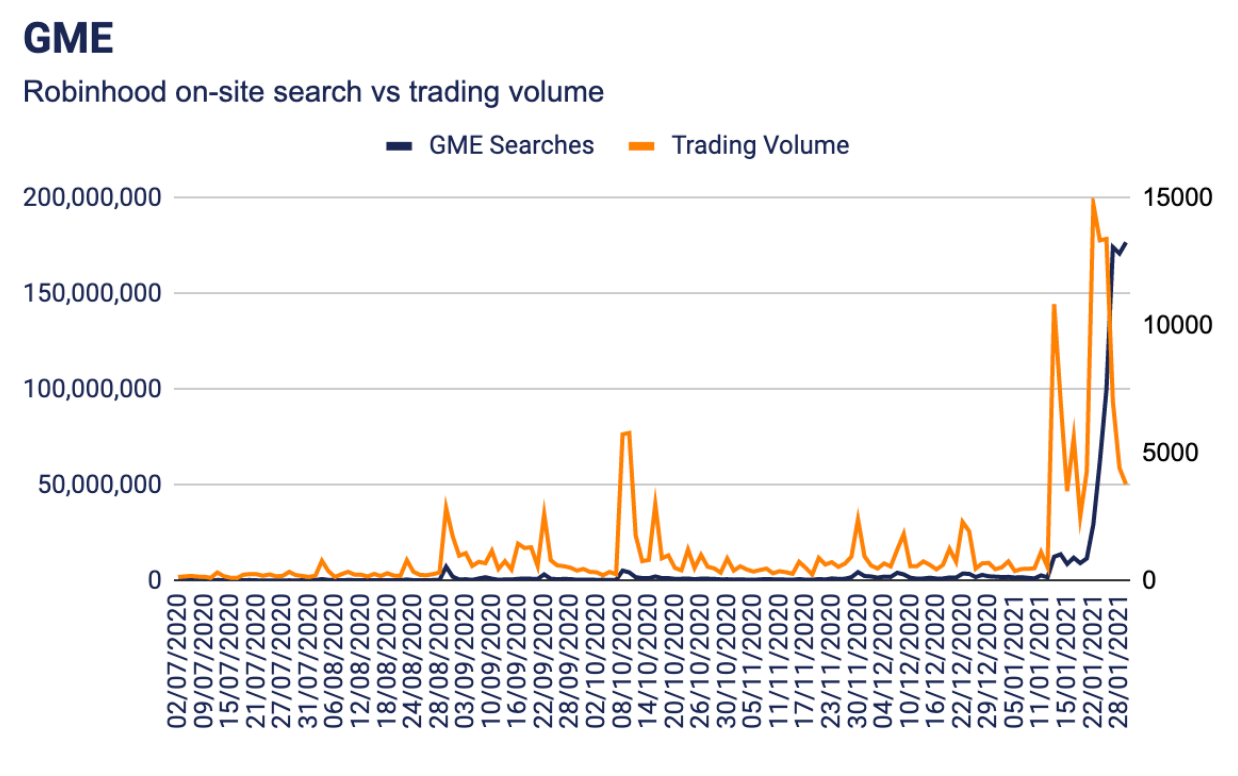 Robinhood.com traffic has surged over 1,000% in seven days! 

User numbers dipped after the trading restrictions on Jan. 28 

Market share has accelerated vs. traditional retail brokerages

We can see this via rising website visits and deepening audience engagement, in terms of minutes spent per session.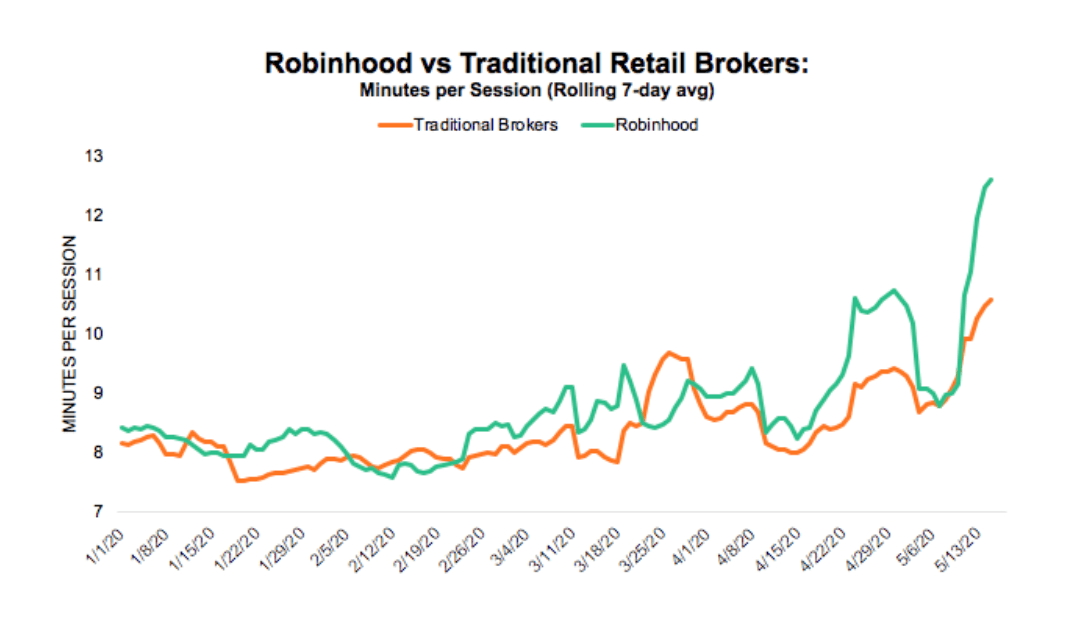 Access all our exclusive Robinhood insights, including the Top 10 Most Searched Stocks on Robinhood and market share analysis, by downloading our free report now.
Did you know that 3% of all Reddit page views were on the WallStreetBets subreddit in January? 
Stay ahead of the market using valuable digital data insights. 
This post is subject to Similarweb legal notices and
disclaimers
.
Wondering what Similarweb can do for you?
Here are two ways you can get started with Similarweb today!