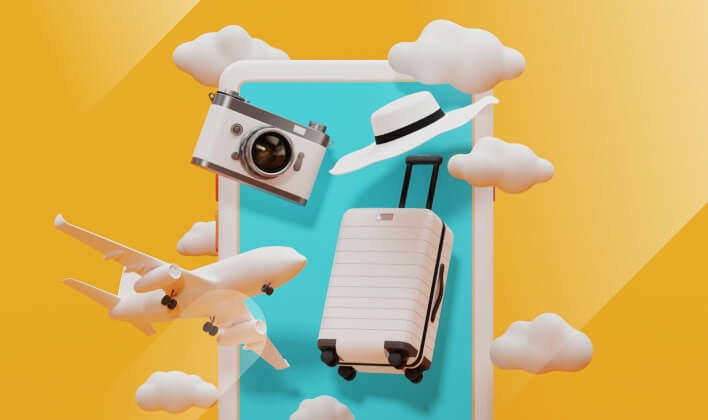 Investor Intelligence
Southwest Earnings: A Long Flight Ahead For LUV
January 22, 2021
| Updated August 2, 2022
Southwest Airlines (LUV) may have had an extremely challenging year – but its stock is faring much better than you might expect. Shares are up almost 50% (on a six-month basis) heading into earnings. 
Cowen's Helane Becker highlights LUV as her top airline stock for 2021, in part due to its focus on the leisure and vacation market. But the next six months look decidedly choppy, with Becker telling investors to prepare for "near-term pain to a leap of faith."
"With the lack of change fees, it's impossible to know if future bookings will lead to people getting on planes," Becker says. "There are still a lot of unknowns but 3Q21 is a crucial quarter and where the leap of faith needs to be, in our view."
In the meantime, we can get a better idea of Southwest's position by taking a closer look at its digital trends. 
Using Similarweb's powerful alternative data, we will focus on:
Southwest's website traffic trends in relation to peers
Shifting market share trends and audience loyalty
Southwest's conversion rate of web traffic to transactions 
The fallout continues 
As we can see in the graph below, airline travel is still feeling the pain from spiking Covid-19 cases and international travel restrictions. At the same time, the rise of video conferencing has also drastically reduced business travel demand. 
Total US visits to the websites of America's four major airlines were down ~40%+ year-over-year (YoY) in 4Q20, meaning the airline industry still has a long road to recovery. That said, QoQ increases in total visits are a positive sign for travel interest going forward. 
Unsurprisingly, domestic leisure travel is recovering at a faster pace than business or international travel. In November, Bill Gates told CNBC that he believes "over 50% of business travel and over 30% of days in the office would go away" (a claim dismissed by Delta CEO Ed Bastian).
Luckily this uneven recovery in the airline industry should benefit Southwest given the airline's historical focus on domestic and leisure flights. 
However, in 4Q20 specifically, Southwest's digital performance relative to peers was not as strong as the previous two quarters. Notably, Southwest experienced the second-lowest decline of the four major airlines in YoY monthly total website visits (-47% YoY) for the US since the beginning of the pandemic. 
Moderating trends in 4Q20
US Market Share: Southwest and American Airlines have both increased traffic share from Delta and United since the onset of the pandemic. But Southwest's YoY increase in traffic share moderated in 4Q20. 
Audience loyalty: Southwest's strong audience loyalty among its competitors also seems to have contributed to the airline's strength in its YoY monthly visits decline rate relative to its peers since March 2020.  
Why? Well, consumers can only check pricing and book their flights directly on Southwest's website, boosting brand loyalty. In comparison, for the other major airlines, consumers can check pricing and book their flights on third-party websites, making it easier to price shop and switch airlines. 
Nonetheless, note that the US audience loyalty rate for visitors who exclusively visited Southwest's website still dropped marginally from ~48% in 3Q20 to ~46% in 4Q20.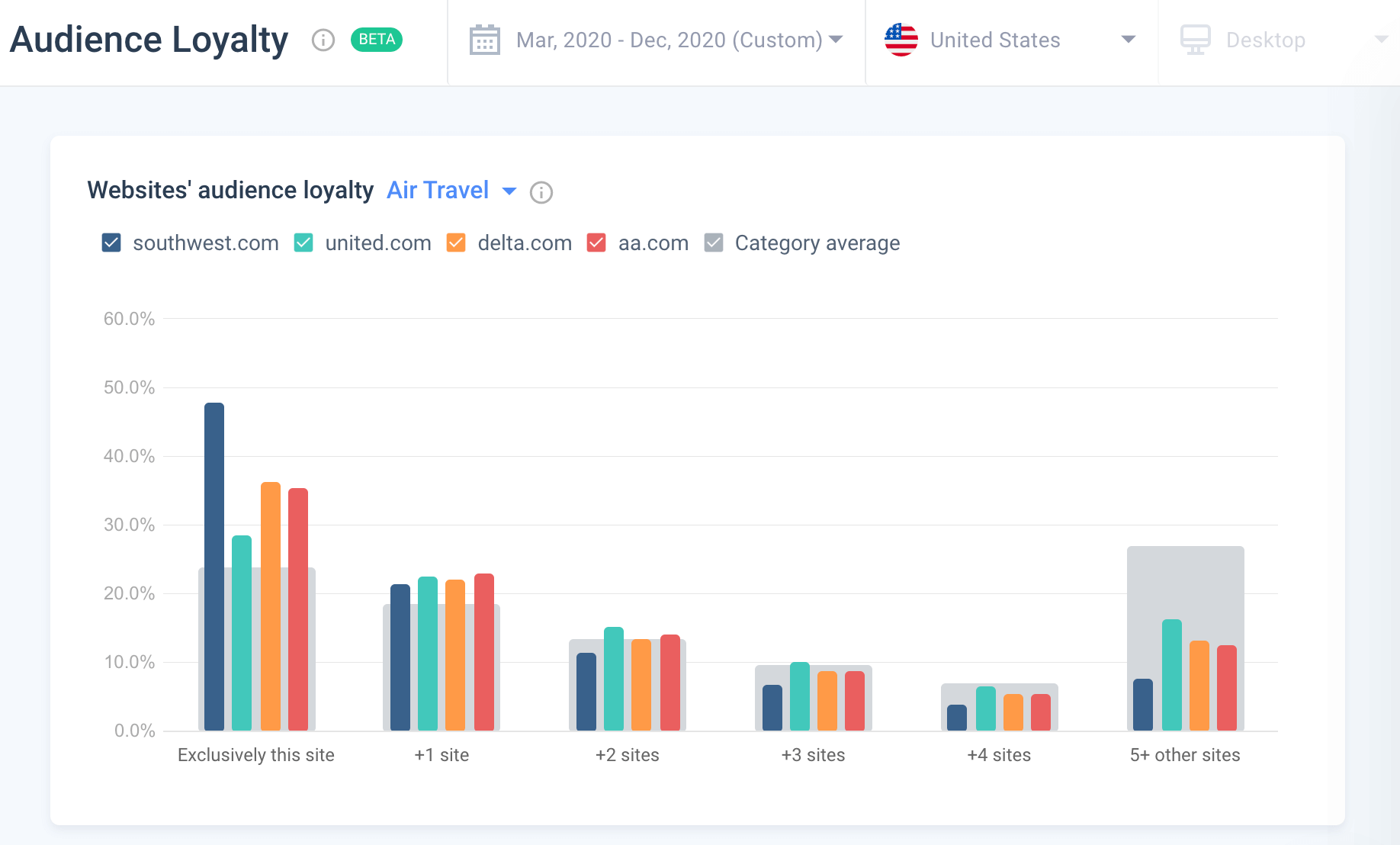 Conversion is #1
Though the four major airlines experienced a decline in conversion rates and converted visits since the onset of Covid-19, Southwest remains an industry leader in these categories. 
Pro Tip: As the conversion rate measures the proportion of website visits that result in transactions, this is a key indicator of Southwest's quarterly revenue trends.
In this case, LUV experienced one of the most gradual declines in conversion rates when comparing the pre-pandemic time period (February 2019 – February 2020 period) to post-pandemic (March 2020 – December 2020). 
As the graph below clearly shows, the conversion rate improved from October (8.16%) to December (8.23%). Nonetheless, be aware that the rate did take a significant cut at the beginning of the quarter from September's stellar 9.0%. 
What's more, Southwest's 4Q20 YoY conversion rate took a step back in 4Q20 when compared to the previous quarter. For instance, in the third quarter, LUV delivered an average conversion rate of 8.60% (down 0.9% YoY) vs 8.16% for 4Q20 (down 2.7% YoY).
Southwest Earnings: Conclusion
Our data suggest that LUV experienced a rocky fourth quarter. Nonetheless, Southwest still appears to show a slightly better recovery trajectory than the other major airline companies covered here. This makes Southwest a key stock to track for the coming months – especially if shares should dip going forward. 
This is just a taste of what you can discover using our data. Optimize your investment decisions in 2021 with our critical stock insights. 
This blog post was written in collaboration with Nicholas Katzaroff. It is subject to Similarweb legal notices and disclaimers.
This post is subject to Similarweb legal notices and
disclaimers
.
Wondering what Similarweb can do for you?
Here are two ways you can get started with Similarweb today!