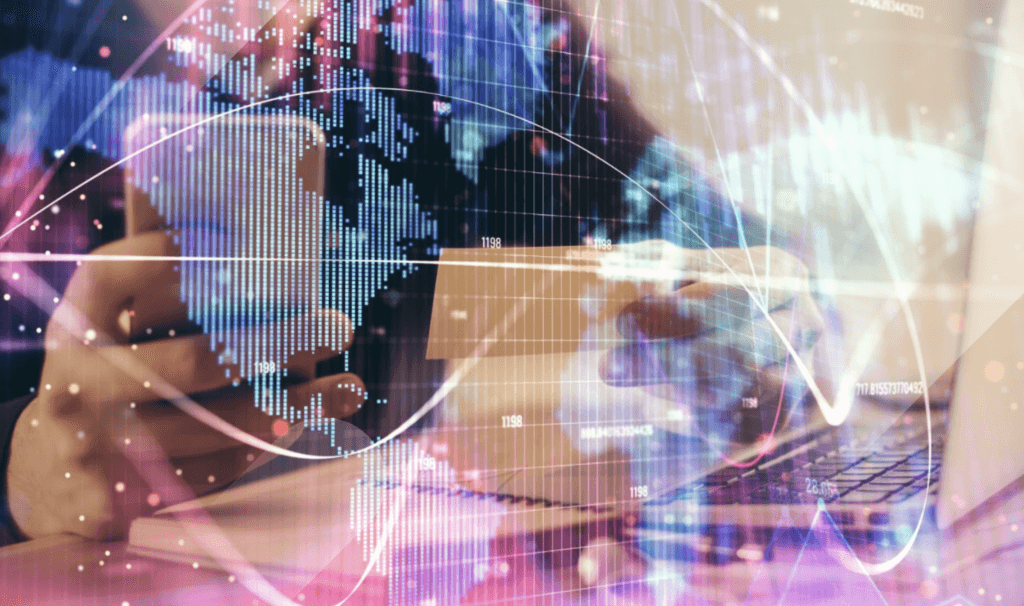 Investor Intelligence
Ranked: The World's Top 10 Digital Disruptors in 2021
August 25, 2021
| Updated July 5, 2022
Wondering which stocks are showing A-grade digital growth? Look no further. Here we compiled a list of the 10 top digital disruptor stocks every investor should be following right now. These are the stocks you should keep an eye on in the coming months. We used Similarweb Stock Intelligence data to pinpoint stocks which rank #1 in each of their individual industries. This is based on the rate of website traffic growth over the last five quarters (i.e. since 2Q20). 
There's no question that the future is digital. As the World Economic Forum blog states: "Companies now face an urgent choice: go digital, or go bust." Similarweb tracks data from over 100 million websites across 190 countries. That puts us in first place to spot stocks with a notably strong digital trajectory. So let's see who's leading the way (and blowing their rivals out the ethersphere):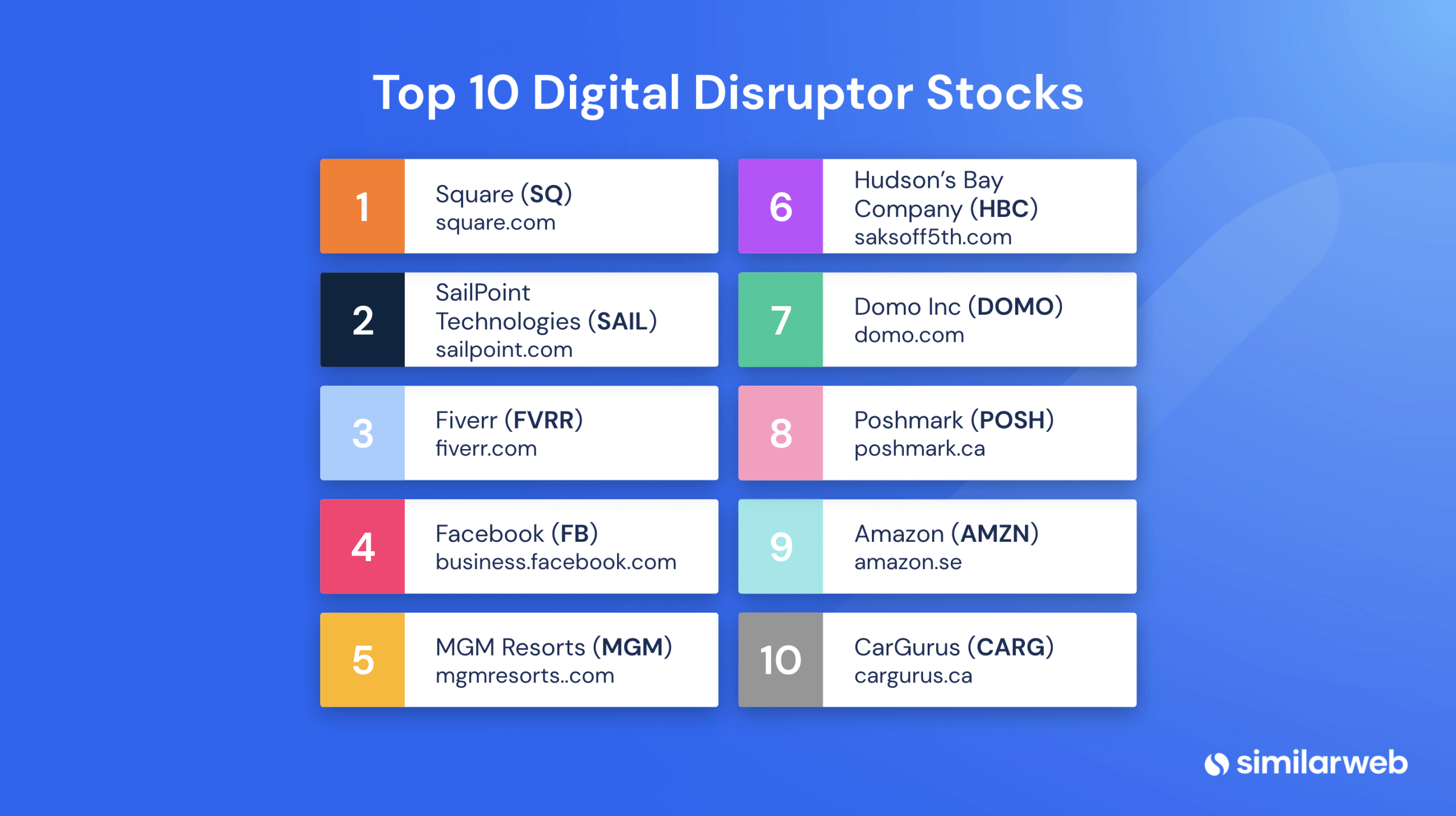 1. Square (SQ)
Square is the #1 digital disruptor in the Payments industry. From 2Q20 to 2Q21 square.com traffic had a compound quarterly growth rate (CQGR) of 29%. That smashes the growth rate for pay.amazon.com and paypayl.com at 1.23% and 0.7% respectively.
Notably Square has just snapped up buy-now-pay-later (BNPL) hotshot Afterpay in a massive $29 billion all-stock deal. Afterpay boasts 16 million consumers, and nearly 100,000 merchants globally. So once the Afterpay platform has been fully integrated into Square, you can expect Square's digital growth to go through the roof. 
"Square and Afterpay have a shared purpose. We built our business to make the financial system more fair, accessible, and inclusive," cheered Jack Dorsey, CEO of Square. "Together, we can better connect our Cash App and Seller ecosystems to deliver even more compelling products and services for merchants and consumers."
2. SailPoint Technologies (SAIL)
If you haven't come across SailPoint Technologies Inc. before, then this Texas-based SaaS digital disruptor is one to add to your watchlist. According to Similarweb data, its strong traffic growth over the last five quarters puts it in first place in the Identity & Access Management industry, beating larger competitors like Ping Identity and OneLogin. 
Indeed, sailpoint.com has achieved very impressive year-over-year (YoY) traffic growth of 153% from July 2020 to July 2021. You can see its dramatic increase in popularity in the chart below. Notably, this traffic surge has continued well past the height of the pandemic in 2020:
3. Fiverr (FVRR)
Freelance hub Fiverr is next on the digital disruptor list, with a stellar quarterly growth rate of 54%. As you can see from the screenshot below, Fiverr's traffic spiked during the pandemic. Crucially, it has managed to retain these traffic levels all the way through the first half of 2021. Indeed, Fiverr's monthly visits for July 2021 remain 4% above July 2020 (and 70% above July 2019). 
What's exciting about Fiverr is that it is also showing much stronger audience engagement than its no. #1 rival Upwork. We can see that in July 2021, the average visit duration came in at 17 minutes 51 seconds for fiverr.com vs. just 11 minutes 30 seconds for upwork.com.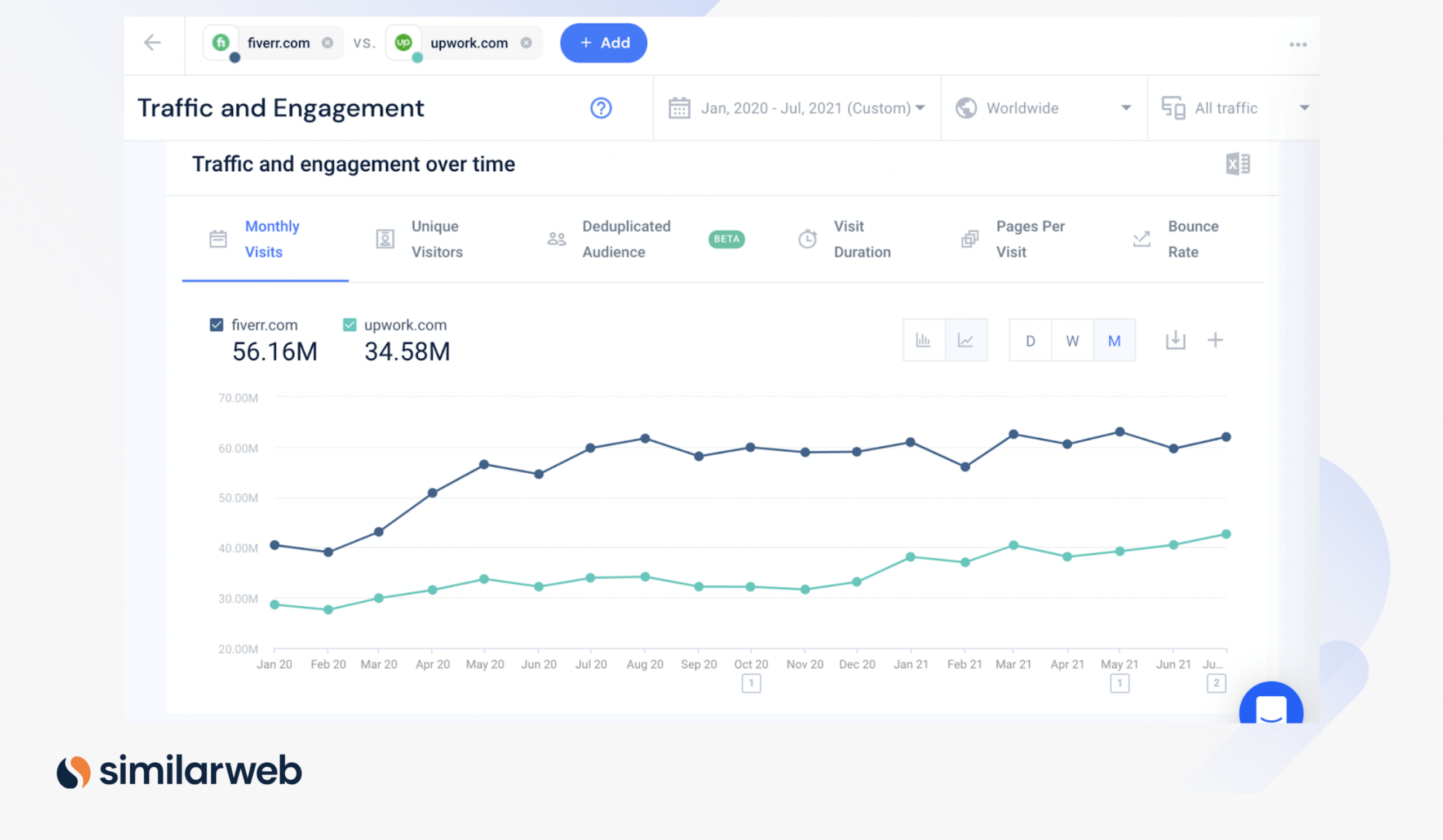 4. Facebook (FB)
Our data has highlighted impressive growth for Facebook's business website, business.facebook.com. That's a very bullish signal for the social media giant, as ad revenue makes up the bulk of Facebook's income. 
As you probably know, Facebook smashed its most recent earnings report. Revenue surged 56% YoY in 2Q21, its fastest growth since 2016. Why? FB revealed a 47% rise in average price per ad, along with a 6% increase in the number of ads it delivered. You can read our FB earnings insights here.
We can see that business.facebook.com takes first place in the social media advertising industry, with 11% quarterly growth over the last five quarters. This means it beats out other leading social media ad sites such as ads.twitter.com and ads.snapchat.com.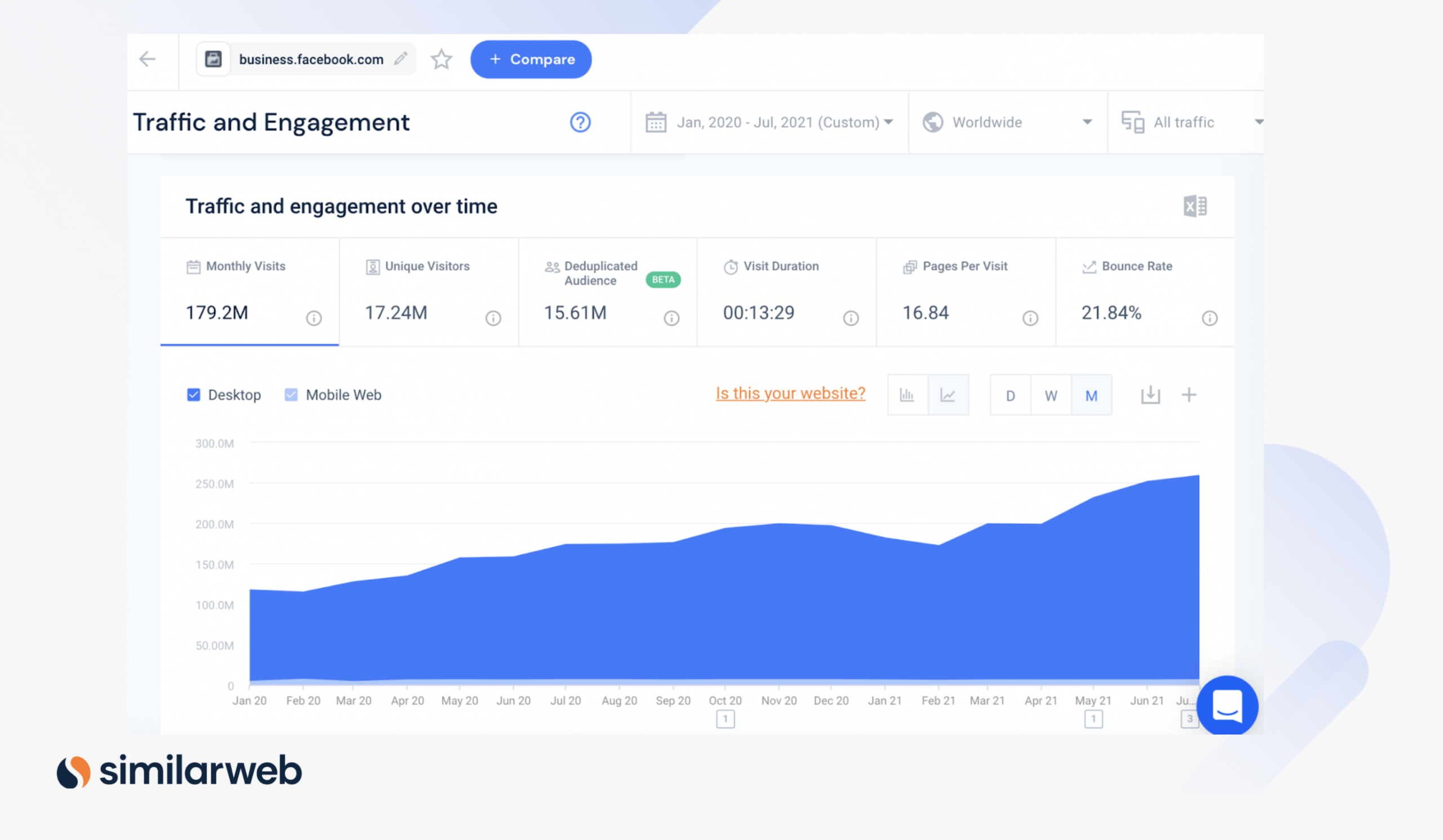 Uncover over 1,000 digital disruptors 
5. MGM Resorts (MGM)
Visits to MGM's website (mgmresorts.com) have skyrocketed in recent months. Now that on-site travel is returning, and lockdowns have eased, this hospitality and entertainment company is reaping the rewards.
Our data shows that, in terms of traffic, MGM comes out top in the casinos & gaming industry. Its growth rate over the last five quarters outplays heavyweights such as caesars.com, wynnlasvegas.com, sands.com, and wynnresorts.com. 
Below you can see the monthly unique visitor numbers for some of the most well-known websites in this industry. Unique visitors are the individually-counted users of a website, making this metric a key indicator of brand reputation. We can see how unique visitors to mgmresorts.com overtakes caesars.com during April 2021. 
6. Hudson's Bay Company (HBC)
Everyone likes a bargain. And while Saks is best known for its luxury high-end department store chain, Saks Fifth Avenue, it also boasts a cut-price offshoot. Founded in 1990, 'Saks off Fifth', also sells designer brands, but at much cheaper prices. Both companies are owned by Canadian holding company Hudson's Bay Company, which recently unveiled plans to spin off Saks off Fifth into a separate entity (which it will still own). 
Encouragingly, compared to the rest of the Department & General Merchandise industry, saksoff5th.com has shown promising website growth over the last five quarters. If you look at the chart below, you can see how the gap between the luxury department store and its main rivals narrows over time. So watch this space.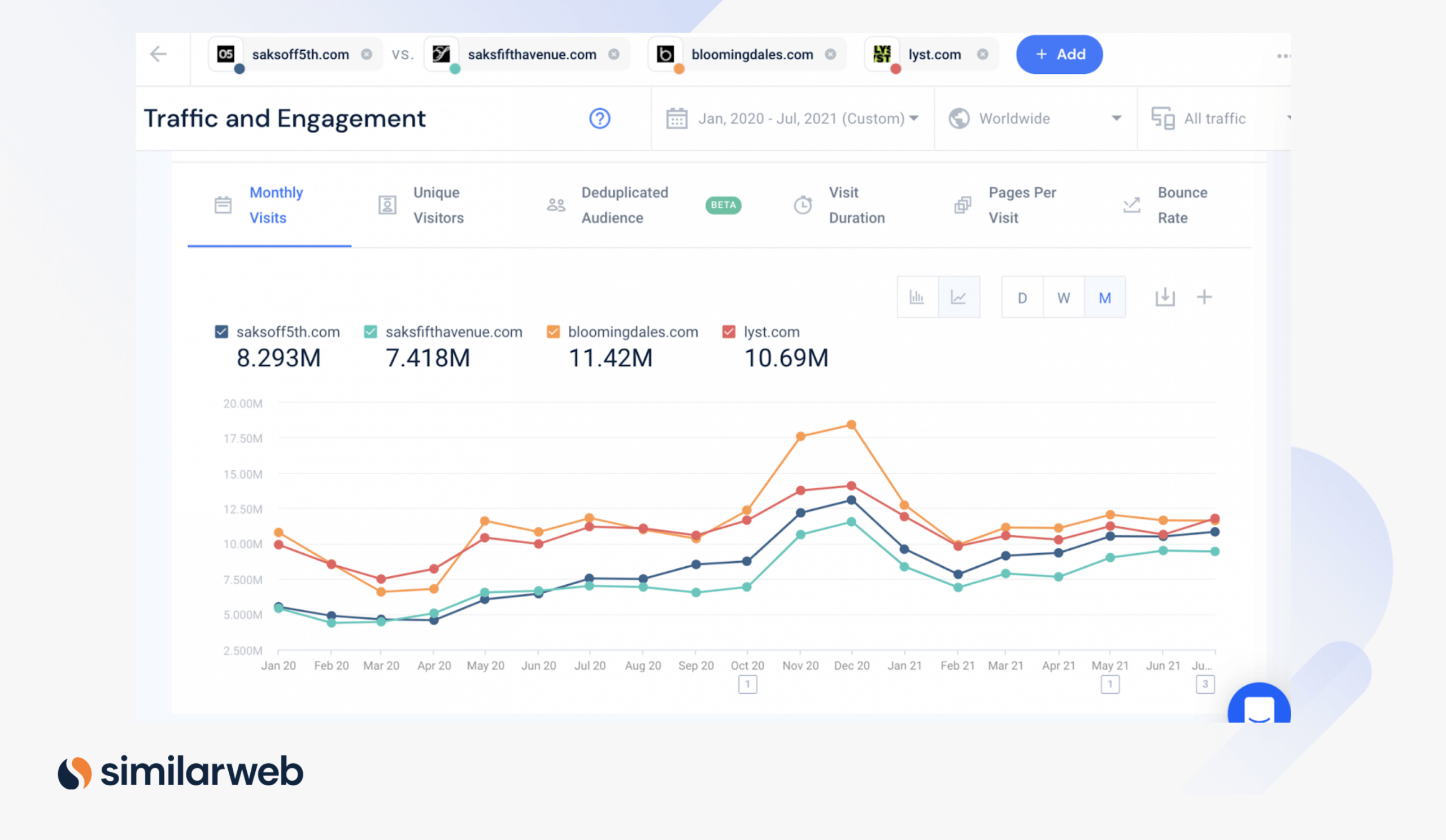 7. Domo Inc (DOMO)
Domo stock is the #7 digital disruptor on our radar. The company has exploded recently, surging 45% YTD and over 200% in the last year. That was down to improving profitability and impressive logo wins.
"With a record Q1 across many metrics including new business and retention, our performance this quarter puts us in a great position to execute well for the remainder of FY22," celebrated CEO Josh James on the company's last earnings report. He added: "On average we've been growing our billings 25%."
The digital data also paints a very bullish picture for this cloud software company that specializes in business intelligence tools and data visualization.
As a result, in the business intelligence industry, domo.com's traffic growth over the last few quarters puts it in first place. And from June to July global monthly traffic continued to improve, rising 5.4% to 1.86 million.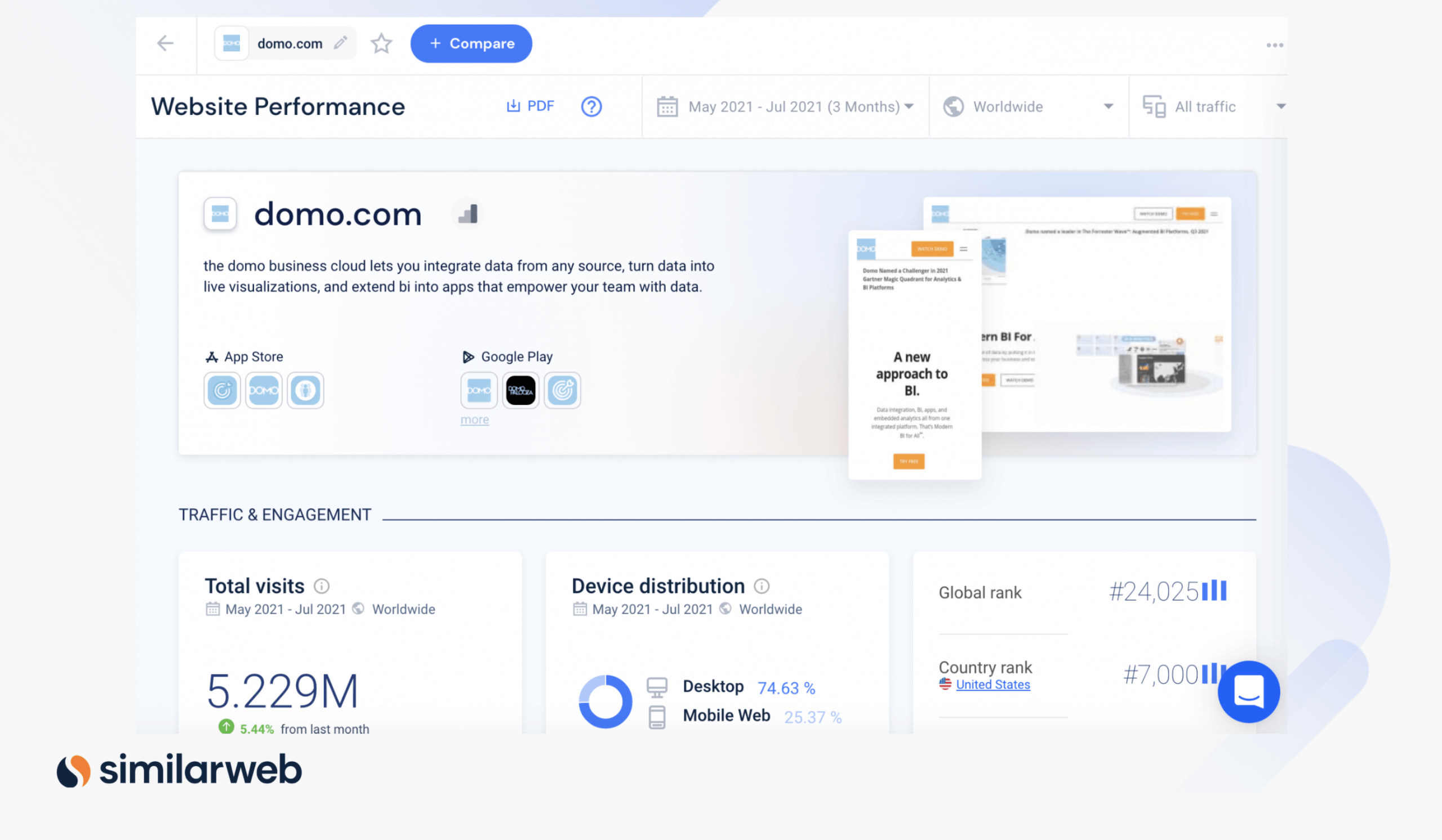 8. Poshmark (POSH)
Poshmark, the fashion resale site for second-hand goods, is a relative newcomer to the stock market. POSH made its debut on the public markets on 14 January, 2021. Shares have plunged since the IPO, but the digital trends are actually fairly positive.
In particular our data shows a dramatic uptrend in website visits to Poshmark's Canadian website, poshmark.ca. In the Department/Specialty Retail Stores industry, poshmark.ca comes in first place, and has delivered 63% YoY traffic growth.
Note too, the 21% YoY growth for the global domain poshmark.com. Meanwhile poshmark.com.au has exploded from under 5,000 website visits in January to over 136,000 visits in July. 
9. Amazon (AMZN) 
Look out, there's a new kid in town. Well, in Sweden to be precise. eCommerce king Amazon debuted its Swedish site, amazon.se, on October 28, 2020. And so far it has been extremely successful. 
"We are thrilled to launch Amazon.se and to be able to offer Swedish customers a selection of more than 150 million products, including tens of thousands of products from local Swedish businesses," exclaimed Amazon's Alex Oote.
Since the launch date, website visits to amazon.se have skyrocketed. Monthly visits to the website hit over 13 million in March, with a peak in May at 13.94 million. Indeed its quarterly website growth rate comes in at over 400%!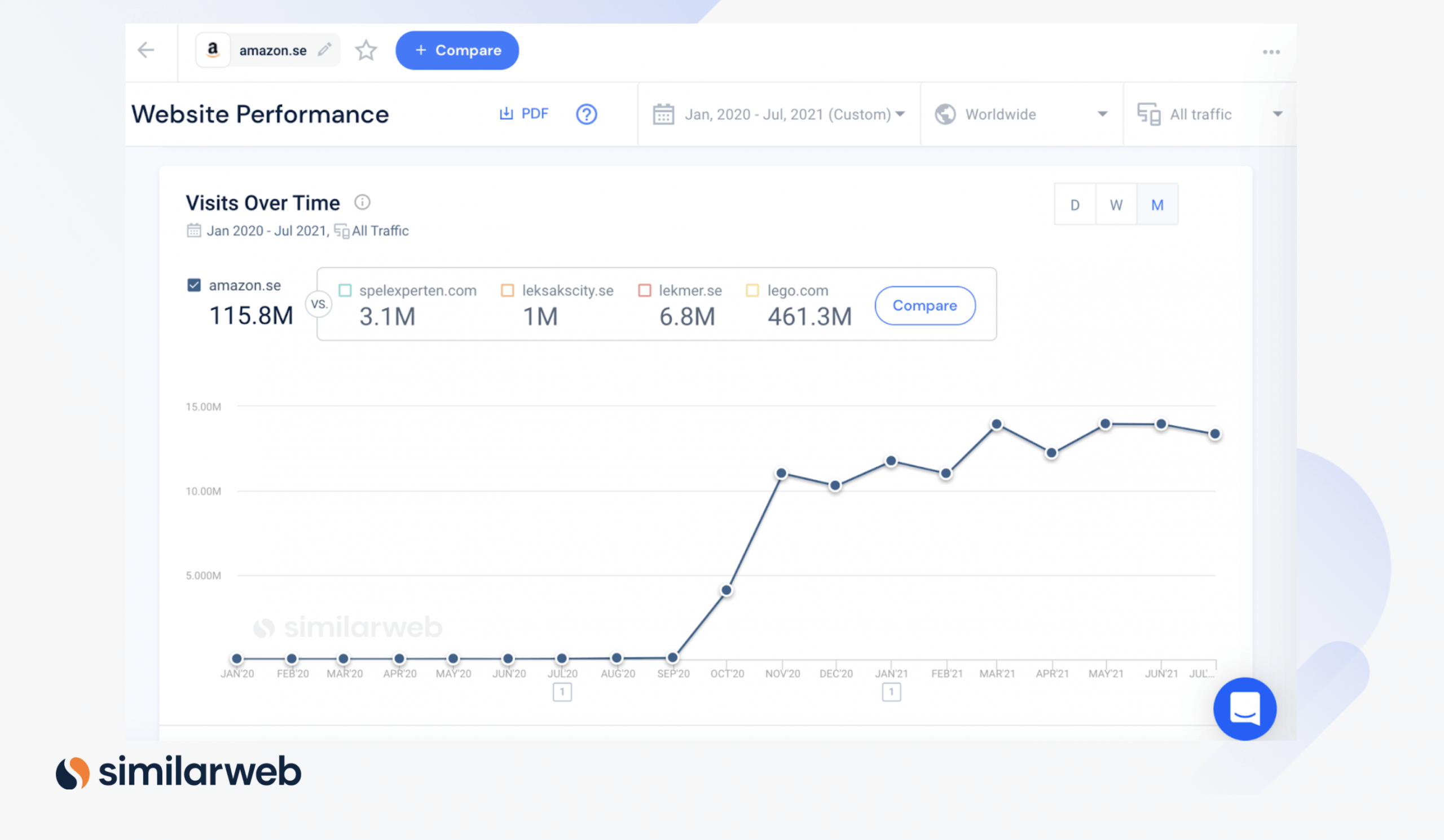 10. CarGurus (CARG)
Last but not least for our digital disruptors, we have cargurus.com, the popular auto website. CarGurus specializes in providing a one-stop-shop for used and new car listings, and contacting sellers. The focus here is on its Canadian site, cargurus.ca, which takes first place in the Auto & Parts industry. Our data shows that its quarterly growth rate for the last five quarters is an incredible 454%. 
"Our profitability in Canada validates our hypothesis that our model can be successful in other markets, and we look forward to growing and investing in our international business further" commented CEO Jason M. Trevisan on the last earnings call.
Indeed, the company has just released a new tool in Canada called Area Boost to help dealers expand their online reach to consumers outside their local market. "CarGurus is seeing strong consumer sentiment in Canada for vehicle delivery, and dealerships that can adapt to this change should be able to sell more vehicles," explained CARG's Ashley Karr.
Go beyond the top 10 
Here we focused on the top 10 digital disruptor stocks. But our data goes far beyond this. Similarweb scours billions of data points to deliver clear, meaningful signals for over 100 million websites. You can track the digital data of stocks you are interested in using Similarweb Investor Intelligence.
Keep your finger on the pulse.

This post is subject to Similarweb legal notices and
disclaimers
.
Wondering what Similarweb can do for you?
Here are two ways you can get started with Similarweb today!