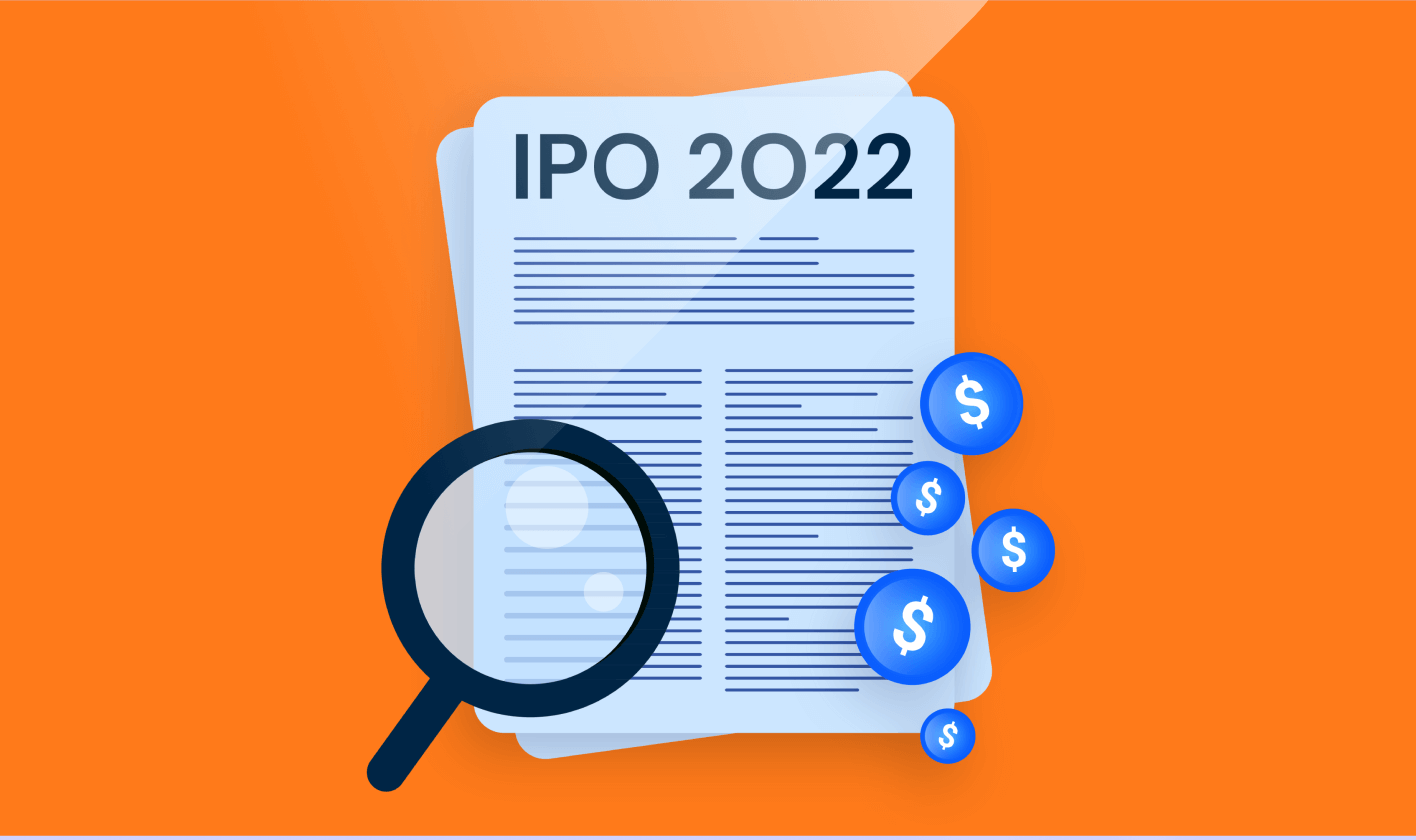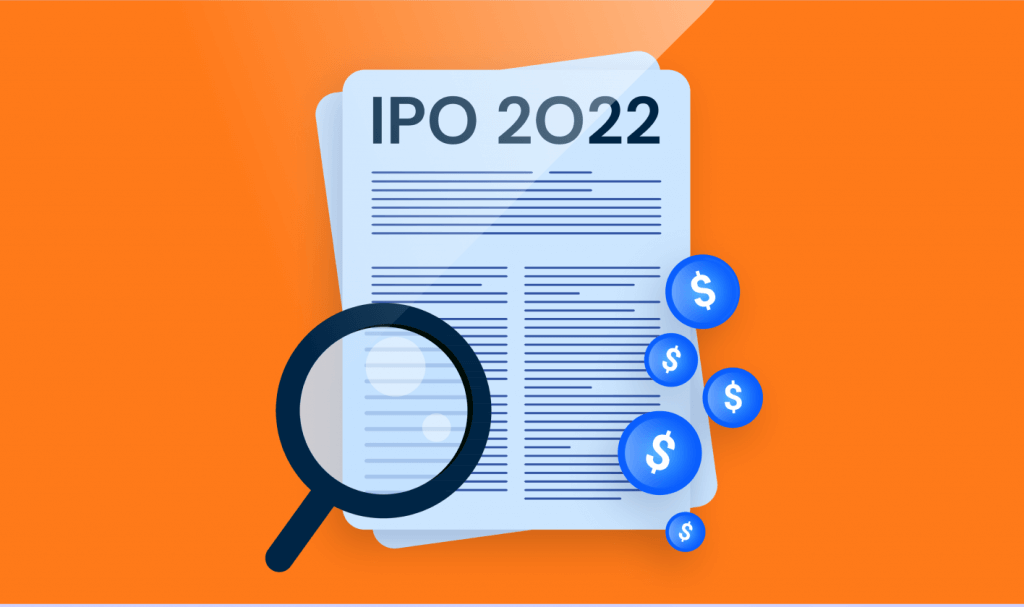 Investor Intelligence
Upcoming IPOs 2022: 9 Names for Your Watchlist
January 20, 2022
| Updated October 11, 2022
Last year ushered in over 100% more initial public offerings (IPOs) than of 2020. And many companies that postponed their debut due to market volatility in 2021 are now the most anticipated IPOs for 2022.
Getting in on the ground floor of a big-name company can pay dividends later. But before getting swept up in the hype, you'll want to do your homework.
Ally Invest's Chief Market Strategist Lindsey Bell explains:
"Despite the explosion of firms going public, half of the companies that listed on U.S. exchanges between 2015 and 2019 were trading below their IPO prices one year later."
After all, the IPO market is inherently riskier. Any private company looking to IPO has limited publicly available data.
Tweet this
Our insights on 2021 IPOs were so popular, we are keeping the tradition going. Here we rounded up nine upcoming IPOs for 2022 along with alternative data to give you critical insights for an investing advantage ahead.
9 Upcoming IPOs for 2022
1. Instacart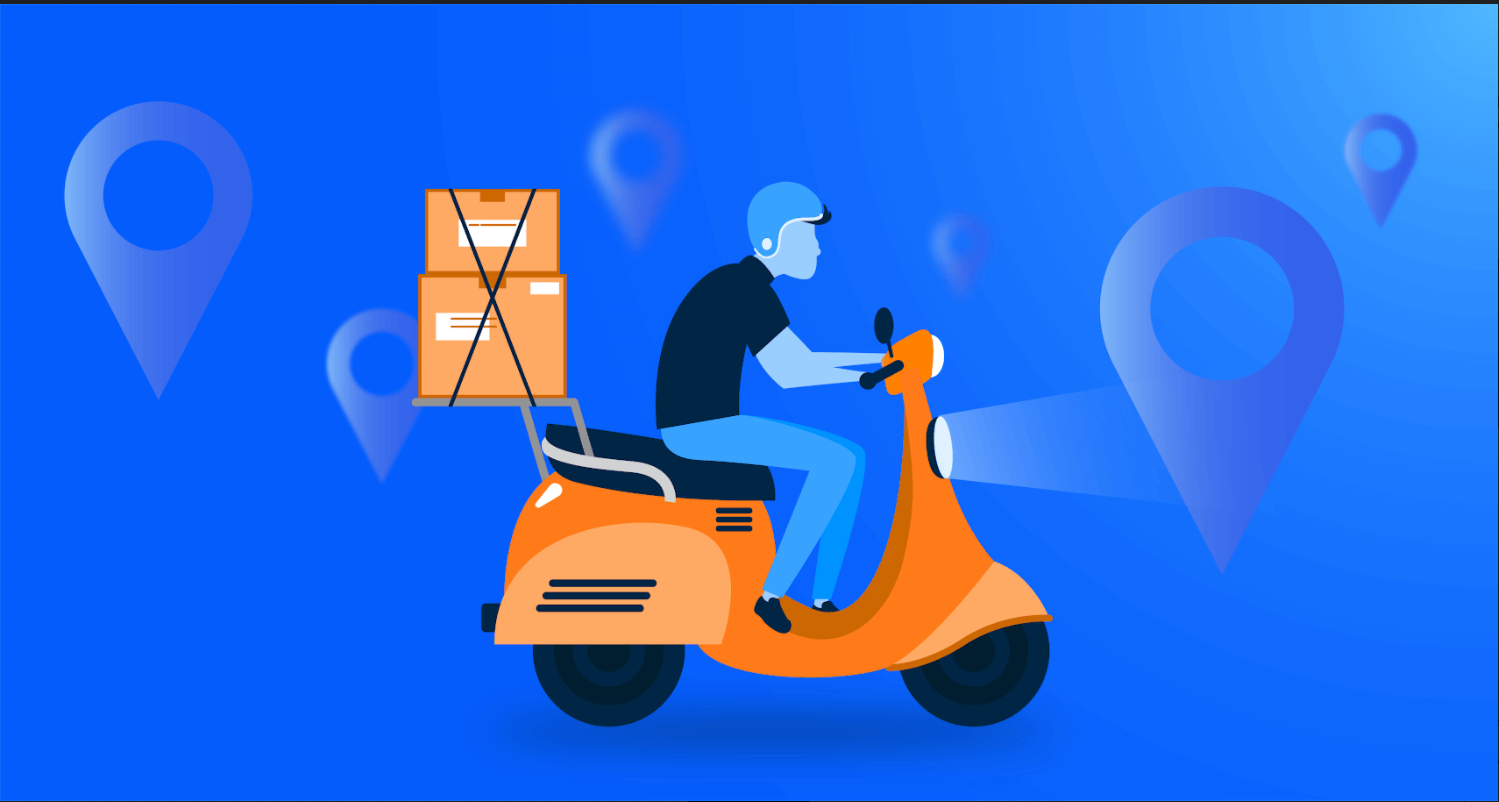 The pandemic proved to be a boon for San Francisco-based grocery delivery app Instacart as millions of people turned to app-based delivery services. Unique website and mobile visitors in December 2021 were 212% higher than in December 2018. While website visitors peaked in April 2020 at 19.8 million, the company has shown strength even with the subsequent return of in-store shopping.
Investors have been anticipating this unicorn's IPO for a few years. Unlike other delivery apps, Instacart connects retailers with its customers. According to company records, Instacart works with more than 700 retailers and more than 65,000 stores, reaching approximately 85% of U.S. and 90% of Canadian households.
Instacart has raised $2.9 billion in venture and growth capital to date, according to Crunchbase reports. The most recent fundraising valued the company at $39 billion. Still, while this number is unconfirmed, it does appear that Instacart will be one of the largest 2022 IPOs.
The grocery delivery giant proved to be a major online industry leader in the space worldwide in December 2021, coming in fourth place with 35.7 million monthly visits, a 19% MoM increase. To stay competitive, Instacart will need to keep competitive pricing and loyal customers ahead.
2. PharmEasy
Digital healthcare platform PharmEasy markets itself as a full-service healthcare solution. The Mumbai, India-based company was founded in 2012.
Covering everything from filling online prescription orders and leasing electronic medical records to teleconsultation and selling medical and surgical products, PharmEasy filed for an $840 million IPO in early November 2021.
The healthcare company's last valuation was $5.6 billion in a pre-IPO round in October 2021. Over the past two years, PharmEasy has acquired several health and wellness providers and technology platforms. As a result, analysts are keeping PharmEasy on their list of new IPO stocks.
API Holdings, PharmEasy's parent company, predicts the eHealth market in India to be $100 billion by 2025, the most significant percentage of which is ePharma. This makes for favorable market conditions. Almost 90% of traffic to PharmEasy comes from India, its largest market.
3. Reddit
The Reddit IPO may be one of the most anticipated public offerings of the year. Founded in 2005, The social media behemoth has become a popular online community forum globally, with more than 1.7 billion monthly visits for December 2021.
In the same month, Reddit also submitted a confidential filing to SEC. Both its financial and engagement appear robust. Reddit reported that Fidelity had made a $400 million investment in the company in August. In addition, its second-quarter revenues exceeded $100 million, three times higher than one year ago. An April 2021 Pew Center survey also found that 18% of Americans use Reddit, an increase of 11% over 2019.
Plus the social media platform is expanding in international markets, already launching operations in London Australia, Canada, and Berlin.
And while revenue is small compared to giants like Facebook and even Pinterest, growth is promising. Its expanding user base and the popularity surrounding the 'meme stock rallies' also contributed to increased advertising revenues. The company reported more than in the second quarter of 2021, a 192% more revenue than 2020. Worldwide traffic to ads.reddit.com, an indicator of ads revenue, rose 95% in December 2021 YoY.
Read the complete Reddit IPO blog to dig deeper into revenue metrics.
4. Discord
Instant messaging, content distribution platform Discord was born out of necessity when founders Jason Citron and Stanislav Vishnevsky were building an online game platform and couldn't find an effective tool to communicate with their remote developers.
Microsoft later integrated the platform into its Xbox Live accounts. Discord has expanded beyond the gaming world and it's staff is growing accordingly.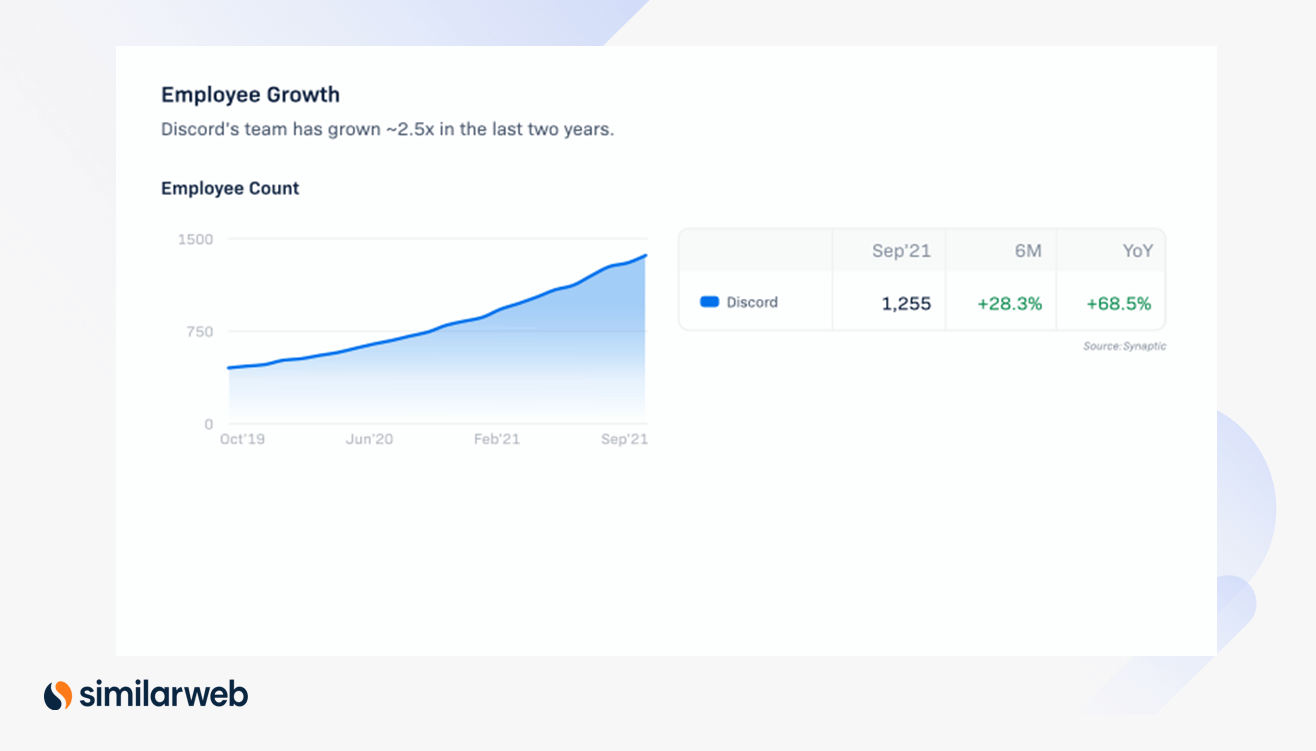 After ending talks with Microsoft in April Discord resumed interest in going public. The San Francisco based-messaging has raised around 600 million in fundraising and is valued at $15 billion according to Bloomberg.
Its upcoming IPO in 2022 is creating considerable buzz among investors and financial analysts. In December 2021 alone, the company ranked eighth for traffic share vs. other social media and online communities worldwide. Its 2.5% traffic share of the space increased 8.9% MoM – a positive signal for growth.
Traffic Share Change in Social Media and Online Communities Industry, December '21, Worldwide, All Traffic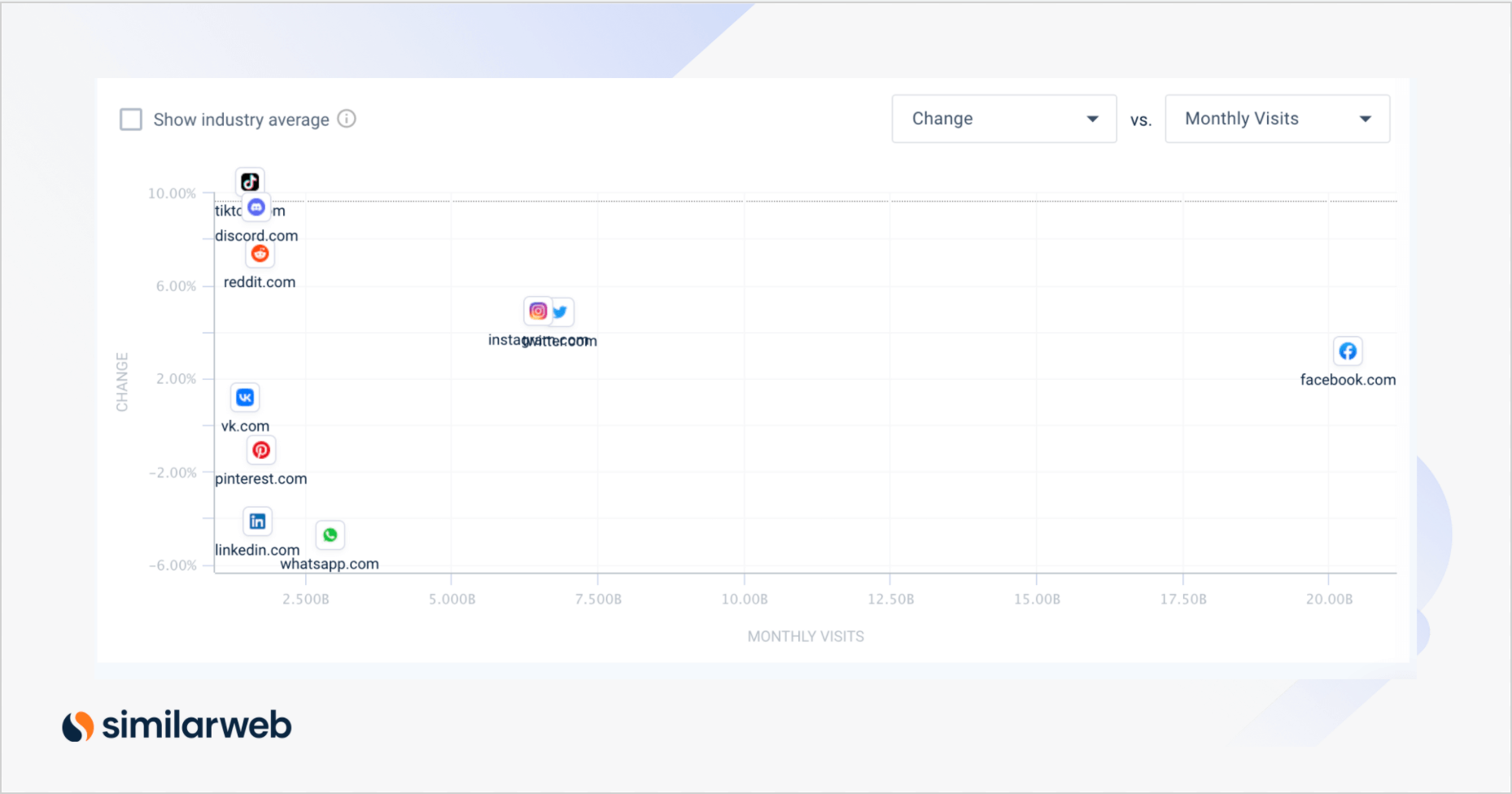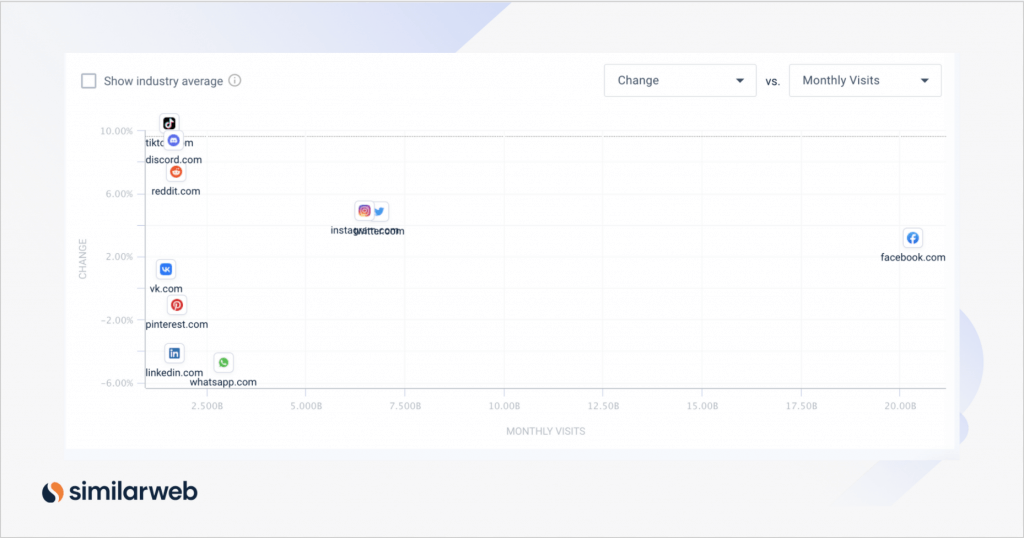 Discord servers are organized into topic-based channels, enabling sharing and collaborations. The pandemic helped boost Discord's user base, doubling monthly active users to more than 150 million and increasing revenue to $130 million from $45 million in 2020.
5. Stripe
Fintech services and payment processing platform Stripe filed its IPO application with the SEC in July 2021.
Stripes' stock exchange debut was delayed in 2021. In late November, co-founder John Collison hinted that investors might have to wait a bit longer, indicating the IPO isn't expected in the immediate future. Collison said the company preferred to expand its market reach in the Gulf regions, particularly the UAE, Saudi Arabia, and Qatar.
The company already boasts a relatively strong geographic mix. For December 2021, 28% of traffic to stripe.com came from the U.S., 10% from the U.K., 6.3% from France, 3.6% from Canada, and 3.5% from Australia according to Similarweb data. Stripe operates in more than 120 countries and provides financial services to a global customer base, including Shopify, Microsoft, Peloton, Amazon, Salesforce, Google, and Expedia according to its site.
Unique visitors to also dashboard.stripe.com skyrocketed 116.639% from November 2018 to November 2021.
Adding to the positive picture, stripe.com had a 25.4% CVR in December 2021, a 39% increase YoY.
The entire eCommerce sector has experienced considerable growth during these pandemic years, and Stripe is no exception. In addition, investments in artificial intelligence and machine-learning technology have made Stripe more competitive in the marketplace. Stripe's simple, cross-border financial transaction service is especially appealing today as the remote economy booms.
6. Klarna
Buy Now Pay Later (BNPL) payment solution for eCommerce, Klarna joins the list of companies going public in 2022. The Stockholm, Sweden-based fintech platform is riding the wave of popularity among eCommerce shoppers who want to buy now but can't afford it. And the company's popularity is spreading across the globe.
For December 2021, 31% of its traffic share hailed from Germany, 21% from the U.S., 12% from Sweden, and 11% from the U.K. It comes as no surprise that from November 2018 to November 2021, traffic from the U.S. to klarna.com soared a whopping 1,613.04%.
And while afterpay.com is a powerhouse in the space, Klarna's growth remains impressive.
Founded in 2005 by Sebastian Siemiatkowski, who serves as CEO, Klarna says it has 90 million active customers across 250,000 merchants in 17 countries. Its most recent valuation was in June 2021 at $45.5 billion.
Klarna has made some strategic moves to expand market reach and increase revenues. For example, it recently partnered with Stripe, making its BNPL option available to more businesses. In addition, on Dec. 9, 2021, Klarna debuted a new browser extension that allows customers to access flexible payment options from their desktop computers. Furthermore, they can use the browser to shop at all online stores, even those not Klarna partners.
7. The Fresh Market
The Fresh Market is a specialty retailer founded in 1982 in Greensboro, North Carolina. It's committed to bringing the best fresh food the world has to offer. To differentiate itself from Whole Foods, The Fresh Market focuses on replicating the charms of a European-style fresh food market, offering personalized guest services and omnichannel capabilities. Fresh Market operates 159 stores across 22 states in the U.S.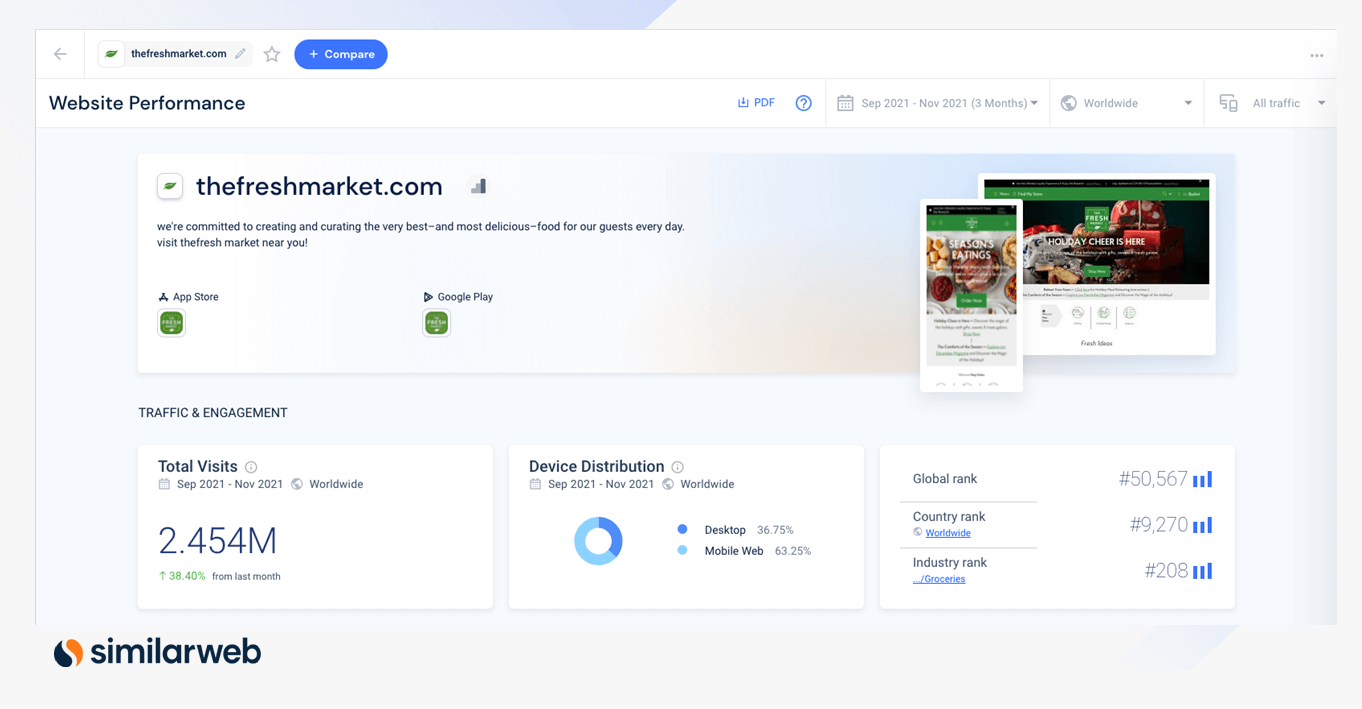 The Fresh Market accepted a $1.36 billion cash buyout from Apollo Global in March 2016 to help it remain competitive in the grocery industry. In 2020, Jason Potter was brought on as CEO to lead the company in its next growth stage. The Fresh Market made plans for an IPO in 2021, but the date was postponed to 2022.
After a strong showing of 22.3% sales growth in the fiscal year 2020, The Fresh Market experienced a cool-down due to the impact of the COVID-19 pandemic. But company execs believe they're in a solid position to regain momentum from now on. The Fresh Market's upcoming IPO listing is definitely on the watch list.
8. Oyo
Investors are eyeing hospitality and travel startup Oyo, as analysts predict promising returns from this much anticipated 2022 IPO.
Based in Gurgaon, India, Oravel Stays Ltd, or Oyo, filed an application for an IPO in October 2021 for a $1.6 billion public listing. It was valued at $9 billion and anticipated its valuation would be between $12-14 billion through the IPO.
Oyo is the third most popular travel mobile app globally. Its mission is to empower small businesses and entrepreneurs to increase earnings and improve operations. Entrepreneurs and small businesses can list their property on the Oyo platform. In addition, the app helps travelers find the best prices, make digital bookings and payments. Oyo employs cutting-edge technology such as cloud-based IT infrastructure and integrates with third-party services.
The pandemic severely impacted the company, reporting a drop-off in the business. However, there are encouraging signs of recovery, especially as some of the company's key markets in Europe, Malaysia, Indonesia, and India begin to reopen. Monthly visit trends to oyorooms.com serve as even more proof of recovery:
With the rise of the Omicron variant, all eyes are on the future of the travel industry. If there are no mass lockdowns, Oyo should succeed in reversing prior revenue loss and take its next big step – expansion into the U.S. market.
9. Better
Better is a mortgage startup handling billions of dollars in mortgage originations, refinancings, title, and property insurance sales. The company's engagement metrics vs. competitors are impressive. Better disclosed its intentions to go public via a SPAC in May 2021. In early December, Aurora Acquisition Corp and SoftBank announced they would provide Better with half of the $1.5 billion committed in the SPAC deal. Better said it will use the capital infusion to add new insurance products and expand into other offerings, including student loans and life insurance.
In the U.S. alone, it wins vs. the competitive set for January 2020 – December 2021 in terms of unique visitors, pages per visit, and bounce rate, revealing its competitive edge.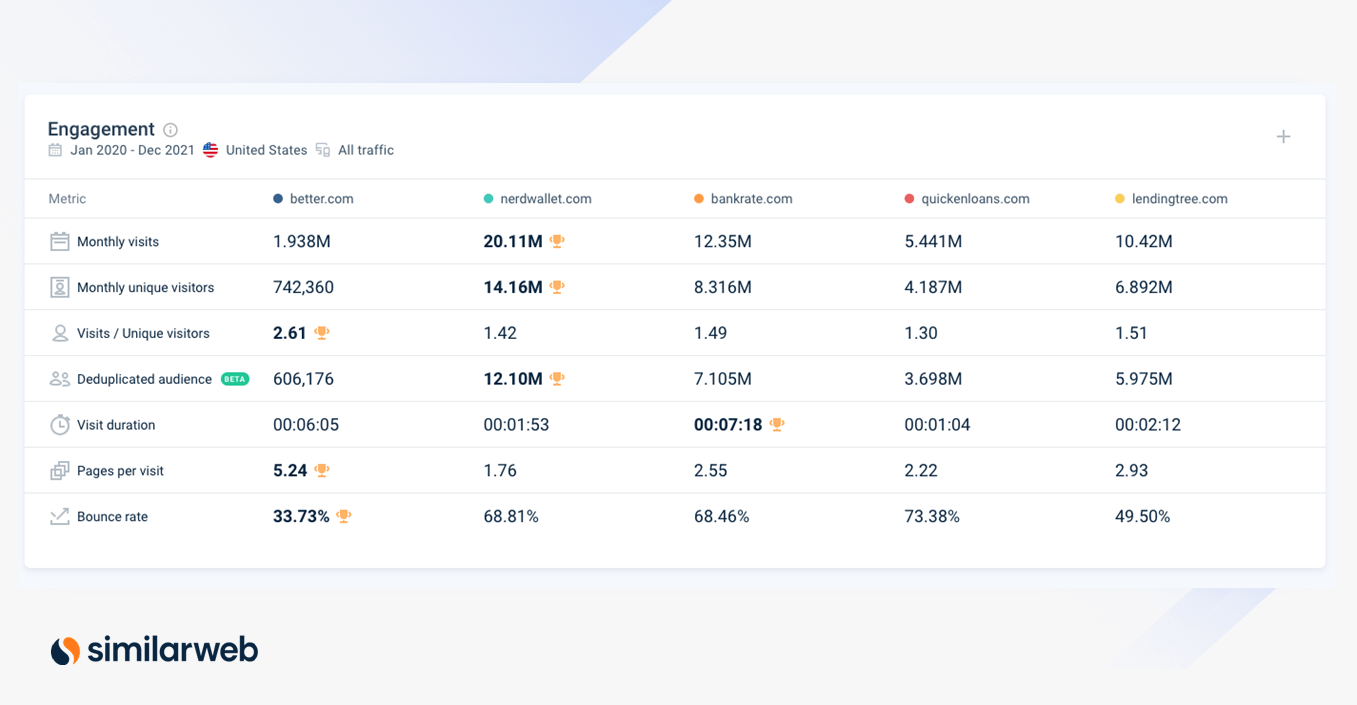 Visitors are staying on the website for longer and are visiting more pages than any other site in the group.
Better posted robust earnings, citing a 471% increase in real estate transactions, 300% increase in homeowner insurance, and 855% increase in the title insurance business over 2020 figures.
Bottom line
An IPO is an exciting way to enter the equity market. As we saw this year, a robust stock market is often a healthy environment for new public offerings. Our list of upcoming IPOs for 2022 includes some of the most dynamic tech-driven startups in the world.
Why alternative data?
Alternative data is data mined from non-traditional sources that provide a framework to help you make informed investment decisions. Shared information about companies going public in 2022 is difficult to access. Therefore, alternative datasets are critical to helping you make the best decision.
This post is subject to Similarweb legal notices and
disclaimers
.
Wondering what Similarweb can do for you?
Here are two ways you can get started with Similarweb today!