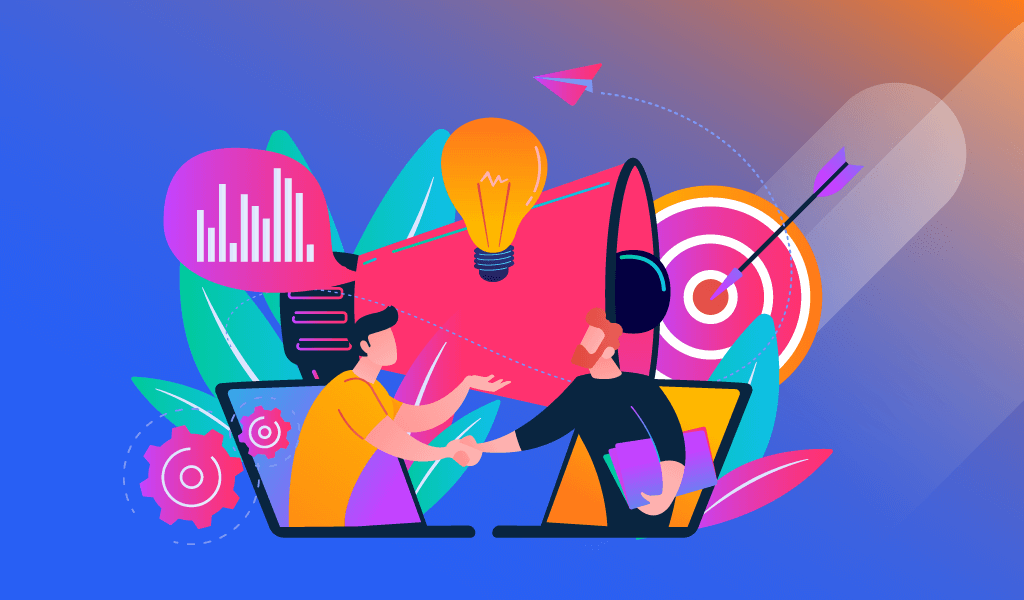 Marketing Intelligence
5 Proven Affiliate Program Management Tips For Brands
September 22, 2022
| Updated September 29, 2022
Affiliate marketing is one of the most profitable marketing channels you can use to grow your brand, reach new audiences, and drive more sales. In fact, it can help leverage the power of influencers and popular bloggers to promote your brand.
If you're flirting with the idea of creating an affiliate program for your brand, consider these affiliate marketing stats:
Affiliate marketers generate up to 25% of sales for some of the world's biggest brands and marketplaces (including Amazon).

50% of consumers trust influencer recommendations more than advertisements.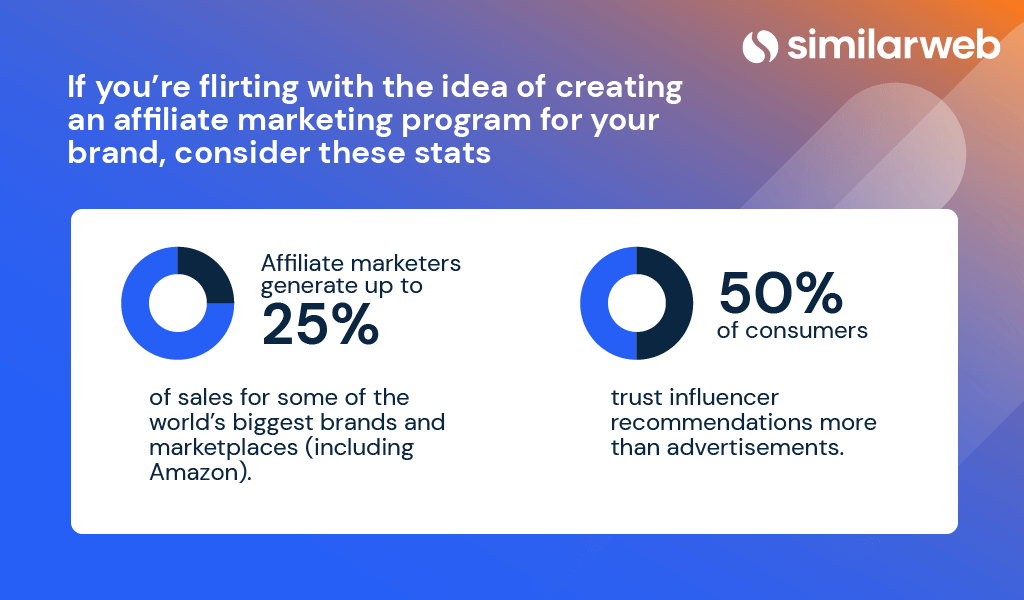 One of the most critical aspects of effective affiliate program management is knowing how to recruit the right affiliates, create the right offers, and reach the right audiences.
In this article, we'll share proven affiliate program management tips to help you leverage this marketing strategy to grow your brand.
Let's dive in.
What is affiliate program management?
Affiliate program management is the process of developing, managing, and growing a brand's affiliate program while staying in line with its values and business goals. Brands hire in-house managers or partner with dedicated agencies to manage their programs.
Those managers have one main job. Yep, you guessed it: to manage the affiliate program. Here's what that includes: 
Defining the scope of the brand's affiliate program

Developing the qualification criteria for recruitment

Coming up with a win-win commission structure

Designing the program's marketing strategy to attract relevant affiliates 
Their ultimate goal is to not only run their brand's program, but also to make it a sustainable and profitable source of leads and customers.
For this, they need to persuade relevant affiliates and influencers with large audiences to work with them, increase their brand's reach, and promote their products to the right audiences in an authentic and convincing manner.
How to manage affiliate marketing programs
Unsurprisingly, just like with other marketing tactics, affiliate management requires a combination of creativity, marketing, and strong administrative skills. To give you an idea, here are some proven affiliate program management tips:
1. Develop an affiliate recruitment criteria
The success or failure of an affiliate program depends on the quality of its affiliates. This is why you need well-designed recruitment criteria before you start accepting any for your brand.
What is it?
Affiliate recruitment criteria define the kind of affiliates you want to promote your brand. It lays out the characteristics and qualities you want to see in your affiliates so that they promote your brand exactly the way you want.
Why does it work?
There are literally hundreds of thousands of affiliate marketers worldwide all looking to earn a passive income by promoting lucrative offers. But not all of them will be the right fit for your brand.
For example, some affiliates might be influencers in completely irrelevant industries. So even if they're popular, they won't be able to drive relevant leads to your site.
Others rely on dubious marketing practices such as spamming, purchasing email lists, mass unsolicited SMS campaigns, and so on – something which might (or, probably will) hurt your brand image. Obviously, you don't want to be associated with those affiliates.
So, using a set of conditions to recruit affiliates helps you avoid all these problems and find the best-fit affiliates aligned with your brand's philosophy.
How can you replicate it?
Without making your affiliate recruitment criteria too complex, look for affiliates with the following qualities:
Affiliates in your primary target industry (or closely related niches)

Affiliates with owned assets such as double opt-in email lists, established blogs, organic search traffic, and widely followed social media profiles.

Affiliates with audiences in your target countries

Well-connected affiliates who can bring other reliable partners on board

Affiliates with a proven record of executing successful marketing campaigns.

Affiliates working for your top competitors
You can refine and revise these criteria as you recruit, and learn more about the perfect fit for your brand.
2. Optimize your landing pages for conversions
In most cases, affiliates get paid when their referrals convert into customers. But the best an affiliate can do is to refer traffic to your landing pages. If your landing pages aren't optimized for conversions, the partnership's efforts will go to waste. 
Think of it like a tree falling in the woods. If a person visits your website and doesn't convert, you won't hear a 'sound'. 
What is it?
Conversion optimization is the process of designing your landing pages for maximum traffic to lead to conversions. A well-optimized landing page ensures that its visitors do not leave without taking action (like purchasing a product or signing up for an email list, for example).
 Why does it work?
Conversion-optimized landing pages are critical to the success of your affiliate program because reputable affiliate marketers check the conversion rates of your affiliate program before they apply. The first thing they check when considering an affiliate program (apart from the commission structure) is the landing page where they'll be sending traffic. If it's optimized for conversions, they know they will make more commission.
How can you replicate it?
When developing an affiliate program, get your landing pages optimized by professional conversion optimization experts and test them for various marketing campaigns. Make sure they're converting at a higher rate than the industry average so that you can use them to attract the best affiliates in your industry.
3. Find affiliates through competitor analysis
Pitching your brand to the affiliate marketers already promoting your top competitors is the fastest way to grow your affiliate base. 
What is it?
When you're recruiting for your marketing program, find the affiliates who work for your best competitors and ask them to promote your brand as well. 
Why does it work?
The affiliate marketers promoting your top competitors are already familiar with your industry and have a proven record of successfully driving sales. They also have an active connection with your target audience since they regularly promote different products. In addition, they're high-quality affiliates because your top competitors have already vetted their credentials. So, they're the ideal marketers for your affiliate program.
How can you replicate it?
You can use a couple of methods to find your competitors' affiliate marketers. 
Search Google for your competitor's product reviews to find the sites most actively reviewing and promoting their products.

Use

SimilarWeb's Affiliate Research tool

to quickly find the sites referring the most affiliate traffic to your competitors. With this option, you can see which affiliates drive traffic, where they drive traffic to, the keywords the affiliate targets, the traffic share they win, and other key details to make a data-driven strategy. 
Once you find and shortlist a few potential options, reach out with an offer listing the advantages of promoting your brand and invite them to partner with you.
4. Create ready-to-use marketing materials
Create promotional email campaigns, landing pages, professionally designed product banners, and other promotional material that your affiliates can use in their marketing campaigns.
What is it?
Ready-to-use marketing material makes an affiliate program more attractive and allows your brand to control your messaging better. It consists of promotional emails, landing pages, banners, and visuals they can simply copy/paste from your site to their marketing campaigns.
Why does it work?
The most influential affiliates are busy people promoting multiple products and brands at the same time. By providing them with high-quality marketing and promotional materials for your affiliate campaigns, you not only make their lives easier but also ensure that your message is conveyed exactly the way you want. It also helps your affiliates promote your brand more effectively.
How can you replicate it?
When developing your affiliate program, list down your preferred traffic sources and create a messaging strategy. In most cases, authentic brands prefer to work with people that have email lists, organic search traffic, and social media audiences. Your job as an affiliate program manager is to create ready-to-use marketing material for these traffic sources. 
Also, you can offer your affiliates email sequences for various stages of your marketing campaign. This could include an onboarding sequence for leads that sign up, then a conversion sequence, and finally a launch sequence to drive sales.
Similarly, you could create banners that they can use on their blogs and social media profiles. You could give them detailed Twitter threads highlighting the problems of your audience and offering solutions that position your brand as the best option.
5. Develop a win-win commission structure
Your affiliate program's commission structure is one of its primary selling points. But when you're creating your offer, you need to make sure that it works for your brand, as well as for those you are working with.
What is it?
An affiliate program's commission structure defines how the affiliates get paid. Some brands in the B2B SaaS industry offer recurring commissions which pay a lower rate but allow the affiliates to keep earning as long as their referrals remain customers.
eCommerce stores and many software companies prefer one-time commissions which are more attractive to affiliates looking for a quick win. 
Why does it work?
A win-win commission structure means your affiliates make enough money to consider promoting your product worthy of their time and effort. But it also means you're still profitable after the additional commission cost.
Affiliate program managers sometimes forget that an affiliate saves their regular marketing expenses by doing all the promotions themselves. This means you have the space to offer a high commission rate without losing your profits.
How can you replicate it?
Study the commission structure and average rates of your competitors to create a benchmark figure. Now see if you can offer a slightly higher rate without cutting too much of your profits. Don't forget, you can offer exclusive deals and negotiate contracts with larger, more influential affiliates, to offer them more commissions and provide your brand with greater exposure.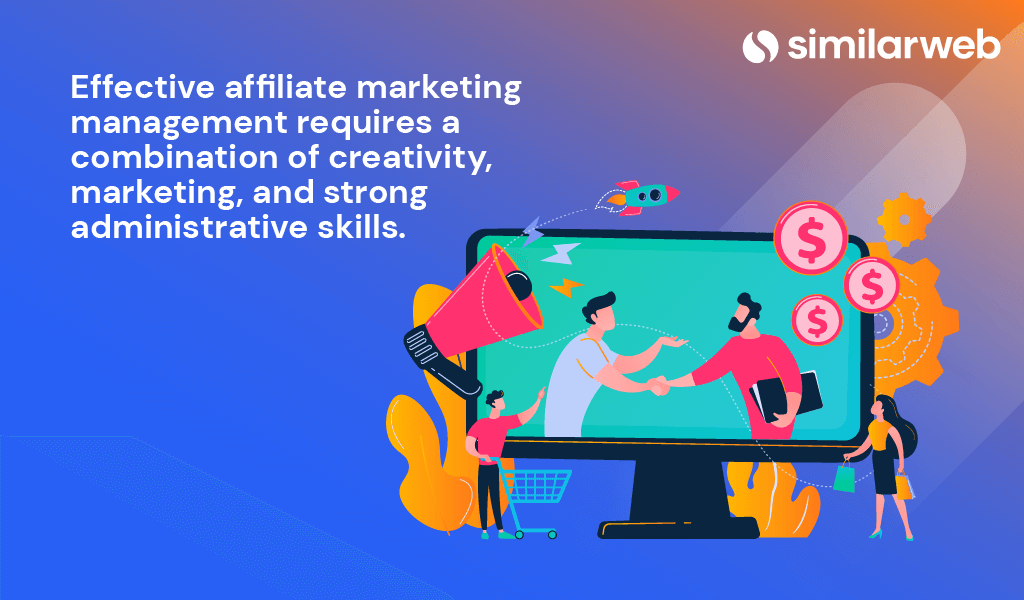 Invest in affiliate program management
Basically, it is a full-time job that requires experience, creativity, and excellent communication skills. Don't consider it something an employee can do in their free time or on the side. Invest in affiliate management by hiring the right professionals or partnering with experienced agencies with proven frameworks and established affiliate connections to make your job much easier.
This post is subject to Similarweb legal notices and
disclaimers
.
Wondering what Similarweb can do for you?
Here are two ways you can get started with Similarweb today!